Thanks to Explore Branson for providing us the opportunity to visit and explore these fun things to do in Branson, MO with kids.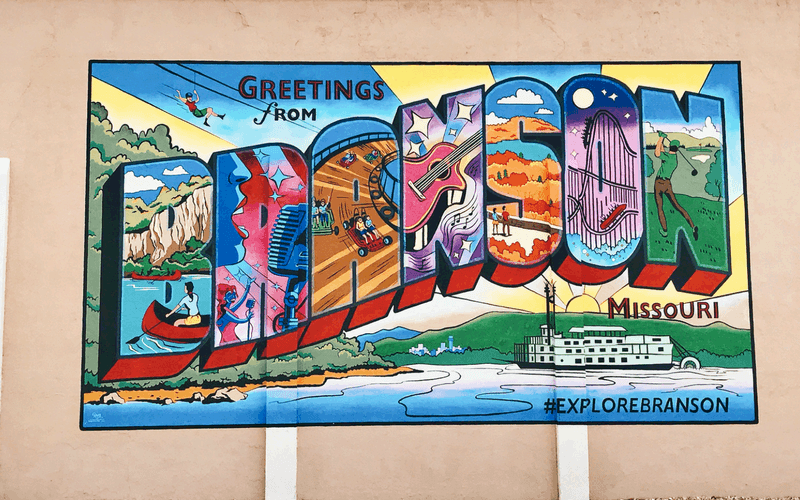 Branson, Missouri is famous for its entertainment theaters and shows. It's how it got its name as the Live Music Capital of the World. But Branson offers more than just family friendly shows. There are thrilling rides and roller coasters, museums and tours, plus fantastic ways to opt outside for family fun.
Things to Do in Branson MO with Kids
We went to Branson for the kids' Fall Break and had all kinds of fun. Over an extended weekend with the kids, we did all the things I'm about to tell you about. It was a packed weekend but we loved it. You can use these to create your own week long itinerary or pick a few to enjoy on a family weekend in Branson.

Fritz's Adventure
This indoor climbing and adventure park provides hours of fun for all ages. Here you can zip line, navigate the multi-story ropes course, climb walls, scurry through underground tunnels, and so much more. It would be easy to spend the entire day here. It's active fun for all ages that's quite the work out.
All guests must pay admission. An all day pass starts at $11.95 for non-adventurers (entry level only) to $29.95 for Adventurers (full access) ages 12+. Military and senior discounts are available.
Climb Via Ferrata at Fritz's Adventure
Climbers 55" and taller can choose to head outdoors and climb Via Ferrata. Fritz's Adventure made on corner of their building into a climbing structure. So guests can pay $10 for 2 climbs on the exterior of the building that goes up part of one wall and around the corner.

Bigfoot on the Strip
This is one of the area's newest attractions that offers not one but SEVEN different activities. The fun doesn't stop here! Their 200' tall Bigfoot Action Tower is the highest point in all of Branson. It's also a nightly light show that you just have to see.
For indoor fun, play your favorite games in the Bigfoot Arcade or 8Di Action Ride. For the arcade games that offer tickets, the redemption prizes are better than what you'd expect. Redeem your tickets for Bigfoot T-shirts, sports collectibles, and more. The 8Di Action Ride guests with 3D glasses onto motorcycle style ride vehicles. They take part in an adventure that plays out on the screen. That adventure could be one of several available including freeing Bigfoot and others animals, shooting in the Wild West, or go after zombies.
Head outdoors to play a game of Adventure Miniature Golf or get lost in the Yeti Play Zone. This multi-level maze/play zone takes you over obstacles, through tunnels, and so much more.
That 200' tall Bigfoot Action Tower features 2 rides; The Gravity Bomb and Saddle Sling. The first is a free fall ride that takes you to the top of the 200' tower and drops riders in a series a stops. The second ride is a 2 person sling that launches you into the air and then lets riders tumble back down, twisting and turning all the way. Both rides are WILD!
Prices vary per activity. Best value is the Adventure Pass for $39 which includes unlimited Yeti Fun Zone, Gravity Bomb, Super Sling, and 8Di Action Ride. Family passes are available.

Bigfoot Discovery Expedition
Head to Bigfoot Farms for a special look at a working Scottish Highland Cattle farm and spectacular views of the Ozarks.
You'll board specially designed safari trucks and travel to the farm, about ten minutes away. Guides talk about the area's history and animals, let you interact (feed and pet) with the Scottish Highland cattle, and point out signs of Bigfoot activity in the area. It's a little bumpy, but a lot of fun!
The guided tour lasts about 80 minutes. Tour tickets are $18-$38 per person.

Dixie Stampede Dinner and Show
This is one of Branson's most visited family shows. It prides itself on being "Branson's Most Fun Pace to Eat".
The Dixie Stampede is an interactive show held in a large (35,000 sqft) area. During the show guests enjoy a 4 course dinner complete with southern favorites like rotisserie chicken, biscuits, and hot fruit turnovers. The variety style shows includes skilled riders on horseback, buffalo stampede, pig races, rescue dog performers, singing, and comedy. Guests are encouraged to participate in a friendly competition with other guests as they cheer one their cast of performers. It's all in good fun!
Plan to attend the pre-show that happens 50 minutes prior to the main arena show. Live entertainment plays fun music and entertains the crowd before the main doors open. Included in the price of your ticket.

The Haygoods Live Show
This family of entertainers has been thrilling Branson audiences for over 20 years. The energetic show is a great choice for families.
This musical family of 4 brothers and 1 sister blend a variety of musical instruments, music genres, and dance into a great show. Add to that a light show and pyrotechnics for show you'll want to see again and again. Catch their performances at the Clay Cooper Theater Tuesdays, Thursdays, and Saturdays.
Hotels and Airbnbs near Branson, Missouri

Silver Dollar City
This theme park is a popular destination for families. Here you'll find over 50 family friendly rides including thrilling roller coasters, and a full schedule of live daily entertainment.
The park is designed to look like a 1880's town complete with craftspeople. You can watch glass blowers, potters, candy makers, blacksmiths and over 100 other craftsmen demonstrate their skills. Nearby shops sell their handy work.
Lantern Light Tour
Silver Dollar City sits on top of Marvel Cave, a wet limestone cave. A tour of Marvel Cave is included in your ticket to Silver Dollar City. But for a unique experience, buy a ticket to the Lantern Light Tour ($12.00) to go into the cave by lantern light.
This daily tour sets out 90 minutes before park closing. You'll get to experience the cave just like early explorers did, plus you'll get to see areas of the cave not shown on the free tour. Your tour guide will walk you through the cave retelling old tales from Missouri's deepest cave.

The Track Family Fun Park
With 4 locations around Branson, The Track has fun for all ages. Depending on location you can race on high speed go-karts, play miniature golf, get wet on bumper boats, look out over the city on the Branson Ferris Wheel, enjoy arcade games, and so much more.
At Track 4, race go-karts on the 4 story high Heavy Metal High Rise. The experience at night is every different than during the day. But either way, your family will have fun!

Shepherd of the Hills Fish Hatchery & Conservation Center
For a low key experience, head to the fish hatchery to learn more about trout. It's free to tour the hatchery. Coin operated feed stations and informational signs are found throughout the complex. It's fun to see the fish jump as you feed them. The conservation center offers more hands-on exhibits and staff is available if you have any questions.
Table Rock Lake
Nearby Table Rock Lake offers a vast variety of outdoor recreation from hiking and camping to fishing and water sports. Whether you want to play along the shore, cruise on the water, or dive down below, this is the place to do it.
Many lakeside resorts offer marinas and other amenities. During our recent visit, we stayed at the Stillwater Resort which offers an onsite marina and free use of their kayaks stand up paddleboards, and water bikes.
As you can see, there are so many things to do in Branson MO with the kids. These are just a few of the family-friendly attractions we were able to do over an extended 4 day weekend. For your next trip, take a look at these sites to start planning your own family adventure. Watch for more on our favorite attractions, where to eat in Branson, etc.
If you've been to this area before, what have been some of your favorite things to do in Branson MO? Tell us in the comments below.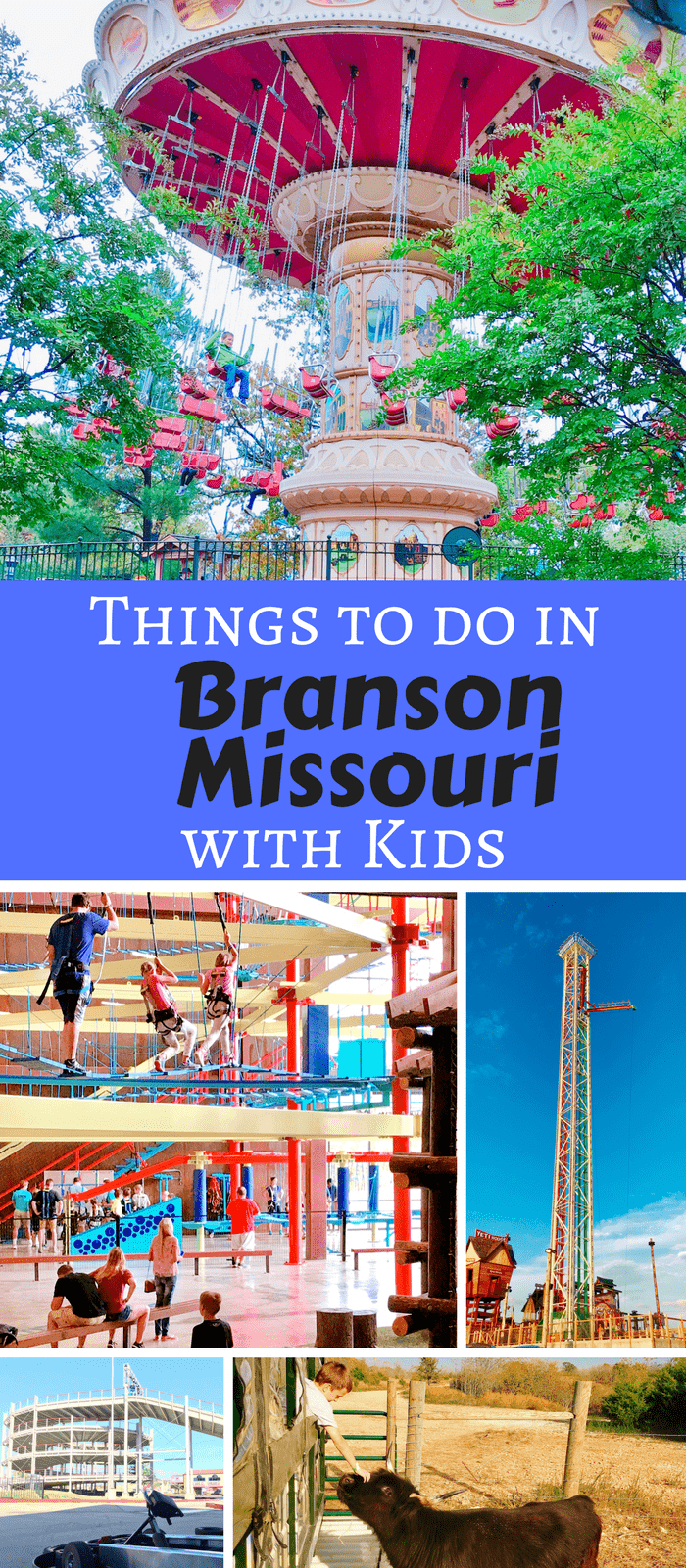 Thanks to the Cassandra and Liz and the Branson CVB for hosting our family for fall break. Complimentary lodging, meals, and attraction tickets were provided. All opinions are based on this recent visit.
SaveSave