This Easy Chicken Piccata recipe was sponsored by No Yolks as part of an Influencer Activation for Influence Central and all opinions expressed in my post are my own.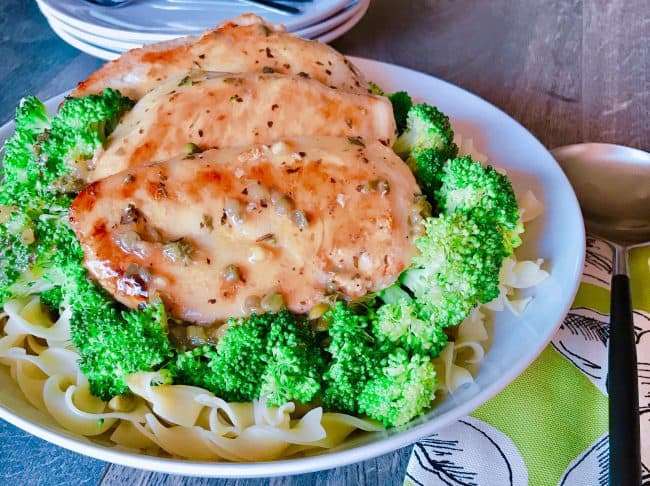 Creating a healthy meal for your family has never been easier. 15 minutes is all you need to make this easy Chicken Piccata start to finish. Create this easy chicken recipe on a weeknight at home, on a weekend camping trip with a two burner camp stove, or while vacationing in a basic kitchenette. With just a few ingredients, you'll be cooking up a dish your family will love anywhere they are.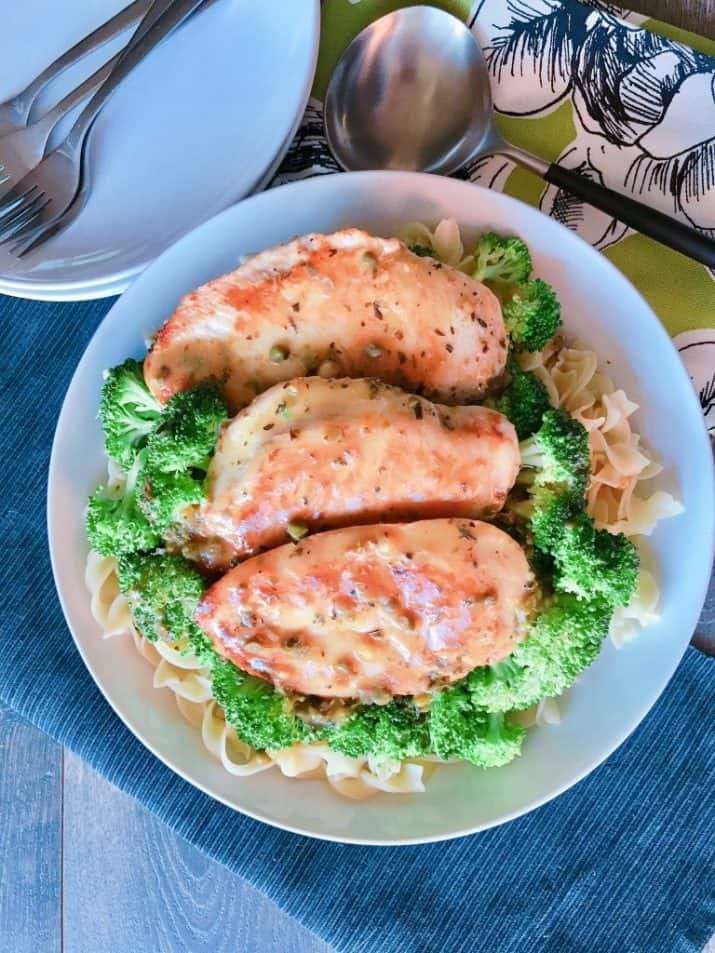 With this Easy Chicken Piccata recipe, I like to serve it with a green salad, fresh broccoli and No Yolks Broad Egg Noodles. Broccoli isn't traditional in this recipe, but I like to add it because:
Broccoli adds a vegetable to the plate that I know my kids will always eat.
The broccoli mixed with the buttery lemon caper sauce is something the kids ABSOLUTELY LOVE and will gobble it up.
It is available in stores year around and travels well if I'm making this recipe camping.
I will either steam the broccoli while I'm cooking every thing else or I will add the florets to the noodles the last 2-3 minutes they are cooking.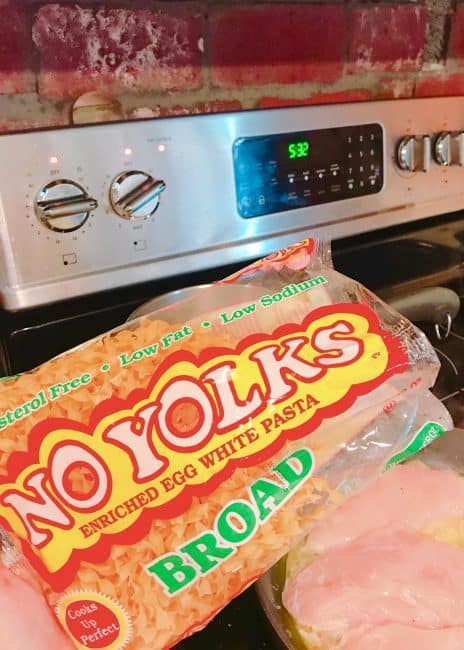 The noodles I'm using are these No Yolks Broad Noodles. They are a really versatile noodle and are great in casseroles and fall favorites like beef stroganoff or cheesy butter noodles. But they are also great is soups like Miso and a French Onion. I'll even swap out traditional noodles for these in a Chicken Noodle Soup. The kids love it!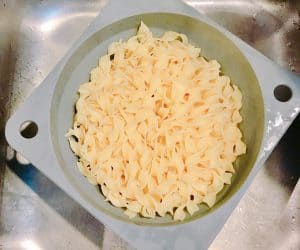 You can find No Yolks Noodles in a store near you in different varieties including Broad, Extra Broad, Fine, Kluski, Dumplings, and now Stir-Fry. They are a healthy egg noodle alternative, made from egg whites and no cholesterol. They are also low in fat and sodium.
Grab this .50 cents off coupon and try them today! Plus keep reading and you can enter to win $100 Gift Card.
Before I give you the recipe for my Easy Chicken Piccata, I want to give you a tip to creating this recipe in under 15 minutes.
My helpful hand tip: Buy thinner chicken breasts or cut anything larger than 1" thick into smaller sections.
I'm not sure what is up with these monstrous huge chicken breasts. But they take forever to cook. Skip those and go for thinner breasts. That's it! Now enjoy this recipe and then enter to win in the giveaway.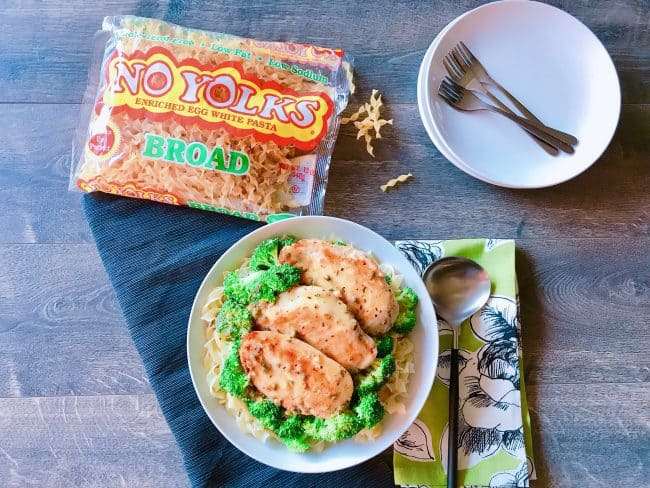 Yield: 4
Easy Chicken Picatta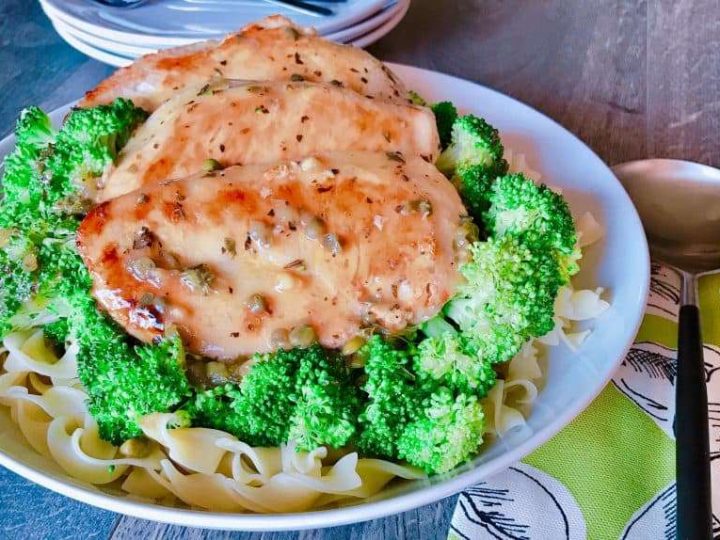 15 Minutes is all you need to make this easy Lemony Chicken Picatta.
Ingredients
3 Tablespoons butter, divided
4 chicken breasts, boneless and skinless
1/2 teaspoon Garlic salt
1/2 teaspoon Black pepper
1 Lemon, juiced
3/4 cup white wine
3/4 cup chicken stock
1 Tablespoon capers, roughly chopped
1 Tablespoon dried Basil
1 teaspoon cornstarch
No Yolks Broad Egg Noodles, 1 bag
Optional: Steamed broccoli florets, 3-4 cups
Instructions
Noodles
Fill a large sauce pan with water and bring to a boil for the noodles.
Add No Yolks Broad Egg Noodles and cook according to package instructions.
Chicken Piccata
Melt 1 tablespoon butter in a large skillet over medium heat.
Season chicken breasts on both sides with garlic salt and pepper.
Add chicken breasts to skillet and brown on both sides (about 4 minutes per side).
Remove chicken from the pan and set aside.
Add remaining 2 tablespoons of butter, lemon juice, white wine, chicken stock and basil to skillet.
Stir to remove any browned bits from the bottom of the pan.
Reduce heat and allow to simmer for 3-4 minutes.
Combine cornstarch into 1/4 cup of water and add to skillet.
Stir well to combine and allow the sauce to thicken.
Remove from heat
To Serve
Place noodles into a bowl. Top with steamed broccoli and chicken. Ladle sauce over the chicken and enjoy!
Nutrition Information:
Amount Per Serving:
Calories:

147
Total Fat:

6g
Carbohydrates:

12g
Protein:

11g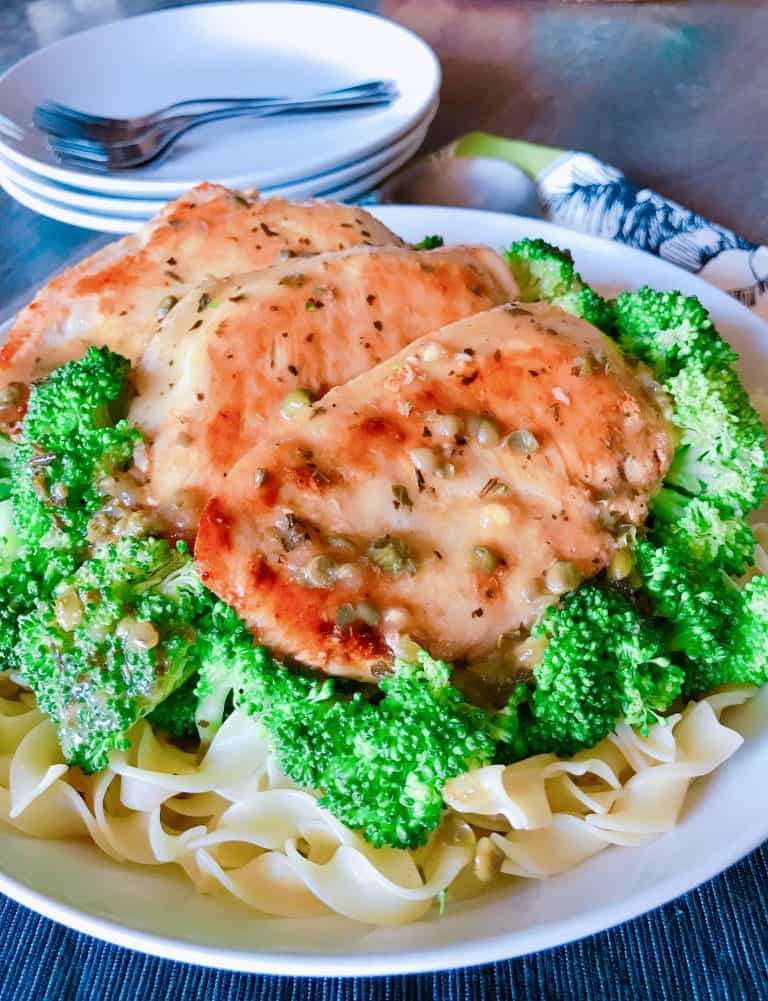 Enter to WIN One (1) $100 Gift Card
To Enter: Click the No Yolks Sweepstakes Link below and complete at least one (1) action.
Prizes: Five (5) Winners will each each One (1) $100 gift card
Dates: October 3 – November 15, 2017
I-C will randomly select 5 winners from all program entries and will facilitate fulfillment of the winning prizes.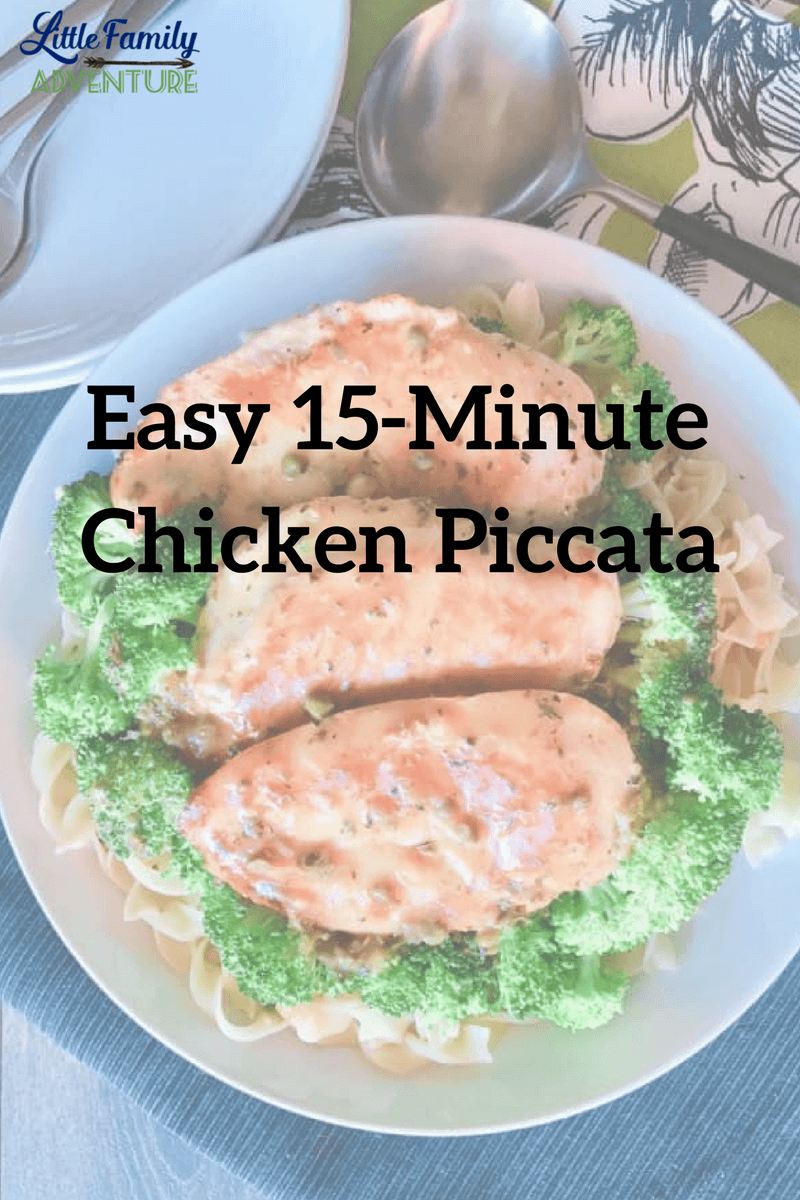 SaveSaveSaveSave
SaveSave