A big part of trip planning for our family is the food. It's what new foods we will try when we get there, what restaurants are a "must try", and what road trip snack food we are packing for the trip. I learned when the kids were little, that healthy travel snacks are a MUST. Nothing derails a trip faster than hungry children or adults for that matter. Diffusing toddler meltdowns and easing hangry adults with healthy snack are the ready.
Here are some of our favorite road trip snacks for kids and adults. These are all great snacks that transport easily, are healthy, and are foods kids actually want to eat. They can be made at home or picked up at a local grocery store. Many of these great ideas can also be brought on a plane.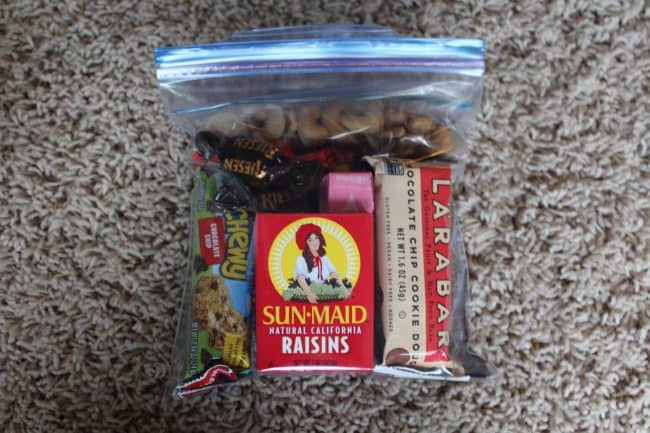 If you want to eat healthy when traveling, gas stations and roadside stops don't always offer great choices. They have improved by leaps and bounds, but in more remote areas, options can be limited. So it's important to pack an assortment of healthy road trip snacks that don't make a mess in the car.
Easy to Pack Road Trip Snacks
Here are our favorite kid-tested and Mom approved travel snacks that will help you eat healthier on the road.
Dried Fruit – banana chips, pineapple, apples, cherries, chile mango, and raisins. (Tip: Avoid chocolate or yogurt covered dried fruit as it is messy as it melts.)
Grass-Fed Beef Jerky
Nuts – Cashews are my favorite and the kids like almonds or these Glazed Pecans. (Tip: Stay away from nuts that are greasy, like salted peanuts. The oils will end up on clothing and upholstery, something you definitely do NOT want.)
Animal Crackers
Yogurt Tubes – Even as teenagers my kids love these. They are just the right amount to satisfy cravings and are easier to eat in the car versus yogurt cups. (Tip: You can freeze the night before and store in an ice cooler or a large double insulated water bottle. I usually use this Hydroflask for the task.)
Cheese Cubes – buy pre-prepped cheese or cut at home and store in a silicone bag.
Trail Mix – Our favorite combination is one we make at home with chopped dried dates, dried cherries, almonds, and shredded coconut. (Tip: During warmer summer months, avoid chocolate or dried yogurt dots because they'll melt.)
Fruit Leather or Roll-Ups
Dry Cereal
Snack Bars – Nature's Bakery Fig Bars are favorite store-bought options as well as these homemade Samoas Larabar
Snacking Rounds with Nut Butter or all by themselves
Stroopwafels – I look forward to them when I fly on Delta, so why shouldn't I bring them on a road trip
Fresh Finger Vegetables – Sugar Snap Peas, celery, green beans
Pita chips and homemade hummus – here's my classic hummus recipe
Baby Carrots
Fresh Fruit – Whole apples and mandarins travel really well and make for sweet snacks without added sugar.
Granola/Protein Bars – store-bought or homemade, both are great options. Protein-packed granola bars are ideal for grab and go breakfasts
Pureed Fruit Pouches – applesauce pouches are our favorite.
Angie's Boom Chicka Pop -Their Sweet and Slightly Salty Kettle Popcorn is a favorite
Seaweed Sheets – There are lots of flavors available from brands like gimMe and others. These make for an easy gluten-free, healthy snack.
Favorite crackers with your favorite nut butter or cream cheese
Apple Straws – chips like taste like an apple churro
Hippeas Chickpea Puffs – We like these better than Cheetos because they are high in protein and don't leave orange stained fingers.
Goldfish or Cheddar Bunny Crackers – A classic when it comes to travel snacks for kids.
String Cheese
Pin This for Later…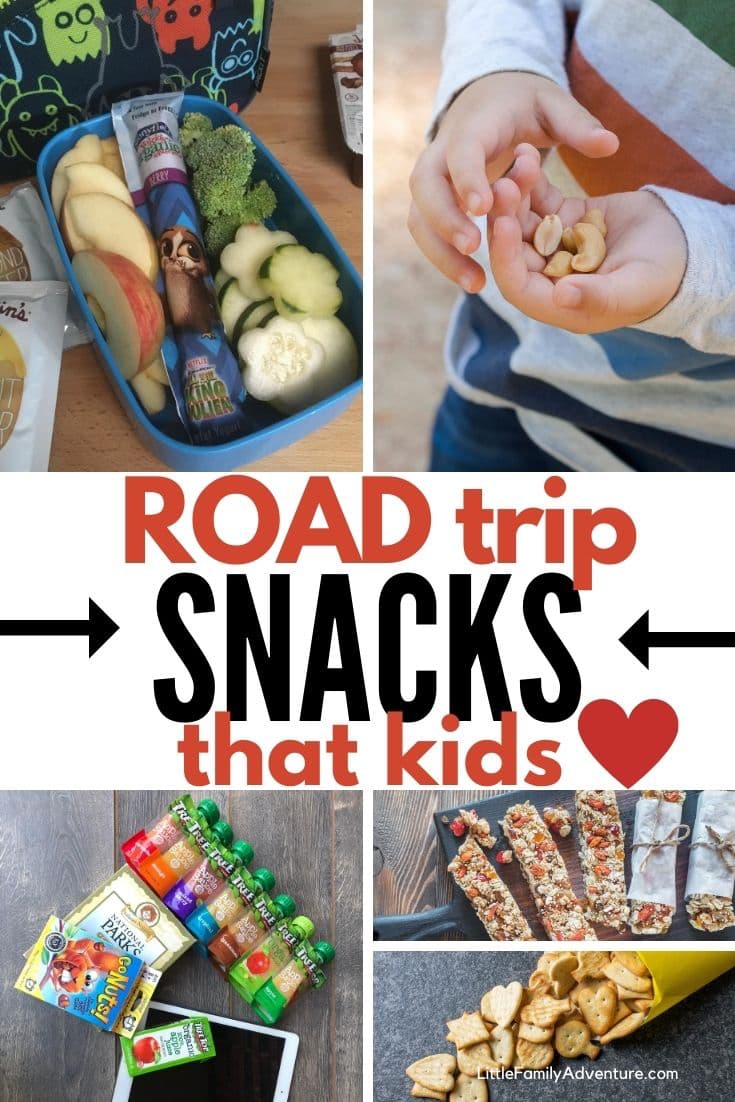 Travel Tip: Be sure to pack a refillable water bottle for everyone traveling.
Juice and carbonated beverages are a nice treat, but water is another one of those road trip essentials. You need to stay hydrated. So pack refillable, spill-proof water bottles like a Hydroflask or a Klean Kanteen.
These are just some of our favorite travel snacks for kids. Between the fresh fruit and vegetables, beef jerky, and premade snacks, there are plenty of options for the whole family.
Looking for other healthy snack ideas? Check out these: