Granny Knows Best
Granny is our neighbor's mother, but we love her like one of the family. She's a wonderful cook and spoils the kids with special homemade treats. This summer she made several batches of her world famous granola bars. We haven't had a granola bar in some time because I refuse to buy the ones available in stores. If I can't pronounce the ingredients in a product, I won't buy it. So most kid friendly snacks are off limits in our house. I have made granola before but haven't been able to get it to stick together for bars, until this recipe. Granny gave me a copy of her recipe and I'm sharing it with you. This recipe is simple and very easy to modify to your mood and/or tastes.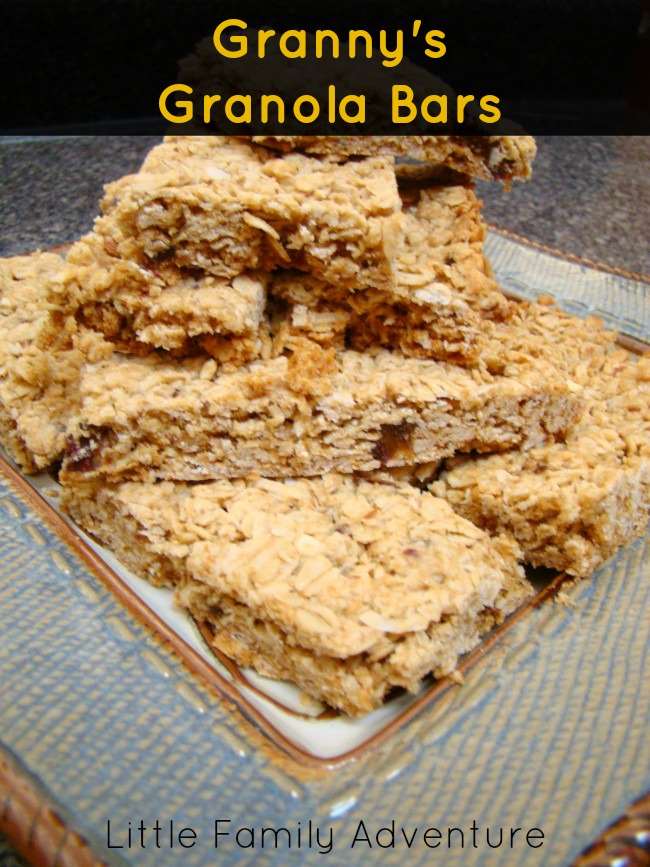 Granny's Heavenly Granola Bar Recipe
You can add any combination of dried fruit, nuts, or flavoring (vanilla, almond extract, etc.) and they come out perfect every time. I'm not sure of the shelf life on these, because they only last a few days before my kids devour them. I plan to make two batches this week, one for us and one for the boys' soccer games this weekend. I hope you enjoy these as much as we do. Here's Granny's Heavenly Granola Bar Recipe:
1 1/3 stick butter, softened
1/3 cup brown sugar, packed
1/2 cup honey
1 teaspoon vanilla or almond extract
1 cup flour
1 tsp baking soda
4 1/2 cup old fashioned oats
2 tsp ground flaxseed (optional)
1/2 to 1 cup nuts or dried fruit (we used coconut, chopped almonds, and chopped dates this time)
Preheat the oven to 325 degrees.
Cream together the butter, brown sugar and honey. Add in the vanilla.
In a separate bowl, combine flour, ground flax seed, and baking soda. Add gradually to the creamed butter mixture. Add the oats, nuts, and dried fruit until incorporated. The picture below shows what it should look like. Everything should hold together but not be too sticky or wet.
Pour onto a greased 9×13 and press down mixture. See picture below. You want the mixture to be compacted, so it will stick together.
Bake at 325 degrees for 20 minutes or until the top is a light golden brown.
Allow to cool completed in the pan. Once cooled cut into bars and store in an airtight container or wrap individually. Enjoy!