This REALLY is the best queso dip EVER! Founded in Austin, Texas, Torchy's Tacos is a fast-casual restaurant that's a must-stop for taco lovers. We LOVE this place! Every time we go, I have a hard time deciding between the Democrat, Bushfire, and Dirty Sanchez tacos, but I ALWAYS order the chips and queso. It's by far my favorite version because the Torchy's Queso Recipe adds guacamole, crumbled cotija cheese, freshly chopped cilantro, and a drizzle of fiery diablo sauce. It quite simply puts plain Rotel dip to shame!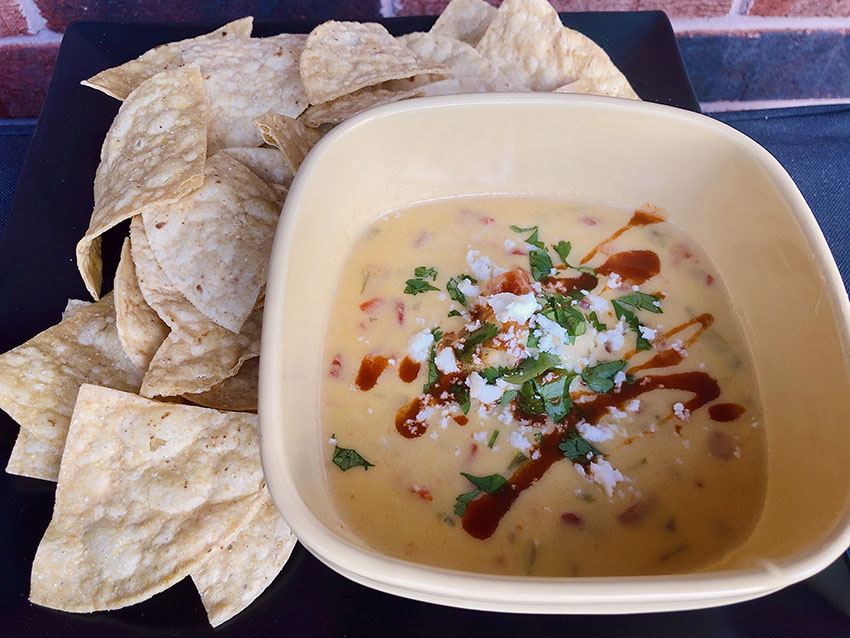 The BEST Queso Recipe
You don't need a special occasion like Cinco de Mayo to enjoy this recipe. This cheese dip is perfect on any day ending in -day. Mix up a batch for an afternoon snack, as an appetizer or even AS your dinner It's great for parties too!
This is a really easy recipe to make too! There are just a few steps to it. Plus it can be made ahead and stored in the refrigerator. It actually tastes better the next day once the chiles have a chance to infuse their flavor into the cheese. Beyond that, I'm not sure how long it lasts in the fridge. We devour it shortly after we make it.
Torchy's Tacos Queso Recipe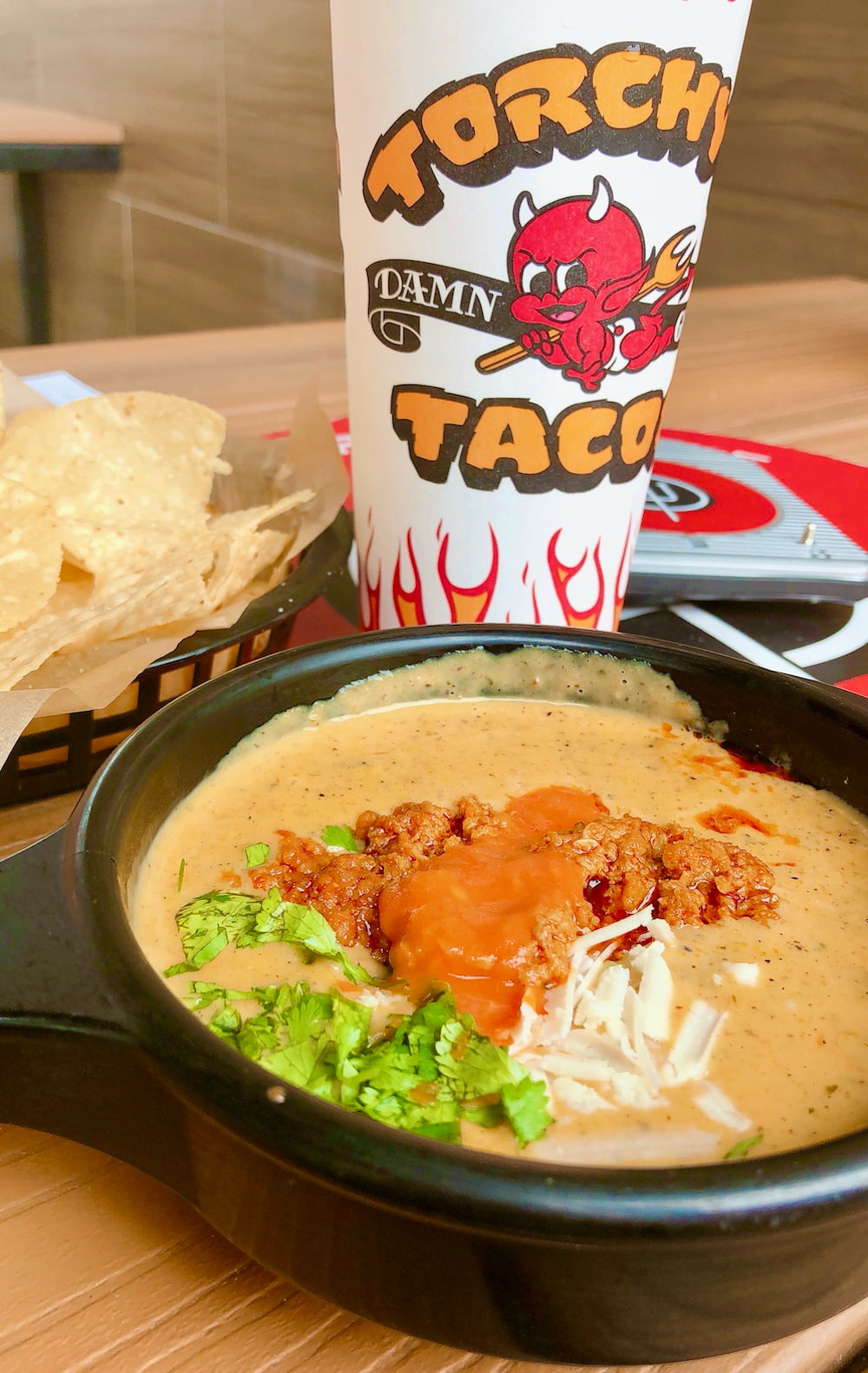 The secret to making this the best queso recipe is the addition of the guacamole and garnishes. A small scoop of guacamole adds a brightness to the cheese. Plus I usually serve both anyway during a party. This way, it's one scoop deliciousness.
The garnishes are chopped cilantro, extra cheese, and a spicy pepper sauce. I think they are mandatory. These are what make this cheese dip different and better than the ordinary. Torchy's Tacos serves their house-made Diablo Sauce on their queso. I substitute a Mexican hot sauce like Cholula or Valentina brand hot sauces. Both are great options.
How Long Does Queso Last?
When stored in the refrigerator inside an airtight container, homemade queso can last up to 4 days. For the recipe, we are just talking abut the cheese dip instead with the scoop of guacamole, hot sauce, and/or extra crumbled cheese. Also, we say 4 days but in our experience, it never lasts that long.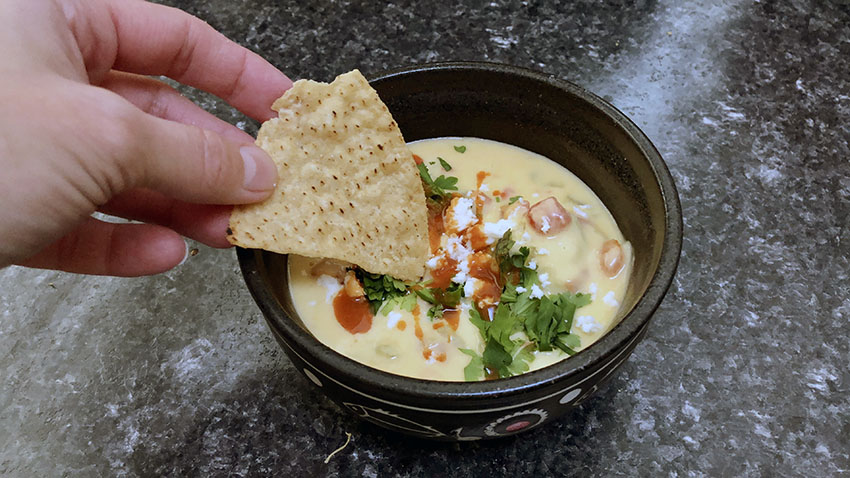 Serve this homemade queso with tortilla chips or if you are on a keto diet serve with fried pig skins or sliced vegetables. It is also really good when used to smother burritos or over roasted potatoes.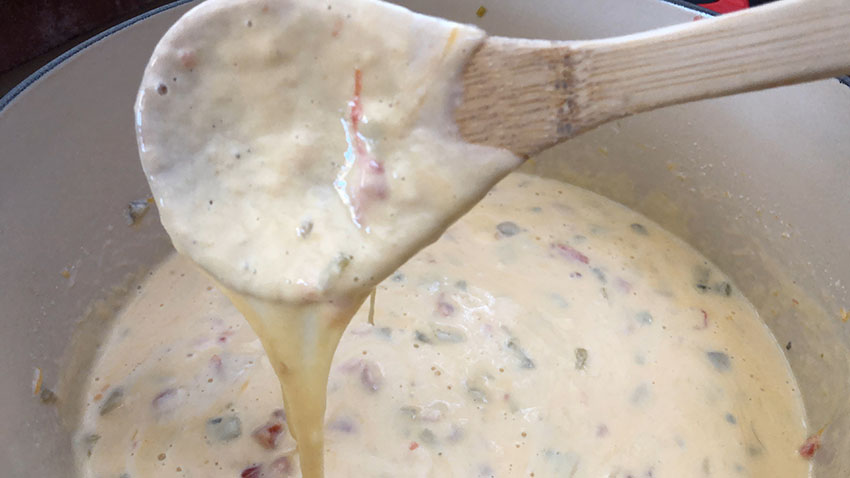 Cheese Dip Recipe Without Velvetta
There are a ton of Ro tel dip recipes with Velvetta or white American cheese out there. I won't do processed cheese in anything. So my cheese dip features real cheese!
I find that buying shredded cheese instead of block cheese works better in queso recipes. What is used to prevent the shredded cheese from sticking together also helps make it smoother? Instead of the cheese separating when heated, it melts evenly and stays creamy. Note: If you find that your cheese starts to separate when melting, you can add a touch of cornstarch to it. By touch, I mean less than a ⅛ of a teaspoon.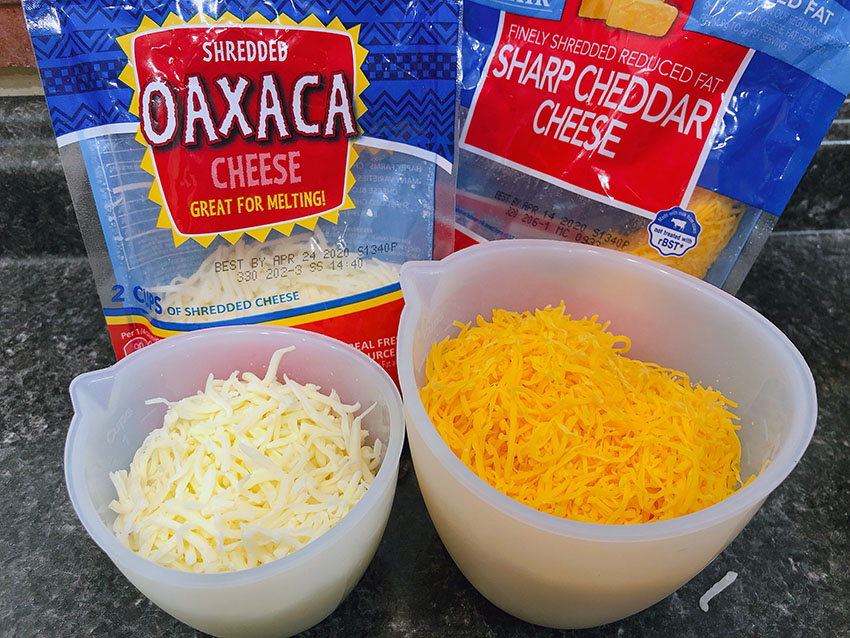 Now I've asked the staff at the local Torchy's what type of cheese they use in their queso. No one will tell me, but I've found that cheddar and Mexican cheese called Oaxaca come really close. These two cheeses give a smooth dip that is quite flavorful. A sprinkling of Cotija cheese adds just a little something more.
Love This Torchy's Tacos Queso Recipe? Make sure you check out these other Mexican inspired recipes:
How To Make Torchy's Queso Recipe
I like making this queso in my cast iron Dutch oven. It heats evenly and that's important when melting cheese. You don't want it to burn.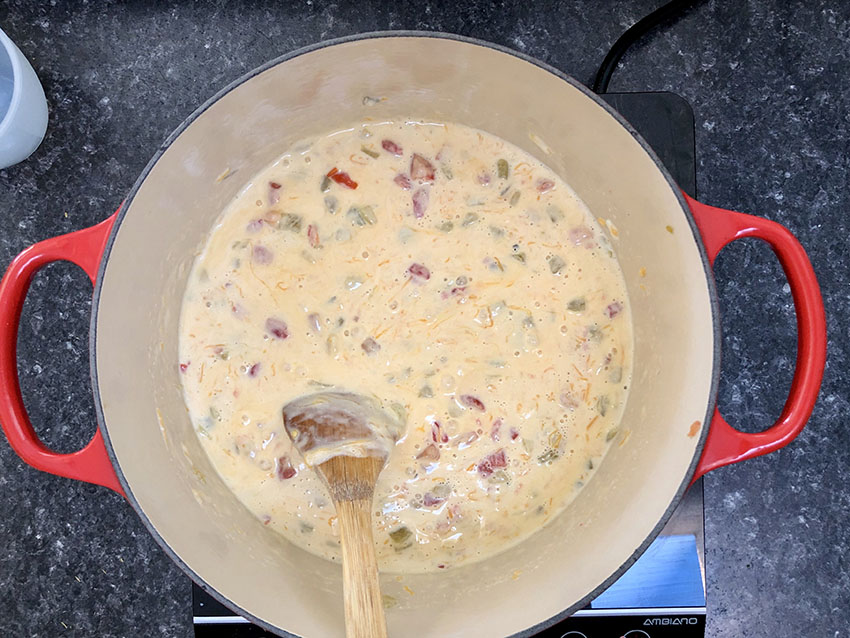 You'll start by warming the tomatoes, chiles, and garlic in the Dutch oven. To that, you'll add the cheese, half and half, and lime juice. I'll cook over medium-low heat until the cheese is melted through. Note: If you want a more white queso or queso blanco, you can opt for a white cheddar cheese instead of the yellow one.
Don't salt your queso! I find that some quesos can be really salty because the cooks don't take the saltiness of the chips into account. All tortillas are a little different. So sample the queso WITH the chips you will be serving. Then, you can add salt as needed to balance the whole thing out. This ensures perfect chips and queso dip every time!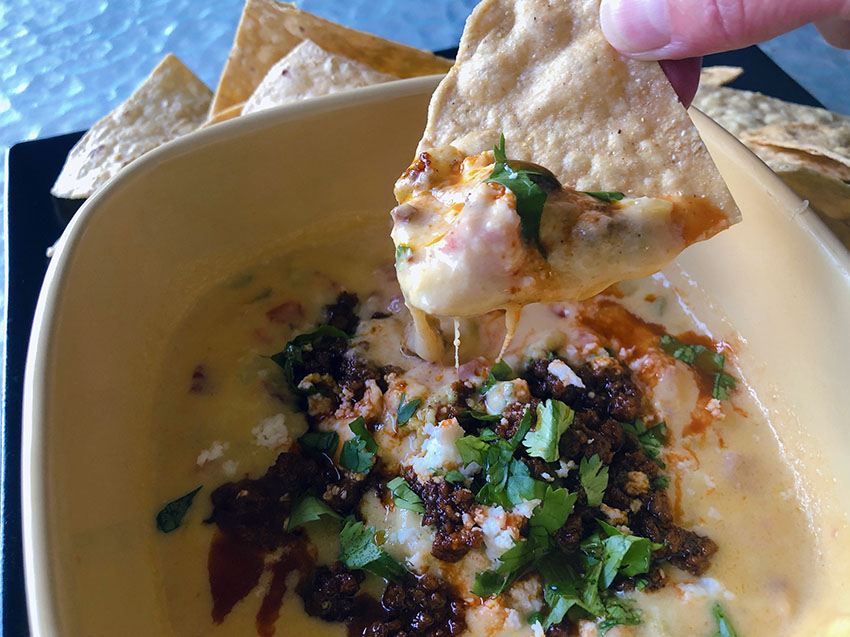 If you are hosting a party, make a double or triple batch. You can easily throw all the dip ingredients together in a slow cooker or Crock Pot. Cook on low for 2-4 hours or on high for 1 1/2-2 hours.
When you have the queso finished, it's time to assemble. Torchy's Tacos queso recipe starts with a scoop of basic guacamole.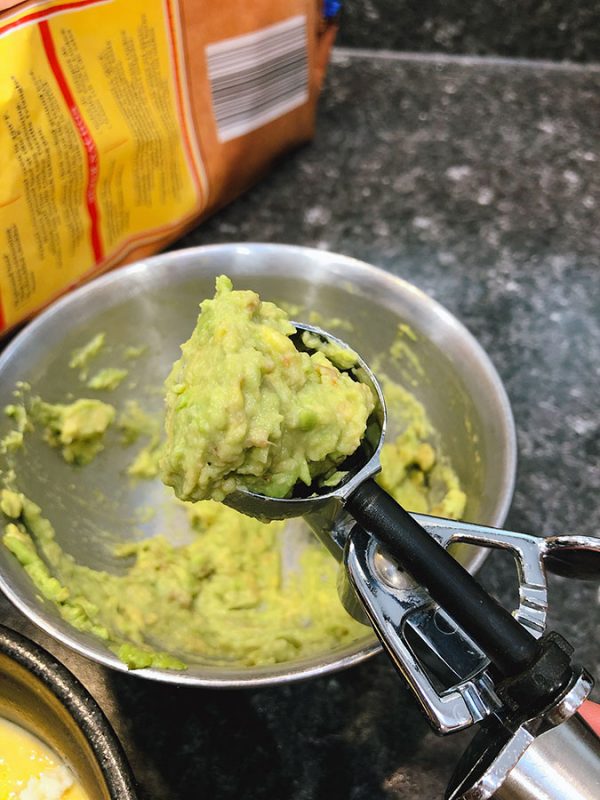 Then hot queso is added, followed by crumbled Cotija cheese, chopped cilantro, and a drizzle of hot sauce. We always have Cholula hot sauce in the fridge. So I like using that. It adds a nice smoky heat. You can omit if you want a milder version.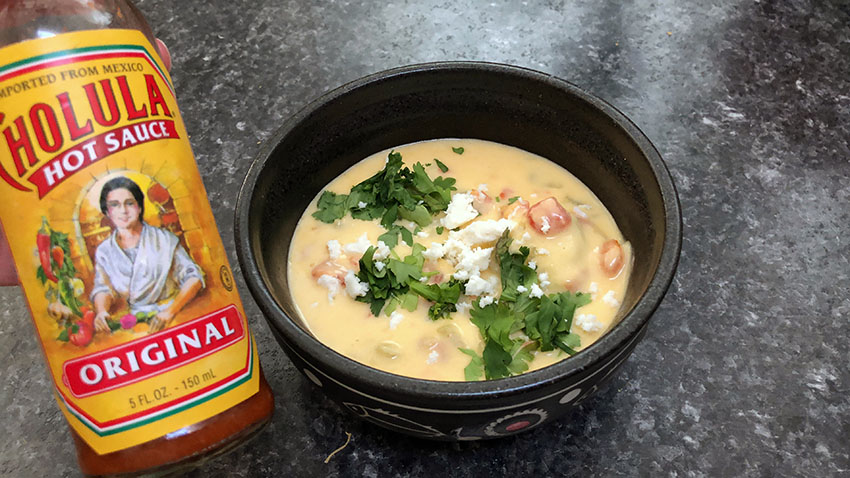 Torchy's Tacos Hillbilly Queso Recipe
Adding chorizo transforms this recipe into a tasty sausage cheese dip with punch. Mexico chorizo is a spicy pork sausage with dried red chiles and paprika that gives it its red color.
I buy Mexico style chorizo when I make this version. It generally comes in links. I remove the sausage from the casing, break it up, and fry in a skillet over medium heat. I cook the sausage for about 5-6 minutes so it is no longer pink and is browned.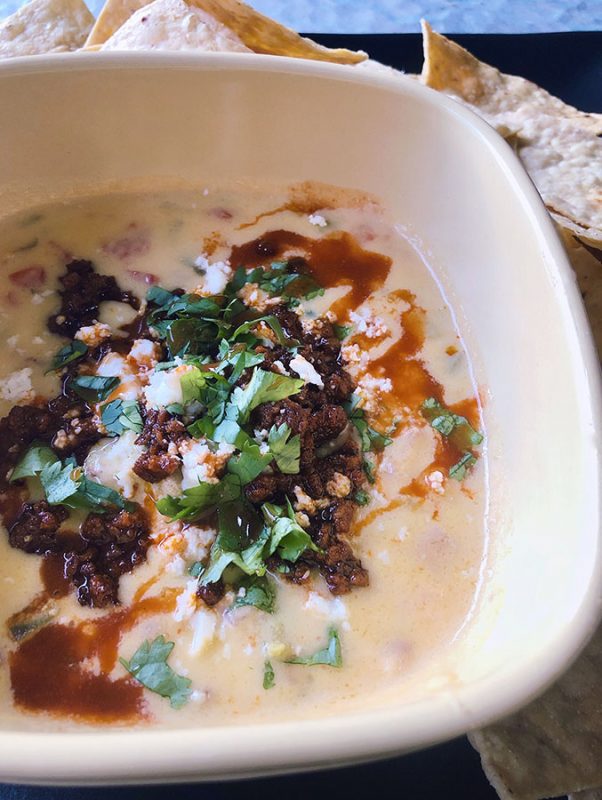 A word about Chorizo – there is also a Spanish style or Iberian chorizo. This is a dried sausage similar to pepperoni or spicy salami. Although good, it's not the right style of sausage for this recipe. Look for the raw pork version. Also, if you'd rather create a milder version, you can use ground beef or ground porkinstead.
The next time you want to serve up a bowl of amazing homemade queso or cheese dip, create the original version or this Torchy's Tacos Hillbilly Queso Recipe (crumbled chorizo sausage dip).
Yield: 7.5 cups
The BEST Queso Recipe (Torchy's Taco Copycat)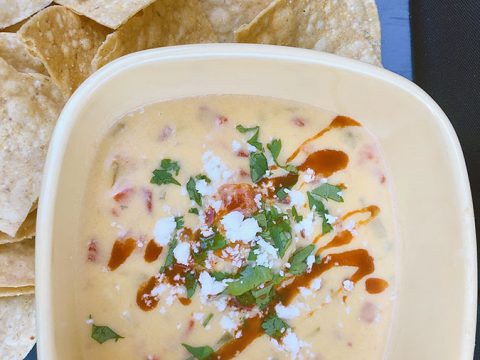 This REALLY is the best queso dip EVER! This is a homemade version of Torchy's Tacos' infamous queso (cheese dip) that features melted cheese, a scoop of guacamole, and topped with crumbled Mexican cheese, freshly chopped cilantro, and a drizzle of hot sauce. It puts Ro Tel dip to shame!
Ingredients
1 teaspoon garlic powder or 1 teaspoon minced garlic
1 ¼ cup half and half
3 cups shredded cheddar cheese
2 cups shredded Oaxaca or quesadilla cheese
1 teaspoon lime juice
Pinch of salt
Fresh cilantro, finely chopped
Cotija cheese, crumbled
Instructions
Place a Dutch Oven on the stove top over medium heat.
Add tomatoes (drained), green chiles (undrained), and garlic to Dutch Oven.
Stir well and cook for 2 minutes or until well heated through.
Stir in half and half, cheddar cheese, Oaxaca cheese, and lime juice.
Cook over medium-low heat until the cheese is fully melted, stirring occasionally to prevent sticking.
Test the queso using the chips you are using and add salt as needed to taste.

To Serve
Place a small scoop of prepared guacamole on the center of a serving bowl.
Ladle melted queso on top of queso.
If making Hillbilly Queso, spoon cooked chorizo on top of queso.
Finish with a sprinkling of crumbled Cotija cheese, chopped cilantro, and a drizzle of hot sauce.
Serve with tortilla chips or fried pork skins.



Nutrition Information:
Yield:
15
Serving Size:
.5 cup
Amount Per Serving:
Calories:

246
Total Fat:

18g
Saturated Fat:

10g
Trans Fat:

1g
Unsaturated Fat:

6g
Cholesterol:

47mg
Sodium:

449mg
Carbohydrates:

11g
Fiber:

1g
Sugar:

2g
Protein:

11g
If you liked this recipe, be sure to check out our latest too!