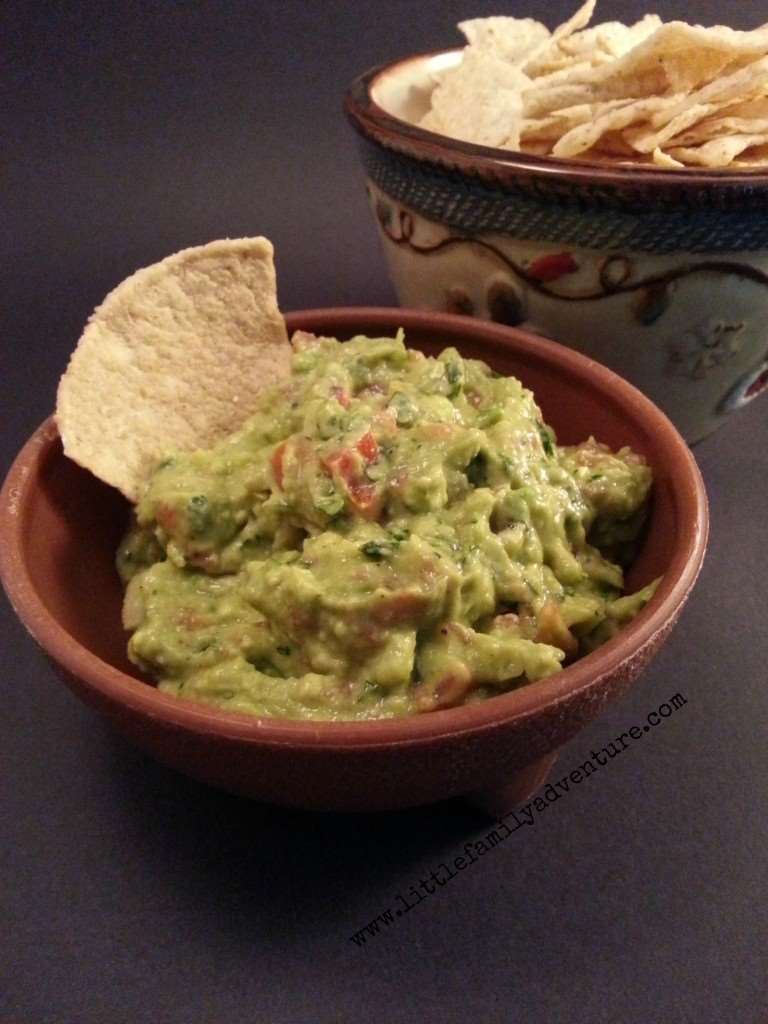 Guacamole is an appetizer that's easy to make with just a handful of ingredients. Guacamole is a fantastic dip served with tortilla chips, but you can use it for so much more. Top a burger or sandwich with a dollop of guacamole, include it in burritos and tacos, or top a taco salad with it and a little salsa instead of dressing.
This recipe is one I've been making for years. Growing up in Southern California, fresh guacamole and salsa were something I grew up with. Nothing says home like a special quesadilla or carne asada burrito with guacamole. Avocados grew on the hills surrounding San Diego. They were available year around. Picking ripe avocados can be a little tricky. If you aren't sure how to select a ripe avocado, the Avocado Board has a great "How To". Click this link and never pick a bad avocado again.
Roma or plum tomatoes are perfect for guacamole. These tomatoes are denser (more meaty) and have fewer seeds and juice. They are the same type of tomatoes used for tomato paste or sauces. You can use other types of tomatoes if you like. To prevent your guacamole from getting runny, remove the seeds and just use the tomato flesh.
Cumin is a popular spice in Tex-Mex and Mexican cuisine. It's common to see cumin combined with chili powder. Cumin adds a hint of smoky flavor and just a dash of cayenne gives flavor without the heat.
On a seasoning note: Most tortilla chips are salted and you don't want too salty guacamole. To ensure proper seasoning, add only half of the salt to the guacamole. Then sample with the same chip you'll be serving alongside. The salt from the chip will mix with the guacamole when you take a bite. If it needs more salt, only then should you add more.
A friend asked how I peel avocados without making a mess. My answer was, "I don't peel them. I scoop." Whether I'm making baked avocados, guacamole, or slicing avocados for another dish, I use the scoop method. Let me show you what I mean.
1. Cut the avocado in half with a knife. Remove the pit by hand (if possible) or strike the pit with the sharp edge of the knife. Twist the knife to dislodge the pit and remove.
2. Using a large spoon (tablespoon not serving spoon), insert along one edge of the avocado. Scrape the inside of the avocado in a "U" shape. Go around the edges of the avocado with spoon if needed to loosen the avocado from the skin.
3. Lift avocado up from the skin. Toss skin into comport bin and use avocado in your favorite dish.
We use guacamole in so many ways. How do you use it?
Guacamole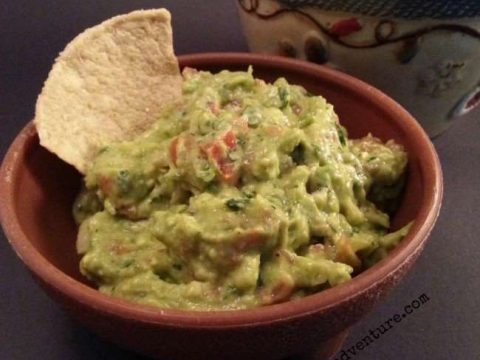 Just a few ingredients makes this delicious dip. Use it as an appetizer, condiment, sandwich spread, and more.
Ingredients
2 avocados, skin and pit removed
1/2 lemon squeezed, about 2 Tablespoons
1 clove garlic, minced
1 Roma tomato, chopped
Handful of fresh cilantro, finely chopped (about 3-4 Tablespoons)
1/2 red onion, finely chopped (about 1/4 cup)
1/4 teaspoon salt (more or less to taste)
1/2 teaspoon cumin
Dash of cayenne pepper (optional)
Instructions
In a shallow bowl, mash avocados with a fork until no large chunks remain.
Add remaining ingredients and stir to combine.
Serve
Nutrition Information:
Serving Size:
1
Amount Per Serving:
Calories:

523
Total Fat:

44g
Saturated Fat:

6g
Sodium:

619mg
Carbohydrates:

33g
Sugar:

7g
Protein:

8g