Ready for some classic southern Louisiana food? This Gumbo recipe is cajun comfort food at it's best. This stew (actually more of a soup) is full of spicy Andouille sausage and chicken served over rice. The best thing about this easy gumbo recipe is it's made in a pressure cooker dramatically cutting cooking time. So now you can enjoy this classic cajun recipe is less time.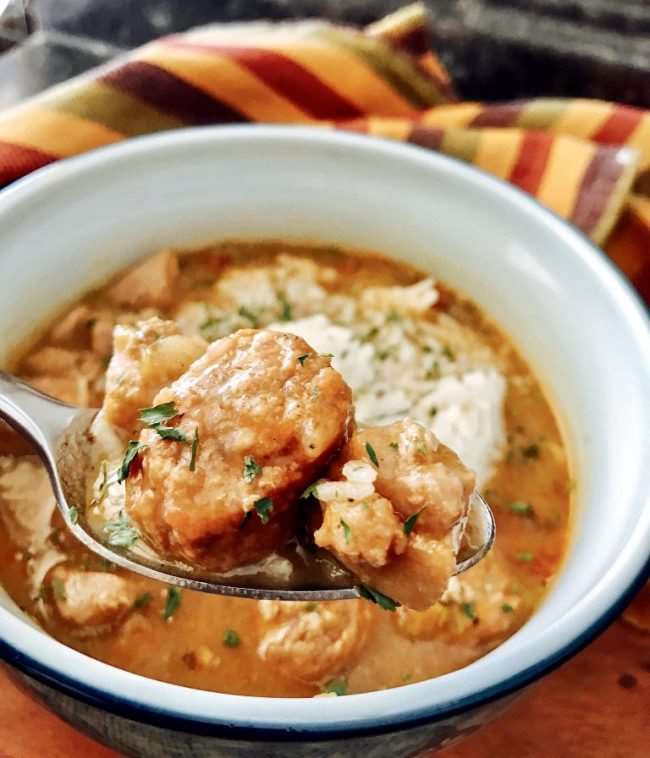 Needing an Easy Gumbo Recipe?
I'll be honest with you. Before now, I've always been too afraid to make gumbo. It seemed too difficult to get the roux (mixture of browned/cooked flour and oil) right. I'd hear other people talk about how disastrous their gumbo was because they didn't get the roux right. Unfortunately they didn't know it until after hours of cooking. So I just left it alone and went out for Gumbo.

New Orleans Gumbo Secret
On a recent trip to New Orleans, I had my fill of gumbo. It was some of the BEST gumbo I've ever had. Even the airport restaurants served a mean bowl. If you haven't been to New Orleans, you are truly missing out on some great food and a trip isn't complete without beignets. I don't think there was anything I didn't like during my week there. You can see some of the highlights in these Things to Do in New Orleans with Kids and New Orleans Restaurants articles. Another favorite was red beand and rice which by the way is an even easier recipe than this one.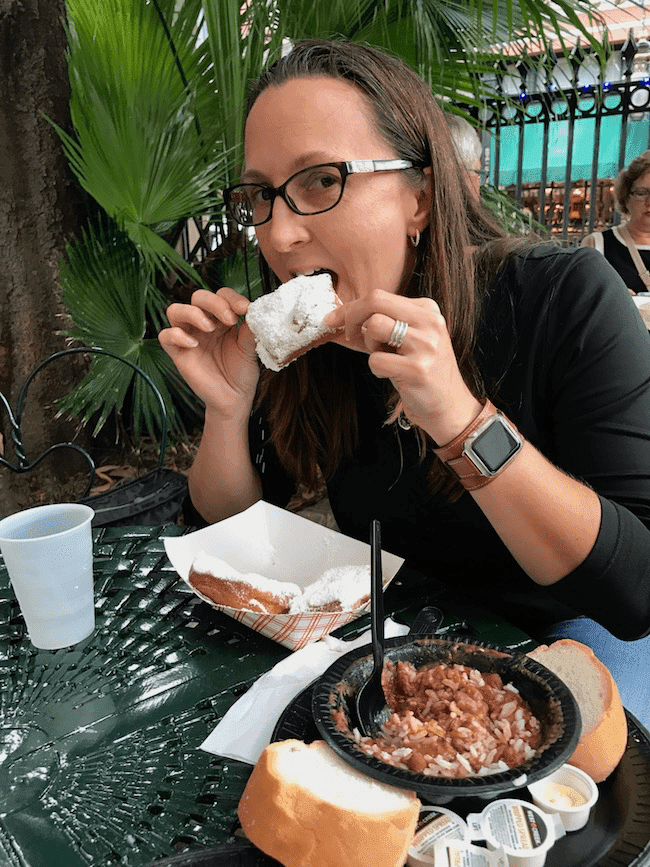 During one of my meals, a group of food bloggers, restaurant staff, and locals started talking about New Orleans food and Cajun cuisine, especially gumbo. I was let in on a little secret that is the key to a successful gumbo. It's all in the roux. That mixture of browned/cooked flour and oil needs to be just right. The type of oil isn't that important. I used avocado oil for its high smoke point, but you can use olive oil, lard, butter, etc. The secret is you whisk constantly and then stir, stir, stir, until you get what looks like peanut butter.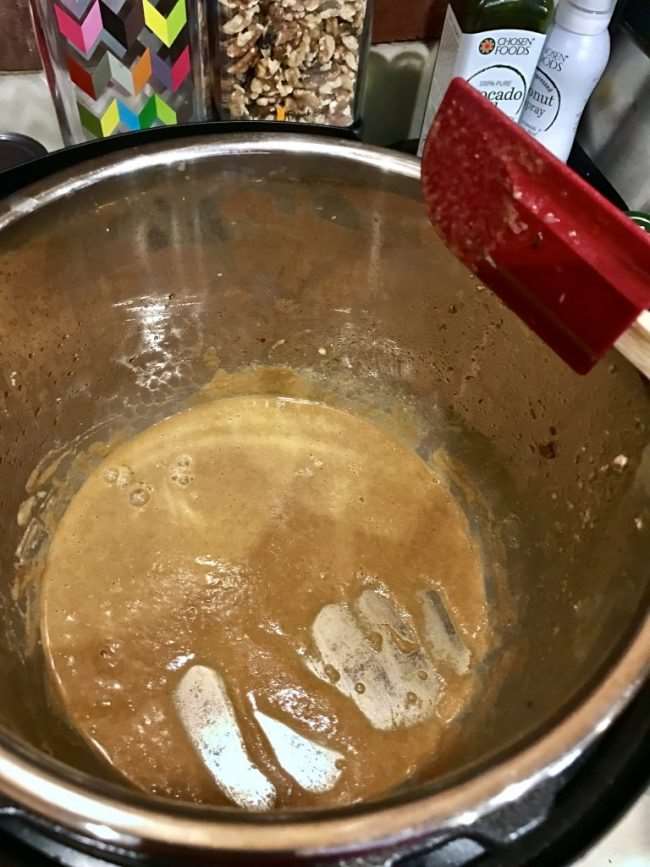 It's not really peanut butter, but you know it's right when the roux is the color of peanut butter. After I returned home, I tried it and it WORKED!!! I successfully made a great gumbo. I have since made this recipe several times and each time it comes out perfect.
Pressure Cooker Gumbo
Cooking this gumbo recipe is made a lot easier in a pressure cooker. I use this Instant Pot Programmable 6 Quart Pressure cooker. I have this one instead of the Instant Pot 7-1 because I didn't need a yogurt maker. That's the only difference between the two. Using a pressure cooker allows me to make gumbo in less than an hour instead of 3-4 hours the traditional way.
Here are some other Instant Pot Recipes to try:
How to Change Saute Level on Instant Pot
To make your roux, you will be using the saute cook button on your pressure cooker. More than likely, your machine is set to "normal" temperature. Several readers have mentioned that they get a burn warning when the temperature gets too hot. If you find that this is happening to you, here is how to change the saute temperature level on your Instant Pot.
Plugin your IP and press the "Sauté" button.
Press the "Adjust" key to select "Normal", "More" or "Less".
If you do not have an "Adjust" key, you can repeated press the "Sauté" button to go between the different temperatures.

Gumbo Recipe Variations
There are different gumbo recipes out there, each a little different. I used Andouille sausage with a mild flavor. If you use a spicer sausage, add extra Cajun seasoning to your liking. The smoked paprika gives it a nice flavor and balance. I didn't add okra to my gumbo because it's out of season and frozen just isn't the same. If you want to add okra, reduce your natural release time by 5 minutes after cooking. Add the okra and return the gumbo to sauté for 5-8 minutes or until the okra is soft. This will give you a nice texture without the okra getting gummy.
If you want a gumbo that is more like a thicker stew, combine 1 tablespoon cornstarch and 1/4 cup water in a cup/bowl and stir until lumps are gone. Then add that to the Gumbo after it's finished cooking. Stir until well combined and the broth thickens up.
Without a pressure cooker, this recipe can be easily modified for a dutch oven or stock pot. Create the roux over medium high heat, whisk constantly, and then slow simmer the gumbo. Easy Peasy!
Yield: 12
Easy Gumbo Recipe (Instant Pot)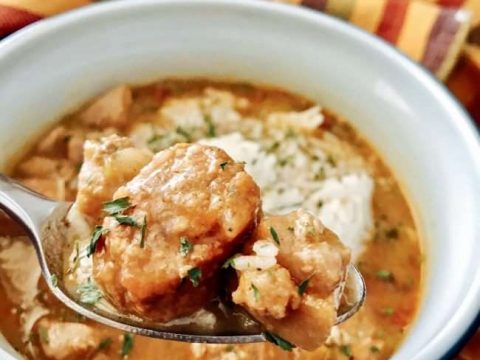 This chicken and sausage gumbo is super easy to make using a pressure cooker. This version does not have okra.
Ingredients
1 pound Andouille Sausage, cut into 1/2" slices
1 pound chicken thighs, cut into 1-2" pieces
1/4 cup + 1 Tablespoon avocado or olive oil
1/2 cup white flour
1 Large Onion, chopped
1 Bell Pepper, chopped
3 Celery Stalks, chopped
4 Garlic Cloves, chopped
1 Tablespoon Cajun Seasoning
1 Tablespoon Dried Thyme
1 1/2 teaspoons Smoked Paprika
8 cups Chicken Stock
2 cups Tomatoes, Diced
Sea Salt and Black Pepper to taste
3 cups cooked rice
Instructions
Set pressure cooker to sauté (normal level) and add 1 tablespoon of oil.
Once oil is hot, add onion, bell pepper, celery, and garlic. Cook until vegetables are soft, about 5 minutes. Stirring often.
Remove vegetables to a plate/bowl.
Add the sausage to the pot and brown (without the lid) on both sides, about 5 minutes. Remove the sausage to the plate with the vegetables. Be sure to leave oil/drippings in the pan.
Add the cut-up chicken thighs to the pot and brown on both sides, about 6 minutes.
Remove chicken and add to the plate with the sausage.
Add the remaining 1/4 cup of oil and flour to the pot.
Stir/whisk constantly and cook until the roux is the color of peanut butter, about 5 minutes.
Add chicken broth to the finished roux in the pressure cooker. Whisk until incorporated.
Add diced tomatoes, cajun seasoning, thyme, smoked paprika, cooked sausage, chicken, and vegetables to the pressure cooker. Stir well to combine.
Add the pressure cooker lid and bring to pressure.
Cook for 15 minutes on manual setting and then allow to naturally release for 15 minutes.
Release any remaining pressure and remove the lid from the pressure cooker
Taste the gumbo and add, as needed, sea salt and black pepper.
To serve: place a 1/2 cup of white rice in a bowl and top with gumbo.
Notes
You can adjust the saute heat level on your Instant Pot with the "adjust" button or by pressing your saute button multiple times.
While cooking your roux, if it becomes clumpy, your chicken and sausage may not have rendered down enough. Add a touch more oil (a teaspoon at a time) and whisk to incorporate.
Nutrition Information:
Yield:
12
Serving Size:
1
Amount Per Serving:
Calories:

355
Total Fat:

19g
Saturated Fat:

6g
Trans Fat:

0g
Unsaturated Fat:

12g
Cholesterol:

76mg
Sodium:

914mg
Carbohydrates:

25g
Fiber:

1g
Sugar:

5g
Protein:

20g
Want more soup recipes that aren't made in a pressure cooker? Try these: