This easy Thai coconut soup recipe is simply delicious! It's creamy, bright, and bursting with flavor. I absolutely love how fresh it tastes with the ginger, roasted red bell peppers, snap peas, and other spices. You will love too! This soup is also vegan, Whole30, paleo, and keto.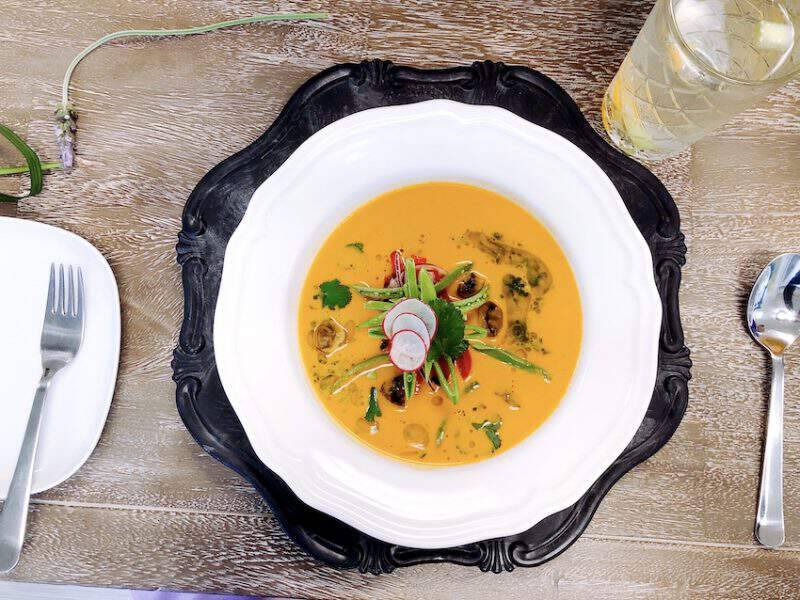 This story may contain affiliate links. Purchase through our affiliate links and we receive a small commission without any extra expense to you!
My recipe here is a modified Tom Kha Gai soup (thai Chicken Soup) but without the chicken and uses easy to find ingredients. I dislike it when a recipe looks fantastic but I don't have the ingredients necessary. With this coconut milk soup recipe, there's no special trip to an Asian market. Lemongrass used to be hard to find in traditional grocery stores. But I'm seeing fresh lemongrass more and more. You can find jarred lemongrass paste in the produce section near the garlic paste or alongside Asian and soy sauce.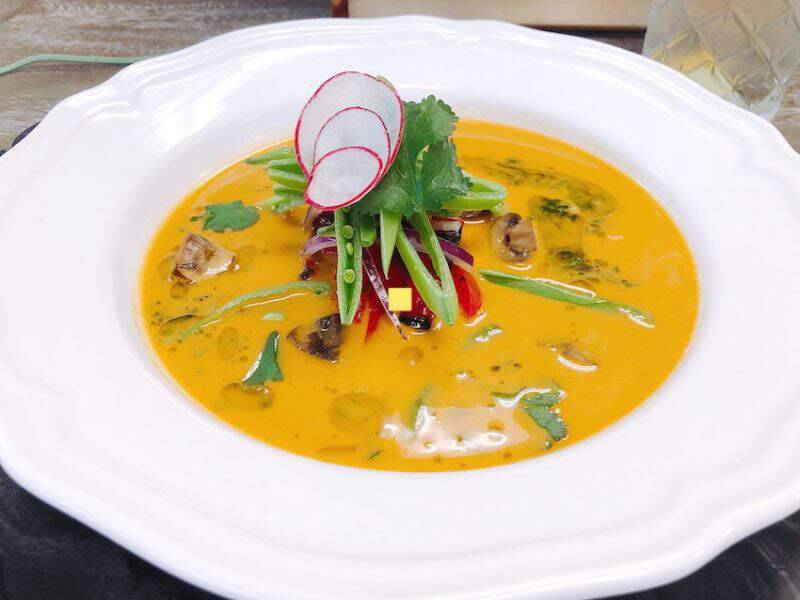 Thai Soup Recipe
The original recipe for this soup comes from Chef Brandon Hall, ECOS Chef in Residence, in Cypress, California. During my last trip to Anaheim for National Products Expo West, I was invited to visit the ECOS Headquarters, take a tour of the plant, and enjoy a Farm-to-Table lunch prepared by Chef Brandon.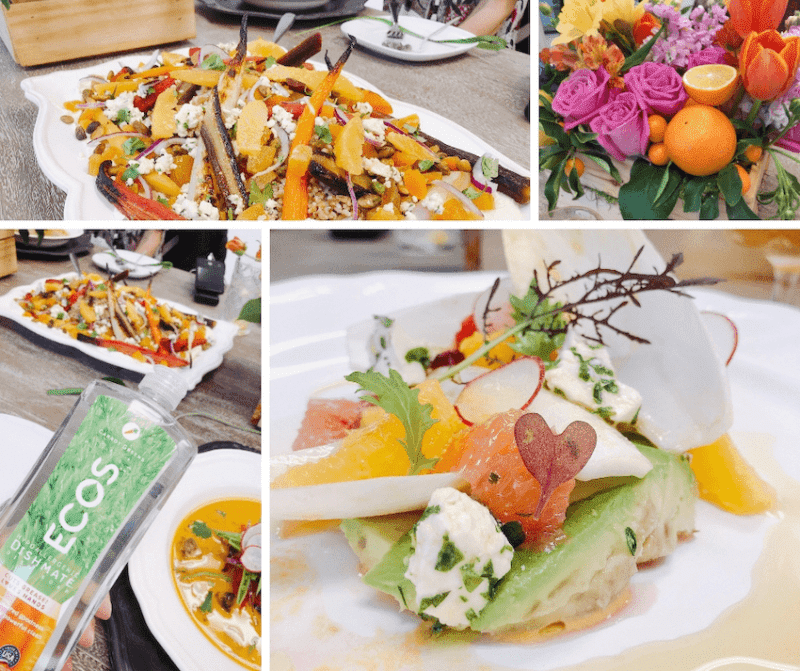 Lunch was fantastic! This Thai soup with coconut milk was one of my favorite parts of that meal. This isn't a sponsored post, but I enjoyed it so much that I wanted to share it with you. ECOS, also known as Earth Friendly Products, creates green, plant-based cleaning products. I have been using their laundry soap and hand soaps for years because I like how effective they are. They are free of chemicals, dyes, and synthetics too. On the tour I learned about their commitment to transparency, being green, and being carbon-neutral. I'll have to share more on the tour later because it was really interesting to see how everything was focused on great products while being mindful of the waste they produce.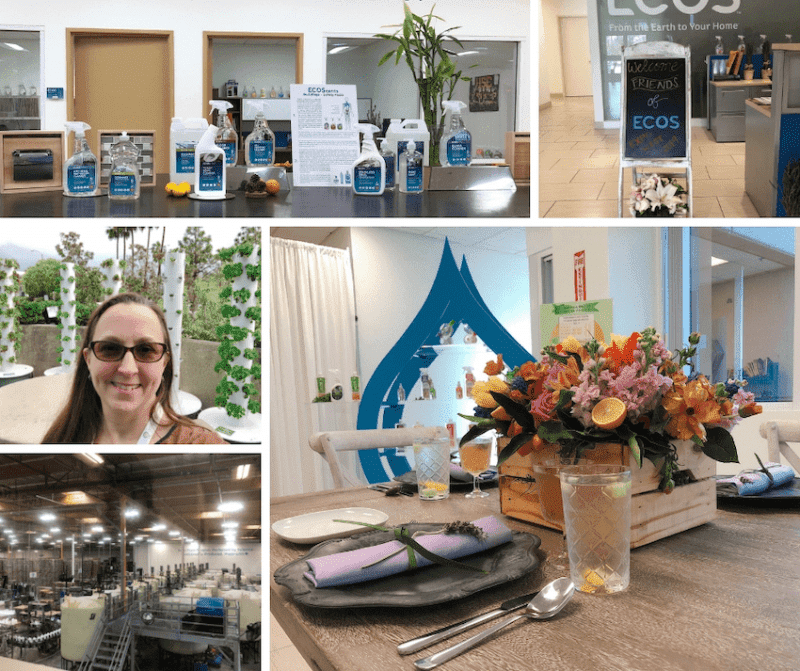 Whole30, Paleo, Keto Coconut Soup
This coconut soup recipe uses unsweetened coconut milk, a thick creamy liquid that comes from white inside meat of mature brown coconuts. This is not to be confused with coconut water which is the liquid from green immature coconuts. The version you want for this recipe comes in a can and is often found on the Asian food aisle.

The original recipe for this coconut milk soup called for a tablespoon of honey or organic sugar. I omitted it because I found that when I made it at home, I didn't find it necessary. Plus without the added sugar, this Thai coconut soup becomes keto, paleo, and Whole30 friendly.
Pin This for Later….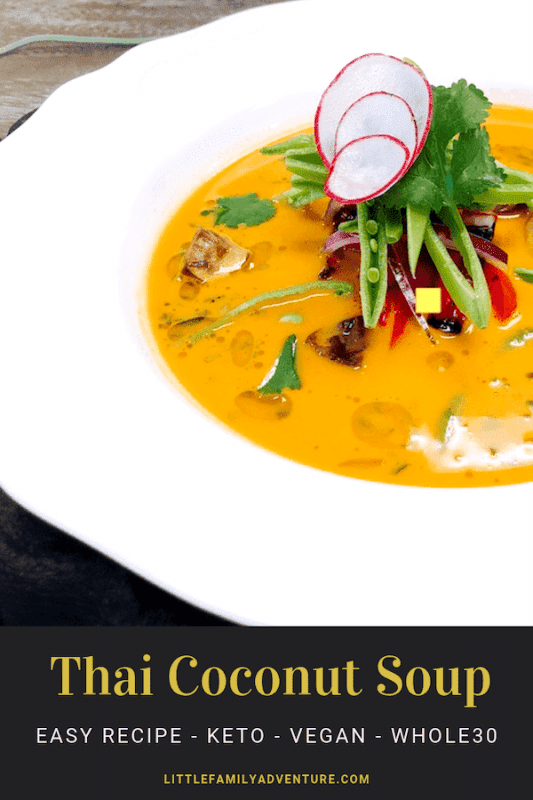 The original recipe also calls carrot tops for the Gremolata garnish. Most people throw carrot tops out, but they can be used just like parsley. I will often use them to make carrot top pesto. If you don't have them, just substitute with fresh parsley.

I did add a touch of lime juice in the garnish. I found that a drizzle really make the flavors pop in this soup. Lime actually brings a lot of the flavor out in many Thai dishes.

Love Thai Soup? Make sure you also check out these:

Thai Coconut Milk Soup
Yield: 6
Easy Thai Coconut Soup (Vegan, Keto, Whole30)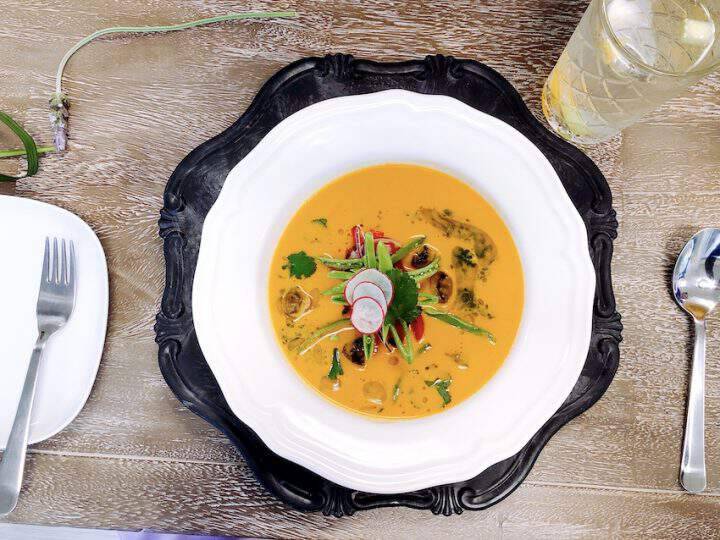 A delicious vegan remake of Tom Kha Gai soup. Made to be vegetarian, Keto, Paleo, and Whole30.
Ingredients
Thai Coconut Soup
2 Tablespoons lemon grass
2 Tablespoons fresh ginger
3 Cloves garlic
3 Teaspoons Kosher salt
12 Ounces mushrooms of choice, sliced
12 Ounces snow peas, cut in half
1 Large red bell pepper, small dice
1 Bunch Organic cilantro, roughly chopped
1 Bundle organic radish, thinly sliced
Carrot Top Gremolata
1 Bundle of carrot tops, finely chopped
1 Teaspoon Red Chile flakes
2 Cloves of Garlic, minced
Instructions
Turn on oven and set to broil Hi setting.
In a Dutch Oven or large heavy bottomed sauce pot, combine coconut oil, lemon grass, ginger, garlic, and Sambal Olek.
Cook on medium heat until the garlic begins to turn light brown and becomes very fragrant.
Add coconut milk to garlic ginger mixture and bring to a boil.
Reduce heat to simmer and cook an additional 10-12 minutes.
While broth is simmering, place mushrooms, snow peas, and red bell peppers onto a baking sheet.
Position baking sheet 5" under the oven's broiling element (2nd rack position in most ovens).
Lightly char vegetables, stirring often to ensure even char.
Set charred vegetables aside in a small bowl until ready to serve.
Once stock has finished simmering, strain through a fine mesh strainer and pour coconut broth into serving bowl of choice.
Top with mushroom, snow pea, pepper mixture.
Garnish with fresh cilantro, radish, and drizzle carrot gremolata over the top.
Nutrition Information:
Yield:
4
Serving Size:
1
Amount Per Serving:
Calories:

263
Total Fat:

18g
Saturated Fat:

9g
Trans Fat:

0g
Unsaturated Fat:

7g
Cholesterol:

1mg
Sodium:

2083mg
Carbohydrates:

23g
Fiber:

8g
Sugar:

10g
Protein:

7g
This Thai soup has been made vegan, but you can easily add in shredded chicken. shrimp, or a vegan protein source like tofu or seitan. Create this delicious soup at today and find out why we can't get enough of it.