Yakisoba Noodles = Healthy Fast Food!

Yakisoba is a classic Japanese stir fry noodle dish. It is a combination of vegetables, pork or chicken, and stir-fried noodles served with a slightly sweet sauce. My recipe here is a chicken yakisoba and takes ONLY 15 minutes to prepare. So it's quick, easy, and oh sooooo delicious! It's perfect for weeknights, quick afterschool snacks, or while camping.
Years ago, my husband was stationed in Okinawa, Japan. Yakisoba was a dish he often ate. Most every restaurant in the area had it on the menu. He and his friends used to call it "Japanese Spaghetti." Today, if we go to a local Japanese restaurant, he almost always orders a plate of Chicken Yakisoba.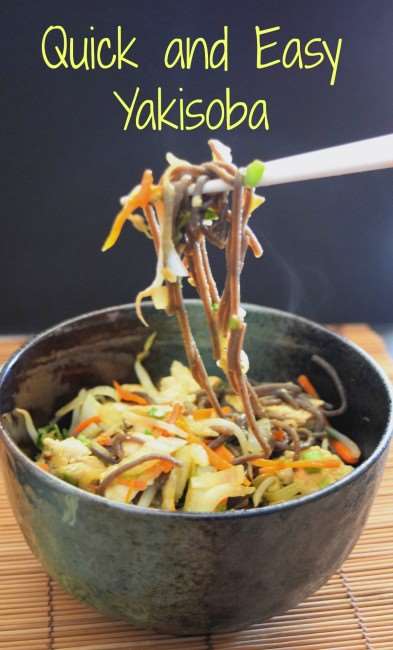 How to Make Yakisoba
Yakisoba is really easy to make and you can change up the ingredients depending on what you have on hand. This is a great way to use leftover or store-bought rotisserie chicken too. I like a combination of chicken, Napa cabbage, and carrots. But you can use pork, seafood, or go vegetarian.
When cooking yakisoba, start to stir fry the firmer vegetables first over a medium high heat. Then add the softer vegetables. I often cut the thicker stem of Napa Cabbage from the leaf and cut that a little longer for a more uniform texture. After vegetables are cooked, add noodles, cooked chicken, and sauce to combine and serve.
Yakisoba Noodles
You can use many types of noodle for this Yakisoba recipe. I've made this version with buckwheat noodles because I like their flavor and texture. Soba is another word for buckwheat. These yakisoba noodles are made with a combination of buckwheat and wheat flour. The result is a slightly nutty flavor. But, like I said, you can use different types like ramen noodles, fresh stir fry noodles, etc. You can find buckwheat or these other noodles in the Asian foods section at local grocery stores. If you can't, then substitute for spaghetti noodles. For a similar flavor, I recommend a whole wheat version or gluten-free variety and cook to al dente.
Other recipes you may want to try:
Chicken Yakisoba
Make and enjoy this quick and easy yakisoba anytime; lunch, dinner, or snack. It's hardy enough to make the night before and take to work for lunch. Just reheat it and you're ready to go. You can add pickled ginger just before serving too. Anyway, you serve it, you are going to love this healthy fast food!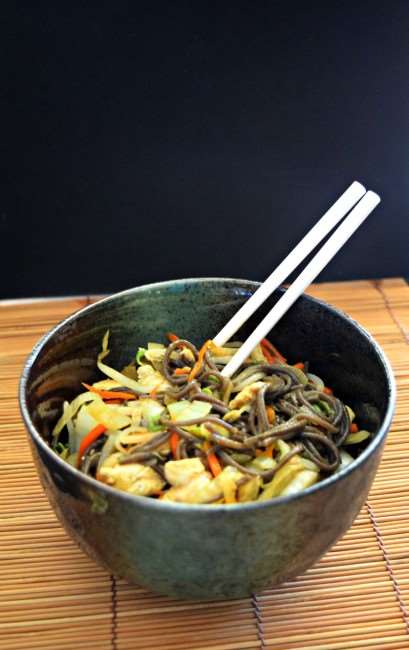 Yield: 4-6
Easy Chicken Yakisoba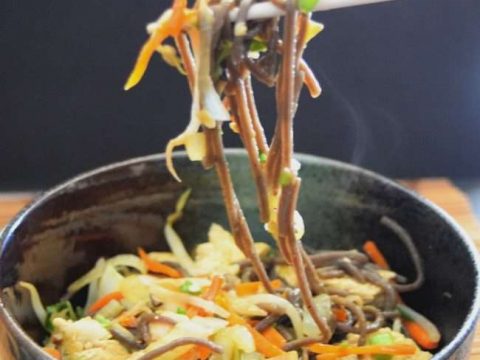 This is healthy fast food! Yakisoba is Japan's version of Chinese Chow Mein with stir-fried noodles, vegetables, and meat with a slightly sweet sauce.
Ingredients
2 bundles of Buckwheat noodles, cooked according to package directions
1 teaspoon olive oil
1 chicken breast, cut in half and thinly sliced
3 cloves of garlic, minced
3 shitake mushrooms, chopped
1 onion, chopped
2 carrots, julienned or thinly sliced in matchsticks
2 green onions, chopped
9 Napa cabbage leaves, thinly sliced
Handful of fresh bean sprouts (optional)
Pickled Ginger (optional)
Sauce
1/3 cup soy sauce or Braggs liquid aminos
3 Tablespoons Rice Wine Vinegar
3 Tablespoons Sake
2 teaspoons honey
1/8 teaspoon of ground ginger
1 teaspoon sesame oil
Instructions
Cook noodles according to package directions.
While the noodles are cooking, combine all the ingredients for the sauce, soy sauce through sesame oil in a small bowl. Set aside.
Heat oil in a large saute pan or wok over medium heat. Add the thinly sliced chicken to the pan and cook until no longer pink, about 5 minutes. Remove chicken from pan and set aside.
Return pan to the stove and add garlic and cook until lightly brown, about 1 minute.
Increase the heat to high and add mushrooms and onion. Cook for 2 minutes, stirring often.
Add carrot, green onions, and cabbage leaves. Cook over medium heat for 3-4 minutes stirring often until cabbage becomes wilted.
Add cooked noodles, sauce, cooked chicken, and bean sprouts (if using). Cook for an additional 2 minutes until the bean sprouts and noodles are warmed through.
Plate noodles and serve with pickled ginger if using.
Nutrition Information:
Serving Size:
1
Amount Per Serving:
Calories:

248
Total Fat:

10g
Saturated Fat:

1g
Sodium:

5089mg
Carbohydrates:

40g
Sugar:

22g
Protein:

19g
Enjoy this dish by itself or add a few traditional sides for a complete meal. Favorites in our house include steamed edamame (soybeans), a green salad with Carrot Miso Dressing, and Miso Soup.
What is your favorite healthy fast food?