I am partnering with Barlean's to bring you this Rainbow Thai Chicken Salad with Peanut Dressing. This blog contains affiliate links. They help pay for the coffee and hiking boots that keeps us turning out adventures week after week.All opinions are my own. I'll only recommend and share products that I use and love myself.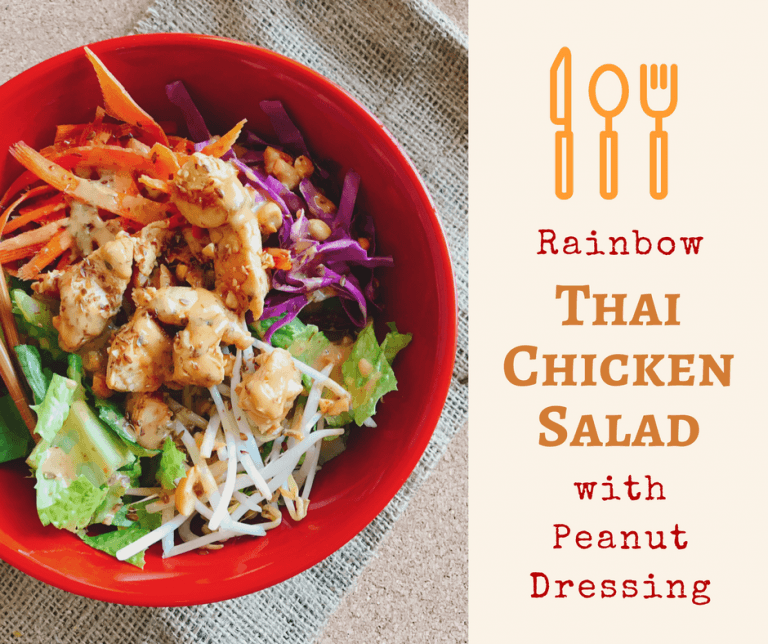 Thai Chicken Salad Recipe
When you eat healthy, you feel better and have the energy to go out and find your own adventure. It's the premise this website is based on and the way our family eats. When Barlean's announced this Eating Clean Challenge, I was excited to create a new healthy recipe for you using Barlean's flax seed (Forti-Flax) and flax oil. What I created was a modified version of my Thai Chicken Salad with a Peanut Dressing that is super simple and the kid-friendly.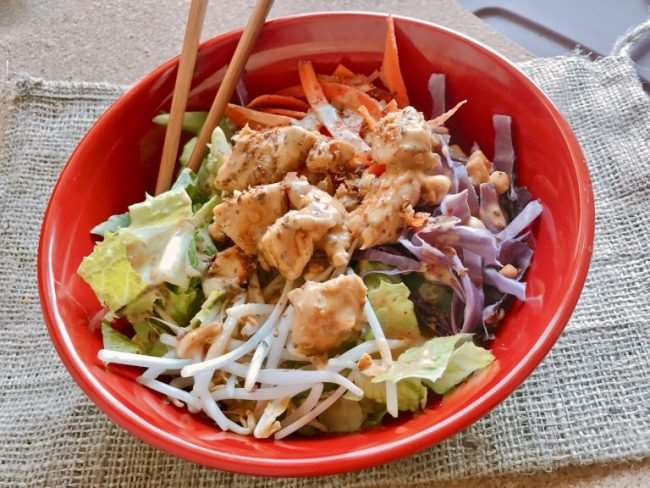 Here are a few reasons you are going to LOVE this Rainbow Thai Chicken Salad recipe:
Ready in under 20 minutes
Can be made almost anywhere; on vacation, at home, camping, etc.
Full of fresh, raw vegetables
Easy to modify the veggies to whatever is in season or the family prefers
Did I mention SUPER SIMPLE?
Great example of how delicious clean eating can be
What is Clean Eating?
If you are new to the term "clean eating" let me assure you it has nothing to do with dirt. Clean eating, at its simplest, is just about eating real foods that are as close to nature as possible, that are minimally processed or refined. Consider the food your great-grandparents ate before the age of convenience style foods; foods fresh from the garden, farm raised beef and pork, whole grains, etc. That is clean eating.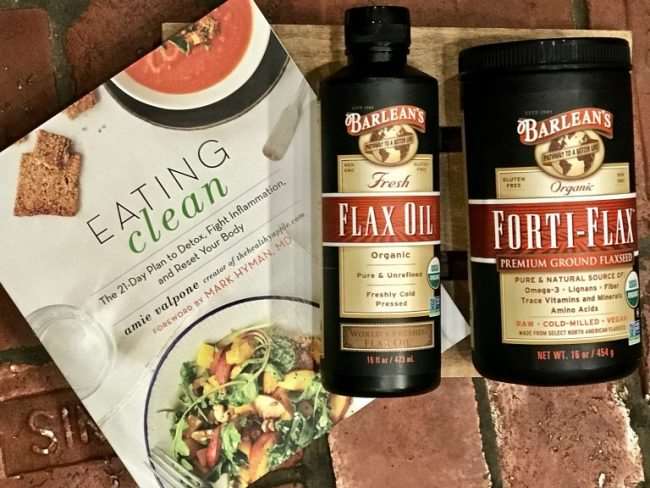 For the #EatCleanWithBarleans Challenge, I received:
Keep reading because after the recipe, you can enter to win a great prize package in our #EatCleanWithBarleans giveaway!
Flax 101
Part of the Eat Clean with Barlean's Challenge was to create a healthy recipe with flax. I knew that flax was good for you, but I had to look up why it was good for us. According to healthyflax.org, flax is:
….blue-flowered plant grown in the cool, northern climate of the western Canadian prairies and northern United States. The seed from flax can be consumed in whole seed, milled (ground), or oil form. It is a powerhouse of disease-fighting compounds, such as the omega-3 fatty acid alpha-linolenic acid (ALA), fiber, lignans (which are powerful antioxidants) and high quality protein. Flaxseed has been found to help protect against heart disease, inflammatory disorders and certain cancers. The mild nutty flavour of flaxseed adds flavor, nutrition, and health benefits to a variety of foods.
Typically, I will sprinkle ground flax seed over my morning granola and yogurt or take a spoonful of Flax Oil in one of the Barlean's Omega Swirls. This blackberry swirl is my favorite. If you want to see one of these swirls in a smoothie bowl, check this Banana Split Smoothie Bowl recipe. I hadn't given it much thought to cook with, until now.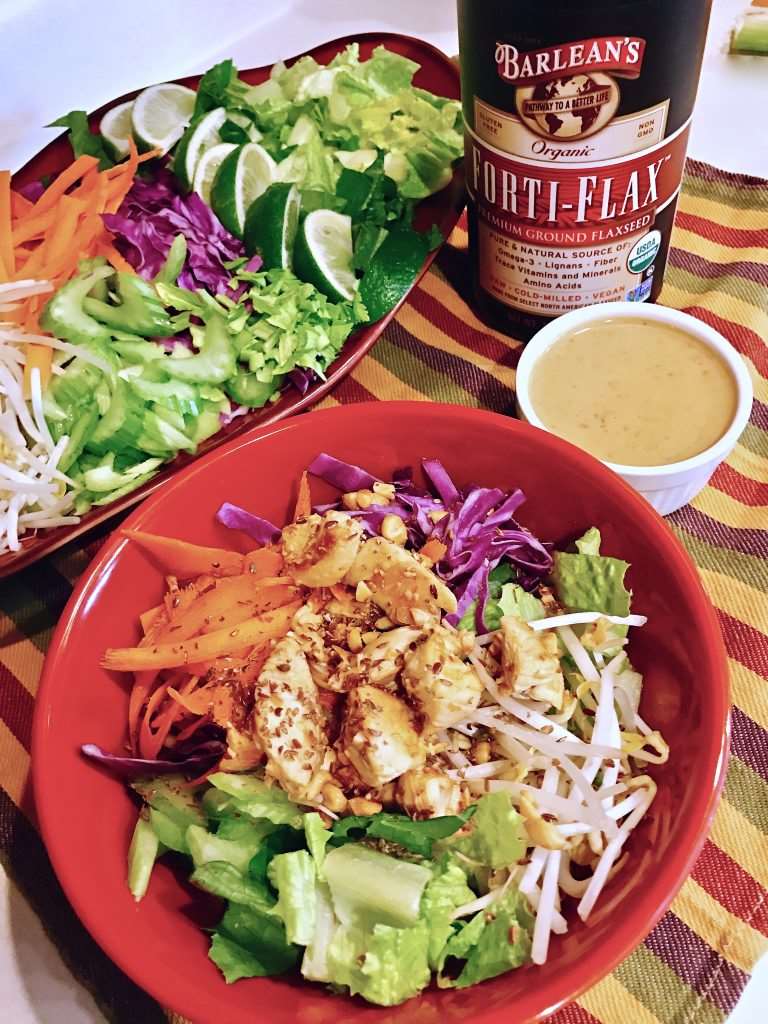 Cooking with Flax Seed and Oil
You can bake with ground flax seed by substituting 1/2 cup of Forti-Flax (ground flax seed) for 1/2 cup of flour. It's not recommended to substitute flax seed in a 1:1 ratio for your four. You can also add flax seed to the top of batter before placing it in the oven. This adds a little crunch to cookies, muffins, and breads. I added ground flax seeds to this salad's Peanut Dressing and also sprinkled it over the salad for an added crunchy and flavor.
Flax oil is not an oil you want to cook with. It is best on its own or used in salad dressings, smoothies, and dips. It's also delicious drizzled over cooked or grilled foods. I used flax oil in this Thai Chicken Salad's Peanut Dressing.
Super Simple Salad
This recipe takes about 15-20 minutes to prepare. Marinate the chicken for a few minutes as you pull the salad fixings out of the fridge. Get the kids in the kitchen to help prep the salad vegetables as you cook the marinated chicken on the stove top and make the Peanut Dressing.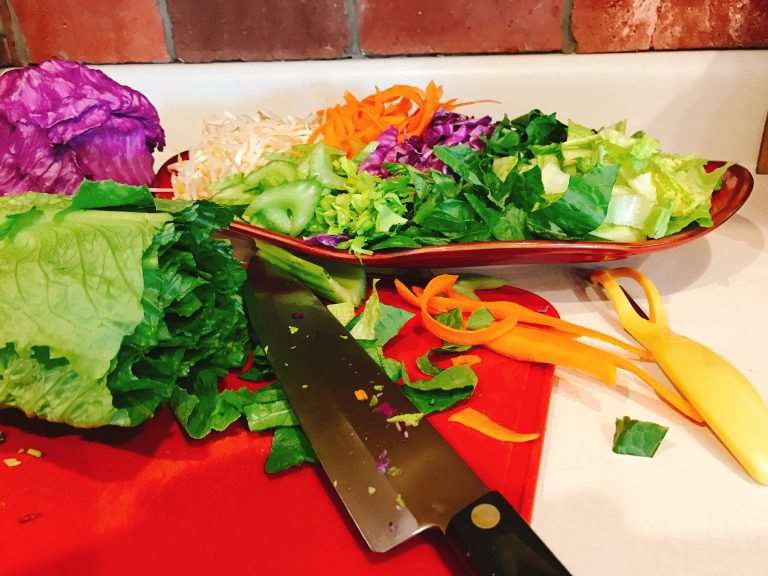 Everyone can create their own Thai Chicken Salad. Grab salad bowls and fill with a rainbow of vegetables and chicken. Drizzle with dressing, squeeze a little lime juice, and you are all set for a GREAT family friendly meal. Best of all, it's rest in under 20 minutes so you have plenty of time for new adventure!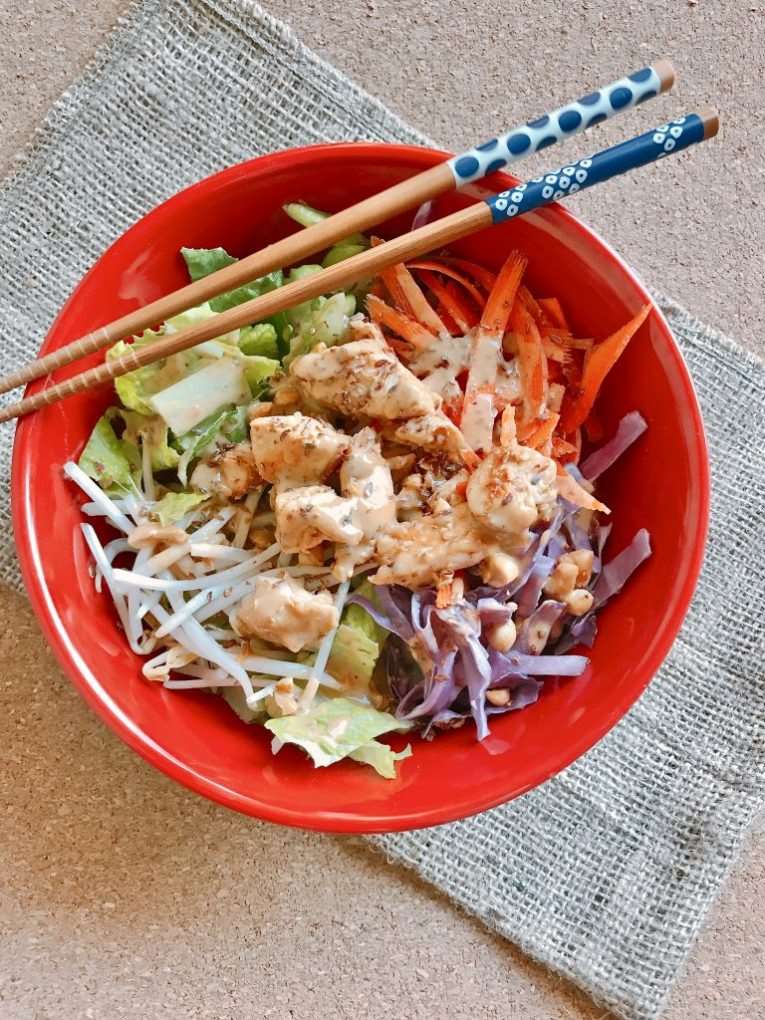 Thai Chicken Salad with Peanut Dressing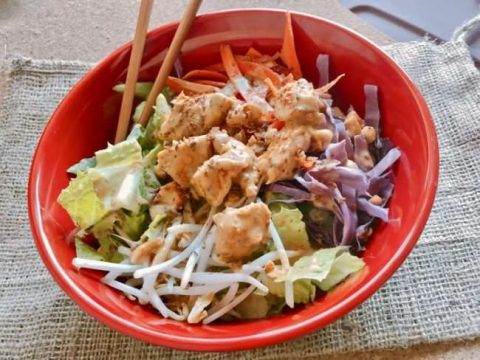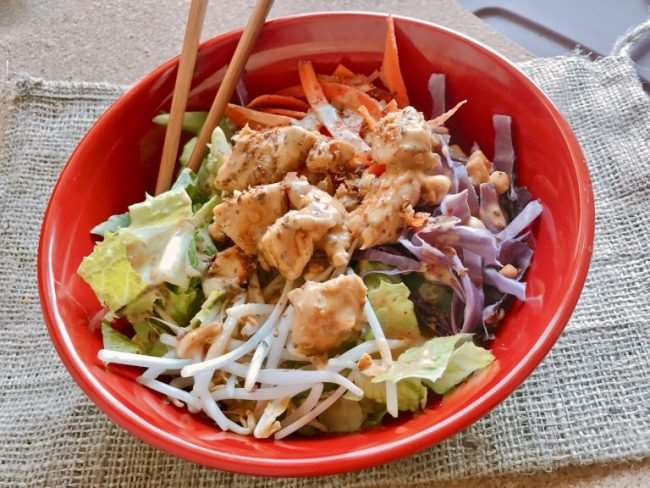 Ingredients
1 pound chicken tenderloins, cut into 1" pieces
1 teaspoon oil
1/3 cup peanuts, chopped
Marinade
2 Tablespoons Sesame oil
1 lime, juiced
2 Tablespoons Braggs Aminos or soy sauce
2 cloves Garlic, minced
1/4 teaspoon ground ginger
Peanut Sauce/Dressing
1/4 cup peanut butter
2 Tablespoons Barlean's Flax Oil
2 Tablespoons Barlean's Forti-Flax (ground flax seed)
2 Tablespoons Braggs Aminos or soy sauce
1 Tablespoon honey
1 lime, juiced
1/4 teaspoon garlic powder
1/4 teaspoon red pepper flake
Salad
8 cups Mixed Greens, shredded green cabbage or chopped lettuce
1/2 small Red cabbage, shredded
3-4 Carrots, shredded
2 cups Bean sprouts,
3 Celery Stalks, sliced
1 Lime, cut into wedges
2 Tablespoons Barlean's Forti-Flax (ground flax seed)
Instructions
Chicken
In a small bowl, combine marinade ingredients (sesame oil, lime juice, Braggs aminos or soy sauce, garlic, and ginger).
Add chicken to the marinade and allow to sit 5-10 minutes while you prep the salad vegetables.
Heat 1 teaspoon of oil in a skillet or cast iron pan over medium-high heat.
Add chicken and marinade to the pan and cook until chicken is browned on all sides, about 7 minutes.
Add chopped peanuts to the pan and stir to combine.
Remove pan from heat and transfer chicken and peanuts to a serving plate.
Peanut Sauce/Dressing
Combine all the ingredients in a small bowl and stir until well combined.
Add water until the dressing is to a consistency that you can drizzle over a salad.
Salad
Create 4 salad bowls with vegetables of your choice. Top with cooked chicken and a sprinkle of Barlean's Forti-Flax (flax seed).
Drizzle salad with Peanut Dressing.
Serve with a lime wedge.
Nutrition Information:
Serving Size:
1
Amount Per Serving:
Calories:

845
Total Fat:

54g
Saturated Fat:

8g
Sodium:

2680mg
Carbohydrates:

86g
Sugar:

45g
Protein:

19g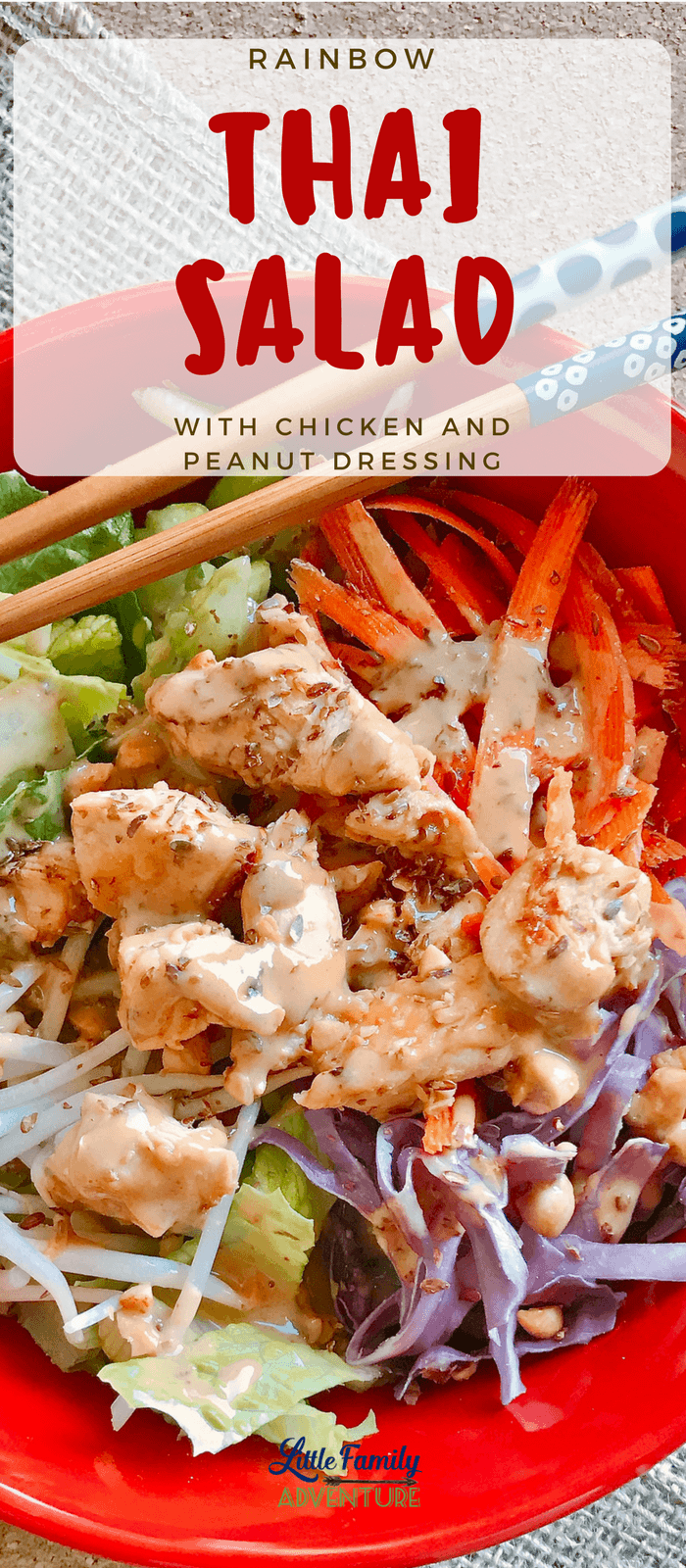 SaveSave