Are you looking for a Keto or low carb dinner recipe your family will love? This deconstructed egg roll in a bowl recipe is just the thing, but I warn you, it's REALLY addictive. Seriously! There's a reason so many people call this "Crack Slaw".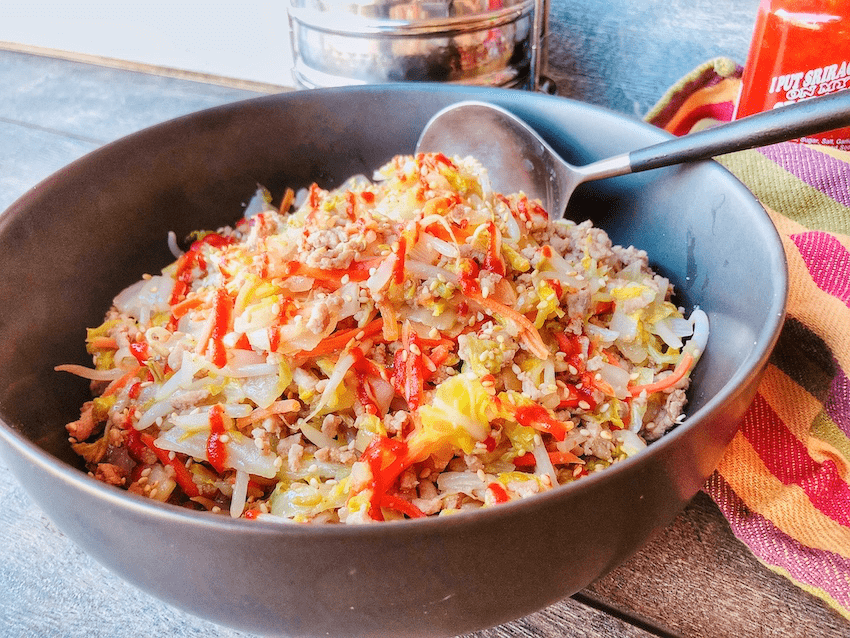 Little Family Adventure some times receives complimentary products, hosted travel, and/or compensation related to shared content. This story may contain affiliate links. Purchase through our affiliate links and we receive a small commission without any extra expense to you!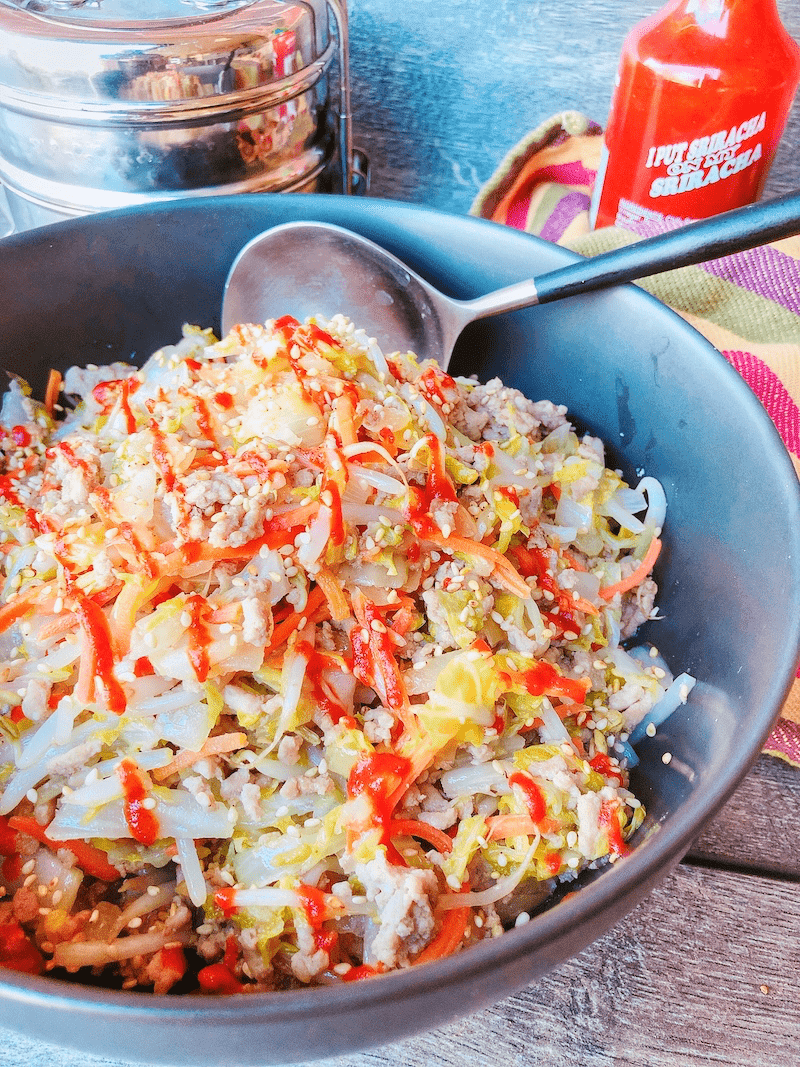 Currently, this is our family's favorite pork recipe. The kids love this recipe and are asking for it to be added to our weekly meal plan EVERY week. But I really can't complain because it's easy to make and it's healthy! We like it so much that I plan to make it when camping too. Below I'll share directions on how to make this egg roll in a bowl recipe at home and while car camping.
Crack Slaw Keto Recipe
I've seen this egg roll in a bowl recipe in a few places by another name, Crack Slaw. Earlier this week, I look the kids to iFLY here in Oklahoma City to experience the new How To Train a Dragon VR experience and struck up a conversation with their manager. He has been on a Keto diet for months and was quite familiar with this recipe. He called it Crack Slaw too. I can see why! It's so good that you want to lick your plate because you can't get enough.
Want More Keto Recipes? Then You'll Want to Try:

How to Make Egg Roll in Bowl?
So I mentioned that I'm going to share how to make this at home and while camping. The steps are going to be very similar because this is an easy one pot meal. The benefits of one pot cooking are it's easy to cook and clean up is a breeze. Basically, you add everything together to a Dutch oven or large cook pot in stages; cook pork, add seasonings, add vegetables starting with those that take longer to cook, and add optional toppings like sesame seeds and Sriracha.
Note: Sesame oil has a low smoke point and becomes bitter when you cook with it. Add the sesame oil after adding the cabbage to prevent the oil from becoming bitter.
If you aren't a fan of pork, you can substitute equal portions of ground beef, ground turkey, or ground chicken. It is super easy to add a fried egg to this too. You can scramble it and add it like you would with fried rice or fry up the egg and lay on top. If you want to go vegan, omit the meat protein all together.
I find that prepping vegetables ahead of time makes this recipe easier. I will shred or julienne the carrots, chop the onion in bulk, and store these in the fridge or cooler. For the carrots, I use my KitchenAide mixer at home with the shredder attachment. It makes quick work of shredding, but it can get messy. Therefore I like to do this in bulk once a week. I can use those carrots for this recipe, other salads, or snacking. If I'm lazy, I will just buy pre-julienned carrots. I have just so many hours in a day, so my kitchen is a no judgement zone.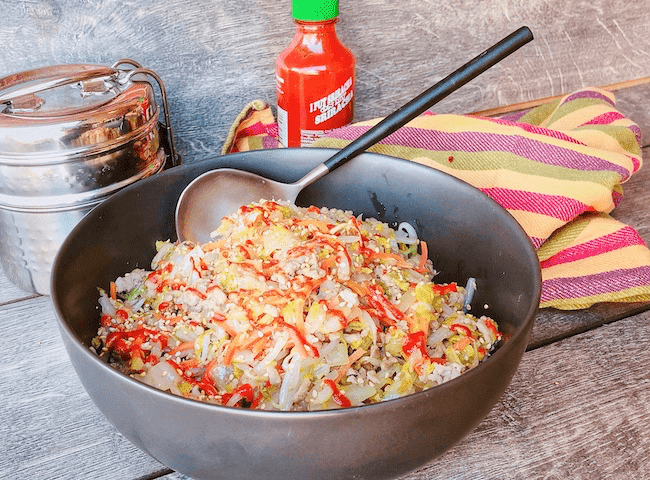 For this recipe, I like Napa cabbage instead of green cabbage. Why? It's more preference, but I use Napa cabbage in my stir-fries and in my traditional egg rolls. Yet, I find it cooks up a lot faster than green cabbage too. You can substitute regular cabbage or even prepackaged coleslaw mix for the Napa cabbage. If we are camping, I'll probably use that coleslaw mix to make prep easier and less messy. After the recipe, I'll share the recipe modifications and tips for cooking this outdoors.
Egg Roll in a Bowl
Yield: 8
Low Carb Sausage Egg Roll in a Bowl Recipe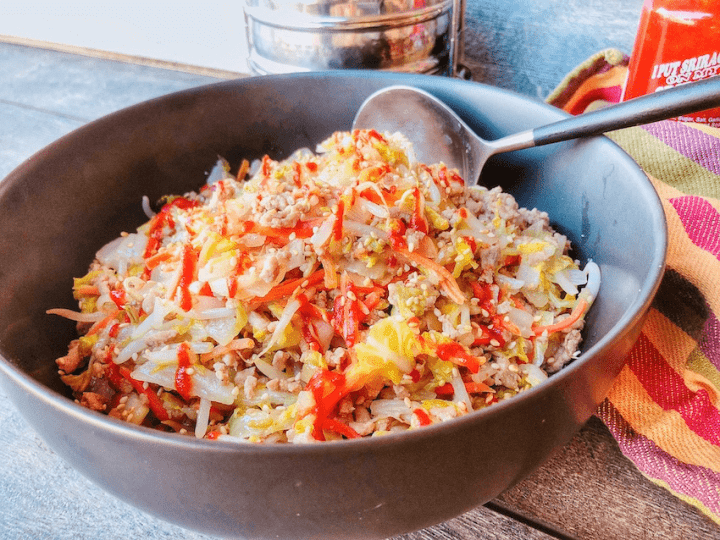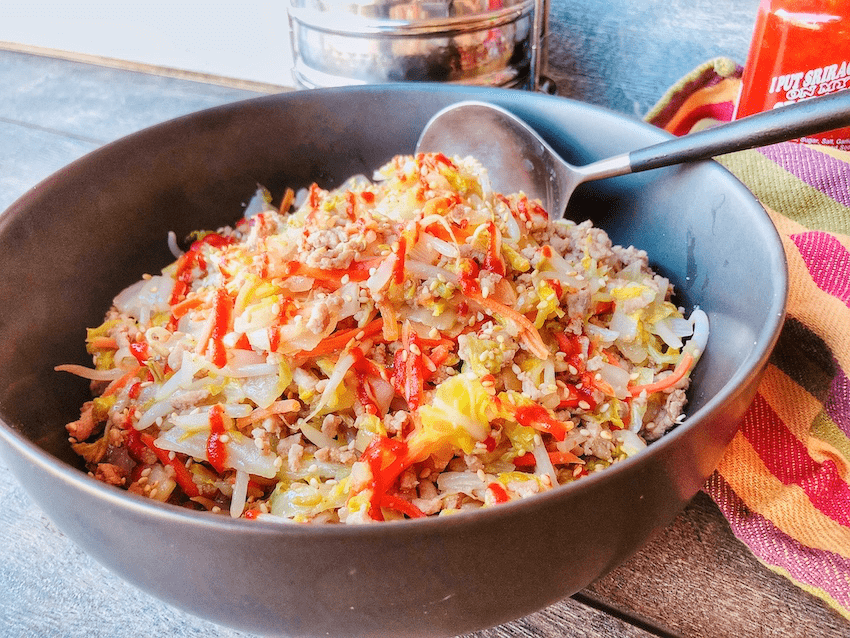 For quick weeknight meals, your family will love this addicting Low Carb Sausage Egg Roll in a Bowl Recipe. It's your favorite Chinese food appetizer made healthy and keto friendly.
Ingredients
1 pound ground pork
1 Tablespoon garlic powder or 3 garlic cloves, chopped
1 teaspoon ground ginger
3 Tablespoons Bragg Coconut Aminos (substitute soy sauce if not doing Keto)
2 Tablespoon Rice Wine Vinegar
1/2 medium onion, chopped
2 cups shredded or julienned carrots
1 Napa Cabbage, chopped (about 6 cups)
2 cups bean sprouts
2 Tablespoons toasted sesame oil
Optional: Sesame Seeds & Sriracha Sauce
Instructions
Place pork in a Dutch oven and cook over medium heat until browned.
Add garlic powder, ginger, liquid aminos or sou sauce, rice wine vinegar, onion, and carrots to pork. Cook until onions are soft, about 5 minutes.
Add cabbage and bean sprouts. Combine well and cook for 4 minutes, stir occasionally.
Add sesame oil and cook for additional 1-2 minutes, until cabbage becomes wilted and carrots are soft.
Sprinkle with sesame seeds and Sriracha sauce if desired and serve.
Recommended Products
As an Amazon Associate and member of other affiliate programs, I earn from qualifying purchases.
Nutrition Information:
Yield:
8
Serving Size:
1
Amount Per Serving:
Calories:

256
Total Fat:

17g
Saturated Fat:

5g
Trans Fat:

0g
Unsaturated Fat:

11g
Cholesterol:

53mg
Sodium:

298mg
Carbohydrates:

9g
Fiber:

2g
Sugar:

4g
Protein:

17g

The picture above shows the UCO Ware Bamboo Elements Mess Kit. UCO sent me this non-plastic kit to try out and I love it. The full kit (all not shown) includes leak-proof lid/plate and bowl, and two piece Spork set. It's made with 90% natural materia; which we love. Learn more here.
Camp Cooking Modifications
When making this recipe while camping, I recommend using a 4 quart or larger cook pot or Dutch oven. The cabbage takes up a lot of space, but cooks down quite a bit. If you don't have a cooking pot that large, cook ingredients individually, set each after cooking, and then combine everything together before serving or layer individual ingredients.
Related: How to Choose the Right Camp Cookware
Hand Test
You can cook this over the campfire, pocket backpacking stove, or with a camping burner stove. If cooking over a campfire, you want to cook over medium heat. Use the hand test to gauge the heat. Hold your hand 5 inches from the campfire cooking grate. With medium heat, you should be able to hold your hand there 5-7 seconds.
Whether you cook paleo egg roll in a bowl recipe at home or outdoors, this crack slaw keto recipe is sure to be a new family favorite. It's one of those great recipes to add to your meal planner for a quick meal that is ready in under 30 minutes. Try it for yourself and let us know what you think.