One of the best parts of camping is the food. If you've been to our website before, you know just how much we love cooking outdoors. We have camping recipes and camping meal plans ranging from grilling kebabs over an open fire to dessert pizza in a Dutch oven. One of the most asked questions I get about camp cooking is "What kind of camping cookware do you bring/use?". So I wanted to answer that question here.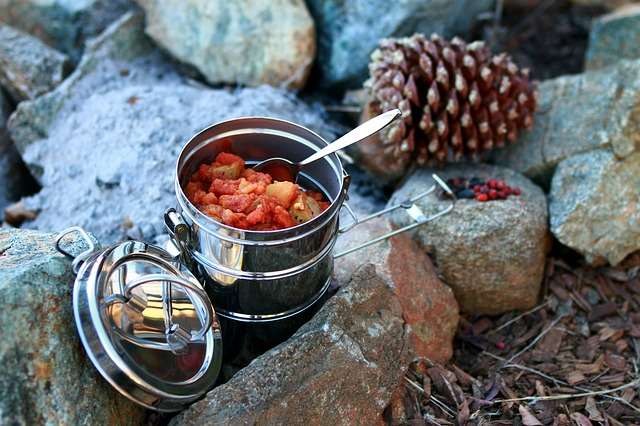 What's the Right Camping Cookware for You?
At the moment, I'm working with Susan from MountainMomsandTots.com on an outdoor cooking course called Simple Outdoor Cooking. The course will help people get outdoors more and cook delicious food where ever they are. Susan and I both agreed that there is a HUGE array of camping cookware on the market these days. Each has plusses and minuses depending on how you like to or want to cook outdoors.
When choosing the right type of cookware, there are a few questions to ask yourself:
Are you using this car camping?
Are you backpacking?
How many people are you cooking for?
What will you be cooking?
The answers to these questions determine what if you need a super light aluminum pan or if a heavy cast iron Dutch oven would be best for you. For our family, we do a lot of car camping, so we don't need anything super lightweight. We can haul our gear around in the car instead carrying it in a backpack. Our family of five cooks a variety of foods, so we have a LOT of gear. Some gear we have bought, some was received as gifts, and some has been given by brands to review.
Disclaimer: I get commissions for purchases made through affiliate links in this post.
The Best Camping Cookware for Our Family
Below is a list of camping cookware my family and I use now or have used in the past. I'll share what I like about each type of cookware, how I use it, and if there are any drawbacks to this type of cookware. Hopefully, this will help if you wonder what type of camp cookware is best for your family too.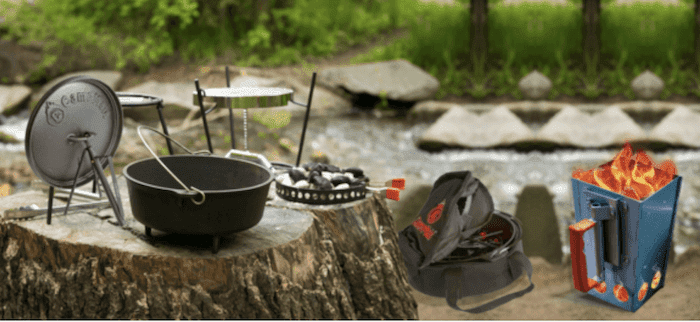 Cast Iron 12" Dutch Oven with Flip Grill from CampMaid
Cast iron retains heat and distributes that heat evenly. This makes it ideal if you want to bake or slow cook while outdoors. Small cast iron legs allow you to put charcoal under and on top of the lid to provide a set temperature. You can also stack dutch ovens to cook more than one recipe at a time.
I really like this dutch oven from CampMaid and have been using it more and more. I got the 8 piece set with the collapsible charcoal chimney last year and really like this set's attachments. I can set it up to use as a traditional dutch oven, charcoal grill, pizza oven, and griddle. So it's multi-purpose! Best of all, everything stores inside a zippered pouch for easier transport.
Benefits: Great heat dispersement. Can be used in a variety of recipes. Larger sizes are good for families or groups.
Negatives: Cast iron is heavy, so it's not recommended for backpacking. Traditional dutch oven cooking takes time and isn't ideal for quick meals unless it's pizza.
Types of recipes we create with this: Stew, chili, biscuits, dessert pizza. Here are a few of our favorite cast iron camping recipes.
Find it at CampMaid and use code NICKY to save 20%.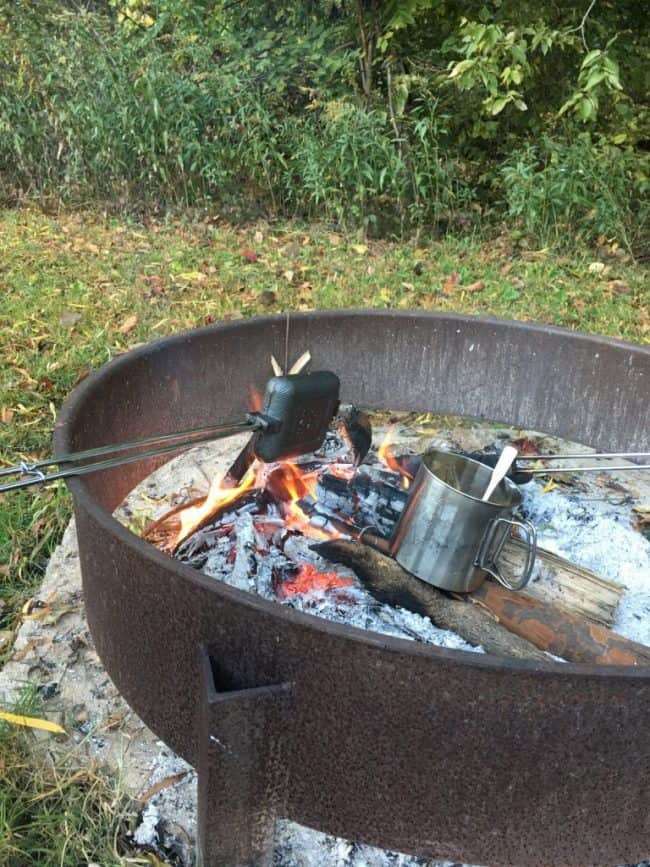 Cast Iron Pie Irons from Rome Industries
Initially, we bought cheap, box store versions and quickly upgraded to cast iron ones from Rome. The thicker cast iron is much better quality than the slightly cheaper versions. If you are looking to buy any, get these. We have two different sized pie irons, a single and a double. They are all really easy to use. Just spray oil or brush melted butter on the interior, place your items inside, close and cook. It usually only takes a few minutes over the fire or in hot coals.
Benefits: Single or double servings of food that can be cooked quickly. Inexpensive with each pie iron being under $20. Great for backyard fire pits or over a campfire.
Negatives: Can only be used with an open fire or coals. Too heavy for backpacking. The long handles of the pie iron do not collapse, so they take up a bit of space in a camp box.
Types of recipes we create with this: Sandwiches, hand pies, calzones, etc.
Here are several of our favorite pie irons recipes.
Find these on Amazon.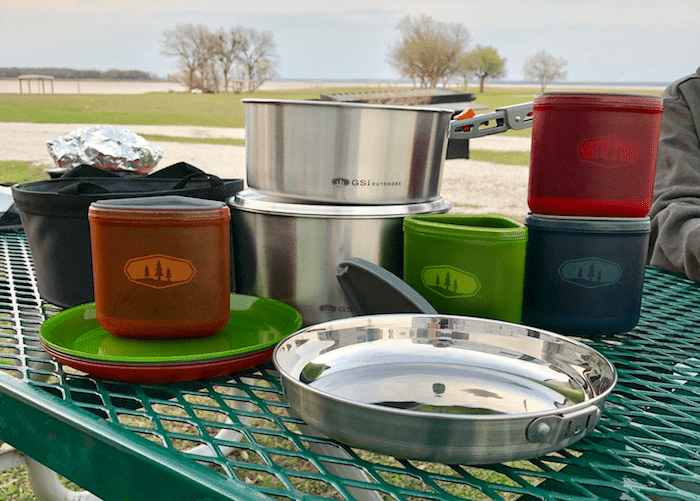 Glacier Stainless Steel Cookware from GSI Outdoors
This is our newest camp cooking set. I switched out our hard anodized aluminum pots for stainless steel. After reading several articles about the dangers of cooking with aluminum, I wanted to make this switch. There are conflicting articles/data about aluminum, but about the same time as I was reading, this new cook set came to market so I asked the company to send it for review.
GSI Outdoors is a brand I really like and I have several of their products. This stainless steel set in an all in one nesting set with 2 & 3 liter pots, frying pan, strainer lid, and 4 place settings (mugs, bowls, plates). Everything fits together in a bag that doubles as a wash basin. I'm not a huge fan of the plates (too thin for me) in this set, but I really like the pots and pans. The bottoms are thicker material to help prevent scorching/burning food.
Stainless steel is the second lightest cookware material after aluminum. The frying pan isn't non-stick but I find that have no problems with a little oil or ghee in the pan. The pan and the pots do an excellent job of distributing heat and are lightweight for what I want & need.
Benefits: Lightweight and durable. Not reactive to acidic foods like aluminum cookware.Can be used on a camp fire grate, camp stove, or pocket stove.
Negatives: Not specifically non-stick although I didn't have any problems.
Types of recipes we create with this: Just about anything. Try these camping side dishes.
Find this on Amazon
Pin this for later…..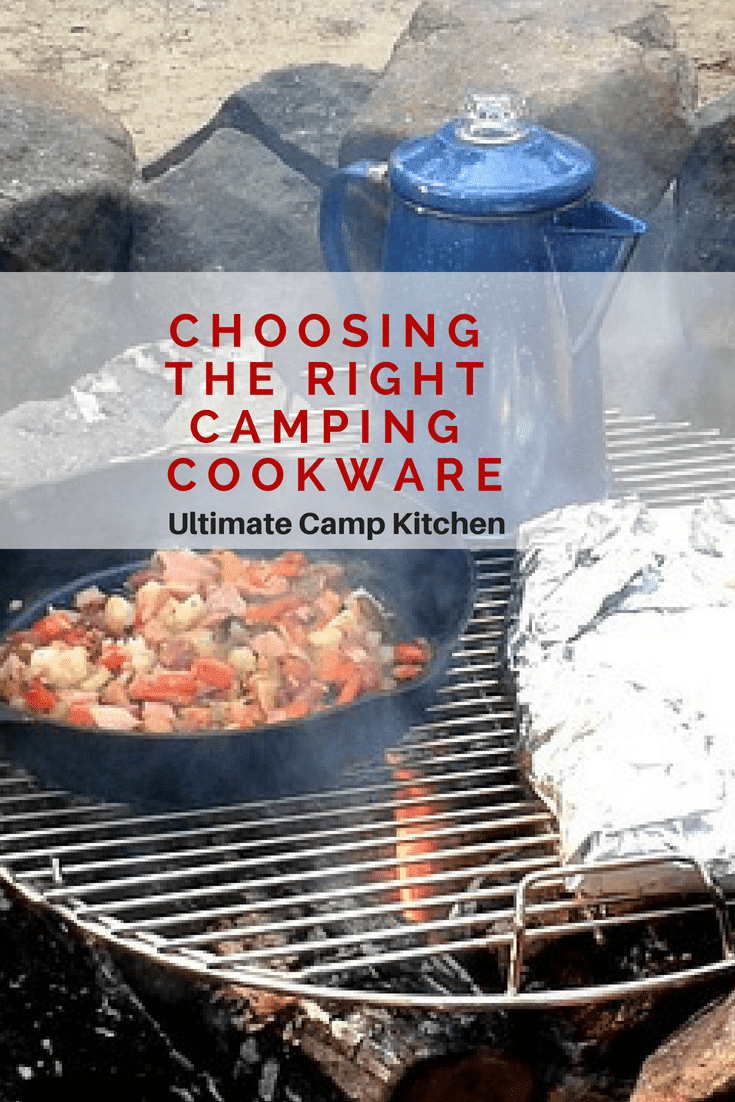 Hard Anodized Aluminum Cookware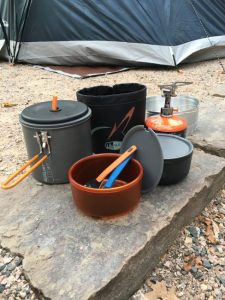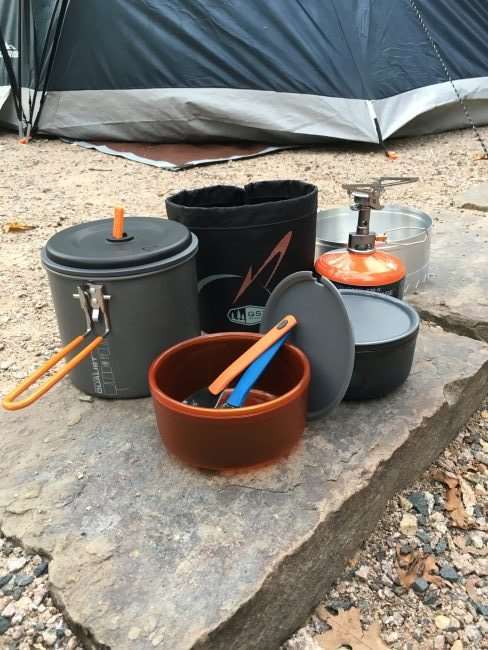 The Pinnacle Dualist from GSI Outdoors
Before upgrading to the Glacier Stainless Steel, this is the set we used often when hiking. The smaller 1.7 liter pot size and lightweight aluminum material made it super light for backpacking. The set we have from GSI Outdoors included the pot, strainer lid, 2 lidded bowls, sporks, and stove bag. I have a full review on the site for this Pinnacle Dualist.
Find this on Amazon or at GSI Outdoors.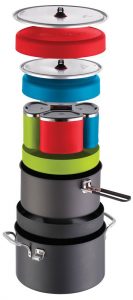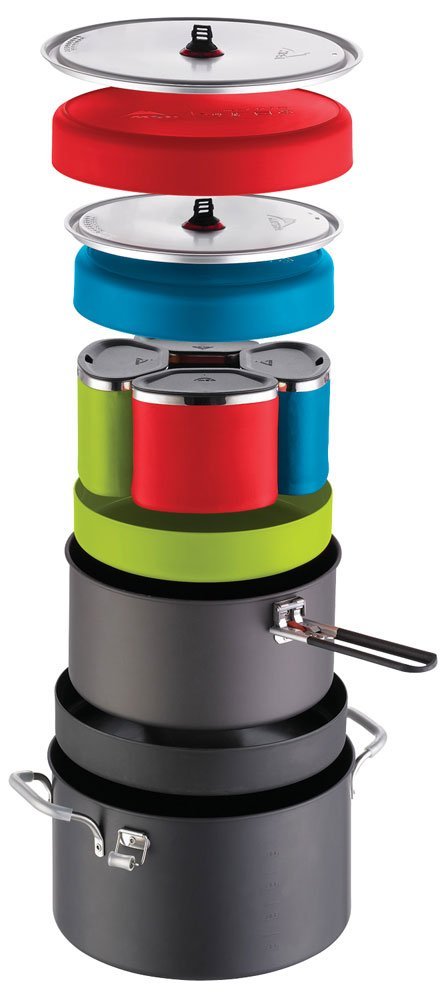 Flex 4 Cook Set from MSR
For family camping, we used this all in one set from MSR often. It's large 3.2 and 5.3 liter pots allowed us to cook quite a few different recipes on a camp stove or over a campfire using a campfire grate. The set includes plates and mugs for 4 people. I like these plates better than the thin ones included in the Glacier set mentioned above.
This larger size was nice for large meals but I found that it took larger to boil water on the camp stove due to the larger liquid volume. It also takes up more space in my camp box that my new stainless set from GSI Outdoors.
Benefits: Anodized surface prevents aluminum from leaching into acidic foods, super lightweight, great heat dispersement.
Negatives: Made with aluminum.
Types of recipes we create with this: These anodized aluminum pots are great for one pot meals and boiling. A favorite recipe is the boil in bag omelet and sweet potato chili.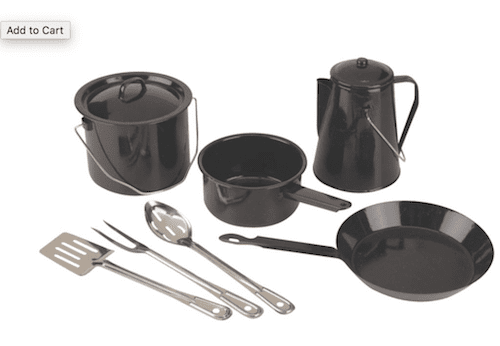 Enamel Ware from Coleman
Lastly, I want to mention enamel ware. Years and years ago, we started out with this type of campware. It's basic cooking gear that is easily found and at very reasonable prices. Coleman is a brand that has been around for generations so it's a name everyone knows.
Benefits: Inexpensive and easy to find
Negatives: Over time, the enamel chips and the metal underneath may rust.
Types of recipes we create with this: Same as stainless steel and anodized aluminum.
Find this are similar products at Amazon or Coleman.
Those are the main camp cookware our family uses when camping. Like I mentioned earlier, there are quite a few brands and products on the market that offer great products. Before buying new gear, consider what type of cooking you want to do and what type of area. From tailgating to backpacking, there are camping products that fit what you need.
Looking for a great deal on camping cookware and other gear? I find that sites like Academy Sports + Outdoors and, Coleman, and Sierra Trading Post offer some great sales and flash sales on camping/outdoor gear. For additional outdoor and travel gear, visit our Amazon Top Picks List.