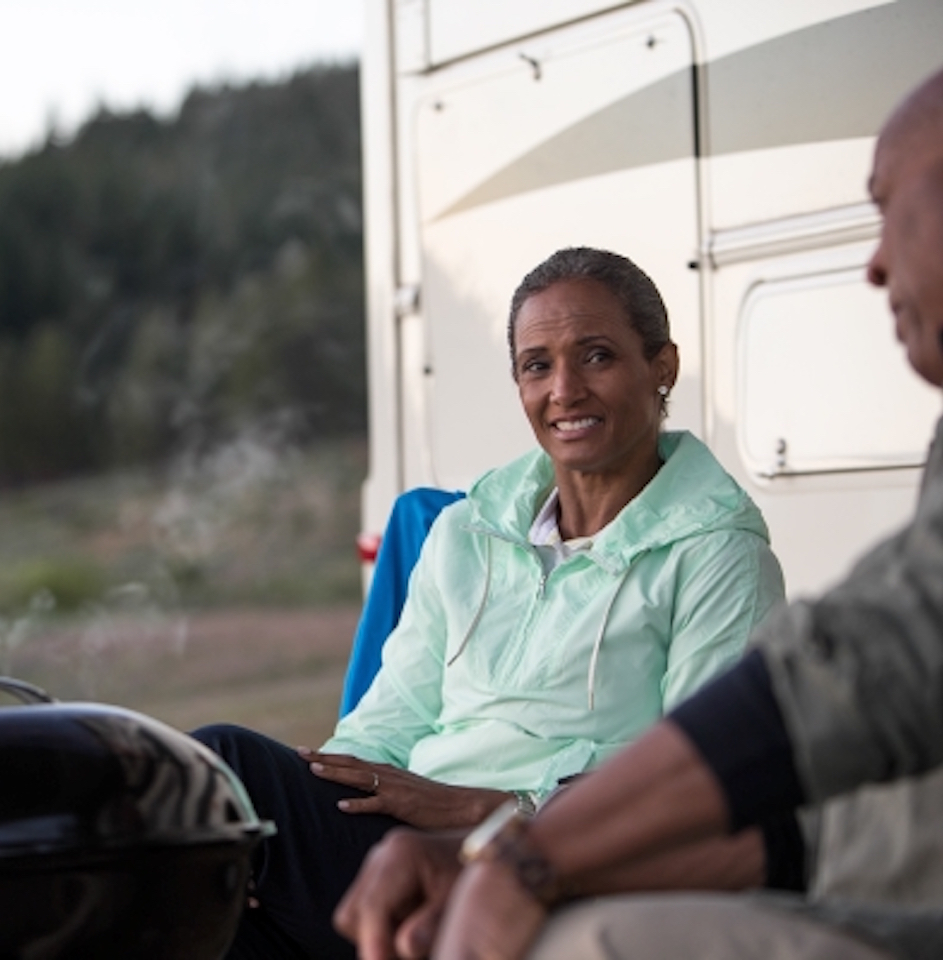 Be a Good Neighbor!! Remember that one rule the next time you go RVing or camping.
Get Your Family Outdoors
Our family loves the great outdoors, especially now. Autumn is a spectacular time to go exploring as the season changes from summer to fall. Trees are changing from green to rich reds, yellows, and gold. Forest animals are out scurrying about. The weather is a little cooler making those evening campfires even better. It's just a great time to be outside. Camping is one of the best ways to enjoy nature's beauty. Car camping is our preferred form of camping, but we also go RVing. We are one of the over 8.9 million American households that owns an RV or recreational vehicle. It's kind of fun to take your home on the road and travel to different places. Whether in a tent or in an RV, you can have a great family vacation almost anywhere.
Fun Fact: Did you know that the US has over 16,000 public and private campgrounds for you to explore?
Being a Good Camping Neighbor
Dan Wulfman, the founder of Tracks & Trails, Colorado-based company that plans camping trips for RV travelers shared 5 great RV Camping Tips on being a good camping neighbor. One of the things that really stuck with me – he said, "How you behave can really make or break your vacation, and the vacation of those around you." I fully agree with that. We've had both "GREAT" and "Not-so-great" camping experiences because of other campers/RVers.
Camping Tips for How to be aGood Neighbor
1. Be Social
A campground or RV park is your temporary home complete with new neighbors. Just like at your permanent home, you should get to know your neighbors. You don't have to spend your vacation with them, but you should be friendly. When you travel with kids, it's especially important to get to know your neighbors. Kids will often play together around the campground or RV park and can form lasting relationships. Years ago, we went to the Diamond Mine State Park in Arkansas. There was a family there with children that were the same age as ours. Our kids played together the whole trip. Since then, we have kept in contact through email and Facebook.
2. Respect Campsite Boundaries
You would never imagine cutting/walking through someone's backyard to get home. But at a campground, it happens all too often. There are no fences or boundaries letting you know you are entering someone's living space. When camping, there is an imaginary boundary surrounding each campsite. It's assumed the you know that this boundary exists and that you'll respect it. Children, especially, need to be reminded of the boundary and told to stick to the path instead of walking through someone else's campsite. Walking through another person's site may be the easiest, most direct path to the bathroom, but it should be avoided.
3. Pick Up After Yourself
Just like at home, you are expected to pick up after yourself. Bag your trash and throw it away in approved trash bins. Don't be tempted to throw your trash into the fire. It creates a nasty smell that no one wants to endure. Plastic, especially, is foul smelling and is toxic if inhaled. For RV owners, ensure that your wastewater is handled properly. Be sure that all your hoses and tanks are in good condition, attached properly, and nothing is leaking.
4. Be Mindful of the Noise
Sound pollution is a real thing and it can be cause for a bad vacation. Be mindful of the noise you create and keep the volume down whenever possible. Wulfman says, "Yes, you're on vacation, but that doesn't mean the family next to you wants to hear your generator running at 3 a.m. or a kid's movie blaring on an outdoor television." Many parks and campgrounds have "quiet hours" in the evening to keep noise to a minimum. You should respect those quiet hours. Your neighbors will thank you for it.
5. Choosing the Right Location is Key
Choosing the right campground or RV park is VERY important. You wouldn't pitch your tent at the bottom of a hill during a rain storm, would you? I didn't think you would. But it illustrates the point that care needs to be taken when choosing where to set up camp and/or park your RV.
Interesting Fact: In Town campgrounds are usually frequented by locals looking for a place to party.
I can attest to that fact, unfortunately. We frequently take weekend family camping trips where we leave on a Friday and come back Sunday night. We once chose a campground close by, just outside the city. After a LONG night without sleep due to noisy neighbors, we came home bright and EARLY on Saturday morning. We won't make that mistake again! Do a little planning before you leave for vacation and select a park/campground that is a little further from town. It will likely be more quiet and less crowded. That should give you a more pleasant vacation experience. Trust me, I should know!
Check out these other great camping articles!!
Have Fun on Your Next Camping Trip You'll have a great time on your next family camping trip when you remember these 5 camping tips. Being a good neighbor is just as important on the road as it is at home. It isn't difficult but requires a little consideration for the people around you. Before you leave for your next camping trip, remember to plan out your trip; location, gear checklist, camping meal plan, etc. Being prepared and being a good neighbor are the best ways to ensure that you and your family have an amazing family adventure outdoors!