One of the greatest things we can bestow upon our children is a love of nature. Getting outdoors together as a family is quality family time and the memories you make are priceless. This year, we have put together the ultimate guide of camping gifts and cool camping gear that are perfect for active families. This guide features products like tents and camping cookware that make getting outdoors easier, games and toys to make it more enjoyable, or little things that make the experience more fun. There is something for everyone on this list, especially the person who is hard to buy for. So take a look at these cool camping gadgets and find the perfect gift this year.
Some products mentioned below have been provided for review purposes. This article contains affiliate links. Purchase through our affiliate links and we receive a small commission without any extra expense to you!
Cool Camping Gifts
JetBoil Flash Cooking System
Everything always comes back to food, so give the gift that can make coffee and food outdoors. Perfect for the trail, camping, tail gating, and more. This cooking system is a great one for families with a 1 liter capacity.
Get this at Academy.com for $79.99
A gift card is perfect gift to send to friends and family far away. Give the option of selecting just what they always wanted this year.
Hydro Flask 20 oz Coffee Mug
We love Hydro Flask because they keep beverages cold/hot for hours and hours. For the coffee lovers on your list, they will love this double wall insulated coffee mug with insulated flip-top lid.
Get this at Academy.com for $19.99
Summer Moon 2 Tent
For those that want a light fully freestanding dome tent, this Summer Moon 2 from Sierra Designs is 3lbs 7 oz and is the only one on the market under $200. This 3-season 2-person tent is super easy to set up with just 2 poles. Perfect tent for the backpacker or if you want a separate tent for the kids or adults.
Find it on Amazon.
Scrubba Portable Laundry System Wash Bag
Perfect for families! This is the world's smallest washing machine and is great for camping, travel, backpacking, small apartments, etc. Weighing less than 5 oz., this wash bag doubles as a dry bag when not in use or can be folded up to pocket-size. Works like an old fashioned washboard with hundreds of internal nodules cleaning your clothes in minutes.
On Sale at Amazon
ORCA Cooler
An essential for any traveling or outdoor family. These hard-sided coolers are made in the USA and are guaranteed for life.This 26 quart size is perfect for the trunk of a car and holds up to 24 cans. It will keep items cold up to 10 days. It outperforms any other hard sided cooler on the market.
Find it at orcacoolers.com for $159.99
NANOspikes Footwear Traction
For the runner, hiker, or anyone who doesn't want to unintentionally slide in the winter, these NANOspikes provide ultralight winter traction using any shoe. Just slip these over your boot or shoe and the tungsten carbide spikes provide great traction on ice, show, as well as on pavement. 5 sizes cover shoe sizes 5M/6W to 12-14M/13+W.
Get it on Amazon
Cool Camping Gadgets
Rookie Safe Knife by Morakniv
This knife is specially designed for children, with a rounded safety tip and finger guard to prevent slipping, along with a small, spindle-shaped handle perfect for small hands. Ideal for a new or beginning knife user.
Find it here
Outdoor Gear Subscription Box
Ideal for the person who has everything or just likes to try new things. Nomadik is the premier subscription box for anyone who loves adventure and outdoors. Each month the box delivers 3 to 6 full sized products for you to use. It's perfect for anyone who loves cool camping gadgets! Products may include gear, tools, snacks or drinkware, camping hacks, inspiration, and more.
Get Yours today for $32.95 Use coupon code LILFAMILYADVENTURE to save 10% off and get free shipping
The Fleece Sherpa Blanket from Rumpl
From the mountain summit to your fireplace, this Sherpa Puffy will keep you warm and cozy. The Sherpa on this blanket takes it to a whole new level. It is a perfect for cold weather camping, road trips, or sitting at a football  game. Machine washable and comes in two sizes.
Find it at rumpl.com $159- $229
Blue Ridge Folding Chair by Blue Ridge Chair Works
This is the only camp chair you'll ever have to buy. It's perfect for camping, the beach, tailgating, or outdoor concerts. Unique 2 part construction provides full back support, a comfortable sitting position, and holds up to 300 pounds. Adjustable strap makes it easy to carry almost anywhere. Built in Franklin, NC.
Get it here
Double Hammock from Wise Owl Outfitters
Sleep under the stars or nap almost anywhere outdoors. This hammock is sturdy and holds up to 400 pounds. Throw it in the pack and he can enjoy a relaxing afternoon in the backyard or sleep in the woods with the kids. Includes nylon ropes and carabiners. US made.
Get it at Wise Owl Outfitters or on Amazon
Microfiber Towel from Wise Owl
Perfect for travel or camping! This microfiber towel is extra fast drying with a convenient and sturdy snap loop so you can be easily hung up to dry. The built in snap loop also prevents your towel from blowing away. Comes with convenient stuff sack.
Find it at WiseOwlOutfitters.com or on amazon.com
Outdoor Games/Gift Ideas
Freestyle Lawn Darts
Family Game Night goes outdoors with this compact game that provides hours of family fun. Game includes 4 rope rings and 4 weighted lawn darts. Set up game play any way you like and challenge each other to see who gets the closest! Game is stored in a 18.25" x 2.5" bag that is super compact. Perfect game for camping, road trips, or at home.
Get it here for $20.95
Backpack CornHole
Now you can take this family favorite game anywhere; tailgating, backpacking trips, car camping, or to the park. This wooden backpack version is compact and measures 12" x 6" x 1.25". So it's perfect for any adventure.
Get it here for $30.95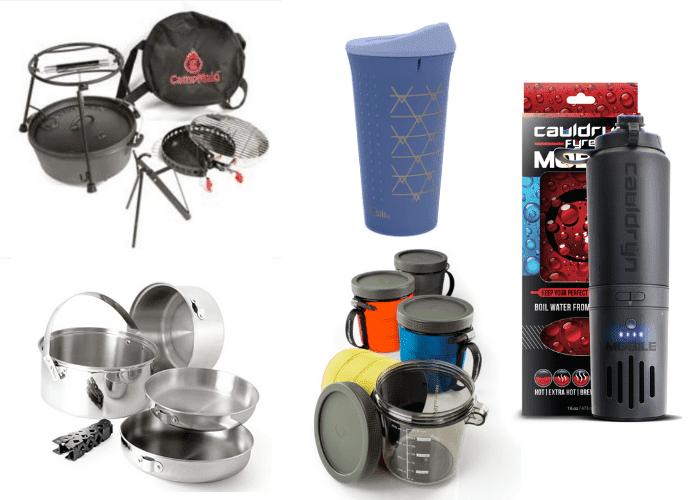 Camp Cookware
Camp cookware makes a great gift any time of year. We opt for stainless steel and cast iron, but there are so many options. If you are looking to buy new campware, take a look at this article on selecting the right camping cookware for your next trip.
Outdoor Dutch Oven and Grill Set from Campmaid
The ultimate gift for outdoor cooks and car campers. This set includes a 12" Dutch Oven, Grill Set, Charcoal Chimney, carry bag, lid stand, charcoal tray, and stand. With it you can braise, slow cook, grill, create pizzas and more. It's the only cast iron set you'll ever need! See me use it to make a Dessert Pizza Dessert Pizza here.
On Sale for $189.99 Plus use use the discount code NICKY to get an additional 20% off!
Glacier Stainless Steel Cookset
This 7 piece stainless steel camp cooking set is from GSI Outdoors. It's lightweight yet heavy duty for all types of outdoor cooking. Idea for camping, glamping, backpacking, or hiking. This set is perfect for a family that loves to get outdoors.
Silcone Drinkware from GoSili
Give the gift that is reusable and practical. GoSili offers drink and tableware like this 16oz travel mug that are perfect to take anywhere. BPA free, dishwasher safe, and unbreakable!
Find it at Target stores and online here.
Cauldryn Fyre Mobile Water Bottle
Ideal gift for anyone who wants a hot beverage anywhere. This is the first-of-its-kind bottle that can boil water or keep the contents hot all day long. Internal heater element keep beverages or soup hot at different settings inside the 16oz stainless steel, vacuum insulated bottle. Rechargeable battery makes is ideal for camping, hiking, emergency situations, and more.
Find it here
Fairshare Mug from GSI Outdoors
This 32oz cup is a great addition to the family camping box. Impact resistant plastic with a screw on lid, insulated sleeve, and carabiner make it perfect for families to carry every where. Use it for mixing or eating and drinking out of. The measurement marking make it super helpful when cooking and eliminate the need for guesstimation which doesn't always work.
Find it here.
RELATED: Find Gourmet Food Gift Ideas Here
Outdoor Experiences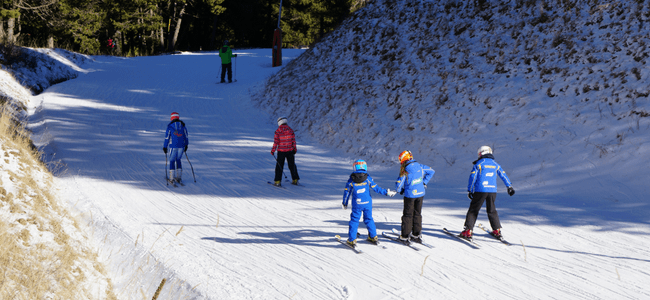 Skiing Season Pass
For Skiers, get a season pass for a network of ski resorts. The two big ones are the Max Pass and the Epic Pass. Both cover dozens of ski areas in many states, so having a pass can allow a skiing family to find free skiing at nearly every colder-weather destination they would find themselves in.
Related: Find more Experience Gifts for Families
Guides/Books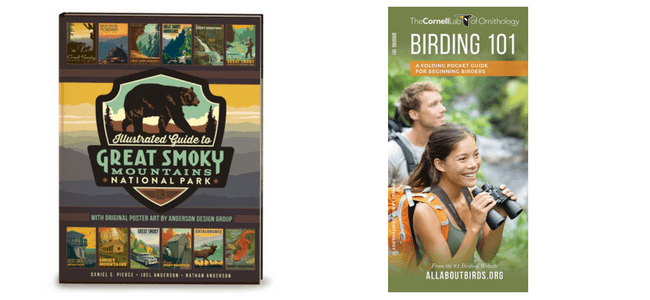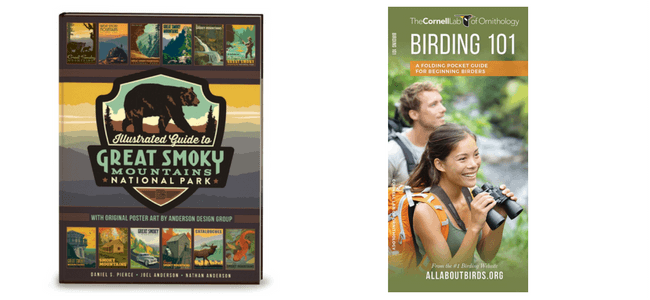 Illustrated Guide to the Great Smoky Mountains National Park from the Anderson Design Group Store
The 128-page coffee table book includes 40 full color posters from the award winning Illustrated National Parks Collection, beautiful wildlife and scenic photography from the Smokies, travel tips and trail tours, an illustrated Park Map featuring must-see landmarks, an historic overview of Great Smoky Mountain National Park and compelling stories from former Park Rangers. Available in hard and soft cover.
Get it here for $29.95 – $39.95
Backyard Birds of Eastern/Central North America & Birding 101 Guide from Waterford Press
Birding is one of the fastest growing hobbies in the US and Waterford has several birding guides perfect for all ages. These pocket sized guides are laminated for durability and are really lightweight. Throw in the pack and get outdoors to play a game of I Spy and then use your guide to identify the bird.
Get yours here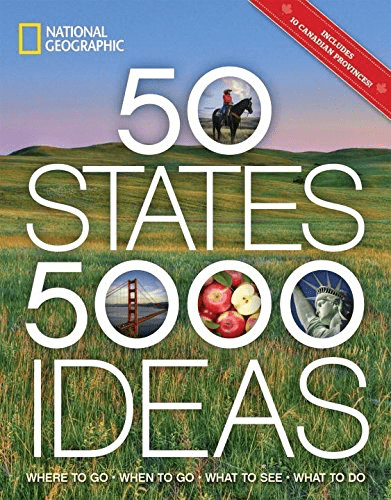 50 States, 5,000 Ideas: Where to Go, When to Go, What to See, What to Do from National Geographic
The travel experts at National Geographic created this book to highlight the best places to visit in each. This list of places and ideas will get any bucket list off to a start start.
Find it on amazon.com
Electronics
Motorola Talkabout T260 Radios
Ideal for keeping in touch with the whole group on family camping trips, the beach vacation and even caravanning to the big game. This light-weight, compact and durable radio comes packed with essential features, like NOAA weather channels and alerts, iVOX/VOX hands-free communication, too, so its easy to stay in touch and stay safe wherever you are, especially when out of cell phone range. Available in a twin pack $64.95 or triple pack $89.99 — perfect for families.
On sale at Amazon
AMP Solar Charger from Voltaic Systems
This compact solar charger is the perfect gift for busy families on your list. Store and charge (4,000mAh) phones or other USB devices anywhere the day takes them – from theme parks to soccer games to camping weekends. It even works as an emergency backup for when the power goes out.
Tile Bluetooth Tracking System
Tile is a cool camping gadget perfect for families on the go because it helps you keep track of the things that matter most. All you need to do is place this small Bluetooth device on luggage, outdoor gear, bags, keys, or yourself. Then use Tile's simple app to help find what's missing. If it's your phone you're looking for, simply press your Tile to make your phone ring — even if it's on silent.