This article contains affiliate links. Some products mentioned below have been provided for review purposes. All opinions are my own.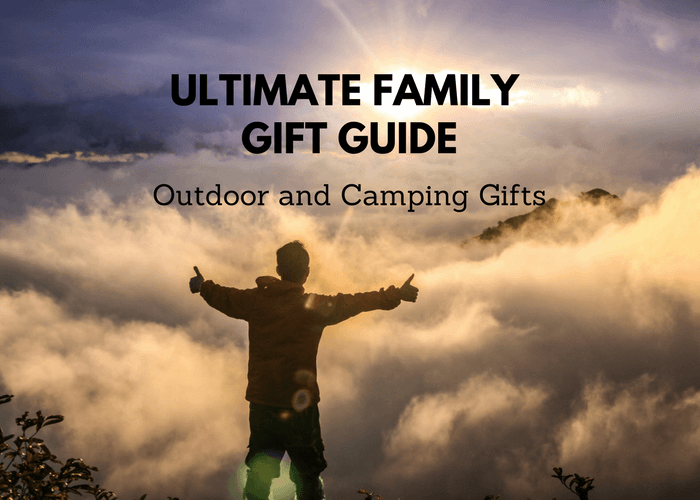 One of the greatest things we can bestow upon our children is a love of nature. Getting outdoors together as a family is quality family time and the memories you make are priceless. This year, we have put together the ultimate guide for family outdoor and camping gifts. This guide features products that may make getting outdoors easier, more enjoyable, or more fun. There is something for everyone on this list, especially the person who is hard to buy for.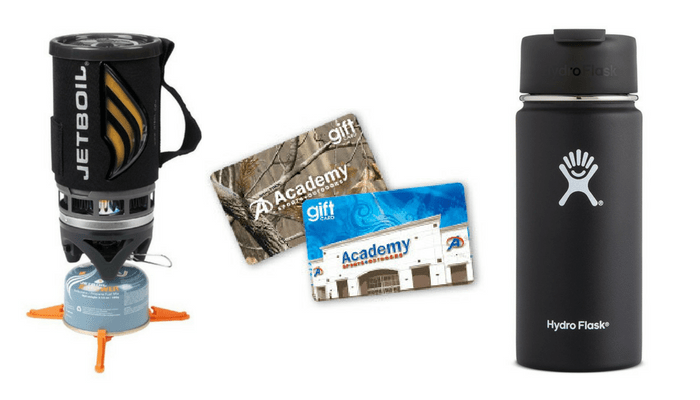 JetBoil Flash Cooking System
Everything always comes back to food, so give the gift that can make coffee and food outdoors. Perfect for the trail, camping, tail gating, and more. This cooking system is a great one for families with a 1 liter capacity.
Get this at Academy.com for $79.99
Academy Gift Cards
A gift card is perfect gift to send to friends and family far away. Give the option of selecting just what they always wanted this year.
Hydro Flask 20 oz Coffee Mug
We love Hydro Flask because they keep beverages cold/hot for hours and hours. For the coffee lovers on your list, they will love this double wall insulated coffee mug with insulated  flip-top lid.
Get this at Academy.com for $19.99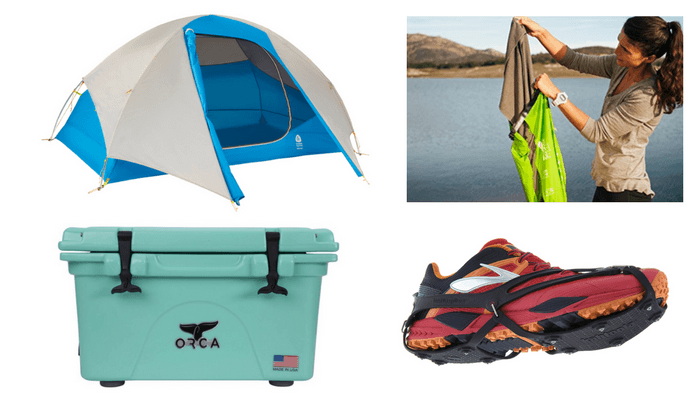 Summer Moon 2 Tent from Sierra Designs 
For those that want a light fully freestanding dome tent, this Summer Moon 2 is 3lbs 7 oz and is the only one on the market under $200. This 3-season 2-person tent is super easy to set up with just 2 poles. Perfect tent for the backpacker or if you want a separate tent for the kids or adults.
Find it on Amazon for $180.
Scrubba Portable Laundry System Wash Bag 
Perfect for families! This is the world's smallest washing machine and is great for camping, travel, backpacking, small apartments, etc. Weighing less than 5 oz., this wash bag doubles as a dry bag when not in use or can be folded up to pocket-size. Works like an old fashioned washboard with hundreds of internal nodules cleaning your clothes in minutes.
Retail $55 On Sale at Amazon $38.75  
ORCA Cooler – 26 Quart
An essential for any traveling or outdoor family. These hard-sided coolers are made in the USA and are guaranteed for life.This size is perfect for the trunk of a car and holds up to 24 cans. It will keep items cold up to 10 days. It outperforms any other hard sided cooler on the market.
Retails for $199.99 but on sale at orcacoolers.com for $159.99 
NANOspikes Footwear Traction from Kahtoola
For the runner, hiker, or anyone who doesn't want to unintentionally slide in the winter, these NANOspikes  provide ultralight winter traction using any shoe. Just slip these over your boot or shoe and the tungsten carbide spikes provide great traction on ice, show, as well as on pavement.  5 sizes cover shoe sizes 5M/6W to 12-14M/13+W.
Get it on Amazon for $49.95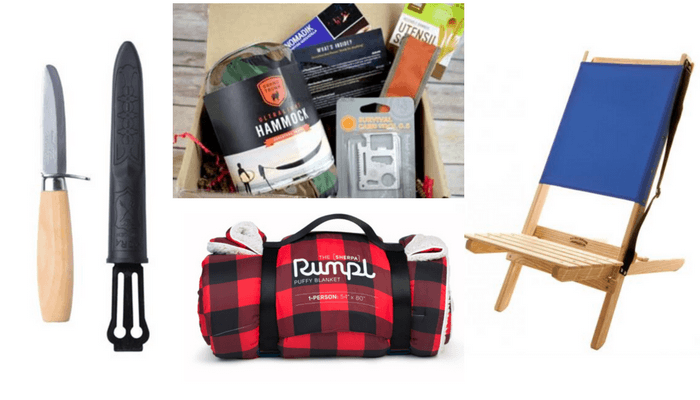 Rookie Safe Knife by Morakniv
This knife is specially designed for children, with a rounded safety tip and finger guard to prevent slipping, along with a small, spindle-shaped handle perfect for small hands. Ideal  for a new or beginning knife user.
Find it here for $19.99 
Outdoor Gear Subscription Box from Nomadik
Ideal for the person who has everything or just likes to try new things. Nomadik is the premier subscription box for anyone who loves adventure and outdoors. Each month the box delivers 3 to 6 full sized products for you to use. Products may include gear, tools, snacks or drinkware, camping hacks, inspiration, and more.
Get Yours today for $32.95 Use coupon code LILFAMILYADVENTURE to save 10% off and get free shipping
The Fleece Sherpa Blanket from Rumpl 
From the mountain summit to your fireplace, this Sherpa Puffy will keep you warm and cozy. The Sherpa on this blanket takes it to a whole new level. It is a perfect for cold weather camping, road trips, or sitting at a football  game. Machine washable and comes in two sizes.
Find it at rumpl.com $159- $229
Blue Ridge Folding Chair by Blue Ridge Chair Works
This is the only camp chair you'll ever have to buy. It's perfect for camping, the beach, tailgating, or outdoor concerts. Unique 2 part construction provides full back support, a comfortable sitting position, and holds up to 300 pounds. Adjustable strap makes it easy to carry almost anywhere. Built in Franklin, NC.
Get it here for $129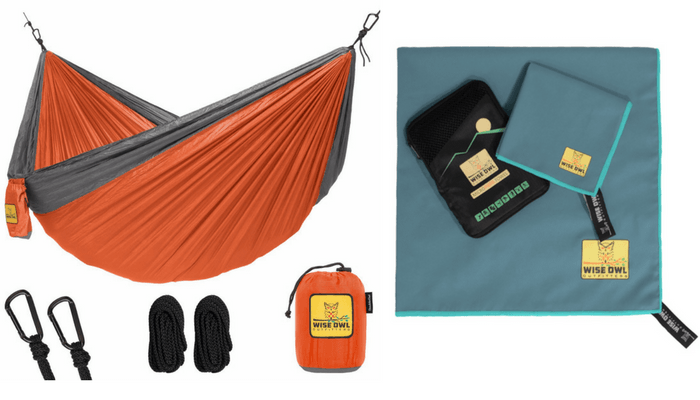 Double Hammock from Wise Owl Outfitters
Sleep under the stars or nap almost anywhere outdoors. This hammock is sturdy and holds up to 400 pounds. Throw it in the pack and he can enjoy a relaxing afternoon in the backyard or sleep in the woods with the kids. Includes nylon ropes and carabiners. US made.
Get it for $36 at Wise Owl Outfitters or on Amazon
Microfiber Towel from Wise Owl
Perfect for travel or camping! This microfiber towel is extra fast drying with a convenient and sturdy snap loop so you can be easily hung up to dry.  The built in snap loop also prevents your towel from blowing away. Comes with convenient stuff sack.
Find it at WiseOwlOutfitters.com or on amazon.com for $14.95
Montem Ultra Strong Trekking Poles
Hikers love these ultra strong trekking poles made with aluminum 7075 shafts. Telescoping poles make them easy to transport and assist you on your next trek
Get the pair for $49.99 on montemlife.com or on amazon.com
Outdoor/Travel Games
Freestyle Lawn Darts from  Outside Inside Gifts 
Family Game Night goes outdoors with this compact game that provides hours of family fun. Game includes 4 rope rings and 4 weighted lawn darts. Set up game play any way you like and challenge each other to see who gets the closest! Game is stored in a 18.25" x 2.5" bag that is super compact. Perfect game for camping, road trips, or at home.
Get it here for $20.95
Backpack CornHole – Outside Inside Gifts
Now you can take this family favorite game anywhere; tailgating, backpacking trips, car camping, or to the park. This wooden backpack version is compact and measures 12" x 6" x 1.25". So it's perfect for any adventure.
Get it here for $30.95
Camp Cooking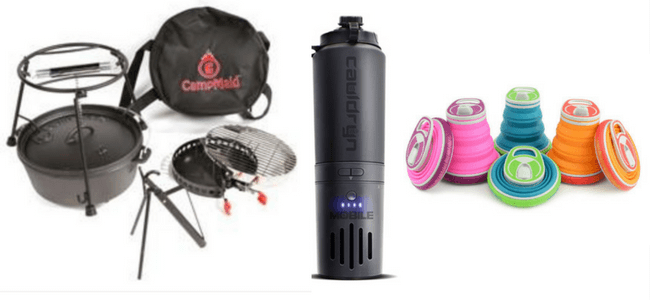 Complete Outdoor Cookout Dutch Oven and Grill Set from Campmaid
The ultimate gift for outdoor cooks and car campers. This set includes a 12" Dutch Oven, Grill Set, Charcoal Chimney, carry bag, lid stand, charcoal tray, and stand. With it you can braise, slow cook, grill, create pizzas and more. It's the only cast iron set you'll ever need! See me use it to make a Dessert Pizza Dessert Pizza here.
On Sale for $189.99 Plus use use the discount code NICKY to get an additional 20% off!
Cauldryn Fyre Mobile Water Bottle
Ideal gift for anyone who wants a hot beverage anywhere. This is the first-of-its-kind bottle that can boil water or keep the contents hot all day long. Internal heater element keep beverages or soup hot at different settings inside the 16oz stainless steel, vacuum insulated bottle. Rechargeable battery makes is ideal for camping, hiking, emergency situations, and more.
Find it here for $129.99
Hydaway & Hydaway Kids Hydration Bottles
Travel anywhere with this collapsible, pocket-size and eco-friendly hydration bottle. Made from food-grade silicone, the Hydaway Bottle is easy-to-use and features a flip-up straw for quick sips, carabiner-friendly carry handle, and watertight guarantee. Expand the bottle to full size (Original 21oz. and Kids 12oz.) for a drink of ice cold water. When you're finished, an unique hinged design allows it to pack down flat to 1.25" thick and stash it away.
Buy it here for $18-$20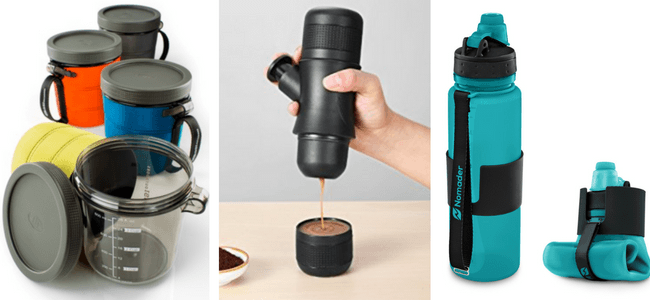 Fairshare Mug from GSI Outdoors  
This 32oz cup is a great addition to the family camping box. Impact resistant plastic with a screw on lid, insulated sleeve, and carabiner make it perfect for families to carry every where.  Use it for mixing or eating and drinking out of. The measurement marking make it super helpful when cooking and eliminate the need for guesstimation which doesn't always work.
Find it here for $15.95.
Portable Espresso Maker from Wasserstein
Fuel your outdoor adventures with a perfectly brewed espresso anywhere you are.  No batteries are required for this portable handheld espresso maker.  Just add coffee powder and hot water, then use the manual, high pressured pump creates a perfectly brewed espresso every time.
Find it here for $15.95
Collapsible Water Bottle from Nomader
Busy families need a way to stay hydrated. This flexible water bottle is ideal for any family adventure and makes a great stocking stuffer. Designed to be durable, foldable, stylish, and easy to use. When it's not needed, this bottle rolls up or squishes down making it super compact. 25oz capacity and comes in a variety of colors.
Find it on sale here for $21.95.
Better Bungee Cords and Ropes
Car camping with the family can mean bringing in a good amount of gear. Therefor bungee cords and straps are a vital necessity. Better Bungee are lightweight and strong; outperformed all bungee products on the market. Build your own Bungee with the Better Bungee Rope and rope ends, making customized sizes.
Starting at $19.44   
Clothing
SeaSilk Shirts from Toes on the Nose
Designed to take him from trail to cocktail. These shirts are super comfortable, provide for optimum stretch and work with the body to keep it cool or warm. Available in 4 styles: Schooner long sleeve hoodie, Growler long sleeve crew, Pint short sleeve V-neck, or Barrel long sleeve raglan half zip.
Prices vary $74-$98 on  ToesontheNose.com
Trail One Piece Rainsuit from Oaki
Let's the kids puddle jump and play in the rain with this comfortable rainsuit. This one piece rainsuit can be worn over a kid's normal clothes. At the wrist, there are neoprene cuffs to ensure a customized fit. Perfect for camping, hiking, or playing in the rain.
Normally $69.99. On sale for $39.99 at oaki.com. Use code littlefam10 to save 10% off
SAXX Quest 2.0 Underwear for Him
Named the "ultimate travel boxer" by National Geographic. The active man on your list will be ready on every adventure with these underwear. Patented features ensure he's ready comfortable and chaf-free
Find it at SaxxUnderwear.com or at amazon.com for $29.95
Children's Velcro Snow Boots from Oaki
For rain, snow, and cold weather, these insulated snow boots for great for little feet. Removable fleece liner provides extra warmth when needed and the Thermoplastic rubber outsole with herringbone pattern provides great traction. It's an all-around boot for cold weather fun.
Buy them for $34.99  and save 10% off with code littlefam10 at oaki.com 
Outdoor Experiences
Skiing Season Pass
For Skiers,  get a season pass for a network of ski resorts.  The two big ones are the Max Pass and the Epic Pass.  Both cover dozens of ski areas in many states, so having a pass can allow a skiing family to find free skiing at nearly every colder-weather destination they would find themselves in.
Guides/Books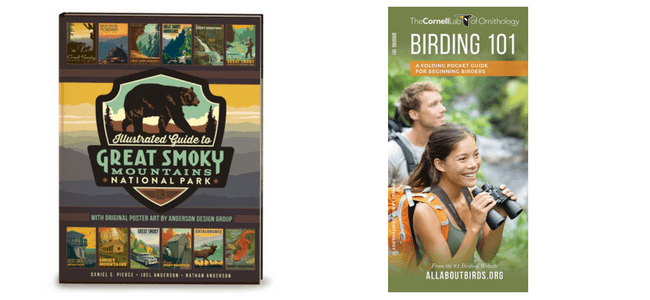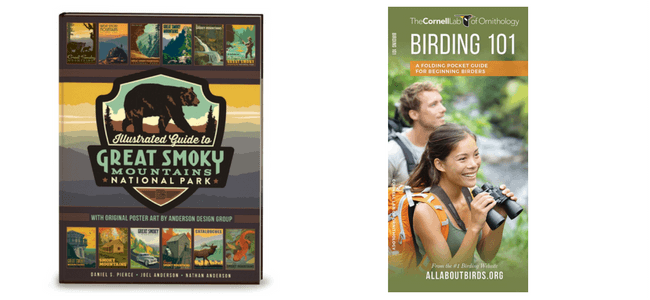 Illustrated Guide to the Great Smoky Mountains National Park from the Anderson Design Group Store
The 128-page coffee table book includes 40 full color posters from the award winning Illustrated National Parks Collection, beautiful wildlife and scenic photography from the Smokies, travel tips and trail tours, an illustrated Park Map featuring must-see landmarks, an historic overview of Great Smoky Mountain National Park and compelling stories from former Park Rangers. Available in hard and soft cover.
Get it here for $29.95 – $39.95
Backyard Birds of Eastern/Central North America & Birding 101 Guide from Waterford Press
Birding is one of the fastest growing hobbies in the US and Waterford has several birding guides perfect for all ages. These pocket sized guides are laminated for durability and are really lightweight. Throw in the pack and get outdoors to play a game of I Spy and then use your guide to identify the bird.
Get yours here for $9.94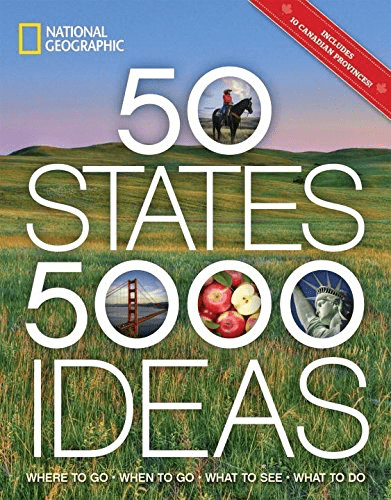 50 States, 5,000 Ideas: Where to Go, When to Go, What to See, What to Do from National Geographic
The travel experts at National Geographic created this book to highlight the best places to visit in each. This list of places and ideas will get any bucket list off to a start start.
Find it at NationalGeographic.com or on amazon.com $24.95
Electronics
Motorola Talkabout T260 Radios
Ideal for keeping in touch with the whole group on family camping trips, the beach vacation and even caravanning to the big game. This light-weight, compact and durable radio comes packed with essential features, like NOAA weather channels and alerts, iVOX/VOX hands-free communication, too, so its easy to stay in touch and stay safe wherever you are, especially when out of cell phone range. Available in a twin pack $64.95 or triple pack $89.99 — perfect for families.
On sale at Amazon $48.08 to $69.99 
AMP Solar Charger from Voltaic Systems
This compact solar charger is the perfect gift for busy families on your list. Store and charge (4,000mAh) phones or other USB devices anywhere the day takes them – from theme parks to soccer games to camping weekends. It even works as an emergency backup for when the power goes out.
Get it here for $99  
Tile Bluetooth Tracking System
Tile is perfect for families on the go because it helps you keep track of the things that matter most. All you need to do is place this small Bluetooth device on luggage, outdoor gear, bags, keys, or yourself. Then use Tile's simple app to help find what's missing. If it's your phone you're looking for, simply press your Tile to make your phone ring — even if it's on silent.
$35 one tile, $60 two pack, $100 quad pack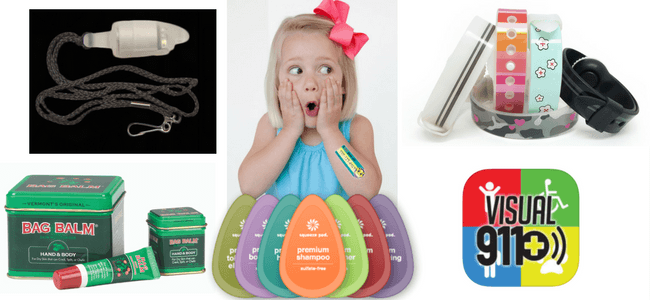 Emergency/ First Aid / Personal 
Emergency/Tactial Lights by Triage Lights
This is the stocking stuffer to give this year. Why? Because whenever you're heading outdoors, especially with kids, you need to be prepared for any emergency. These E/T Lights are muti-use lights that can be used as an emergency flasher, trail marker, dog tag, or used to illuminate a tent, map, etc. It's waterproof too so take it scuba diving, fishing, and water skiing.  They are durable and last for 4 days while on a constant selection and up to 12 days when flashing.
Get it here for $37.97
Vermont's Original Bag Balm for your Skin
Great stocking stuffer for outdoor lovers because it protects your skin from the elements.
Bag Balm can be used as lip balm, ointment for cuts/scrapes/burn/blisters, and protects skin from extreme cold or wind. It can also be used on pets' noses and more. Available in tins or on the go tubes.
Starts at $6. Set shown can be found here for $18.83. 
Quick Stick WriteOn Safety Tattoos from SafetyTat
These peel and stick tattoos/stickers stick to kids because they don't always stick to  parents. When you are outdoors or traveling, it's good to have piece of mind knowing your information is highly visible. Great for allergy alerts, special needs or other alerts.
Starts at $6.99
Visual 911+ App
Give the free gift of preparedness and peace of mind to your loved ones. Have everyone in the family download it and include those that you can count on as a lifeline. This way they know if you ever really need them, they are a push of a button away. Try the free Visual 911+ app.
Travel-Size Shower Toiletry Kit from Squeeze Pod
For the person who likes to pack light, these single use toiletries, make for the perfect travel or outdoor gift. The are leak-proof, light weight and TSA compliant. Best of all they are made with natural ingredients – NO Sulfates (color safe), Parabens, Phthalates, Phosphates or Harsh Chemicals. All Formulas are PETA Certified Cruelty Free, Gluten Free and Vegan. Made in USA.
Buy it here for $12.99
Psi Acupressure Bands 
No one wants to be nauseous or worse  when traveling or having fun outdoors. But sometimes flying, windy roads, cruising/sailing, scuba diving, snorkeling, amusement parks, etc. can get the best of a person. These acupressure wrist bands offer relief of nausea due to motion or travel sickness. Drug-free, comfortable, and available in fun colors.
Buy them here for less than $15
Find more gift ideas more:
Check out these other Holiday Gift Guides and Giveaways!!
SaveSave
SaveSave
SaveSave
SaveSave
SaveSave
SaveSave
SaveSave
SaveSave