This post is sponsored by Hot Springs, South Dakota and the South Dakota Department of Tourism, but the content and opinions expressed here are my own.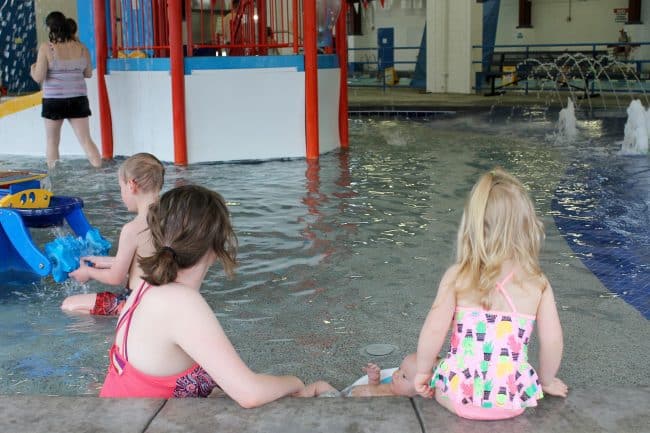 Things to Do In Hot Springs
A family vacation is all about finding "your great place" where you can have fun together and discover new favorite places. For your next destination, head to Hot Springs, South Dakota, the southern gateway to South Dakota's Black Hills. Many visitors come to see the iconic Mount Rushmore, but don't realize that the area is teaming with history, iconic sites, and natural beauty your family will enjoy and want to return to year after year. Here are a few family-friendly things to do in the Black Hills.
Mammoth Site
Visitors can go all the way back to the prehistoric era at the Mammoth site. This active archeological site and research center has the largest concentration of mammoth remains in the world. The current mammoth count is 61, with 58 Columbian and 3 woolly mammoths. Take the guided tour and then explore the many exhibits and watch educational videos at your own pace.
Evans Plunge Mineral Springs
Hot Springs has long been known for their natural hot springs. Evans Plunge is the area's oldest attraction that sits atop one of the area's largest hot springs. This indoor water park is a family favorite for their pools, water slides, and family fun. Visitors enjoy 87 degrees water temperatures year around.
American Icon – Mount Rushmore
Mount Rushmore is a popular site in the Black Hills. Although the site is an hour from Hot Springs, no trip would be complete with a visit to this American icon.
Wind Cave National Park
Wind Cave is the 7th oldest national park in the United States. Families can explore the rolling hills and prairies with over 30 miles of trails. Park visitors can see buffalo, prairie dogs, deer, and antelope on the plains. If you decide to spend the night and do a little back county camping, you'll be treated to evening under a blanket of stars and possibly wake up with a herd of bison grazing nearby.
When in Wind Cave National Park, head underground to explore one of the longest caves in the country. The cave system is home to rare box work formations that you won't want to miss along the walls and cave ceiling. Daily guided tours are available.
Custer State Park & Wildlife Loop
You can't come to the Black Hills and not experience the plains wildlife. Just 20 minutes from Hot Springs is Custer State Park. Here you will find one of the largest freely roaming bison herd in the country. Take the 18 miles Wildlife Loop to see spectacular views, over 1300 bison and other area wildlife in their natural environment.
While in the park, families love to trout fish, kayak, and boat on one of the park's mountain lakes. If you'd rather stay on land, venture out on the trails or opt for a trail ride on horseback.
There are countless things to do in Black Hills. Make plan to stay in Hot Springs which offers a variety of lodging options from camping to resorts. Learn more about the area and find more information at HotSprings-SD.com.
SaveSave
SaveSave
SaveSave
SaveSave