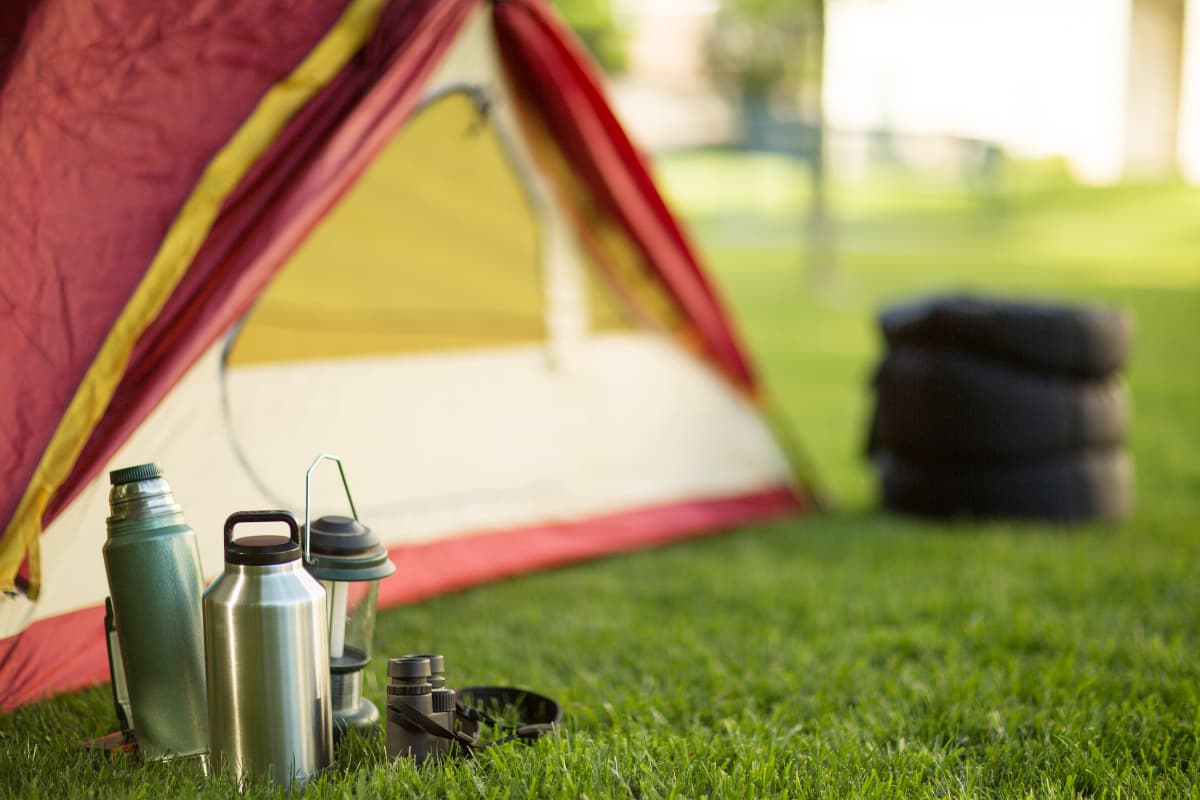 For the nature lovers and camping enthusiasts in your life, we have some great ideas for camping gifts and gadgets that any outdoorsy person will LOVE to receive. Getting outside is always a great idea and we've found gear that will help them get back out more often.
Whether you are looking for gifts for Christmas, birthdays, weddings, anniversaries, or just because it's Tuesday, this gift guide is filled with something for anyone who loves the outdoors. From bird watching to hiking, car camping, and more, you'll find a great camping gift they would love to receive. You may actually want to get two; one from them and one for you.
What Do you Get Someone Who Likes Camping?
Enamel Coffee Mugs
Vacuum Thermos
Double Pie Iron
Portable Grill System
Telescoping Roasting Sticks
Adventure Gear Subscription Box
Camping Hook Hanger
Ice Cooler
National Parks Annual Pass
Sleeping Bag
XXL Self-Inflated Sleeping Pad
Personal Water Filter
Portable Firepit Cooking System
Fixed Blade Knife
Puffy Blanket
Pocket Stove Cooking System
Single Serve Coffee
Camping Towels
Inflatable Pillow
Nature Inspired Tees
Travel Telescope
Headlamp
Instant Cabin Tent
Portable Wash Bag
Chuck Box Camp Kitchen
Binoculars
Portable Beach Chair
Nanospikes
Gift Cards
Cool Camping Gifts and Gadgets
Gift Cards Are A Great Option Too!
If you've reached this part of the list and still aren't sure what to get your outdoorsy man, woman, or child, gift cards are a great option. A gift card allows the recipient to buy whatever it is they have been eyeing but may not have verbalized.
There is more than one type of camping; backcountry, car, glamping, RV, overlanding, etc. You may know just know that your camper likes to "camp" but aren't sure about the how, where or why. So rather than figure out what type of camp cookware you think they'd like best, opt for a gift card and let them decide. Gift cards also make great options for people who are eyeing larger ticket items like a roof tent and are saving up.
I recommend these outdoor retailers because they have a wide selection of products for most any type of camping and outdoor adventure.
Backcountry: Perfect for last-minute gifts, send an e-gift certificate to this online outdoor retailer. Classic gift cards are also available. Backcountry offers the top brands for almost every outdoor adventure from fly fishing to rock climbing and all at up to 60% off retail.
Barebones: If you are looking for something your camper doesn't already have and support social good, I highly recommend Barebones. This small company is a certified B Corporation with a focus on positive social impact. Their products elevate your outdoor experience and the quality is exceptional. I highly recommend their camp cooking and cast iron.
Moosejaw : This online retailer offers outdoor gear and clothing to budget-conscious shoppers. The site carries top brands and is always running a sale at 40-60% off. Plus you can find current additional savings codes on our Deals Page.
REI Co-Op: The largest outdoor retail chain in the US with a large selction of outdoor gear, clothing, footwear, classes, and adventures. If you are looking for a gift for an outdoorsy person, you will find it here. In addition to the top outdoor brands, REI private label provides exceptional quality at a good price. If your camper is more eco or budget conscience and prefers slightly used and new-to-them gear, REI offers a "Good & Used" section on their website that offers used equipment and clothing at sharply discounted prices. There are stores across the country and you can shop online.
57Hours: Lastly, I leave you with 57Hours, an online platform to connect adventure seekers with qualified guides and experiences. Sometimes an experience is just what you've been looking to gift. At 57Hours, you will find experiences ranging from backcountry skiing in Lake Tahoe to Surfing in San Diego. Experiences range from one hour to multi-day trips.
For more gift ideas, check out these:
What Do you Get Someone Who Likes Camping?
Everyday camping supplies, practical outdoor gear, and upgraded equipment all make great gifts for anyone who likes camping. Examples can include solar tent lights or a new ultralights headlamp, portable fire pits or camp stove, backpacking tent or hammock, outdoor games that can be played at home or while camping/RVing, GPS or locator beacons, s'mores gift basket with extended skewers and all the ingredients, cookbooks, national park passes or RV rentals, etc. The best gift for a camper or hiker is one they can use the next time they head outdoors.
What Do You Buy an Outdoorsy Girl?
Most any outdoorsy girl will welcome the opportunity to get outdoors more. A new national park pass can be the perfect gift. If she doesn't have a park passport or adventure book, you can get her that or a new hiking journal to log where she goes.
For the coffee drinker, get a Yeto Rambler or enamel camp mug.
For the hiker, get premium quality hiking socks or trekking pole.
For the outdoor cook, get a portable fire pit with cooking attachments/accessories or a new cooking set.