School may be back in season, but that doesn't mean that your camping gear needs to be heading away until next summer. Fall camping with kids will be an adventure (in a good way) that you'll never forget!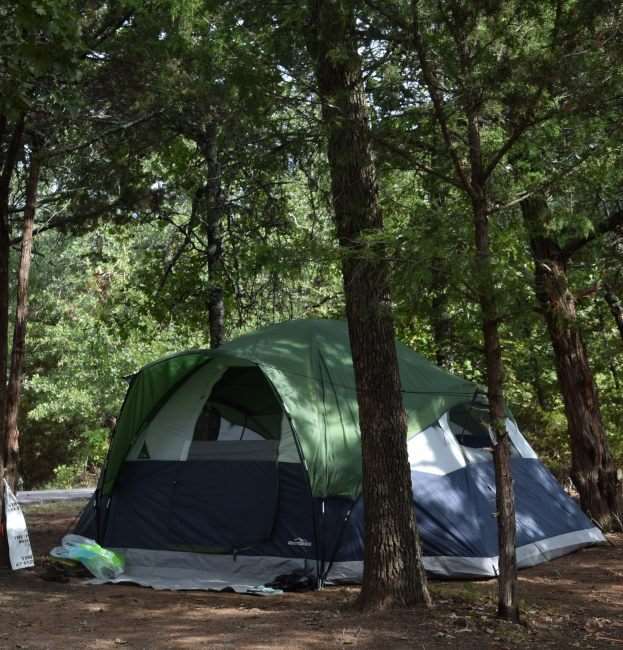 Fall is my favorite time of year to go camping. The weather is cooler, the campgrounds are less crowded, and did I mention the weather is great….. Living in Oklahoma, summers are HOT, HOT, HOT, and HUMID. You can go camping, but the temperature and humidity can make for a bad experience, especially when you are camping with kids. So I prefer to go when the weather is cooler and I don't sweat to death while I sleep.
Disclosure: this post contains affiliate links and by clicking on them you help support LFA at no extra cost to you – thanks so much! Plus you can trust I'll only share what I love. (You can always read our entire disclosure page here.)
Fall Camping with Kids
Since this is my favorite time of year, I want to share 4 reasons why you should be camping with kids this fall too.
#1. Weather
This is a big one for me is you haven't already guessed. When temperatures are above 100 degrees and there's 100% humidity, you'll find me indoors enjoying the AC. I give props to you outdoorsy few who will get out in that, but I will wait until fall.
In the fall, especially in the southern states, the daytime temperature are cooler and really pleasant. You can go for a longer family hike, play in the water because it's usually still warm, and just enjoy being outdoors. Evening temperatures drop a bit, but that is perfect for gathering around the camp fire for S'mores and scary camp stories.
#2. Quality Family Time
Fall is a busy time with school back in session, activities and clubs in the afternoons, sports practice, etc. Taking off on a Friday afternoon and spending the weekend outdoors is a great way to unplug and reconnect with your family. The electronics get left behind and you can have a conversation without the interruptions of daily life.
You can go on a scavenger hunt together, pull out a deck of cards and play go fish, go geocaching, or just sit and watch the squirrels run around after each other. Whatever you do, just do it together.
The crowds are noticeably lighter in the fall too. When you visit an improved campground for car camping, you can often select a prime spot on a Friday afternoon. But always call ahead and see if reservations are needed or available. Just in case.

#3. Camp Food
This is my favorite part of the camping trip. Cooking over a fire is where I have the most fun. Whether it's German brats cooked on marshmallow skewers over the fire or Eggs in Hell made in a cast iron skillet, it ALL tastes good. You can plan out your camping meal plan together as a family or run to the store the day of your trip and grab and go a few things for quick meals.
Cooking together is one of our favorite ways to spend time together. The kids share as we cook and we have a lot of fond memories of our camp food successes and utter failures. Maybe one day I'll share why I don't make buttermilk biscuits ever! It's related to a camping story. Maybe one day…..
#4. Camping with Kids is Fun
Camping on the weekends gives kids something to look forward to during the week. They know that they get a sweet reward on Friday and they'll have great stories to tell the following Monday. During the fall, nature is out on display with all her color. Trees are changing from green to rich hues of gold, crimson, and ochre. The air crisp, and animals are preparing for the winter ahead. If you need a few ideas, here are a few free family camping activities for you.
There is no better time than fall to head out and relax outdoors. If you need help planning your next camping trip, there's an app for that. I like this free camping app called Moonlight. You are also welcome to ask me in the comments below or ask me on Facebook or Twitter.
Start planning your next trip and go camping with kids this fall. You will have a great adventure together.
SaveSave
SaveSave
SaveSave