I am partnering with Active Network to review their camping trip planner app, Moonlight. I am currently planning our family's next camping trip and if I didn't already love camping, this app would definitely make me one very happy camper!
You want to love camping too. Right? Well, now there's an app for that!

Camping Trip Planner
Camping is a great way to relax, recharge, and actually enjoy your getaway. But before you can take off, you need to ensure that you have everything you might need. There's nothing worse than getting to your campsite and then realizing that you've forgotten something. My worst experience was forgetting both the bug repellant and soap. Mosquitos ate me alive on that trip!
Having a camping trip planner would have helped prevent that little mishap and ensured we had an epic adventure for all the right reasons. Let me tell you about the Moonlight camping trip planner app that I am using to plan my next family camping trip. With it you'll love camping because it helps you take care of all the little details that can make or break your trip.

Moonlight – Camping Trip Planner
Moonlight is a free social camping trip planner app for iPhone. It is the ultimate outdoor adventure planning tool for campers. It's great for anyone starting to camp, anyone organizing a group campout, or anyone who likes to be organized before they explore. It gives you all the tools you need for a great camping trip. Best of all, you'll never forget anything again!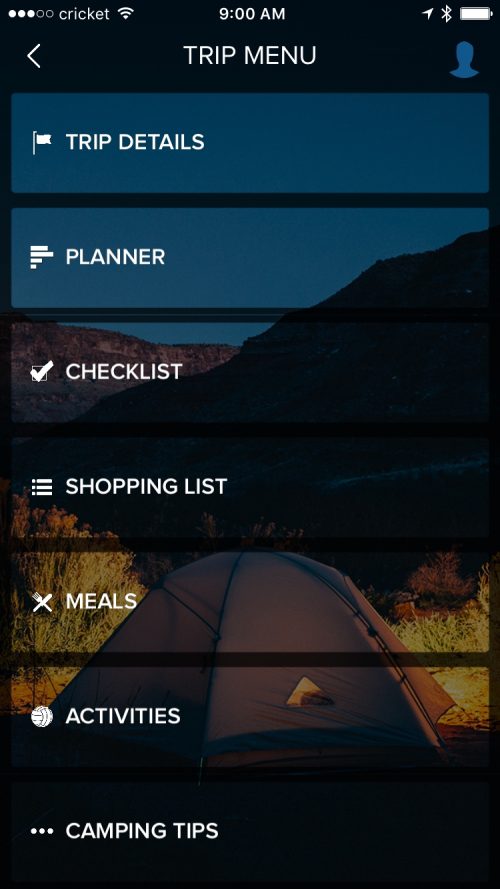 With this app, you get:
Information about your selected campground
Saves your site reservations when using sites like ReserveAmerica
Plans each day of your trip
Checklists
Shopping lists
Camp meals and meal planner
Activities
Camping Tips
And more
Moonlight makes planing your next camping trip organized, convenient, and enjoyable.
Where are you camping?
The first decision you have to make is "Where are you going to go camping?" Will you go backcountry camping or to an improved campground?

Many campgrounds allow you to make reservations in advance. If you make a site reservation on sites like ReserveAmerica, you can import that into Moonlight. You'll be able to keep all that information in one place.

Plus the app will show you the weather forecast prior to and during your trip. Knowing this will help you plan your gear, food, and clothing for the trip.
Having the Right Gear
There is a reason why you always check your gear before every trip. When you camp, having the right gear makes all the difference. Forgetting basic or essential items can make any trip less than enjoyable. Moonlight has a gear checklist that can be customized to your needs. With it, you'll never forget essentials and basics again. The app features all the most common gear you may need for a camping trip. As you find what you can't live without, you can add those items to the list too.
The app features customizable shopping lists for you. Lists are divided by food, clothing, equipment, and other. When you need certain gear or supplies, you will be sure to have them every time you go camping.
Group Camping
Camping with multiple families or groups can be an amazing way to enjoy the great outdoors. Group camping can be great fun but can be challenging to coordinate. If you are coordinating a group campout, the app allows you can share gear and grocery checklists with others, divide up responsibilities, and more. With Moonlight, you'll never show up to the campsite and assume that the other family brought the marshmallows for the S'mores or the matches for the campfire. Everyone will have their list of what to bring and so you'll have what you need every time.
Learning From Others
As a beginning camper, you start off green and pick up tips and tricks the more you camp. Moonlight has great camping tips, just for you. The app shares tips and tricks on everything from finding the right tent site to fire safety. Even seasoned campers will find tips to make their trip more enjoyable. These tips and tricks are really helpful and easy to search.

Making the Most of Your Camping Trip Planner
Moonlight lays out your trip day by day and allows you to plan your meals, snacks, and activities. On the next page, let me show you the 4 day camping meal plan I created with the help of the app.