Disclosure: This blog contains affiliate links. They help pay for the coffee that keeps us turning out adventures week after week. I'll only recommend and share products that I use and love myself. Thanks!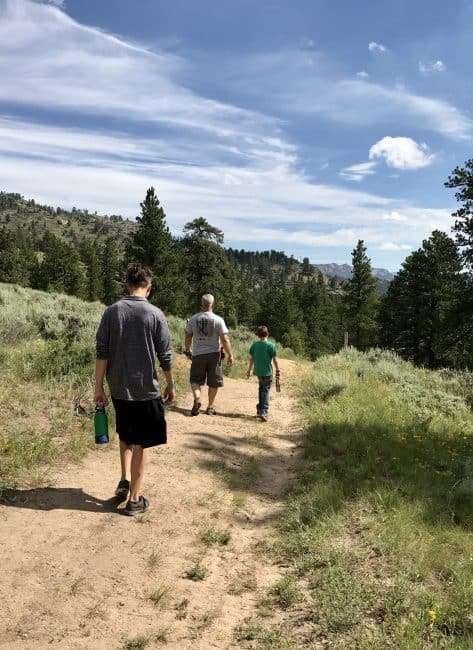 Hiking with kids can be a great family adventure. It gives you a chance to unplug, get outdoors, and have fun as a family. Whether it's hiking a national/state park or nearby nature trail, use our tips and printable nature scavenger hunt for a great hike together.
Hiking with Kids Essentials
Hiking is an outdoor activity that can be enjoyed by all ages, young and old. Before we head out for any hike, there are a few things we always grab to take along. Here are the essentials you don't want to leave home without.
Water
A great rule of thumb is bring more than you think you need.
Everyone who can carry their own water should.
For our family, we bring at least 2 liters of water for every hour we are hiking.
Snacks
While hiking, snacks help give you and the kids energy. Taking a break halfway through the hike can give everyone a rest and refuel before heading back. Low sugar, protein filled foods are best.
Want recipes for a few snacks we like to bring? Get those healthy snacks here.
Have Fun on the Hike
Family hikes are great fun but sometimes it can be hard to slow down and take it all in. One of the ways we get our kids to slow down and enjoy a hike is with a fun nature scavenger hunt.
A scavenger hunt forces you to look and listen to find the items on the list. The image above is a great one for all ages with just a few basic items to spot.
Create your own scavenger hunt list printable with these tips:
Create a grid with 9, 16, or 25 squares or a simple list.
Add images or words of items to find (textures, colors, animals, natural features, etc.)
Print out and take along on your hike
Slow down, listen, and look for the items on the list
The best part about hiking with kids is having fun together outdoors. You can enjoy the breath air, listen for the sounds of nature, scramble up the trails, and get active. Use these tips and scavenger hunt to enjoy your next hike or outdoor outing.
Do you have favorite snacks or activities you like to do on a hike? Let us know below in the comments or share them with on Instagram and tag us with #lilfamadventure. We'd love to see what fun & tasty adventures you are doing with your family.
SaveSave