Hiking is a great way to get outdoors and do something fun as a family. Our family loves getting out on the weekends for a hike. It doesn't matter if it's short hour long stroll or an all day trek, we love getting out and exploring together. We've gathered together our top tips for hiking with kids that will save your sanity and make it a fun adventure for everyone. You'll see that you can have a really fun adventure hiking with the kids.

Tips for Hiking with Kids
Plan your hike
What time will you go out?
Mornings, after breakfast, are a great time for a hike. Everyone is well fed and energy levels are high. Mornings are when animals are more active too.
Where are you going?
Get a map of the trail or area you will be hiking. All Trails Hiking and Biking has a great Free app for IPhone or Android. Look at the route you plan to take and take into consideration the elevation and terrain. Plan your hike for the youngest member of the family, they won't be able to go as far or as long.
Check the weather.
Weather can change quickly and you will want to check it before you go on a hike.

Be prepared
Wear appropriate clothing.
Dress in layers to prevent overheating or chill. You can remove layers as it heats up or cools off. Be sure you have the right shoes for the weather and trail conditions. The wrong shoes can kill a hike very quickly, especially when little feet get sore or worse, get a blister.
Use sun & insect protection.
Hats and caps will help shield faces and necks from the sun. Long sleeves shirts or long pants protect against sunburn and some insects. Sun block should be used to prevent sunburn. Bug repellent is important to protect against ticks that may carry lyme disease.
Carry a first aid kit.
Check to be sure your kit is well stocked before each hike. I generally include allergy medication, antibiotic ointment, anti-itch spray, bandaids, pain medicine, and disinfecting wipes. This is what's in my first aid kit.
In case you get lost:
Let someone else know where you will be hiking and always carry a whistle.

Stay focused on the kids
Make the hike fun.
If the kids are enjoying the hike, it will be fun for you too. Point out things to see along the path, do a scavenger hunt, sing songs, play games, try geocaching, etc. (I Spy is one of our favorites during a hike. It forces everyone to really look at what is around them.)
Make the destination something they'll want to see.
"We're going to hike along the river" won't garner much enthusiasm, but if you say "We're going to explore the waterfall down river" or "..going to feed the fish at down this path." you'll get much more enthusiasm. Make the turnaround point something fun and exciting.
Let the kids set the pace.
"Stop and smell the roses" is a great rule when hiking with kids. The journey is more fun than the destination. Take frequent breaks to let the kids catch their breath, look at the lizard along the path, take a drink of water, or eat a snack.
Bring plenty of water and snacks
Always carry water when you go on a hike.
You never want to be without it. You'll need water for drinking and play, you know how kids are. Bring a minimum of 16 ounces per person for a 2 hour outing. We prefer reusable metal bottles.
Bring snacks.
Everyone is a bear when they are hungry. Bring snacks for everyone on the hike. Plus an extra special snack can help motivate children to finish the hike.
Have fun on your hike
The best tip I can give you is to have fun and let your kids see that you are enjoying being with them. Do that and everything else will fall into place. Having fun with the family is what's important on a hike. You'll be making memories together that will last a lifetime.
Find more ideas, tips, and camp recipes on my Pinterest board
Follow Little Family Adventure's board Camping/Camp Food on Pinterest.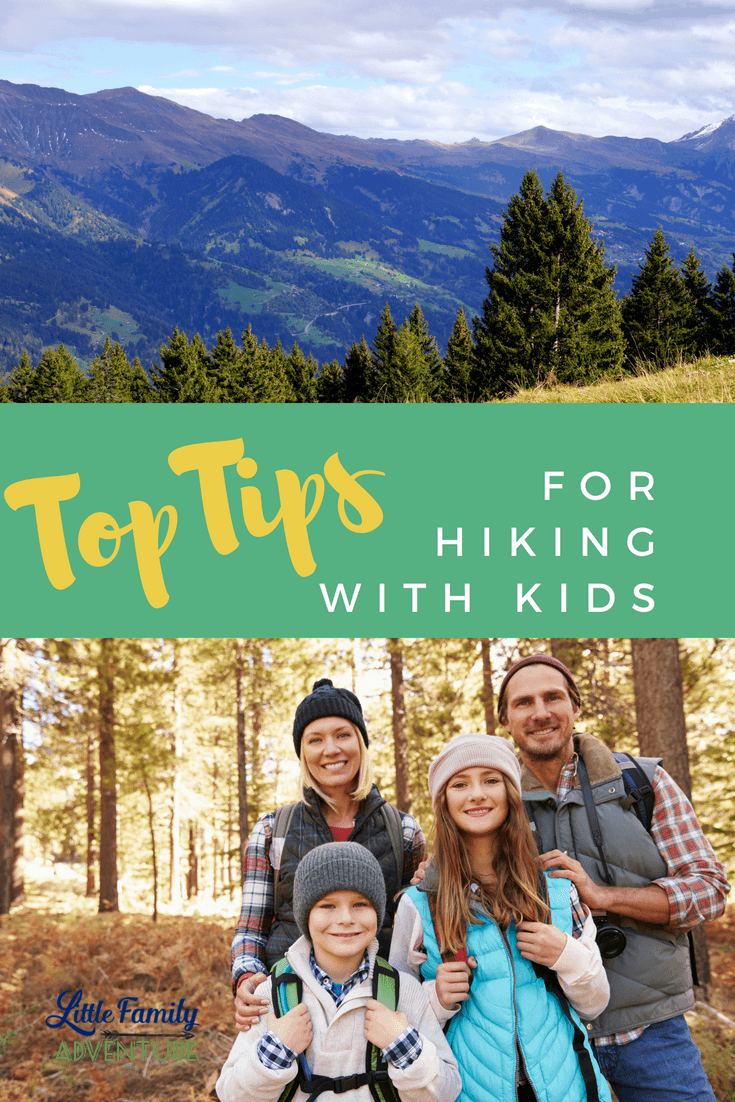 Do you go hiking with your family? What are some tips that you can share with us? Let us know in the comments below.