This article is brought to you in partnership with the Flexible Packaging Association (FPA). Together we want to help you create a great menu for camping. Here you will find a practical camping menu planning tips, recipe ideas, and pointers on packing the cooler so your food doesn't get soggy.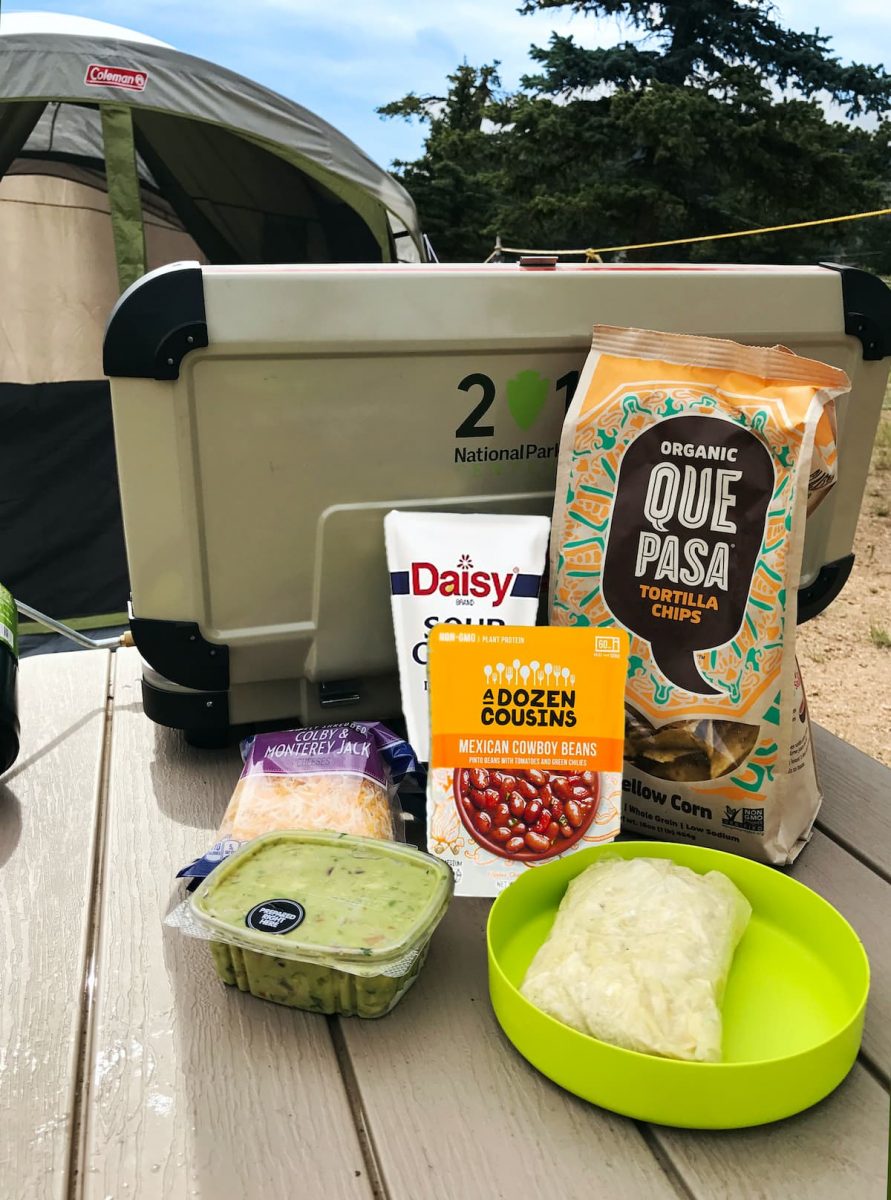 Cooking outdoors is my favorite part of ANY camping trip. We do love the classics like hot dogs and s'mores cooked over a campfire. But we also enjoy cooking everything from omelets to Low Country Boil (boiled shrimp, corn, and potatoes) when we go camping. Honestly, I don't think there is anything we wouldn't cook outdoors. One thing I've learned over the years is you ALWAYS NEED A PLAN.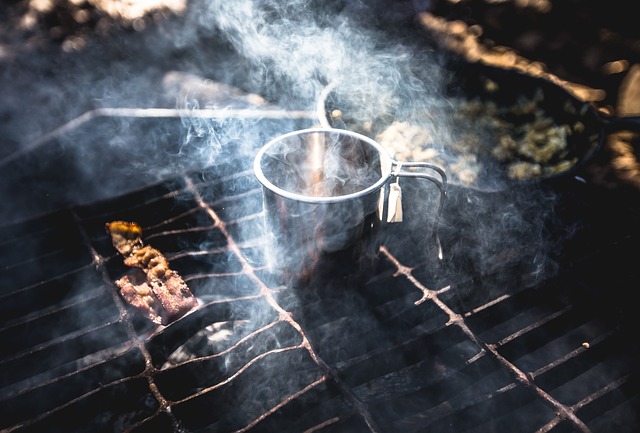 One of the hardest parts of planning a menu for camping (at least for us) is trying to figure out exactly what we will cook and what food we need to take. If we over plan, then we end up wasting food. If we under plan, we end up not having everything we need.
Creating the Perfect Menu for Camping
Create a Simple Meal Plan.
Just like meal planning at home, you want to make a list of each meal you'll be eating during your camping trip. The secret to a successful menu when camping is keeping the recipes simple. This is NOT the time to try new foods or recipes you aren't sure the family will 100% enjoy. This is also not the place for a 5-course dinner with a bevy of condiments and/or sauces. Select family favorites!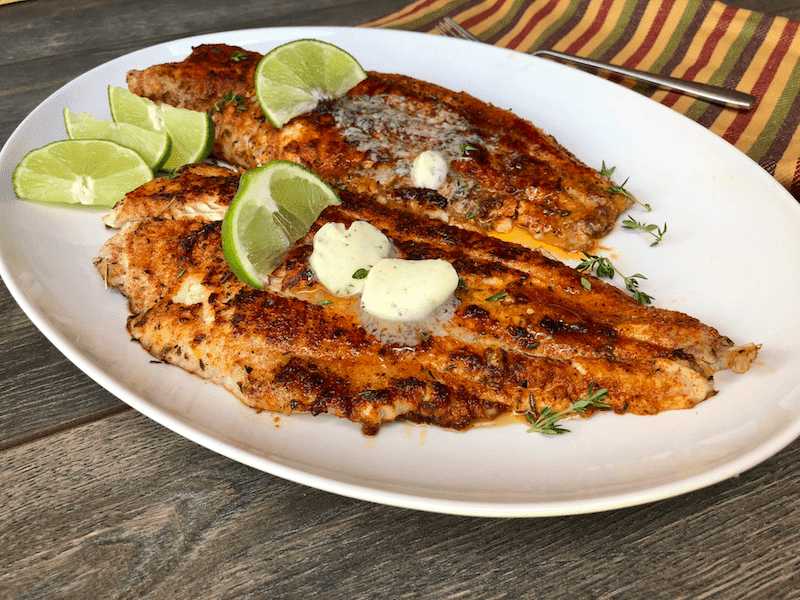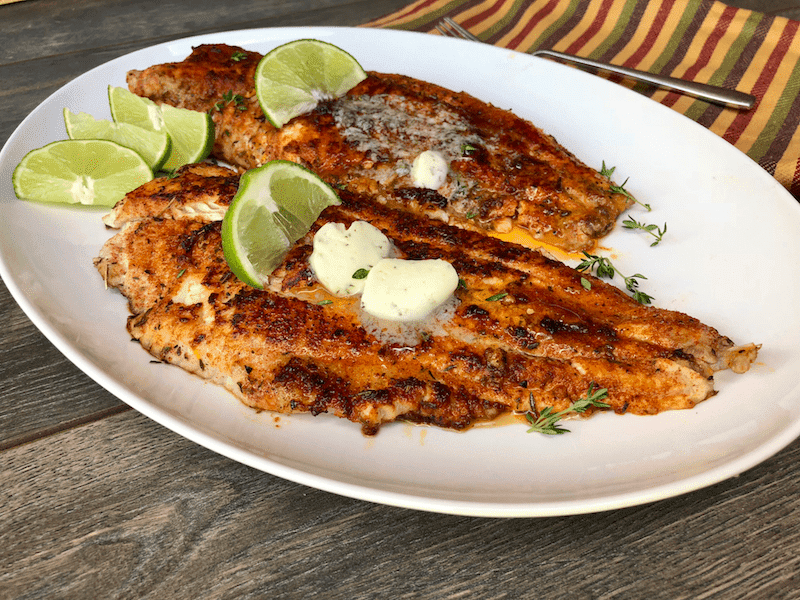 An example of a weekend camping menu may include:
Day 1 Dinner: Pan seared fish with stir fry vegetables, quick cook rice or quinoa, s'mores
Day 2 Breakfast: Oatmeal with blueberries and coffee
Day 2 Lunch: Ramen noodles with any leftover fish and vegetables
Day 2 Dinner: Grilled pork chops, corn on the cob, cinnamon peaches
Day 3 Breakfast: Green chile omelets, coffee
Day 3 Lunch: Sliced vegetables with hummus, cubed cheese, beef jerky, and apples with nut butter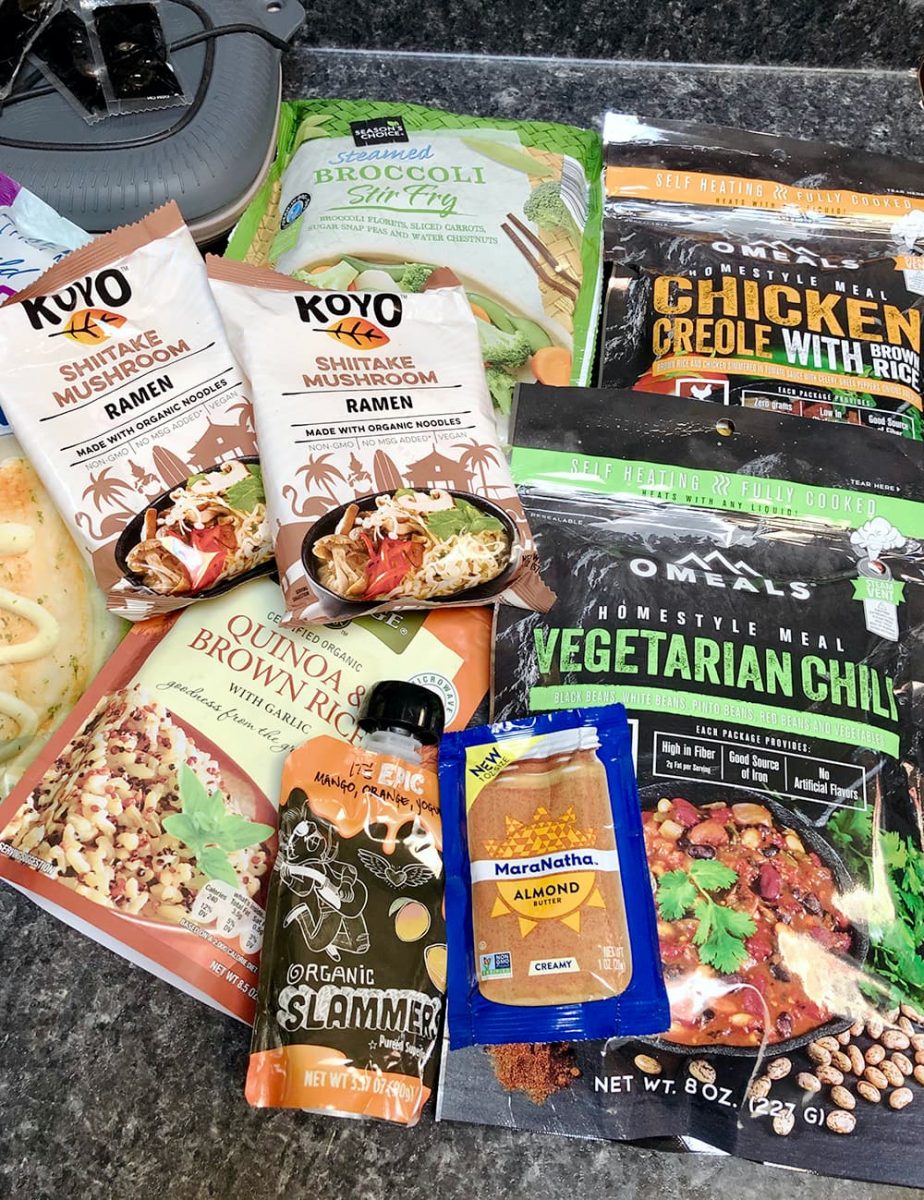 Choose foods that travel well.
Space is limited when are camping. So you want foods packaged in a way that doesn't take a lot of space, are lightweight, and aren't easily crushed. Dry goods can be stored in your car, in a dry storage container, or a bear box.
All of your refrigerated goods will be stored in an ice cooler. Never use glass in an ice cooler! Glass can break and it's heavy. Avoid rigid containers that take up a lot of space too.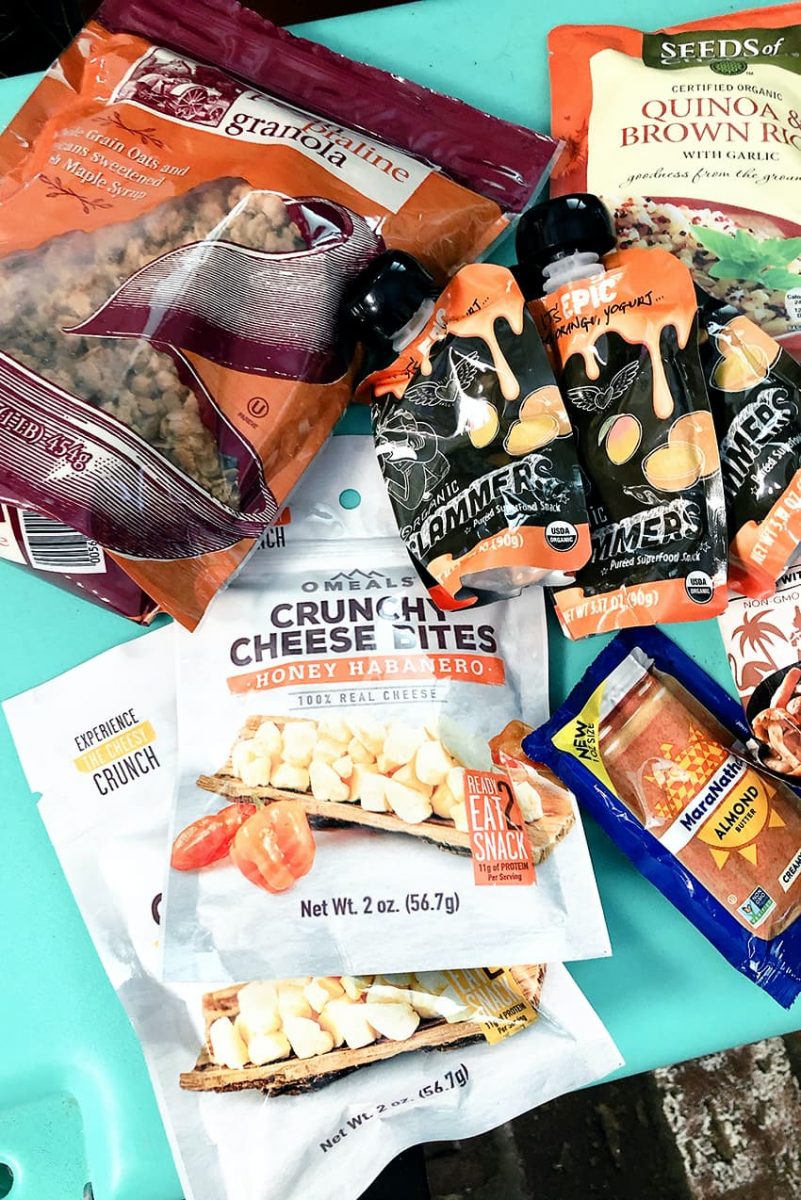 Use flexible packaging when camping. Flexible packaging is "any package or part of a package whose shape can readily be changed when filled or during use." There are made of plastic, aluminum foil, papers, film, or any combination of these materials. Flexible plastic, paper, and aluminum are my preferences when camping. They are lightweight, easy to open, easy to pack inside a cooler or dry box, and in most cases recyclable. Storing food in resealable plastic bags not only prevents leakage, but is also a great way to prevent your food from getting soggy in the co
Fun Fact: Did you know 1/3 of food waste is due to overcooking or serving too much food? It's true and the remaining 2/3 of food waste is due to food spoilage.
Flexible packaging reduces food waste and is convenient at home and while camping. With a pack it in, pack it out philosophy, using recyclable materials like these uses fewer natural resources to create and use the least amount of packaging necessary to protect and preserve products, reduces what ends up in landfills, and reduces greenhouse gas emissions.
Create a menu for the tools you have.
To make it easier on you, plan to cook meals using 1 or 2 pieces of camp cooking equipment; camp stove, metal grill over a campfire, cast iron pie irons, dutch oven, barbecue, etc. You don't need to bring every style as that gets heavy. So simplify your menu and your gear. Then decide on what tools you need to cook with. A BBQ oven mitt, long-handled metal tongs, and metal spatula are essential tools to keep in your camping box for every style of cooking.
Prep at home before your camping trip.
This is your vacation too! You don't want to spend your time camping doing a lot of prep work chopping and slicing vegetables. Do as much as you can ahead of time to save the hassle or buy pre-prepped ingredients. If stew or soup is on your menu, buy a bag of frozen soup vegetables. Save time and enjoy your trip!
Marinade and freeze meals ahead of time.
For your meat dishes, marinade/season ahead of time by pouring them into a large freezer bag with the marinade. Freeze the bags to reduce the need for additional ice in the cooler. You can also find pre-marinaded meats at your grocery store. Pork tenderloin or pre-seasoned chicken are two options.
Tip: When packing the ice cooler, keep frozen meats at the bottom to prevent thawing. You can follow with hobo dinners.
If foil packets or hobo dinners are on the menu, create them ahead of time. Combine everything you need in a foil packet, including seasonings and freeze. Foil packets can be pulled directly out of the cooler and placed onto the grill or camp fire.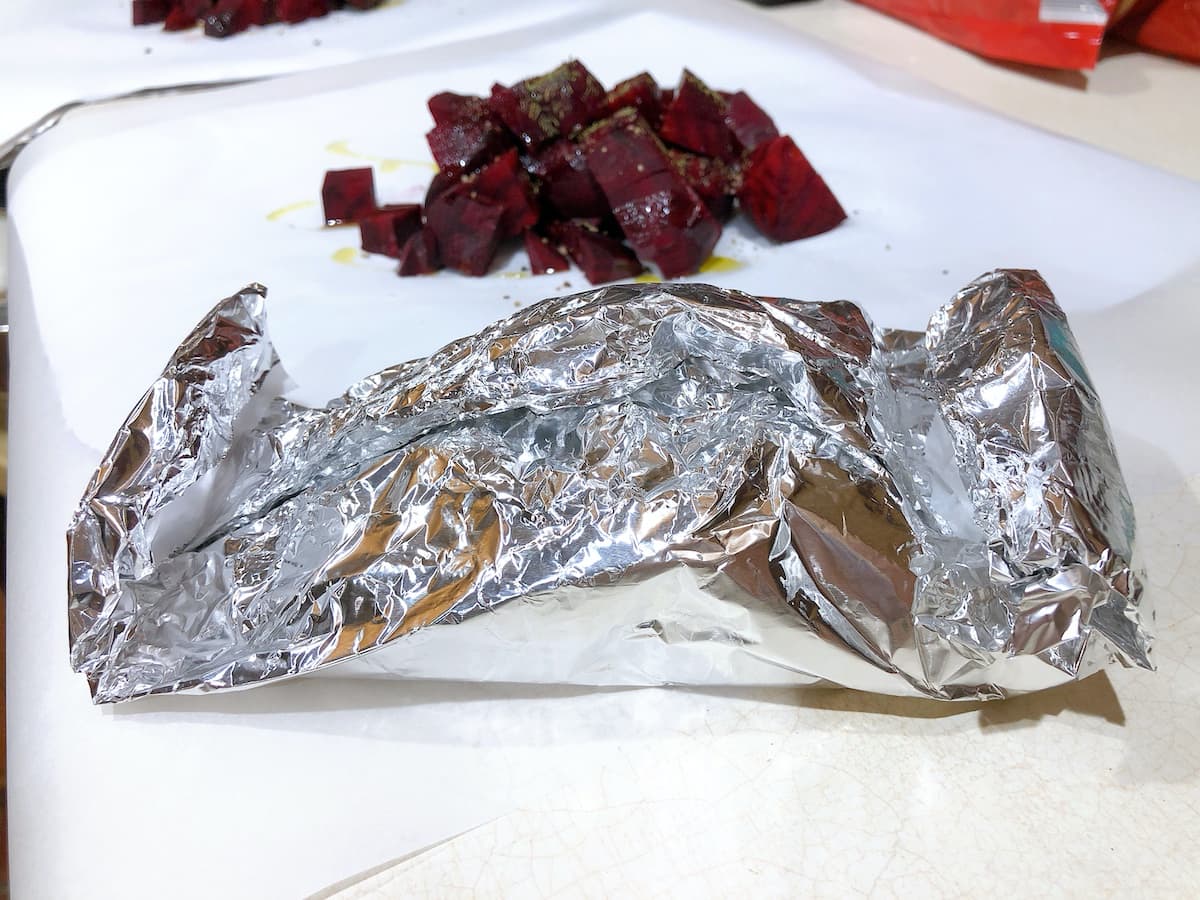 Here's a sample hobo meal we enjoy:
crumbled ground beef
sliced potatoes, bell peppers, and onions
garlic butter, salt, and pepper
Combine all these ingredients and portion them out into a foil pocket made with a double layer of foil. Seal the pockets and set over the fire at medium heat and cook until the potatoes are soft and meat is cooked.
Aluminum foil is a life saver on a camping trip.
Always keep one roll in your camping box, two rolls are better. You can use foil to cook food over the fire, keep food warm, and wrap up leftovers. Heavy duty foil is best, but the normal stuff works great too.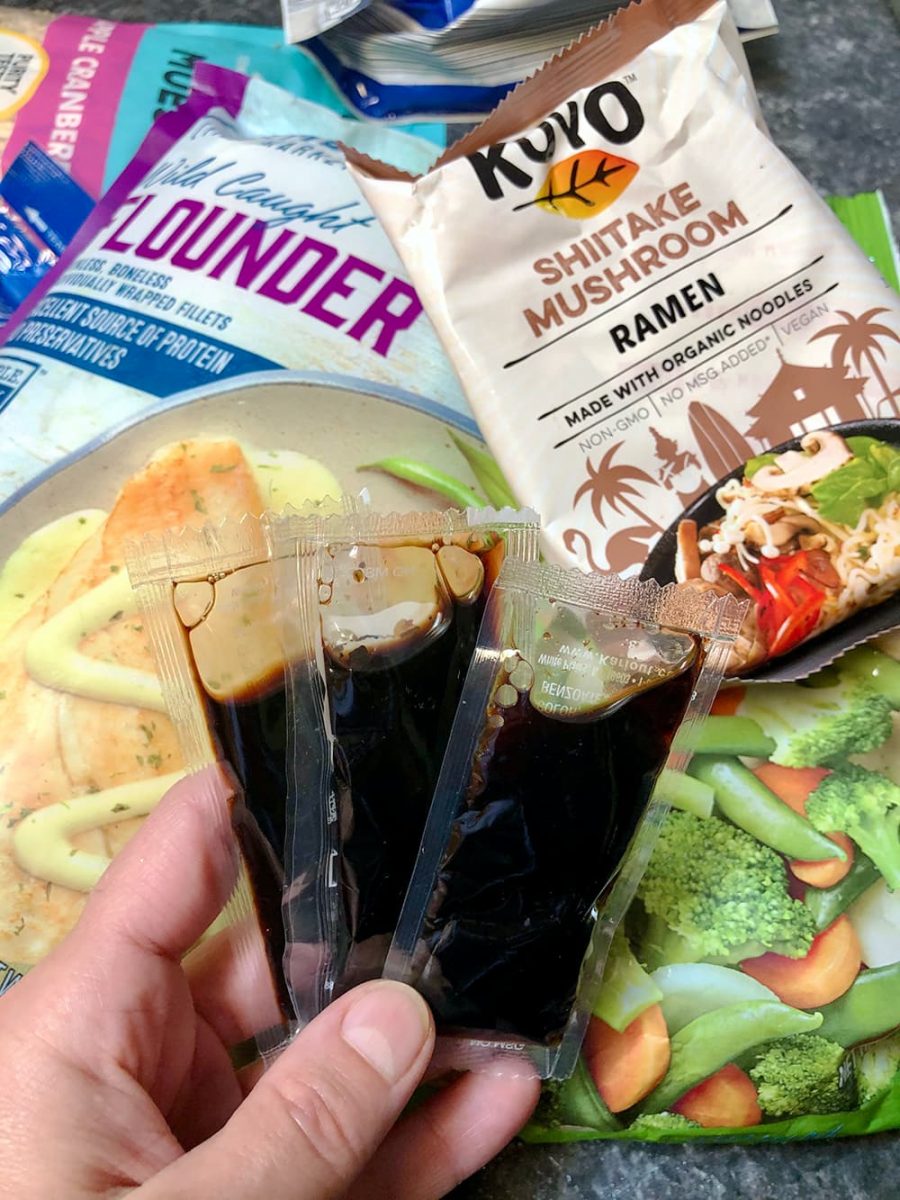 Bring small amounts of condiments
There is no need to bring a full sized bottle of ketchup, mustard or soy sauce when you go camping. The rigid bottles take up too much space in the cooler. Opt for to-go sized portions of condiments or put condiments into smaller flexible containers to save space.
Tip: Spices can be transported in drinking straws. Seal the edges on one side, fill the straw section, and then seal the other end.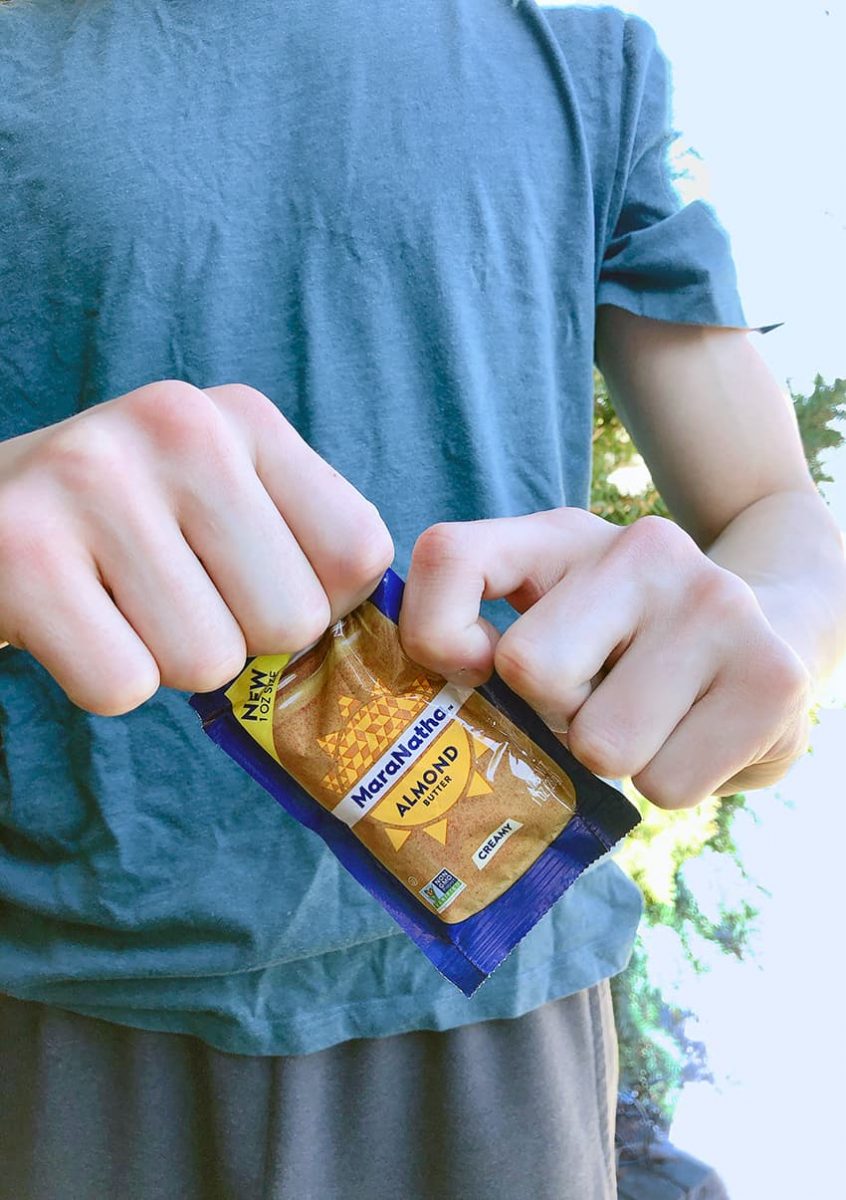 We always carry individual portions of nut butter (usually Justin's or MaraNatha) when we go camping. It's a great protein-packed snack on its own or great with sliced apples or on crackers.
Leftovers are a good thing.
Use leftovers for the next day's meal and save yourself some cooking. For example, grill chicken one night and use leftover chicken for nachos, a burrito, or a chicken salad.
Get cooking.
Think of camp cooking as if you were at home cooking on your backyard grill. Anything you can cook on a grill, can be cooked while camping. You can find all kinds of camping food ideas on our site to inspire you.
Leave No Trace
Camping is a true adventure and it's one you'll really enjoy. Always remember to pack up everything you bring in and leave no trace. Actually, it's better to leave your site cleaner than you found it.
Using flexible packaging is a smart choice for your family and the environment. Rather than just trashing the packaging to end up in landfill, many types of flexible plastic packaging are easily recyclable in communities and through in-store drop-off programs. Other types can be up cycled in other ways including energy feedstock. You can locate a local recycling center when you visit https://perfectpackaging.org. Where you can also learn more about flexible packaging.
SaveSave
SaveSave