Low Country Boil is a super easy recipe combining shrimp, sausage, potatoes, and corn on the cob. It's a SUPER simple one pot meal perfect for large gatherings, backyard cookouts, or a camping trip. Plus it only takes 20 minutes! What could be more perfect?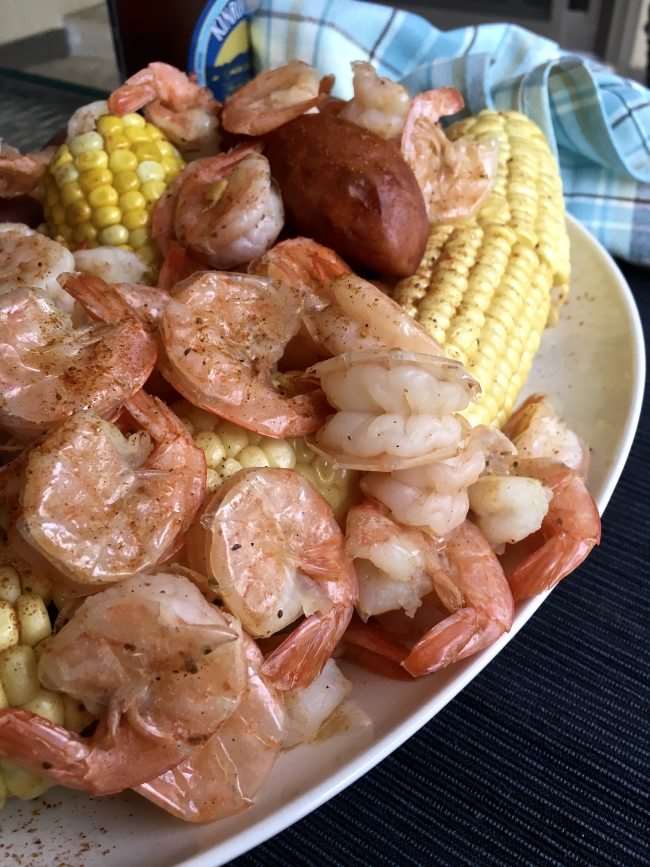 I still remember the first time I had Low Country Boil. Our family was living in coastal North Carolina and we were at a company beach party. Let me set the scene for you. It was a warm summer evening and the sun low in the sky. Kids were running up and down the beach playing in the surf. Adults were playing beach volleyball or talking with each other. Tables were set out with newspaper on top of them and bottles were set on top to prevent the paper from flying away with the ocean breeze.
Our meal of fresh shrimp, crab, sausage, and corn was placed directly on top of those newspapers and everyone gathered round to eat with their hands. I had never done anything like that before. It was really fun and gave new meaning to dinner conversation as you stood around the tables talking and eating.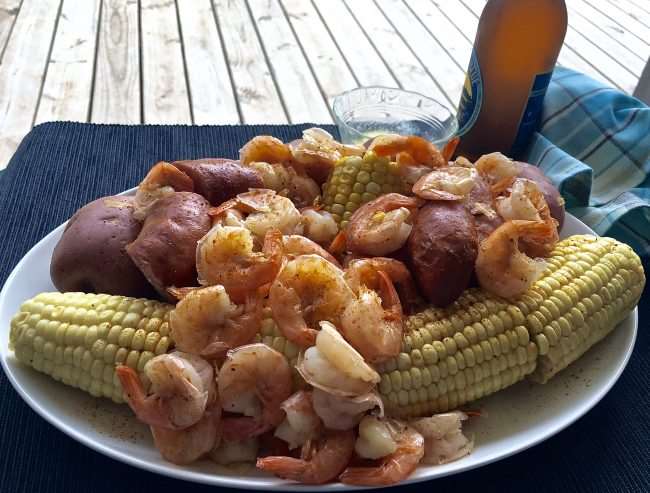 Low Country Boil
Now, we're no longer leaving near the beach, but I can get that same feeling every time I make Low Country Boil. Let me tell you how I make my Low Country Boil for large gatherings, at home for just the family, and on a camping trip.
Cooking for Large Gatherings
Low Country Boil is a great meal when you need to serve a lot of people. The recipe I have here feeds 5-6 people. Simply double, triple, or quadruple the ingredients and increase the size of the pot to feed everyone.
When cooking this recipe for more than 10 people, I prefer to make it outdoors on a propane burner in a large stock pot. This way I cook once and it's done, instead of having to do a series of smaller batches on the cook top indoors.
Tip: A strainer basket is a great tool to have when making this recipe. It makes separating the food from the boiling water MUCH easier! If you don't have one, keep reading and I'll tell you how pantyhose will come in handy.
Cooking at Home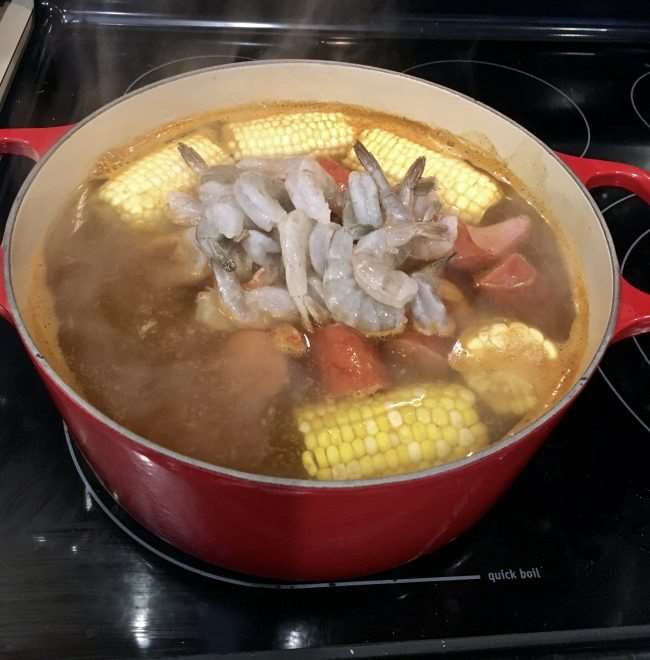 At home, I'll cook this on my stove top in my stock pot or Le Creuset Dutch oven. The Dutch Oven is nice because it keeps the help and can help reduce the time it takes to return the water to a boil after adding each ingredient.
If we are eating outside, I still like to serve Low Country Boil like I first had it,served on newspaper lined tables. Clean up is easier and who doesn't like that. But if we are eating indoors, I'll serve it on platters with bowls of melted butter.
Easy Camping Meal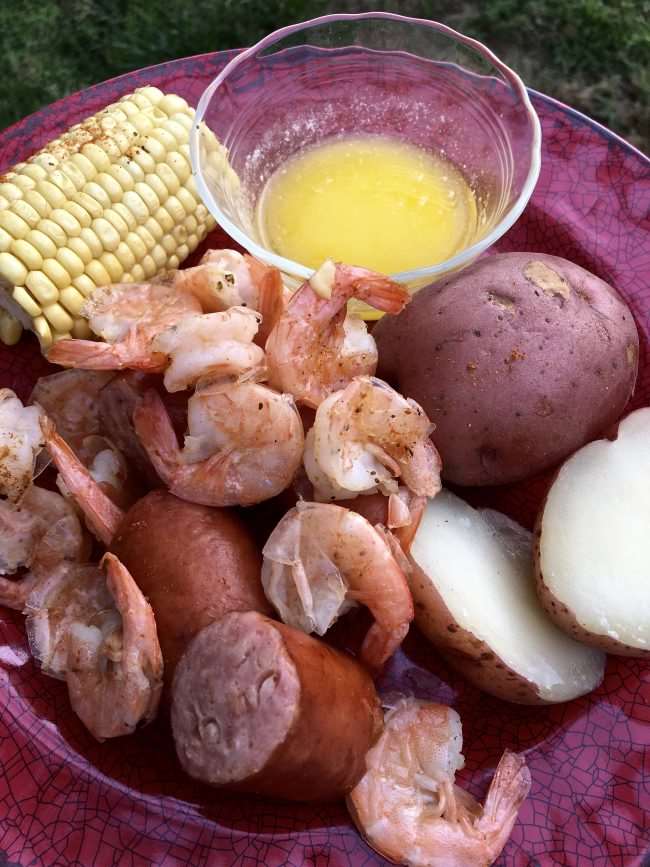 I have made this meal many times while we are camping with frozen shrimp. I'll cook in the first night so I don't risk the shrimp making the cooler and everything in smell like seafood.
If cooking for a large group, I'll cook this just like I would for a large gathering, on a propane burner with a huge pot. If cooking for my family, I'll use my cooking pot set directly over my fire.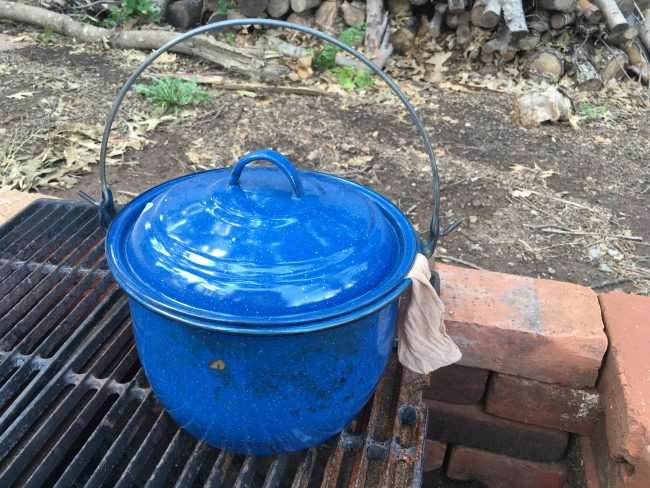 Here's where pantyhose come in: To limit my kitchen gear, I don't use a strainer when camping. Instead I'll use pantyhose. I'll cut up a cheap pair of pantyhose up or use knee highs to cook my food in. I'll place my potatoes, corn, sausage, and shrimp into separate pieces of pantyhose and tie a knot into the ends. Insert each when it's time to cook that ingredient. When you are done you just pull out the pantyhose, cut the bottom, and place the food on your table or platter. It strains off the water for you without making a HUGE mess.
When cooking on a campfire, cooking times will vary a little bit depending on the temperature of your fire. It usually takes just a few more minutes to return the water to a boil each time as compared to using the propane burner.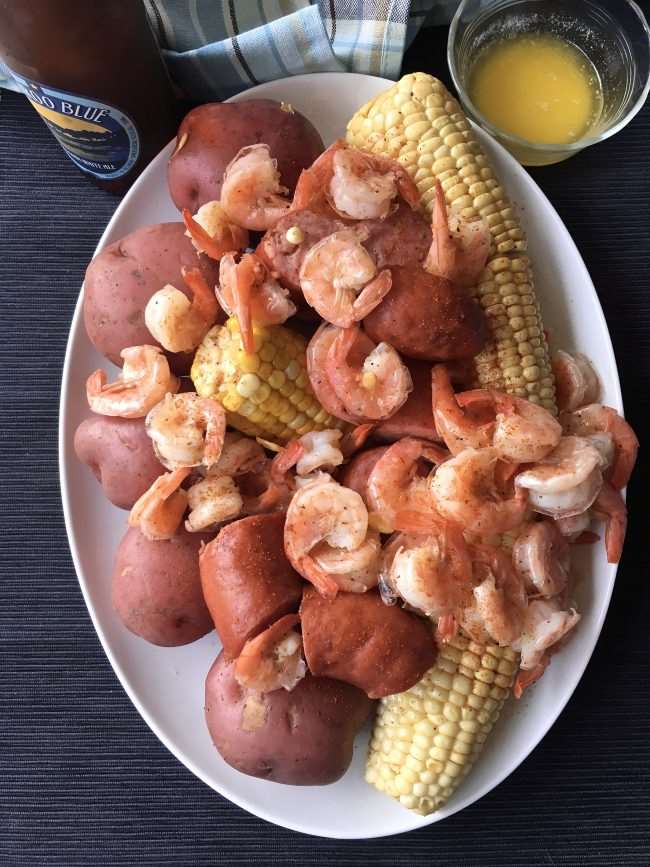 Yield: 5-6
Low Country Boil – Perfect for Large Cookouts or a Family Campout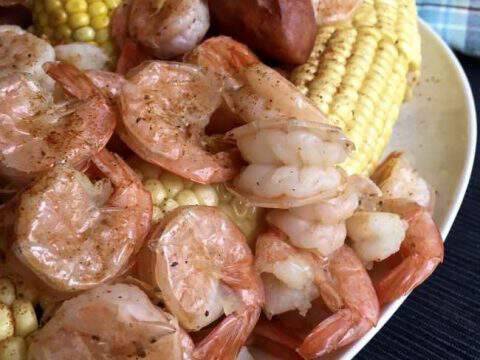 A super simple recipe that can is great for large gatherings, your family, or outdoors.
Ingredients
6 small red skinned potatoes
4 Tablespoons Cajun seafood seasoning, like Old Bay
3 ear of corn, cut in half
1 pound smoked sausage, cut into 1" pieces
1 pound large shrimp
Instructions
In a large stock pot, add potatoes and seasoning. Add enough water to cover potatoes and remaining ingredients. Cover pot and bring to a boil. Cook potatoes for 5 minutes.
Add corn and sausage to the pot. Cover and return to a boil. Cook for an additional 10 minutes or until potatoes are tender.
Add shrimp to pot and cook 3-4 minutes or until shrimp are pink.
Drain and place everything on a platter or paper lined table.
Serve with melted butter and additional Cajun seasoning if desired.
Nutrition Information:
Serving Size:
1
Amount Per Serving:
Calories:

240
Total Fat:

8g
Saturated Fat:

2g
Cholesterol:

8mg
Sodium:

68mg
Carbohydrates:

38g
Sugar:

17g
Protein:

6g
So there you have my recipe for Low Country Boil. Your family will enjoy it just as much as ours does.
What meal do you like to serve for a large gathering or campout?