This post is sponsored by Everywhere Agency on behalf of FoodSaver®; however, all thoughts and opinions expressed are my own.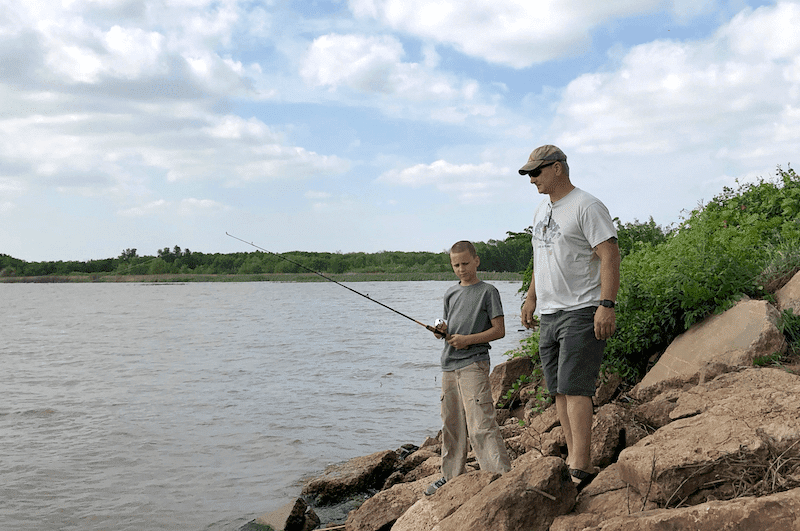 Getting outdoors is one of the best ways to reconnect as a family. Whether it's hiking, camping, fishing, or another outdoor activity, being outdoors together can make you healthier, happier, and give you memories you'll remember for a lifetime. The beginning of summer and Father's Day are just around the corner. So I wanted to share with you one of my favorite summer memories with my Dad. Here's a hint: trout fishing. Plus I want to give you a new recipe for Blackened Grilled Catfish and an idea for a Father's Day gift perfect for outdoor dad in your life. Oh and then I have a contest for you to enter that you won't want to miss.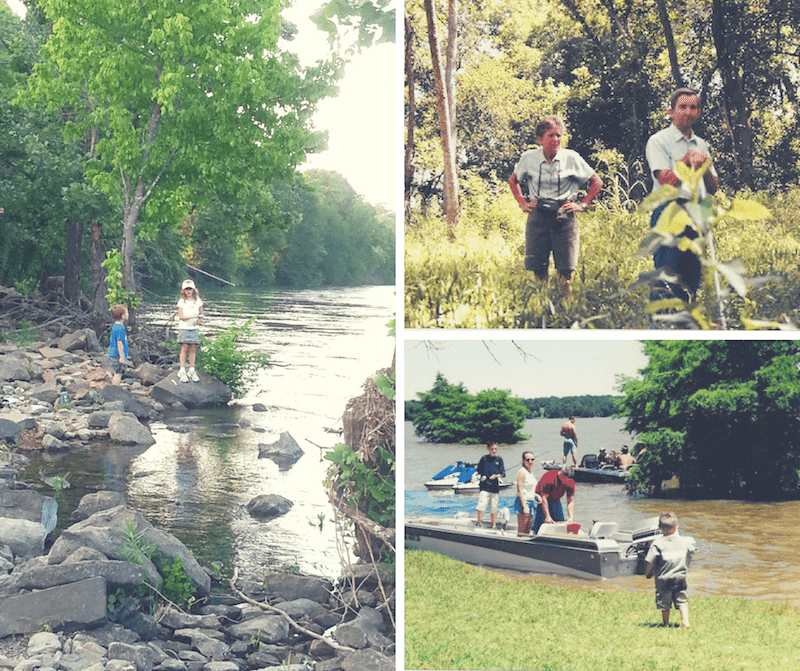 Remembering Dad
What's your favorite memory of your dad or father figure in your life? My dad hasn't been with us for a few years, but I have some great memories of him. One thing I remember most is his love of fishing. When I was growing up, our family went trout fishing just about every summer. We would load up into the car and drive for what seemed an eternity from Southern California to Northeastern Arizona's White Mountains. Turns out it was only 7 hours, but as a kid it seemed SO much longer. Once we got up into the mountains, we set out fishing right away. We'd fish every day as long as the weather was good. My dad had his favorite trout fishing spots and my brother and I tagged along to fish with him. When we got bored, we'd explore nearby or try to catch crawfish with our nets. After every successful fishing trip, I remember grilling or frying up our catch. Great memories are always tied up with food someway. But those fish always tasted so good and it was a great reward for our patience or lack of bothering my dad while he fished in the stream.
Fishing with Dad
My favorite memory of trout fishing with my dad was the time we persuaded him to go to a trout farm. We hadn't caught much that trip, so he agreed. My mom and dad were fishing by the lake while my brother and I wandered around. We found this little inlet where the fish were pooled in shallow water area. We dipped our baited hook into the water and pulled out trout after trout. Patience wasn't required because there was no waiting! They were biting that quickly. When our 5 gallon bucket was full, we headed back to our parents. If you've never been to a trout farm, they charge by the pound. We had a FULL bucket of trout and at the end, dad had an empty pocketbook. We had trout every night that trip and froze several dozen to take home. We didn't have a food vacuum sealer back then, but it would have been really handy to preserve the catch that trip.
We just got the new FoodSaver® GameSaver® Big Game™ Vacuum Sealing System as an early Father's Day gift for my husband. The GameSaver® would have come in so handy after the trout farm. This food vacuum system is great at preserving food because it keeps fish and game fresh up to 5X longer (compared to ordinary storage methods) and prevents freezer burn.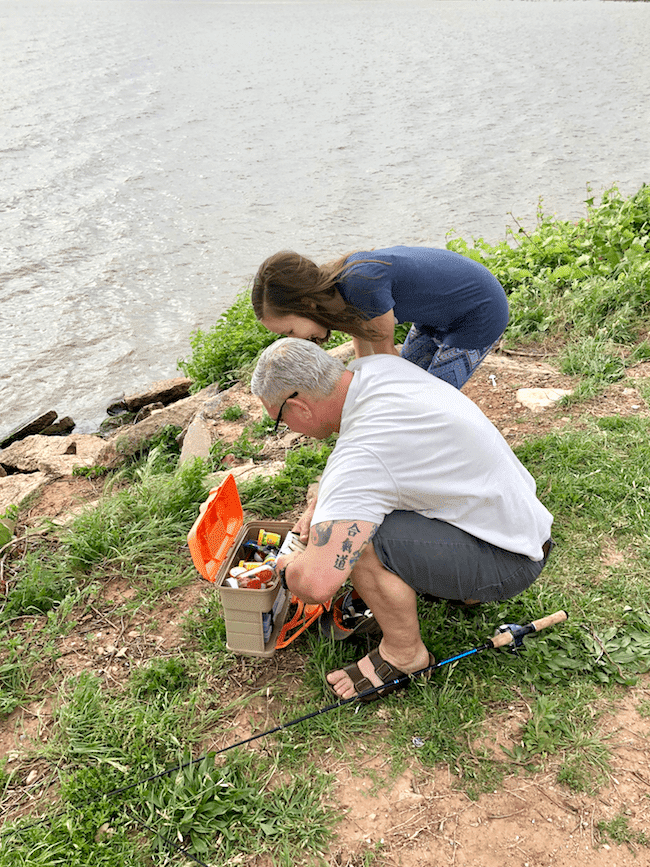 I loved fishing with my dad as a kid. Fast forward to present and you'll find my husband or me taking our three kids fishing. It's one way we can get our kids to put down the electronics and engage with us and with nature. The nearest trout stream to Oklahoma City, where we live, is a good 3-4 hour drive (Gore, Oklahoma) and we don't get out there very often. Nearby there are several area lakes stocked with catfish, bass, and perch. These may not be as easy to catch as trout, but they still make a great meal and reward for a day of fishing.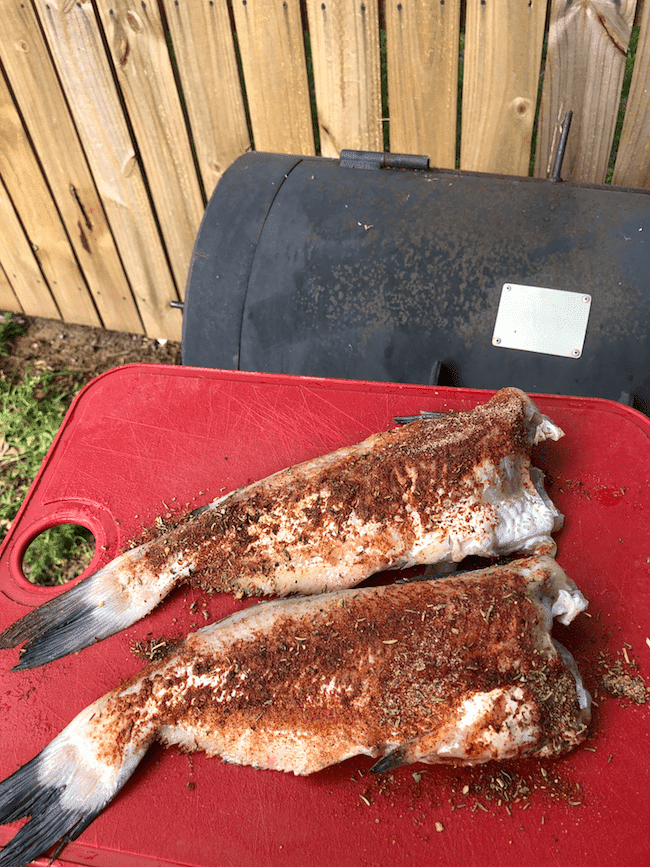 How to Cook Catfish on the Grill
All this talk about fishing and food has made me hungry. What about you? I have a really simple recipe for you called Grilled Catfish with Herbed Garlic Butter. This blackened catfish recipe is great for cooking over a campfire, in a cast iron skillet, or on a charcoal or propane grill. I'll give you directions on how to cook catfish on the grill or campfire grate and with a skillet. Note: For the blackened seasoning, you can make your own at home or buy a pre-made one in the store.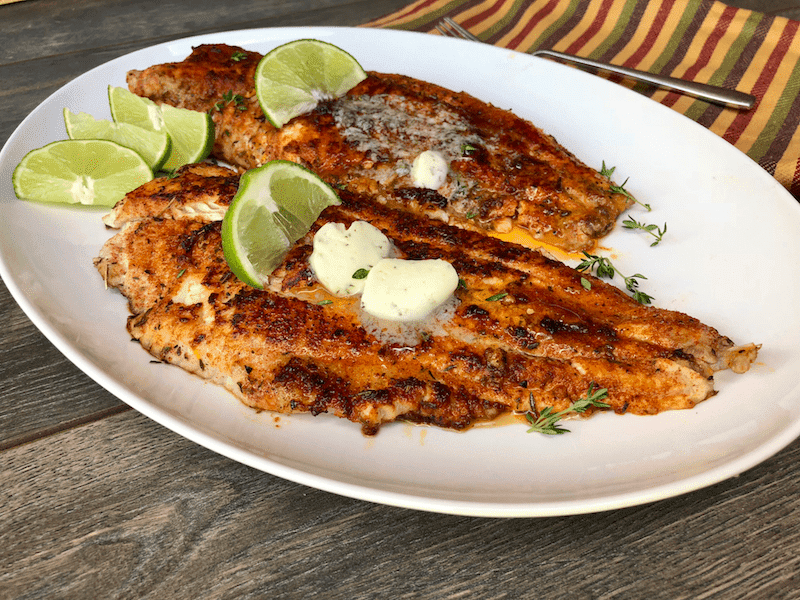 Blackened Grilled Catfish with Herbed Garlic Butter
Yield: 4 filets
Blackened Grilled Catfish with Herbed Garlic Butter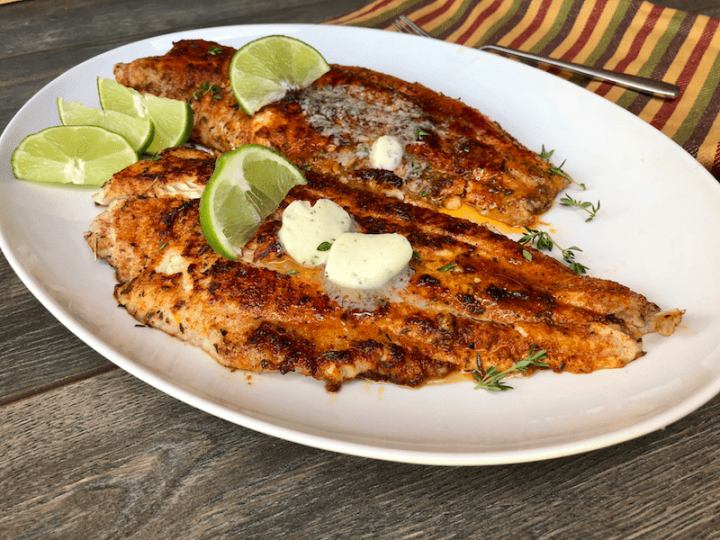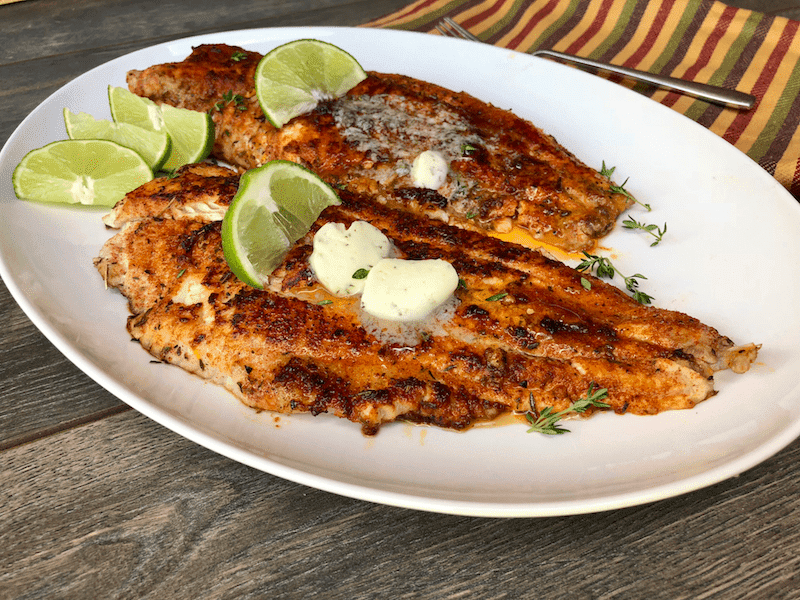 Ingredients
4 catfish filets
4 Tablespoons blackened seasoning
1 lime, cut into wedges
1 tablespoon olive or avocado oil
Garnish: Fresh thyme (optional)
Herbed Garlic Butter
1 stick salted butter, softened
1 Tablespoon fresh lime juice
3/4 teaspoon dried thyme
1/2 teaspoon garlic powder
Instructions
Herbed Garlic Compound Butter
Place softened butter into a bowl.
Add lime juice, garlic powder, and dried thyme. Mix well to combine.
Place butter mixture onto parchment paper or waxed paper.
Roll into a log and set in the freezer or refrigerator to harden.
Blackened Grilled Catfish
Campfire method: Create a campfire and allow wood to burn down so flames are about 4 inches below the campfire grate. Brush oil onto catfish filets and place on grate over direct heat.
Cast Iron Skillet method: Heat skillet over medium heat. Drizzle oil in skillet and place catfish filets into oil.
Either version - Cook each filet for 5 minutes, turn, and cook for an additional 5 minutes.
Fish is done while the thickest portion flakes easily with a fork.
Remove from heat and place on a platter or individual plates.
Remove herbed compound butter from the freezer/refrigerator and unwrap. Cut two 1/4" slices and place on top of each filet.
Sprinkle with fresh thyme is using and serve with a lime wedge.
Nutrition Information:
Yield:
4
Serving Size:
1 filet
Amount Per Serving:
Calories:

457
Total Fat:

37g
Saturated Fat:

17g
Trans Fat:

1g
Unsaturated Fat:

16g
Cholesterol:

155mg
Sodium:

4927mg
Carbohydrates:

4g
Fiber:

2g
Sugar:

0g
Protein:

27g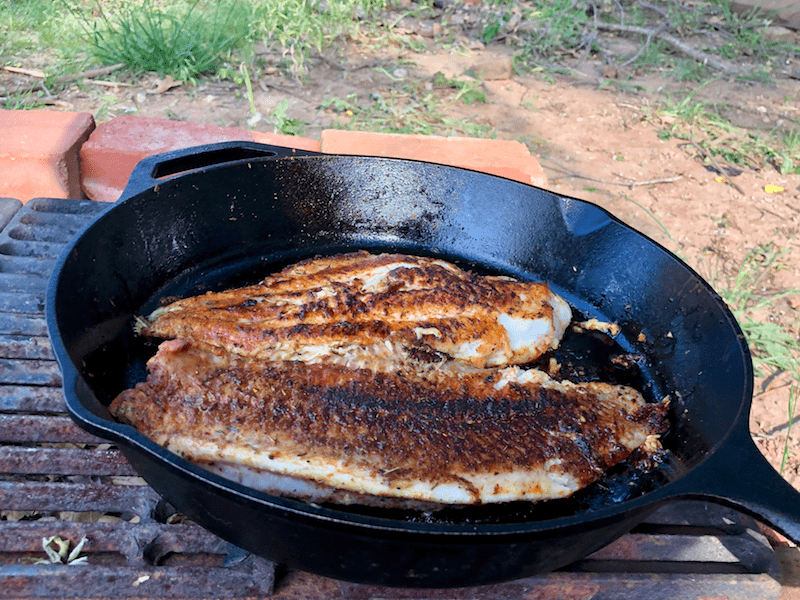 This grilled catfish recipe is a great one for dad on Father's Day. Serve it with his favorite coleslaw or grilled corn and his favorite dessert anywhere you are for the day.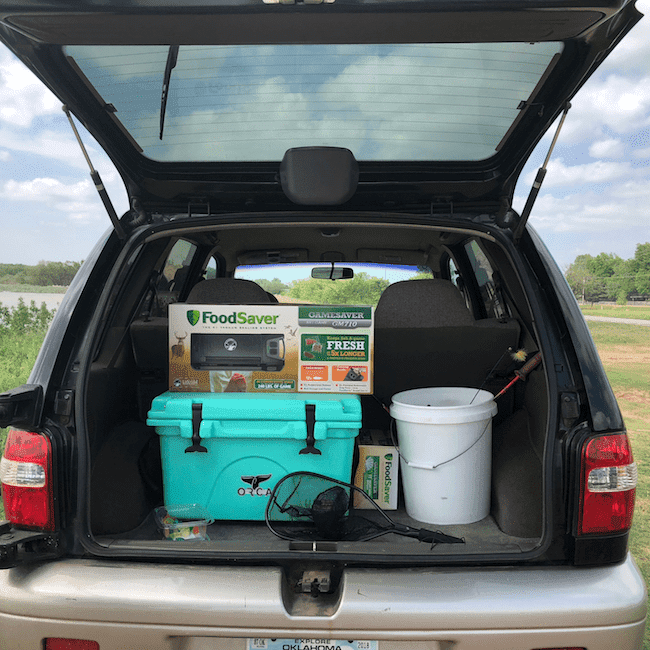 Another thing he'll really like is the FoodSaver® GameSaver® Big Game™ Vacuum Sealing System I mentioned earlier. We got one as an earlier Father's Day gift for my husband and he loves it.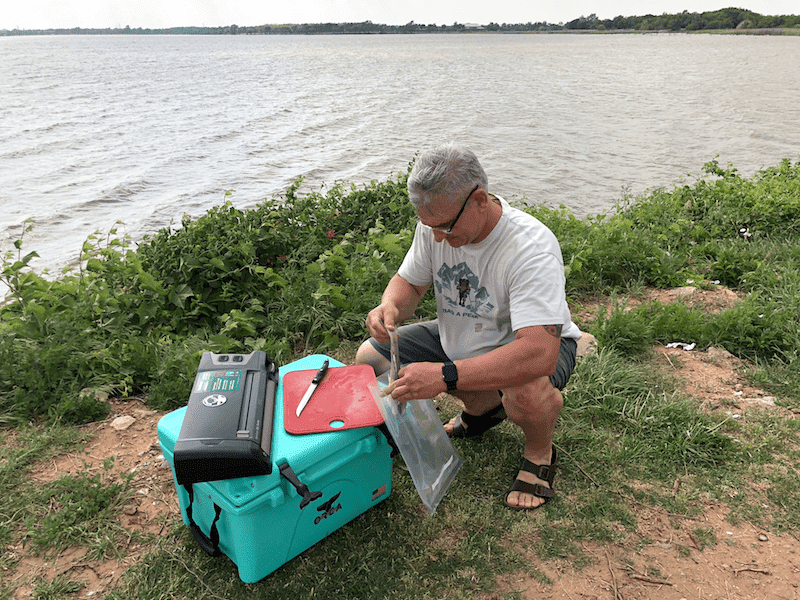 What my husband really likes about the Big Game™:
12 volt DC adaptor allows him to use this vacuum sealer most anywhere; in the RV, in the car, or on a boat (if he could convince me that we needed one).
The rugged design, carry handle, and lid locking mechanism make it perfect for on-the-go adventures. The lid won't fly open during transport and the machine is designed for outdoor use.
Perfect for anglers or hunters because it can process and preserve faster with up to 80 consecutive seals or 240 pounds.
I like the Big Game™ because:
My food will last longer and not get freezer burnt.
I can marinate food at home or on camping trips inside the vacuum sealed bags.
This vacuum sealer has a built-in storage compartment holds a Fresh Handheld Sealer to use when marinating food in the FoodSaver® Quick Marinating Containers. Basically, no more lost parts when I need them.
I can use other GameSaver® products with this model:

8″ &11" vacuum seal rolls, all pre-made bag sizes, fresh containers, and quick marinator
Find both the GameSaver® 710 Big Game™ Vacuum Sealing System and GameSaver® 11″ x 16'" Vacuum Heat-Seal Rolls at Walmart.
Pin this for later…..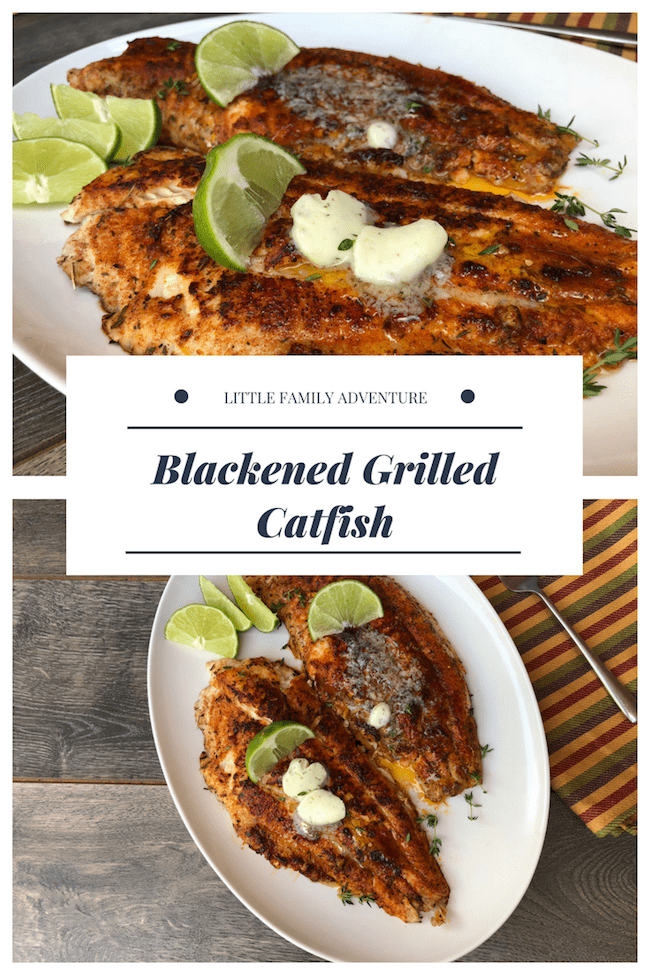 Want More Seafood Recipes? Then You'll Want to Try:
I can't wait to see your pictures! Good Luck!