This post was sponsored by Better Than Bouillon as part of an Influencer Activation for Influence Central and all opinions expressed in my post are my own. Here is a recipe for Cajun Shrimp and Grits that will soon be a favorite weeknight meal!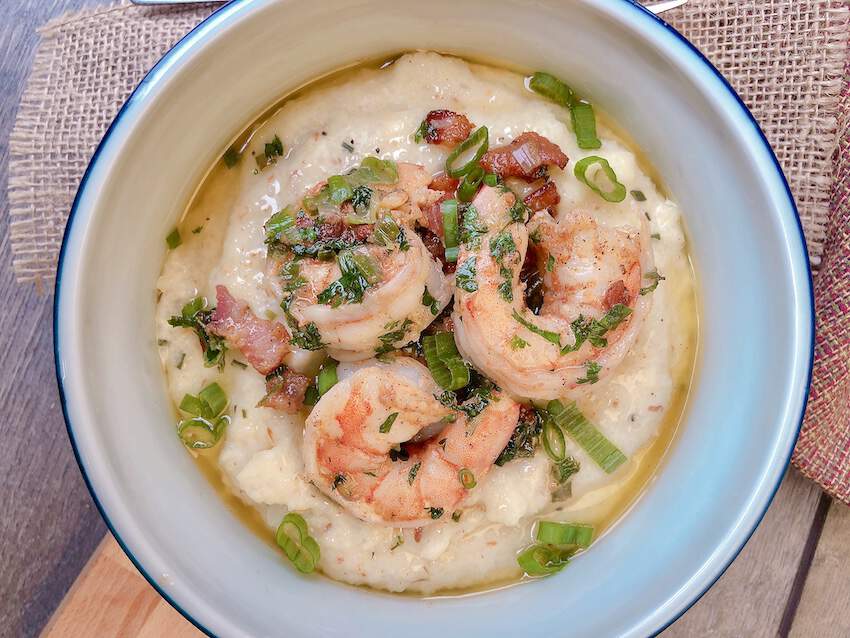 Let's talk about comfort food, specifically the southern classic, Shrimp and Grits. Lately, I've been craving a heaping bowl of Cajun shrimp and grits with a sprinkling of bacon, spicy Cajun seasoning, and grits loaded with smoked gouda cheese. Everyone in my family loves this recipe, so much that I have to double to recipe for the 5 of us. The best part is this Cajun shrimp and grits recipe is ready in under 15 minutes.
Shrimp and Grits
I was first introduced to Shrimp and Grits when I lived in coastal North Carolina, just north of Wilmington. (If you are in the area, be sure to check out our things to do in Wilmington NC with kids). A chef friend of ours discovered that I HATED grits and had actually never tried Shrimp and Grits. Our friend was convinced that I just had never had them cooked "the right way" and I had definitely never tried his. He persuaded me to give his a try and told me he'd make a believer out of me. BOY DID HE EVER! 15 years later, I'm still making my take on his recipe as Cajun Shrimp and Grits. It's the ONLY way I'll eat grits though. I share a few tips he gave me for making creamy shrimp and grits too. I'm sharing the love, so to speak, so I can make a convert out of you too.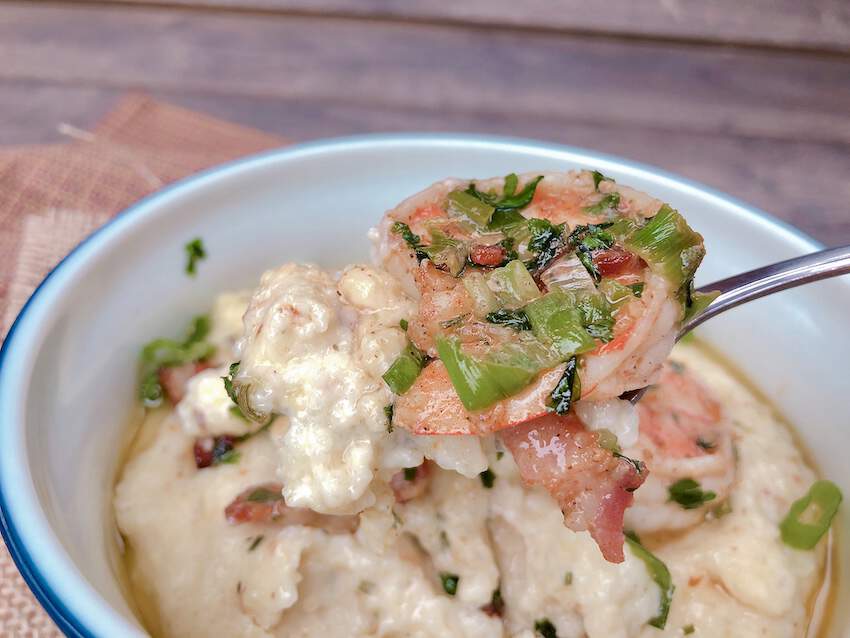 How to Make Shrimp and Grits
Comfort food often translates to slow cooking, but this Shrimp and Grits recipe is really easy and quick. It's perfect for a busy weeknight. Let me explain how to make shrimp and grits simply.
1. Start with your grits – Polenta (made from ground yellow corn) or grits (made from white corn also called hominy) can be used. Polenta is a little nutter in flavor, where grits are creamy and milder in flavor.I recommend using grits. Follow the cooking instructions on the back of the package. Cooking times will vary for quick cook grits, instant grits, polenta, etc.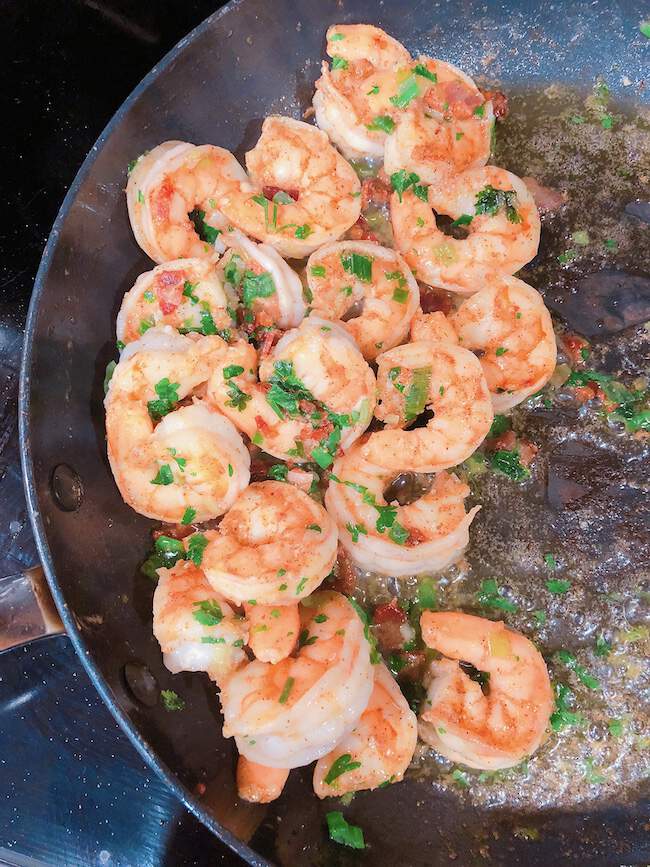 2. Cook your Shrimp – While the grits are cooking, cook your bacon and then sauté your shrimp. At the very end, add in garlic, lemon, green onion, and parsley.
3. Lastly, plate your finished grits, top with shrimp and drizzle with garlicky browned butter.
This is how to make shrimp and grits in about less than 15 minutes. Super quick and ohhh so delicious!
Secrets to my Creamy Shrimp and Grits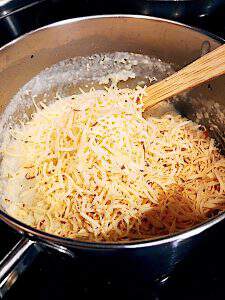 The secret for to making creamy shrimp and grits is the grits. If they aren't right, the whole dish is off. For me that starts with adding cheese to make cheese grits. Lots and LOTS of creamy smoked gouda cheese to be more specific. The grits recipe below calls for 1 cup of shredded gouda cheese. If you want really creamy shrimp and grits, add a little (or a lot) more. There's no wrong amount of cheese in this grits recipe. If there is, I haven't found it.
Another thing I added to my grits recipe is dried chives. It's not a normal ingredients in grits or shrimp and grits, but it just adds a really nice flavor pop that marries well with the other flavors. If you aren't a chives fan, just omit it. Just don't skimp on the cheese.
Last thing is chicken broth in the grits. Instead of water and milk, I add another layer of flavor with chicken broth instead of water. I often do this in many savory recipes. I like to add hot water to Better Than Bouillon chicken base to create my broth. It's super convenient. If you've never used it, I have a few tips.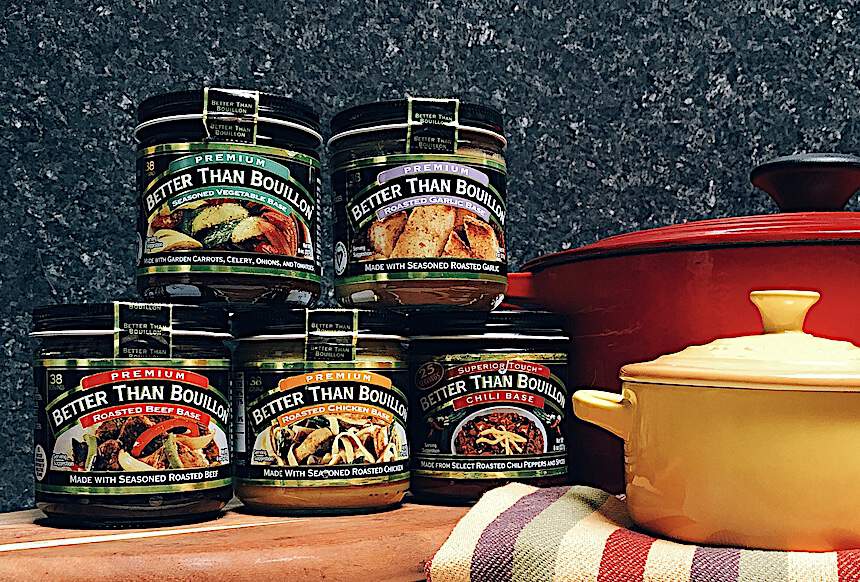 How To Use Better Than Bouillon Chicken Base
Let me first start by explaining the differences between chicken stock, chicken bouillon, and chicken base. Chicken stock, also called broth, is a liquid made from cooking whole chicken parts in water. I will usually make a stock from leftover chicken bones, herbs, and vegetables after roasting a whole chicken. Bouillon is made from dehydrated chicken stock and is usually found in cubes or granular form. Chicken base is a concentrated form of chicken broth that can be found as a paste.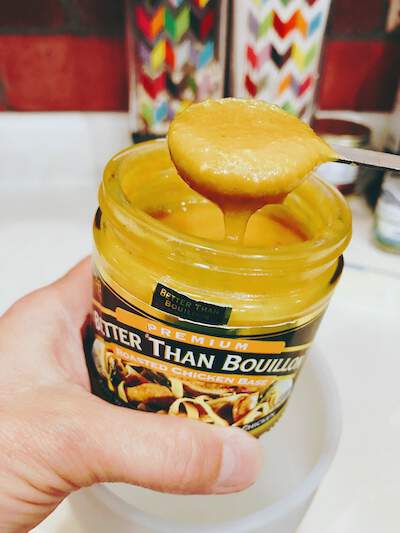 I have been using Better Than Bouillon chicken base for several years in place of bouillon cubes and for chicken broth. It's really easy to use. The conversion for broth is:
1 teaspoon of chicken base + 1 cup hot water = 1 cup of chicken broth
I diluted chicken base in many recipes that normally call for water, like this cheese grits recipe below, mashed potatoes, casseroles, stews, gravies, etc. Undiluted this chicken base and also the garlic base are great as a marinade or as a seasoning. See the Cajun Shrimp and Grits below to see how I use it as a seasoning with the Better Than Bouillon garlic base. That garlic base can also be used in pasta and to make garlic bread/knots. Best of all, Better Than Bouillon don't expire quickly like traditional broths once opened or are grainy and salty like the cubes.
For more recipes using Better than Bouillon, check their website.Better Than Bouillon comes in four different categories: Premium, Vegetarian, Organic, Reduced Sodium. Use the website link above to find a store near you.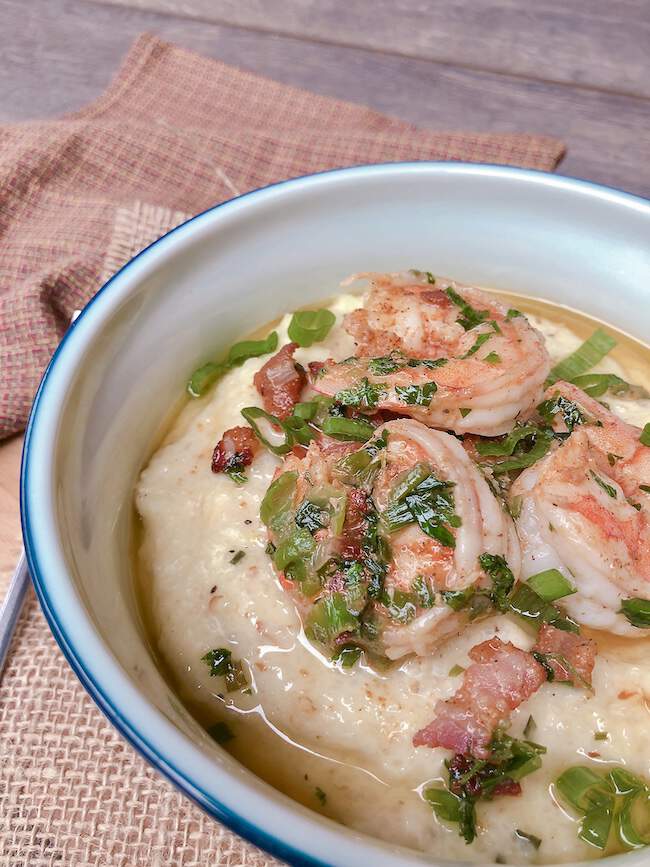 Yield: 4 servings
Cajun Shrimp and Grits Recipe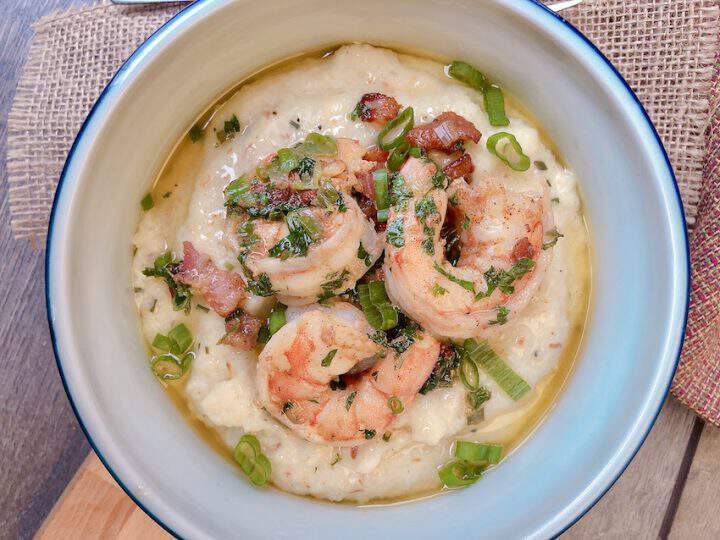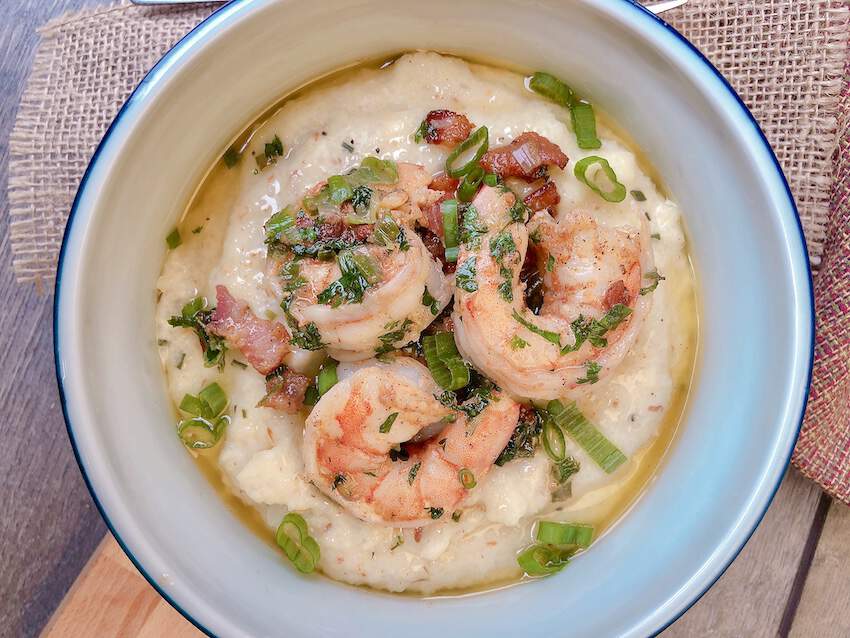 Enjoy a classic Southen comfort meal with a bowl of creamy shrimp and grits. This version of Cajun shrimp and grits has a sprinkling of bacon, spicy Cajun seasoning, and grits loaded with smoked gouda cheese.
Ingredients
Smoked Gouda Grits
2 cups Better Than Bouillon chicken broth (2 teaspoons Better Than Bouillon broth base + 2 cups hot water)
2 cups whole milk
2 tablespoons butter
1/2 teaspoon salt
1/2 teaspoon black pepper
2 teaspoons dried chives
1 cup corn grits
1 cup smoked gouda cheese, shredded
Cajun Shrimp
1 pound medium to large sized shrimp, peeled and deveined
1 Tablespoon Cajun seasoning
3 slices bacon, coarsely chopped
2 Tablespoons butter
2 green onions, divided
3 Tablespoons chopped fresh parsley
1/2 teaspoon Better Than Bouillon garlic base or 3 garlic cloves, minced
1 Tablespoon lemon juice
Instructions
Smoked Gouda Grits
Combine chicken stock, milk, butter, salt, pepper, and chives in a large saucepan.
Bring liquid to a rolling boil and add grits. Cover and cook according to grits package directions.
Remove from heat and stir in smoked gouda cheese. Season with additional salt and pepper if needed. Cover & set aside.
Cajun Shrimp
While grits are cooking, rinse shrimp under cold water and pat dry.
Sprinkle with cajun seasoning and set aside.
Cook bacon in a large skillet over medium heat until browned and crispy. Remove cooked bacon from bacon and set aside. Leave the bacon dripping in the pan.
Add 2 Tablespoons of butter to skillet.
Once butter is melted and sizzling, add shrimp to skillet.
Cook shrimp on both sides until just starting to turn pink (about 1-2 minutes per side).
Return chopped bacon back into the skillet with the shrimp.
Add white parts of the green onion, parsley, Better than Bouillon garlic base, and lemon juice into skillet. Cook for about a minute or until shrimp are fully cooked.
To Serve
Spoon grits into bowls, top with shrimp, drizzle with garlic butter sauce, and top with reserved green parts of the green onion.
Nutrition Information:
Yield:
4
Serving Size:
1
Amount Per Serving:
Calories:

497
Total Fat:

33g
Saturated Fat:

17g
Trans Fat:

0g
Unsaturated Fat:

14g
Cholesterol:

92mg
Sodium:

13298mg
Carbohydrates:

26g
Fiber:

1g
Sugar:

16g
Protein:

24g
This is how to make shrimp and grits so delicious that your family will ask for them again and again. Try it for yourself and you'll discuss why it converted this grit avoider to a shrimp and grits lover.
If you like this recipe, you may also like these:
Shop Related Products