Charlotte Motor Speedway brings NASCAR fans from far and wide. Yet outside race weekend, there are so many other car-themed things to do in Charlotte and surrounding areas. This itinerary is heavy on cars in all shapes, sizes, and speeds. Yet, you DON'T actually have to be an auto racing fan to enjoy this Beyond the Charlotte Speedway Weekend Itinerary. Either way, you'll be in for an adventure for ALL the right reasons.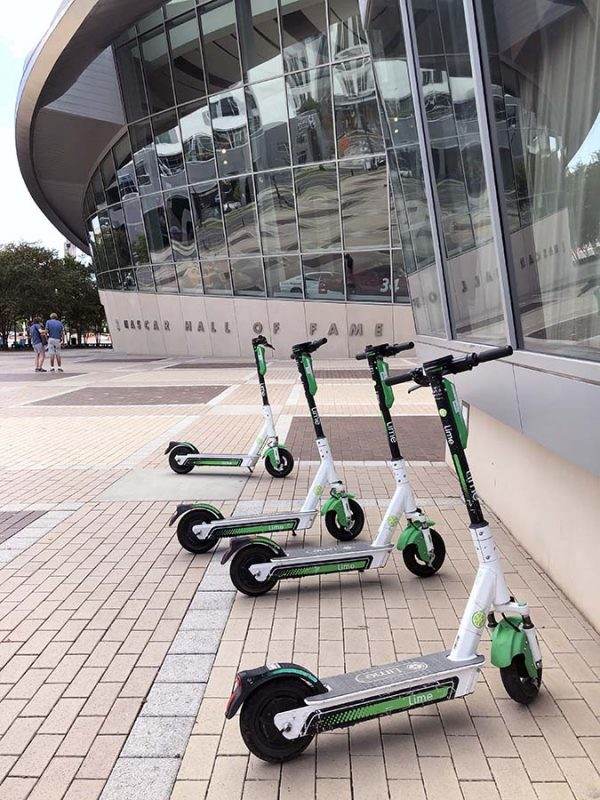 Charlotte Area Weekend Itinerary
We have found great activities for all ages in Charlotte and nearby in Concord and Mooresville to include auto racing experiences, drive-thru safari, hi-speed go-karts, NASCAR museums, walks of fame, shop tours, and more.
This itinerary is two very full days starting in Charlotte, NC and ending in Mooresville, North Carolina also known as Race City USA. You'll find where to go, what you shouldn't miss, great local restaurants, and the hotel we've stayed at and would recommend to anyone visiting the area.
Related: If you want to extend your trip, definitely check out these other things to do in Mooresville. You won't regret it!
Hotels and Airbnbs near Charlotte, North Carolina
Getting to/around the Charlotte Area
Air: Charlotte is one of the southeast U.S's largest cities and has the 6th busiest airports based on departures. Charlotte Douglas International Airport (CLT) is also the hub for American Airlines. So it's easy to fly in and out of.
Car: If you are looking for a road trip, Charlotte is conveniently located where Interstates 77 and 85 intersect. These two roadways connect you to most of the southeast. Interstate 277 is a U shaped loop around downtown making it easy to traverse the area. When downtown, you can use the CityLynx Gold Line, the city's free streetcar system. However, it's best to have a car when visiting the area.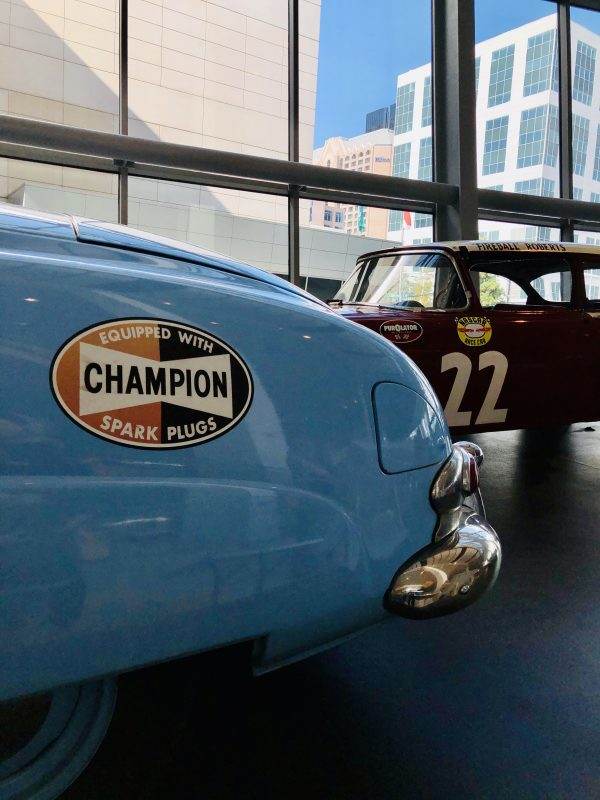 Day 1
Today, we'll road trip it a bit. Starting in Charlotte with the NASCAR Hall of Fame, heading to the city's first streetcar suburb for lunch, and then up to Concord and the speedway, before ending for dinner and the night in Mooresville.
Nascar Hall of Fame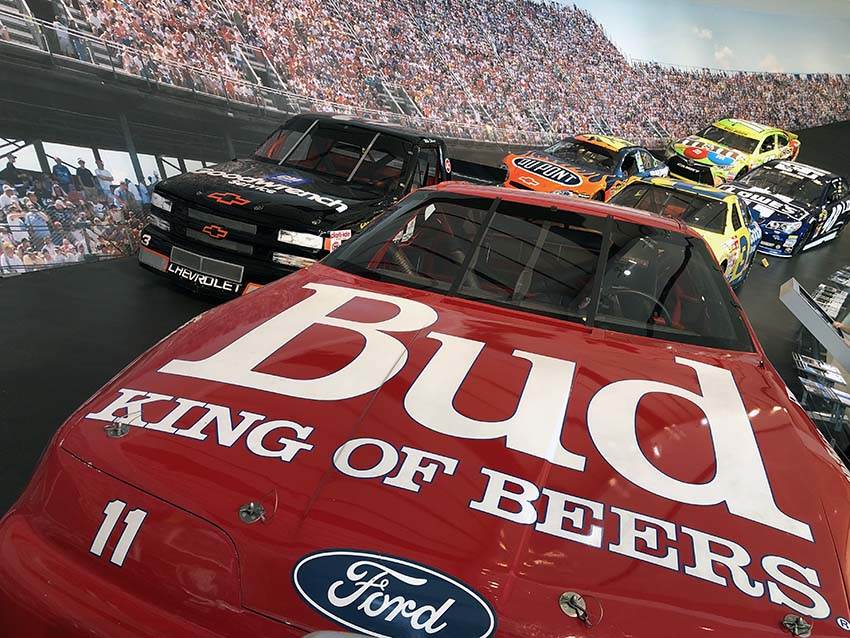 For NASCAR fans, a trip to Charlotte's state-of-the-art Hall of Fall is a must see attraction. So let's start here. This 150,000 square foot venue is dedicated to all things racing; interactive exhibits, artifacts, racing simulators, and a 278 person theater. All ages will be entertained here as they get a glimpse at racing past and present.
If you are new to the sport or aren't well versed in the origins of NASCAR, definitely start out watching the short film here that takes you back to the beginning, the days of bootlegging and running moonshine. Note: It's a really well-done film that gives you a better understanding of the racing.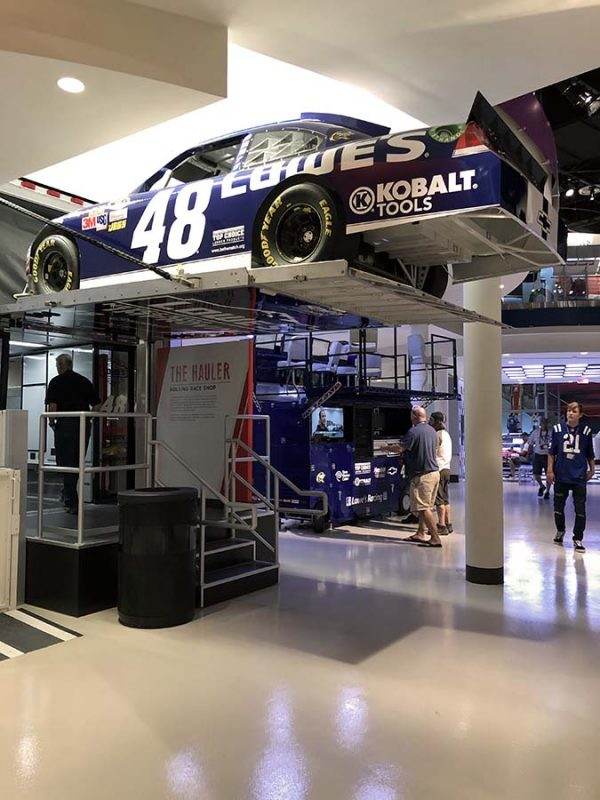 From there, check out all the great cars, memorabilia, artifacts, and such. Kids and Disney Cars movie fans won't want to miss taking a picture with Lightning McQueen. Then try your hand at the racing simulators that put you behind the wheel (virtually) and allow you to race other people.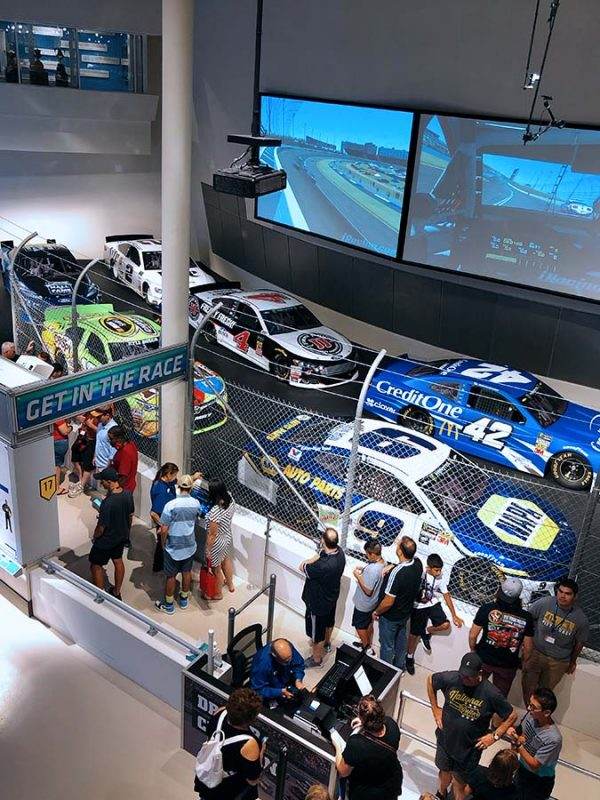 Lunch at Dilworth's Kid Cashew
The quaint neighborhood of Dilworth just southeast of downtown is one of Charlotte's oldest. It's also the city's first streetcar suburb. A local entrepreneur bought hundreds of acres in the 1890's and installed an electric streetcar to connect it to the city. Today the area is a pedestrian-friendly area filled with places on the National Register of Historic Places. Visitors and locals flock to the area for great shopping and family-friendly local restaurants. Head here for lunch.
Kid Cashew
Kid Cashew is a Mediterranean wood-fired grill serving up fresh, local, and delicious foods for lunch, dinner, and weekend brunch. This is the place for small plates that are meant to share with family and friends. They have a range of entrees and salads too.
When the weather is nice, sit outside the outdoor patio. Inside the vibe is a hip, shabby-chic place that is fun and loud. There's a mix-mash of decor that makes it feel warm and inviting.
When we were there we had:
Wood-Fire Grilled Spanish Octopus over Quinoa
Quinoa Stuffed Avocado
Wood-Fire Grilled Asparagus
Cilantro-Lime Marinated Chicken Skewers
Wood-Fire Grilled Beets with Mandarins and Goat Cheese
Fresh Hummus and Pita
Roasted Brussel Sprouts
Baked Spinach & Feta Dip
Each of these small plates was fantastic! My overall favorites have to be the octopus with its lemon vinaigrette and the Quinoa Stuffed Avocado. You can taste the freshness in everything they make and it's that dedication to quality that people singing their praises. Website
Charlotte Motor Speedway – Concord, NC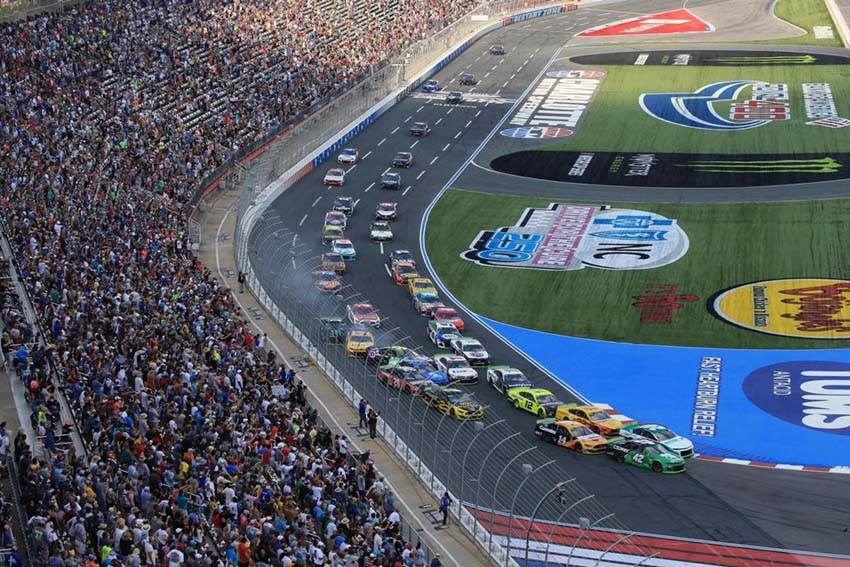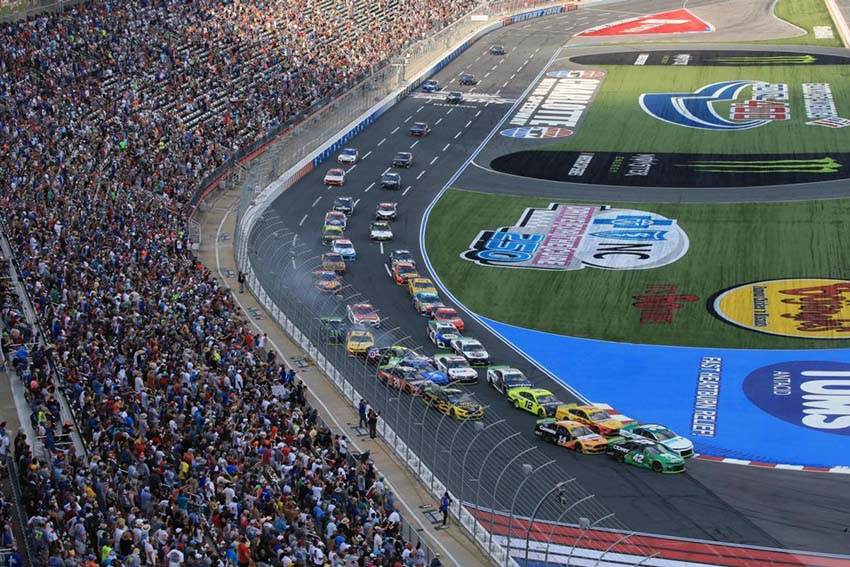 Charlotte Motor Speedway is just minutes from downtown Charlotte in Concord, North Carolina. During race weekends, the speedway is buzzing with excitement, live music, food, and more. Outside these weekends, you can come and get behind the wheel yourself for a driving experience. Drivers 18 years and older can choose from a variety of experiences from taking a Lamborghini Huracan to a 2 seat Indy-style car out for a few laps. For younger teens and children 48"-60" tall, they can take part in a Junior Ride-Along that puts them in the passenger seat for a thrilling ride with a professional racing instructor driving.
Related: Take a look at our Greenville, South Carolina Adventure & the BMW Driving Experience we took.
Hendrick Motorsports Complex
When you are looking for free things to do in Charlotte area, this is a fun one (although it's technically outside the city). Imagine getting a behind the scenes look at your favorite race teams. Hendrick Motorsports has its state-of-the-art facilities, just a mile from the speedway and fans are welcome to stop in.
Here visitors can walk through the Hendrick Motorsports Museum to see the team's memorabilia including race suits, trophies, and legendary cars. Visit the race shops to see where the team creates, repairs and stores their cars. see the Hendrick Motorsports Museum. There is also a Team Store if you want to pick up anything to take home. During race weeks, the complex has extended hours so you can see them gear up for the big race. Website
End the Night in Mooresville
After Hendrick Motorsports, you'll continue on to Mooresville for dinner at local favorite Jeffrey's Restaurant and check into your hotel. When I stayed here, I worked with Visit Mooresville and they recommended the Holiday Inn Express & Suites Mooresville – Lake Norman. It's convenient to Interstate 77 and River Highway.
Holiday Inn Express & Suites Mooresville – Lake Norman
This IHG property is convenient to both the lake, area attractions, and the local race shops/headquarters located along Interstate 77. The lobby features NASCAR memorabilia that race fans will enjoy seeing. The rooms are clean and staff is wonderful.
Jeffrey's Restaurant
Jeffrey's is a local favorite that has been serving locals and visitors since 2006. The head chef is reinventing southern classics into dishes you want to write home about and maybe wonder why your mother didn't cook like this. Just like Kid Cashew, you can dine indoors or out on the patio. On our visit, there was a local musician playing for patio diners. It's a warm, relaxing atmosphere that is the perfect way to end this day.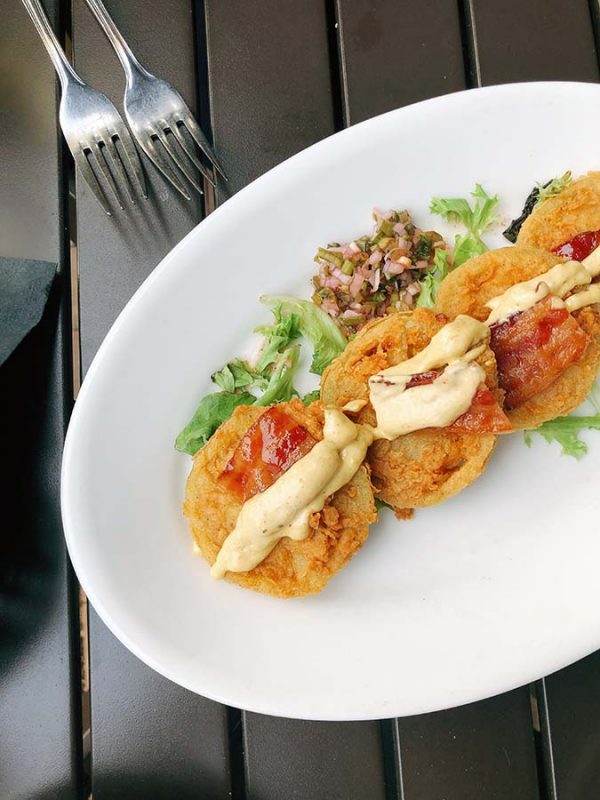 Start with the Fried Green Tomato Napoleon that is topped with candied bacon and Cajun remoulade. Yes, candied bacon! I need not say anymore. For your entrees be sure to ask about the specials as well as what's on the made in house desserts.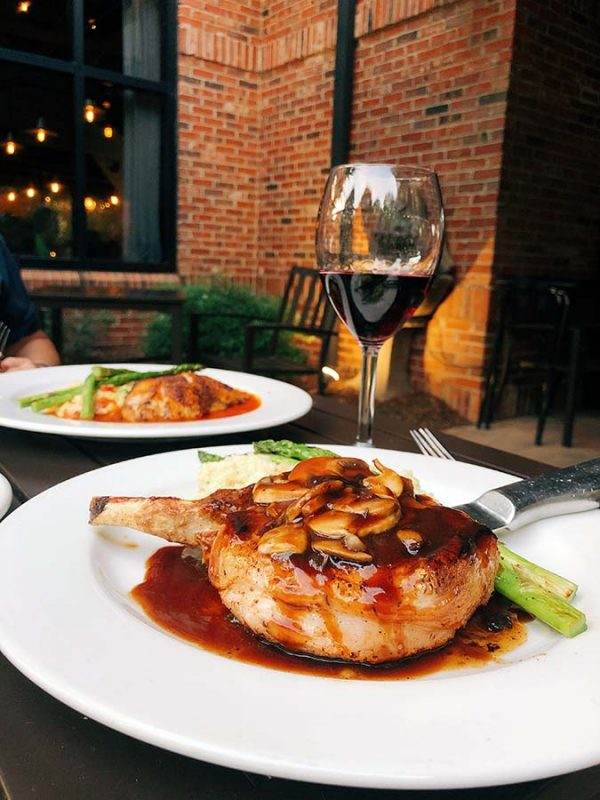 We opted for the Seared Red Grouper served over risotto and a grilled bone-in pork chop served with a Marsala mushroom sauce. For dessert, we had the Key Lime Pie and Mocha Creme Brûlée. Everything was fantastic and the portions are large. You will need a to-go container unless you have a hungry teenager with you. Website
Day 2
Breakfast at Famous Toastery
Start your day with a great breakfast here at Famous Toastery, a local chain found throughout the Carolinas and Virginia. It started in Huntersville just down the road. Here you'll find your breakfast and lunch favorites served all day, or at least 7am to 3pm, the hours they are open.
I highly recommend any of their Benedicts. I had the Avocado Benedict with poached eggs and a side of fruit. I also tried the Crab Benedict. Both are two enthusiastic thumbs up! Be sure you say yes to the homemade cornbread with peaches preserves. You won't be sorry.
Note: The Holiday Inn Express does have a complimentary hot breakfast each morning, but if you are wanted fewer carbs and something more substantial, head here instead. Visit their website for a list of locations and full menu.
Team Penske Racing
Mooresville is home to several race shops and one of the most impressive is Penske Racing. Here the Team Penske Facility sits on 105 acres and houses the Penske NASCAR, sports car, and IndyCar teams. The state-of-the-art facility provides visitors an opportunity to down into the team's garage via a 432-foot long fan walk.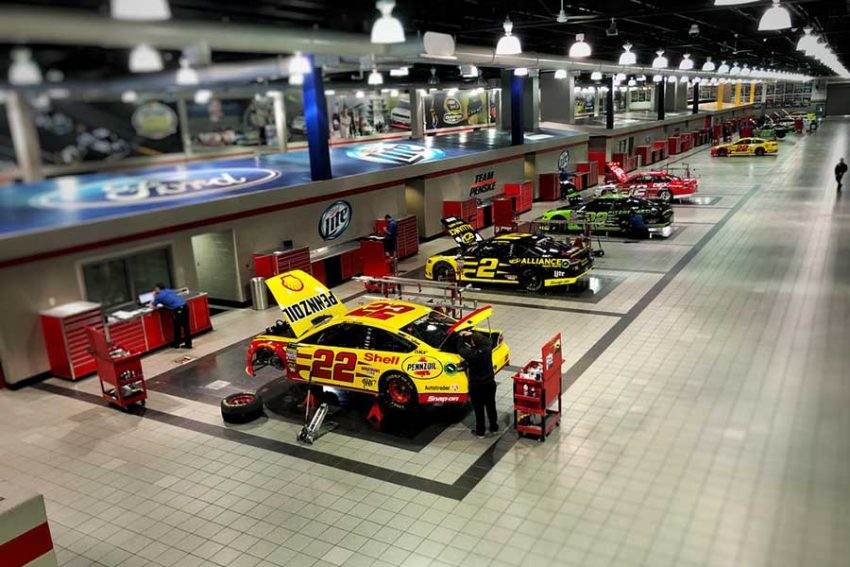 Accessed from inside the nearly 5,000 square foot gift shop, the fan walk allows guests to walk above the shop floor and watch the crews set up for upcoming races. It's really amazing how clean everything here is. It's unlike any repair shop I've ever seen. Plan for at least 2 hours here if you don't want to rush. Website
GoPro Motorplex
Just down the road from Penske, you can put your own driving skills to the test racing high speed go-karts. GoPro Motorplex is home to North Carolina's only outdoor course and features 11 turns over 0.7 miles. Rent a cart that speeds up to 55 MPH or bring your own. It's high-speed fun for adrenaline junkies. Website
Lunch – Alino Pizzeria
This is the place for authentic Neapolitan style pizza cooked in a wood-fired oven. Aliño imports their pizza dough flour and buffalo mozzarella from Naples, Italy and sources only the finest Italian tomatoes. The result is a terrific pizza you just have to try.
Pizzas here are one size, LARGE! They are 16 inches with 8 very large slices. Menu says they feed 2 hungry people, but we think it's more like 4. Order a fresh to order a salad and a pizza for a complete meal. Anything you order here is fantastic!
Lazy 5 Ranch Drive Thru Safari
After lunch, go at a slightly slower speed for a drive-thru safari at the Lazy 5 Ranch. This privately owned safari invites visitors to drive the 3.5-mile trail to see and feed over 750 exotic animals. If you'd rather not drive, you can schedule a ride on a horse-drawn wagon instead.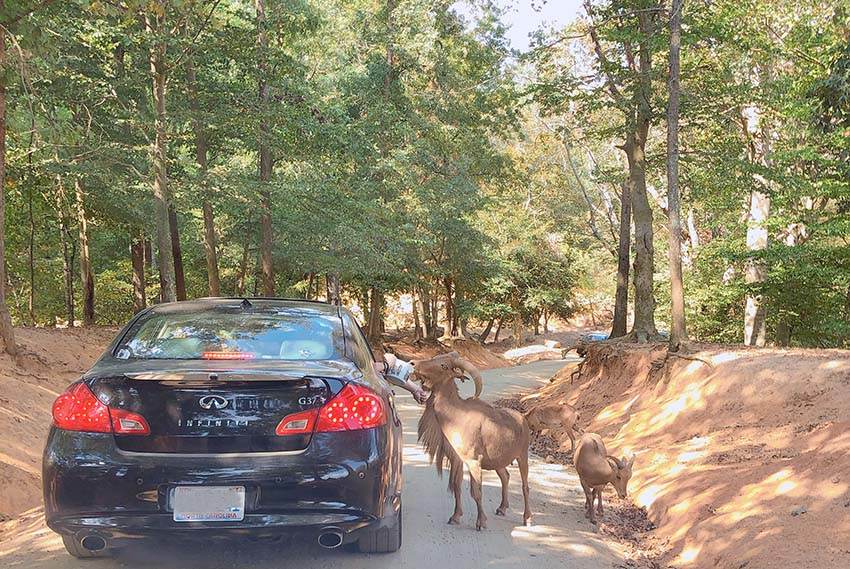 Head more about our experience at Lazy 5 Ranch here. After your safari, plan for a trip through a car wash. Just trust me!
Downtown Mooresville
After the safari, head downtown and wander around a bit. There are a several sites to see as well as coffee shops if you need a little extra perk in your afternoon. Plan to end the day having dinner at Epic Chophouse.
NC Auto Racing Walk of Fame
Along Main Street, the legends of NASCAR are honored with special commemorative stone pavers. You'll find these pavers starting at the Charles Mack Citizen Center.
Richard's Coffee Shop & Welcome Home Veterans Living Military Museum
This living history museum dedicated to US service members is one the Main Street's gems. The shop started as a place for veterans to come and gather over a cup of coffee. Today it's filled with memorabilia, pictures, and artifacts from recent wars and conflicts.
The shop/museum holds various events throughout the year. During our visit they were hosting a Gold Star Family event. Admission is free, but donations are greatly appreciated. Website
Urban Grind Roasters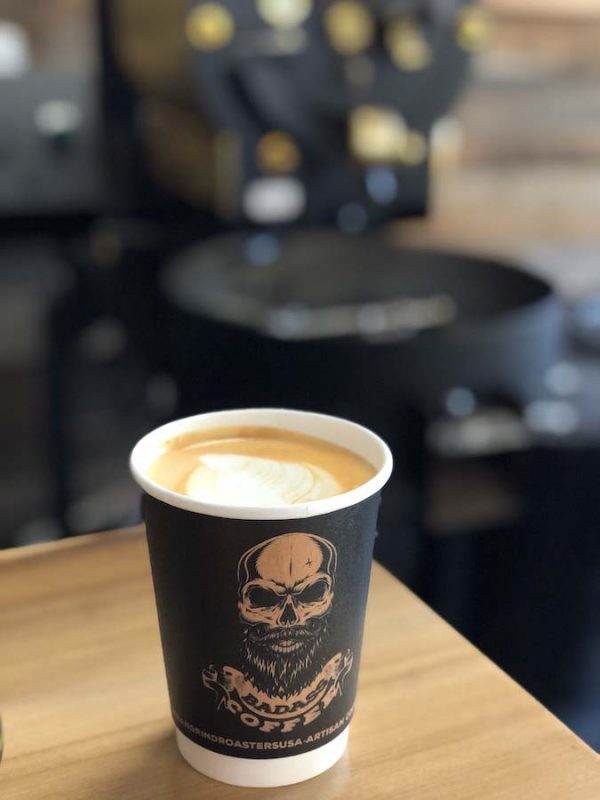 Another place to get a cup of coffee is the Urban Grind Roasters. Newly opened in Fall 2019, this local shop roasts their beans is focused on freshness. Therefore they are using coffee beans that are in season and roast in-house for a difference you can taste. Website
DE Turner Hardware
There are several shops along Main Street for you to peruse. The most notable is DE Turner Hardware that has been serving Mooresville since 1899. Unlike The Mast General Stores, you'll find in other towns, this is a true working hardware store. You'll find every kind of screw or fastener imaginable as well as the original fixtures, gifts, and antiques collected over the years. It is definitely a shop you should see.
Dinner at Epic Chophouse
People from all around come to dine at Epic Chophouse. You need to finish out your trip here and find out why! Housed in a building that was once Rankin Store, the area's general store that opened in 1888, this building has a bit of history. When you dine here, you can see that history from the brick walls to other architectural details.
The restaurant is known for its prime aged steaks and extensive wine list. A favorite with locals and visitors alike, it is recommended to make reservations here. The atmosphere is perfect for a special night out but still relaxed enough to bring the kids.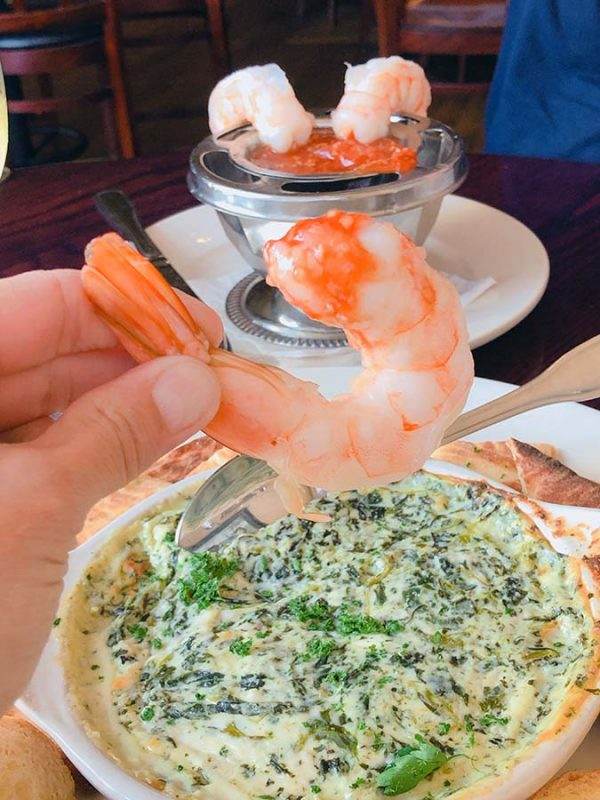 House favorites include the Colossal Shrimp Cocktail and 28-ounce Porterhouse. If you want to end the evening with a BANG, order the 48-ounce lone bone Tomahawk Ribeye to share. It's so tender, it just melts in your mouth.
That completes our car themed weekend itinerary in the Charlotte area. After dinner at Epic Chophouse and a busy day, you will probably want to head back to the hotel. The next day you can either head home or continue to discover more fun things to do in the area.
If you are heading further south, be sure to check out our Day Trips from Atlanta article filled with things to do in Henry County, Georgia just off Interstate 75 and very near the Atlanta Motor Speedway.
A huge thank you to Visit Mooresville for providing complimentary transportation, lodging, attractions, and meals for research purposes. All opinions are our own.