Have you ever wanted to go on safari to see zebras and giraffe? You can see those and over 750 other animals at Lazy 5 Ranch just 30 miles north of Charlotte in the city of Mooresville, North Carolina. The ranch gives visitors the opportunity to get extremely up close to the animals and share the experience with their friends and family.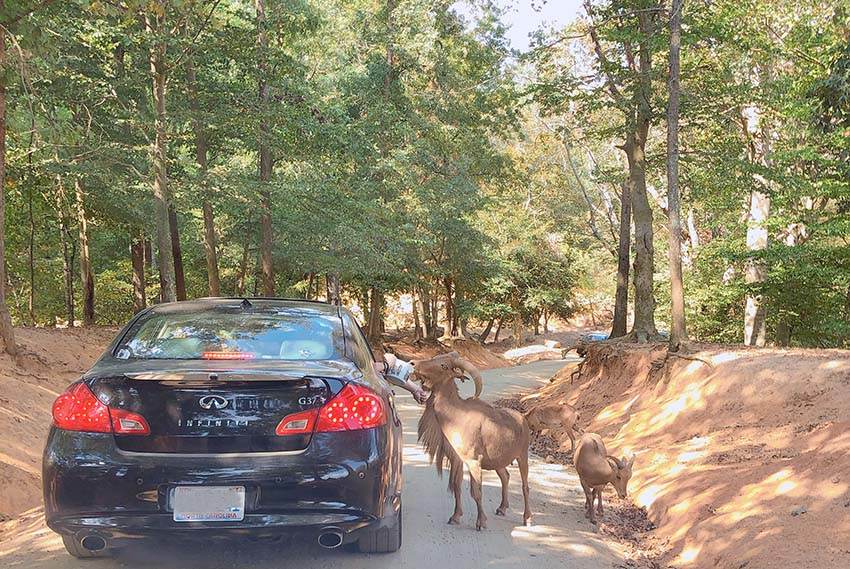 Lazy 5 Ranch
This exotic animal drive-thru safari park is one of the area's top family-friendly attractions. It has been delighting locals and visitors alike since 1993 when founder, Henry Hampton opened the park. Hampton started the park with the hope to bring together and care for animals from around the globe. Today animals represent 6 different continents. The exception is Antarctica. But North Carolina climate isn't much suited for penguins.
Here an EXTREMELY interactive experience awaits visitors who can either drive their own car or take a horse-drawn wagon ride through the park's 3.5 mile trail. Visitors have the option to buy buckets of food to give to the animals too. On my visit, we opted to drive through and didn't buy any food. The thing I was MOST excited about was animals coming up to my window and hopefully peering into the car. I was a big baby and kept rolling up my window, but the opportunity was totally there!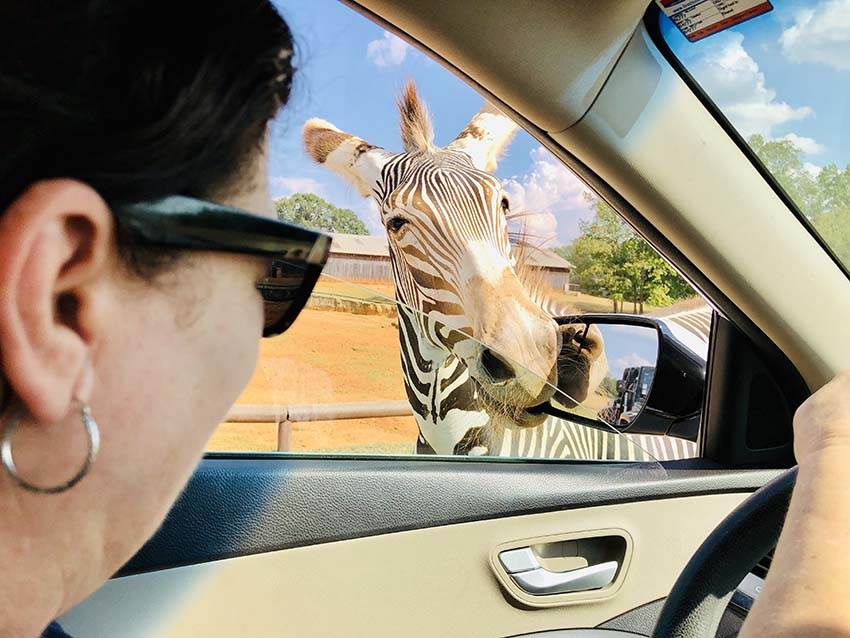 Animals can and DO brush up against the cars as you both travel the trail. Some like this zebra may even nibble on your side view mirrors. While others like this Scottish Highland Cow slobber ALL over your windows. Animals here are accustomed to car traffic being in their domain. They cross roads when they want and stop in front of cars on a whim. The animals are in no hurry! So drivers have to be careful.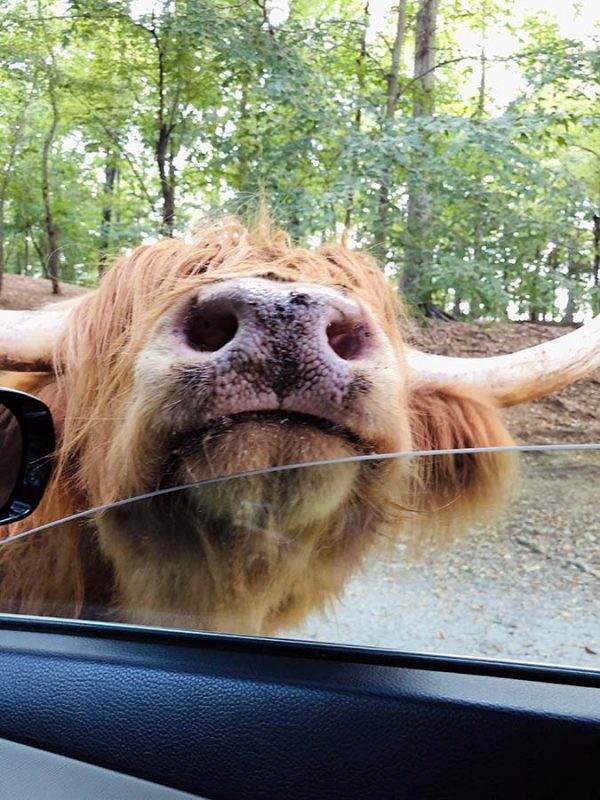 As tempting as it would be to get out of your car to take a selfie or give an animal a hug, getting out of your car is NOT allowed. Most of the animals roam freely around the park. There are a few exceptions like the giraffes who are behind a fenced enclosure.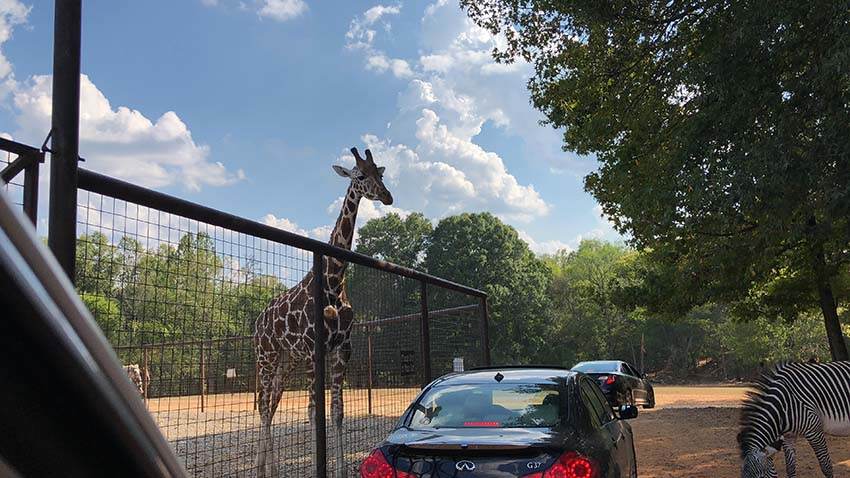 Related: Find Other Things to Do In Mooresville, NC Here

Drive Thru Safari Animals
Throughout the drive, the animals you are more likely to see are the hoofed animals; cattle, Bison, and deer. Animals crowd the entrance just past the cattle guard because they know they will get fed there. They are quite accustomed to people and know exactly what is coming. I saw people feeding directly out of the buckets, throwing food onto the ground, and feeding animals out of their hands.
When we entered, we were greeted by a LARGE Brahma cow who stood at every bit of 6 feet tall at its shoulder. This smaller brown Brahma stood at about 5'. She was a tall girl!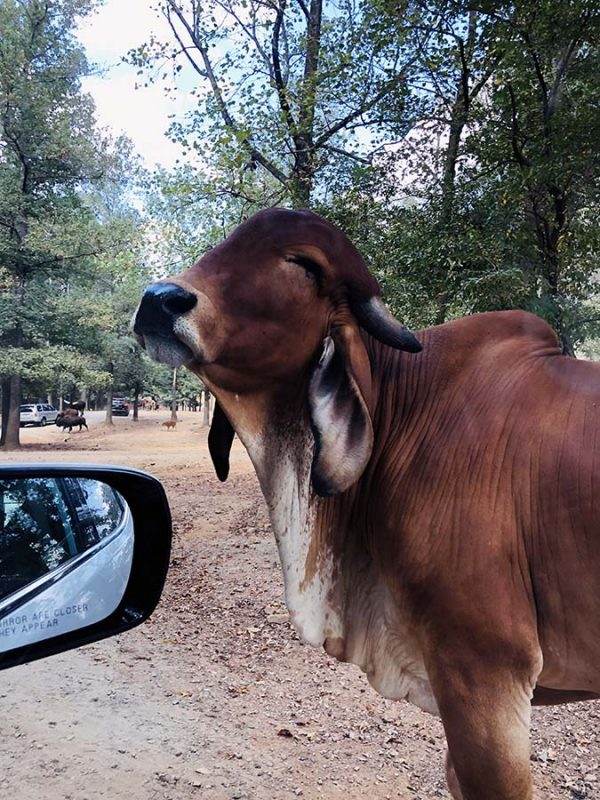 Then there's the Watusi Cattle from Africa. They have the largest horns of any cattle in the world. Their horns can grow as long as 10' tip to tip.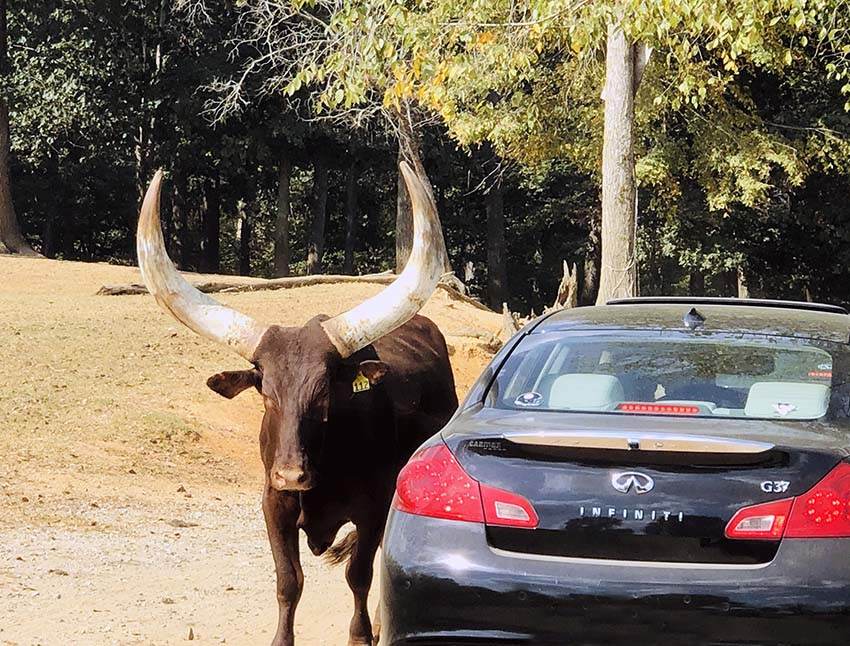 Fun Fact: Did you know that most US cattle used to have horns. In the time of the cowboy, cattle had horns. But once they started being shipped by rail car, they needed to find a safe way to transport them. So off with the horns (selective breeding that is)!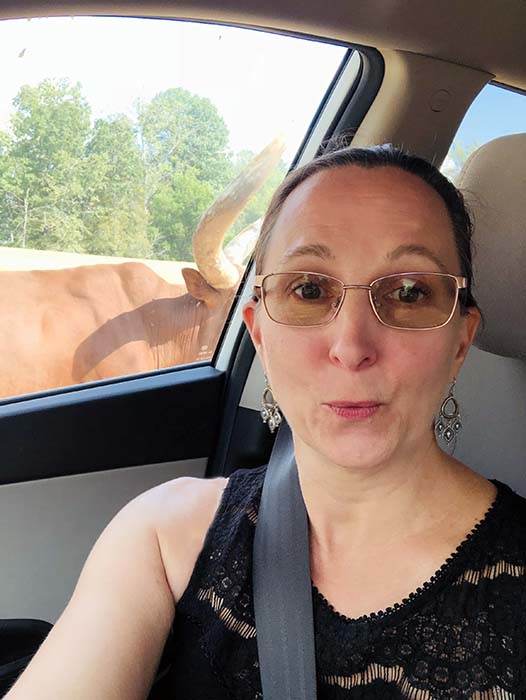 The most curious animals have to be the North American Elk, Zebras, and the Llamas. They were also the most photogenic. This female elk was just as curious about us as we were of her.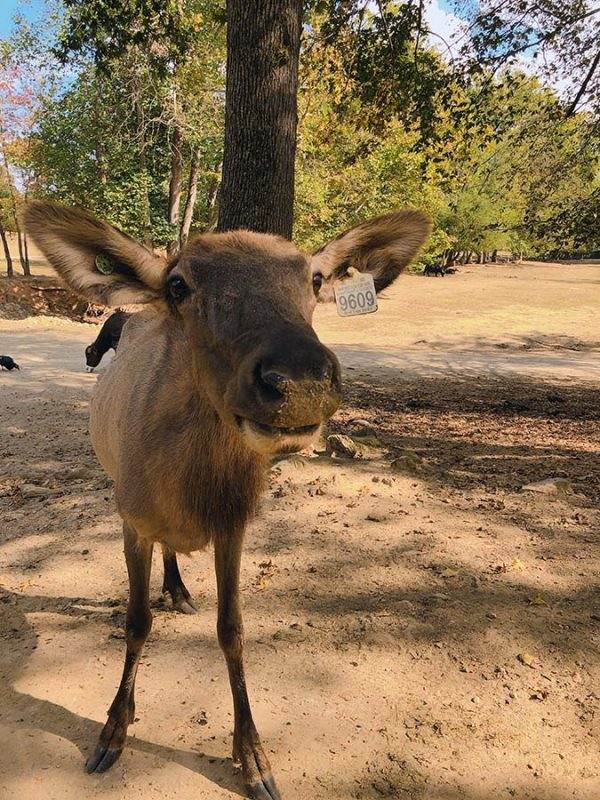 Your kids will be THRILLED when a llama comes running to your car and then pokes its head in to see what's going on. Can't you imagine this one saying, "Hey, there buddy! Whatcha doing?" A trip here is fun for all ages! Just remember animals can poke their heads INTO your car! Again and again and again.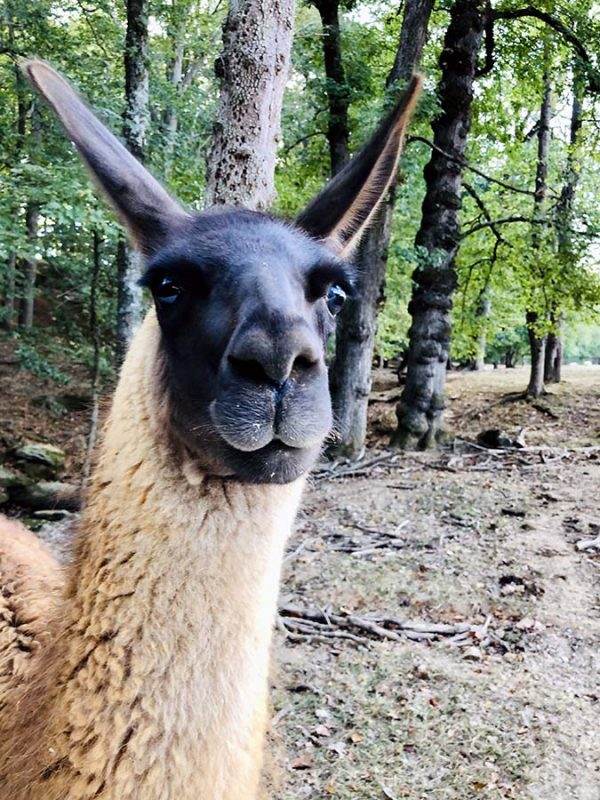 Even older kids and teens can't help but giggle and enjoy their time here. Behind us on the trail, a few young ladies were traveling in a Jeep Wrangler without doors. We repeated heard the girls squeal with delight whenever animals would come up to them. The baby zebra especially brought exuberant exaltation. The little one was adorable.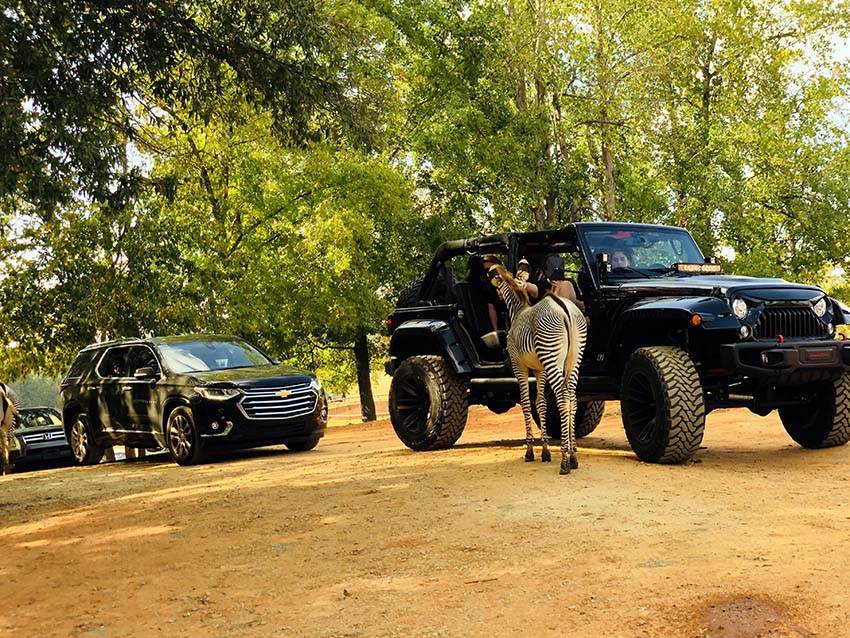 Speaking of babies. The ranch has a new baby Dromedary Camel, born December 9th. Isn't she cute?
Other animals you are likely to see throughout the park include European and Asian deer, African antelope, donkeys, ostriches, giraffes, and domestic animals like goats and pot-bellied pigs.
Lazy 5 Ranch Hours
Lazy Five Ranch is open every day. They open at 9am Monday to Saturday and at 1pm on Sunday. They close one hour before dusk. It is advised to arrive at least an hour before closing.
Note: On the day we went, it took us about two hours to get all the way through the loop. Many cars in front of us bought feed buckets. So the animals were out enjoying feed pellets. We didn't buy any feed, but it was fun to watch everyone in front of us.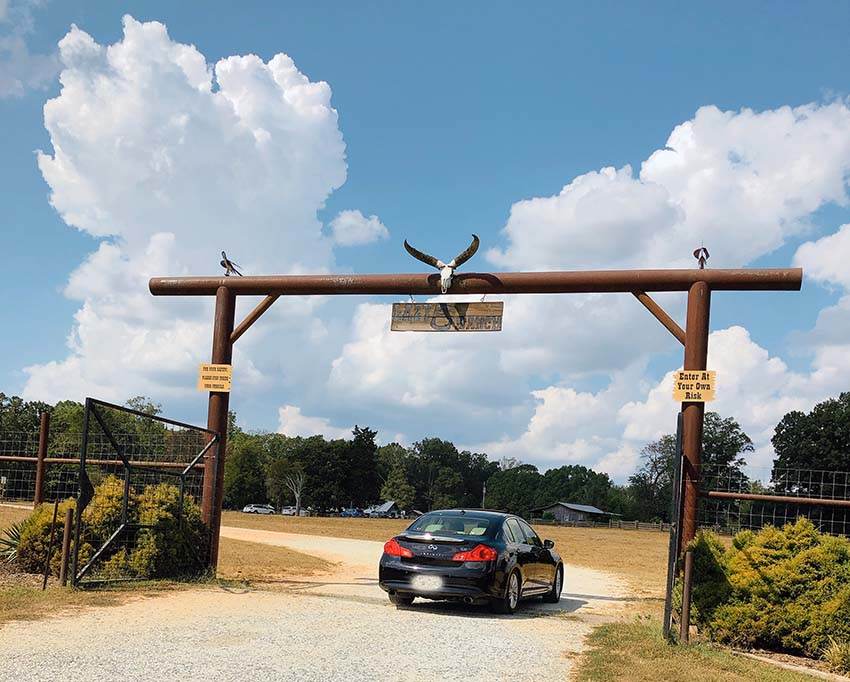 Lazy Five Ranch Admission
The ranch accepts cash only. No credit cards or checks are accepted for admission. So be sure to stop by the ATM before you arrive.
General admission (Drive thru in your own car):
Adults $11
Ages 2-11 $8
Seniors (60+) $8
Note: I will say that if you drive your own car, don't come here with it clean. After your trip here, your car will need a car wash. Honestly, I'm surprised that the ranch doesn't have an agreement with a local car wash. I can only imagine ALL the business they would send their way.
Buckets of feed at $3 each.
Admission with Wagon Ride and Animal Feed
Adults $16
Ages 2-11 $11
Seniors (60+) $11
Reservations are required for the horse-drawn wagon ride. So if this is on your must-do list, be sure to call ahead. For more information about this drive-thru safari, be sure to visit their website.

Thank you to Mooresville Convention & Visitors Bureau for providing complementary attraction tickets for research purposes. All opinions stated are my own.