Just 30 minutes south of downtown Atlanta along I-75, you'll find Henry County, a great area for day trips from Atlanta. There is so much to do, you may want to make a weekend of it! Whether you are just looking for fun things to do with the kids or are heading down for Atlanta race weekend, Henry County is where you want to be! Visit Henry County hosted Michelle for research and provided complimentary activities and amenities while there.
You may have driven through it and not even realized the incredible attractions that await you here. Jump in the car and come explore!
Atlanta Motor Speedway & So Much More
If you're a NASCAR fan, heading to the Atlanta Motor Speedway has to be on your bucket list. The area is the home of so much racing history. You will find so much more to keep you busy, though. You can easily fill a weekend with these things to do in south GA. Plus we have our picks for great local restaurants serving everything from freshly baked cinnamon rolls to Southern classics.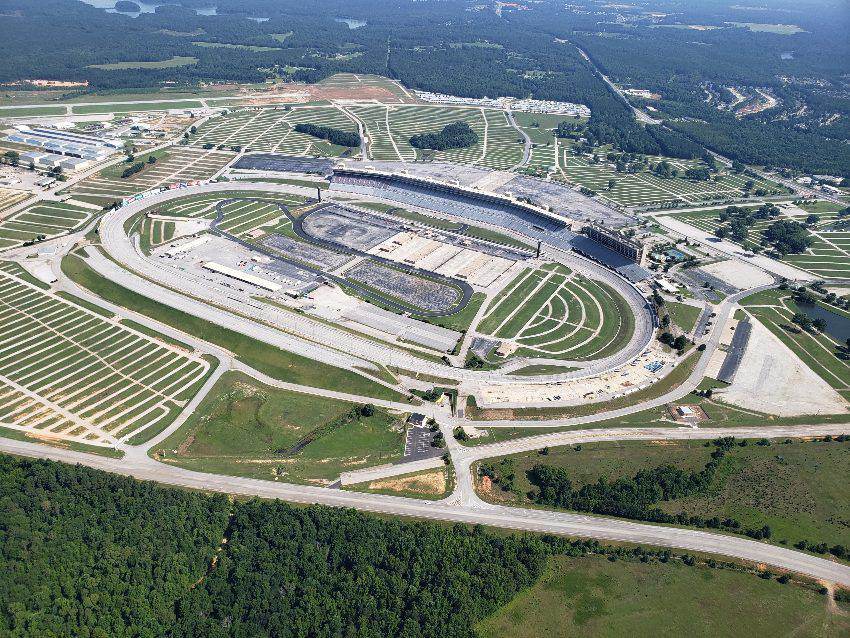 Whether you visit for the annual NASCAR race or are in Atlanta for other reasons, make sure you check out these activities!
What to do in Henry County, GA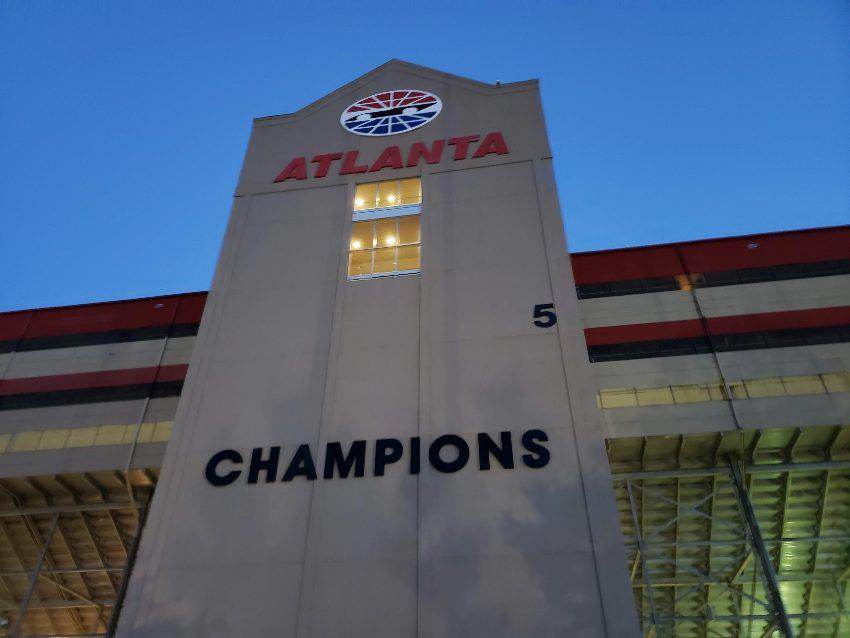 Tour the Atlanta Motor Speedway
Obviously, you can't do this on race week, but Atlanta Motor Speedway offers track tours throughout the year Monday through Friday starting at 10am. You have to arrange the tours in advance to ensure availability.
The tours bring you into the speedway where you learn about NASCAR history and visit a suite before you head out onto the track to take three laps in your tour van. You also see garages and Victory Lane, and visit the Petty Garden.
The tours cost just $10 per adult, and you also get a 10% discount at the Atlanta Motor Speedway with your tour. Seniors 65+ are $8, kids 6-12 are $5, and five and under are free.
Attend Other Track Events
If you visit outside race week, you'll likely discover other events happening at the track. This ranges from a foam glow 5K in September to the Atlanta Air Show in October to racing school in November and more.
Thursday Night Races
Two forms of racing have weekly leagues that run from May to August. Each Thursday night, you can watch bandaleros and legends cars race on the quarter mile track.
Friday Night Drag Races
On Fridays, the Atlanta Motor Speedway hosts drag racing up pit road. The Friday Night Drags include a car show where you can enter your car in six different divisions, as well as entering your car in the drag races, if you choose.
Both are incredibly family friendly. Before the races, you can go down on the track to see the cars and meet racers, including getting autographs. These series are also affordable. Friday Night Drags cost $10 to enter, and $20 to drag race or enter the car show ($30 to do both). Thursday Thunder has just a $5 entry fee, with kids 5 and under admitted free.
Pin this for later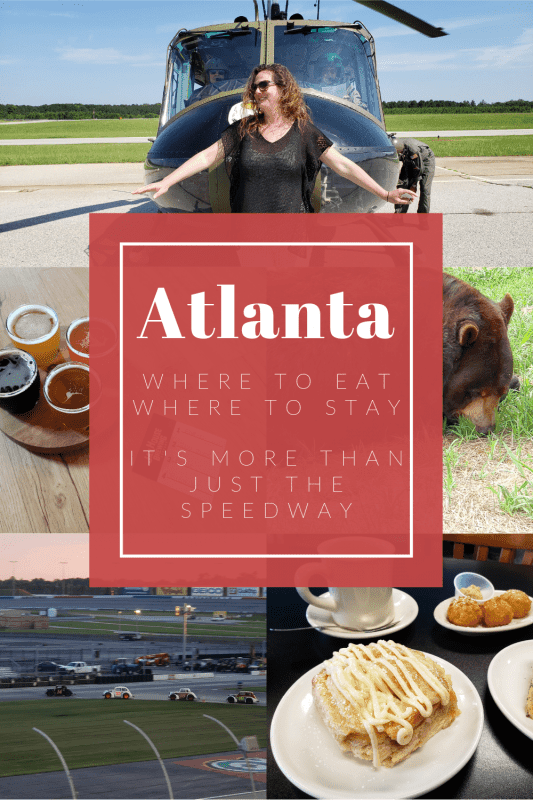 Note: Another fun race track experience is just outside Greenville, SC in Greer. Read more about our BMW Driving Experience there.
Visit Noah's Ark Animal Sanctuary
Just 20 minutes south and east of the Atlanta Motor Speedway in Locust Grove lies the Noah's Ark Animal Sanctuary. They house over 1,500 exotic animals – from lions and tigers to alligators to zeedonks and more.
There is no cost to visit and take the self guided tour, but to get the most out of your time, I highly recommend signing up to do the WOW Tour that takes you closer to the animals and have a guide that tells you the history of the animals to bring it all home.
These tours occur Tuesdays to Saturdays at 10am, 12pm, and 2pm. Make sure you reserve this at least two days in advance (for a Tuesday, request by Thursday as the booking office is closed Saturday to Monday).
The tours cost $75 per person and have a minimum of two people and maximum of 10, so you never feel crowded. Try to visit on Tuesday or Saturday when they feed the cats, as they're more active on those days. Children must be 10 or older to be a part of this tour.
You can also visit on your own. The park is open 10am to 3pm Tuesdays to Saturdays, although you can visit the playground or enjoy a picnic before or after those hours. The limited hours help prevent stressing the animals, which is critical for the mission as an animal sanctuary.
While there is no fee to do the self guided tour, please consider donating if you visit. Even just $5 or $10 per person. It costs over $1,000 each and every day to feed and care for the animals at this volunteer driven sanctuary.
Don't Miss these 50 Road Trip Games.
Head over to the Heritage Park Veteran's Museum
This is another volunteer run museum which is different from other military museums you may have visited in the past. Head a half hour west of the Atlanta Motor Speedway to Hampton, Georgia for this moving experience.
Inside, you'll find stories of veterans – who they were, how they operated, what their lives were like. The focus is on the soldiers, as opposed to the history of the conflicts.
Like Noah's Ark Animal Sanctuary, there is no cost for you to visit. A volunteer will happily walk you through the space and answer questions, as well as tell you stories along the way. If you prefer to explore on your own, you can choose that, too.
Outside the museum, make sure to stop by the Veteran's Wall. Just up a path, you'll see the gorgeous wall with a ton of flags and plaques with information. It's a fantastic stop to take a moment and reflect.
Visit TripAdvisor for great rates and recent reviews on area hotels.
Visit Southern Belle U-Pick Farm
Southern Belle Farm in McDonough, Georgia is fun nearly all year round. What started as just a corn maze in the fall over a decade ago has grown to be so much bigger.
Spring brings strawberry season, where you can choose to head out to the fields and pick your own strawberries or purchase pre-picked gallons from the country store. Summer offers the same options for blackberries, blueberries, and peaches.
In the fall, visit for the corn maze, to gather pumpkins, enjoy pig races, and more. They're open Saturdays and Sunday from mid September to early November.
You can visit with Santa Claus mid November through mid December Friday through Sunday. All week long, you can visit for a hayride, meet the farm animals, and stop at the country market for amazing baked goods, among other treasures.
Take a Helicopter Flight
If you've taken a helicopter sightseeing ride before, you're in for a treat. This is completely different. Just minutes from the Atlanta Motor Speedway, you'll find the Army Aviation Heritage Museum tucked away down a gravel drive.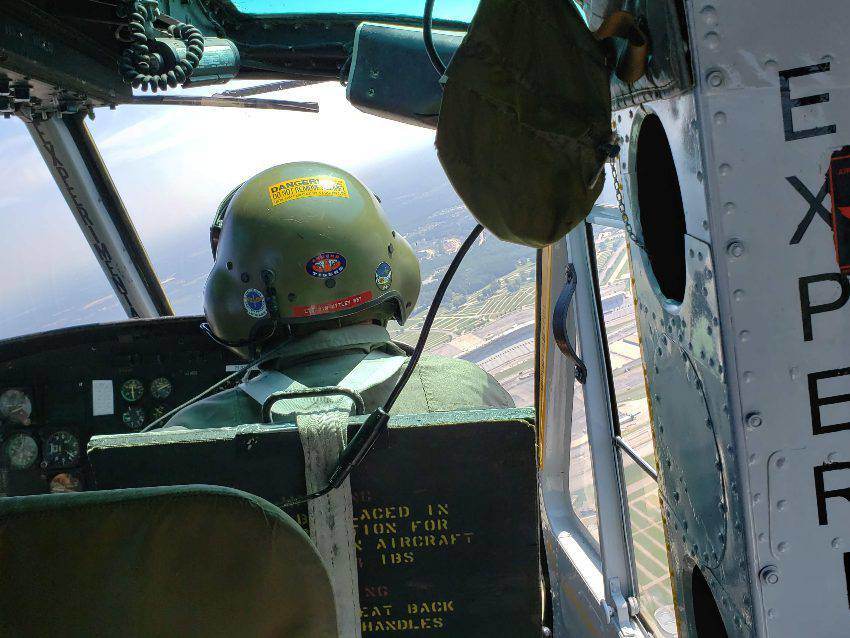 One Saturday a month, they offer rides in restored Cobra and Huey military helicopters they maintain on site. You get to feel what it was like to ride in the military helicopter, as it does maneuvers it would have done during missions.
The Cobra seats just one person at a time, in the spot where the gunner would be. That gives you a fantastic view, and one you would never expect. You must be 16 years old to ride, and it costs $350 for the eight to ten minute flight.
The Huey holds up to ten people in its open air hold. You always have a safety officer with you to ensure everything is fine during the approximately ten minute flight. You have a belt strapping you in, and kids five and older are welcome to ride – though under 16 cannot sit on the edge. This flight costs $85 per person.
If you aren't up for a helicopter ride, visit the helicopters staff have restored and those that are currently being restored in the hangar. You can climb inside a helicopter to see what it's like. There's no cost to visit, but call ahead to ensure a volunteer is available to guide you.
Hotels and Airbnbs near Henry County, Georgia
Where to Eat & Drink
While you are here in Henry County, you will surely of worked up an apetitite. Below you'll find some great local resturants in Hampton, Locust Grove, and Stockbridge to sample.
Jailhouse Brewing
If you love microbreweries, this one is for you! Located inside an old jail house in Hampton just five minutes from the Atlanta Motor Speedway, they offer up to 16 beers on tap at a time.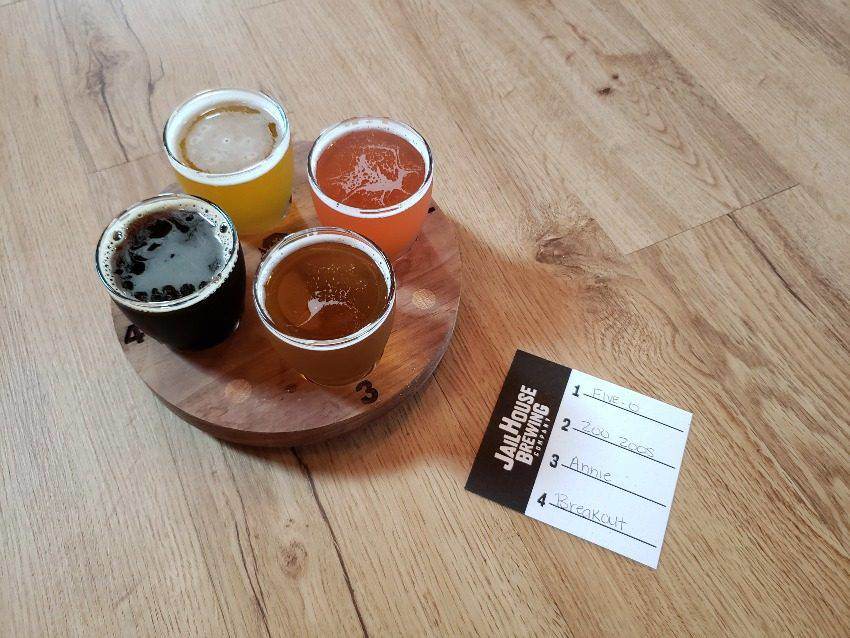 They have an outdoor patio that is pet friendly and kid friendly, with games like cornhole and Twister to entertain everyone. They also have a taproom upstairs that is also kid friendly, except during their rare 21+ shows. They have programming that ranges from an open mic night to live musicians to comedy shows, as well as music bingo, trivia, and karaoke. Check their calendar to see what's happening around your visit.
While you can't technically eat there, you're welcome to order from the Mexican restaurant across the street who will bring your food to you while you enjoy your jail themed beers. Pick up a flight, which is a great way to experience a variety of beers and discover you enjoy some you may never have heard of. You can also purchase up to a case of your favorite to take with you.
Tierra Mia Mexican Cuisine
Stop by Tierra Mia Mexican Cuisine in Hampton, GA. This is the Mexican restaurant that brings your order to Jailhouse Brewing, but it's worth a visit on its own. It has an incredibly large menu of authentic Mexican dishes. It's a great family friendly restaurant with both indoor and outdoor seating. They also offer a full bar with creative drinks you're sure to love.
Pop in at lunch for their lunch specials served until 2:30pm Monday to Friday. With 30 items to choose from, you're sure to find something you'll love, whether it's fajitas, chimichanga, or fish tacos, to name a few.
Make sure to save room for dessert, whether it's their tres leches cake, an apple burrito, or sopapilla. You don't often find authentic Mexican in the area, but they do it right!
Enjoy the BEST home cooked meal with Chef Paul
An Army veteran who spent time as a hand grenades instructor arrives at Southern Fusion Dining in Locust Grove at 3am and spends 18 hours a day working. That dedication and love shows through in the food of this small, family-owned restaurant.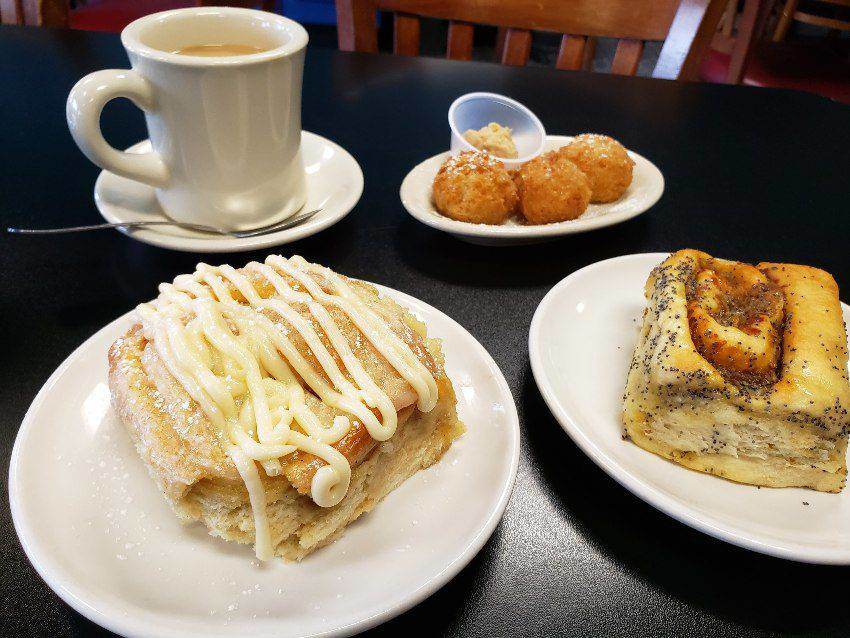 Every morning, he makes his own cinnamon rolls and biscuits. Both are huge, soft, fresh – and not to be missed. He offers variations in addition to the cinnamon roll, like the savory pulled pork version we devoured when we visited.
Their best sellers are shrimp and grits, savory cinnamon rolls, flavored pudding cheesecakes, and the like. He's always experimenting and making something different.
Chef Paul infuses a bit of French and New Orleans into his southern cooking, which gives it the twist on the ordinary that makes it better. This food is so much more than you expect walking in the door.
The Best Coffee is at Drip Thru
If you're from the Pacific Northwest, you may have encountered the kiosk sized drive through coffee emporiums. While I see them sometimes in Chicago, they haven't penetrated much of the rest of the States.
This tiny hut in a parking lot in Stockbridge has a second location in College Park, necessary due to its popularity. Even if you just drive through Atlanta, this is worth a quick stop to perk up. The shop offers coffee, smoothies, and teas, with some amazing donuts from a local bakery partner. Everything is not just made to order but ground to order.
The coffee gets fresh roasted each Tuesday and delivered to Drip Thru Coffee on Wednesday, still in its whole bean form. When you order, they grind the beans and then immediately brew your coffee.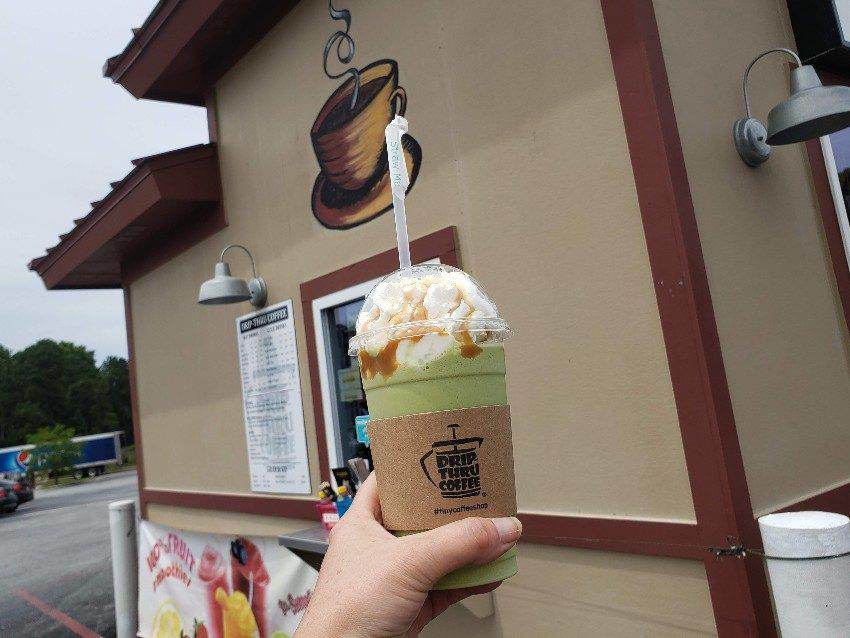 You can immediately taste the difference, as this is the best iced matcha I've ever had. You can get both hot and iced versions of their products, as well as add ins like the caramel they suggested I add to mine. The entire operation is organic, and cups are plant based compostable. They will biodegrade in two to three weeks in your home composting. Even the straws are biodegradable.
Grab Cupcakes From a Champ
Crumbles by Nicole is the cupcake shop in Locust Grove started by a former kindergarten teacher who turned the need to find custom cookies for her daughter into a business. She's appeared on The Great American Baking Show and a Christmas cookie challenge, winning the latter.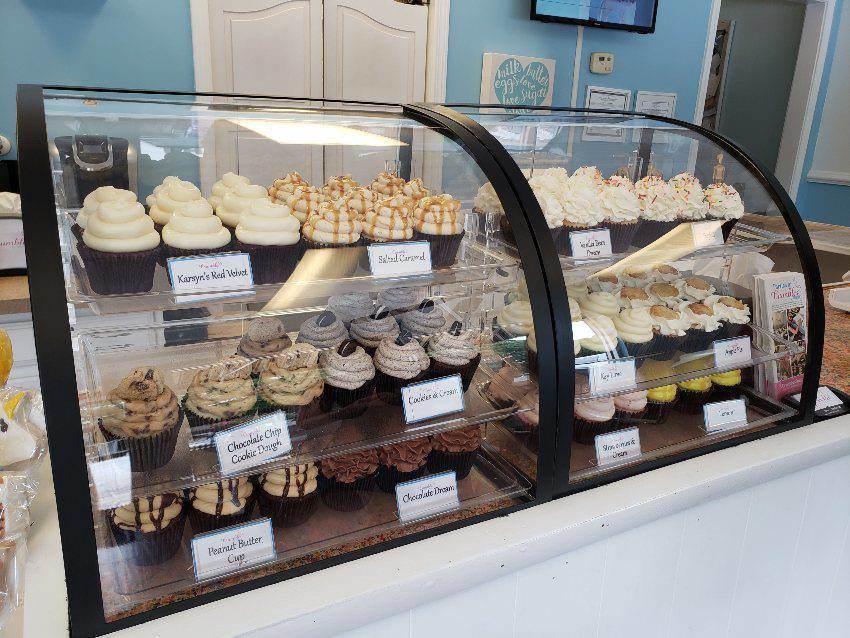 While she started with cookies, she also makes amazing cupcakes and cakes both for special occasions and to pick up "just because" you need one. Obviously, order ahead if you want a specially decorated cake!
She offers twelve flavors of cupcakes each day, including some gluten free options. If you can, visit on Sundays when she offers her monster milkshakes with all the fancy add ons!
Nicole doesn't just sell the creations, however. She holds camps, nailed it competitions, and cookie decorating classes. If you need something fun to do, make sure to check her calendar!
Empson's Deli
For a quick lunch with the locals, head to Stockbridge just off I-75 and stop at Empsom's Deli. They offer fresh made sandwiches and soups perfect for any appetite. This is a local favorite, and it's no surprise. Thankfully, the line moves quickly and many people get their orders to go.
They have amazingly fresh bread and offer several choices, which means you get what you like best. The same holds true for their sandwich offering. When was the last time you ate somewhere that offered two kinds of chicken salad, for example?
They make their soups homemade, and their offerings change up daily. It's the perfect accompaniment to your sandwich – or get a large size and enjoy it for your meal. Best of all, the staff clearly enjoys their jobs and wants to be there. They are polite and efficient, and they offer fantastic service even when busy.
The French Market & Tavern
For a delicious sit down meal, head to Locust Grove, where you can watch the freight trains go by just outside the front window. The French Market & Tavern is open for lunch and dinner Tuesday to Saturday and for brunch on Sunday.
They serve a mix of Southern and New Orleans cuisines, and it works perfectly. Make sure to try their fried green tomatoes, but save room for your entree, too. They provide very generous portions.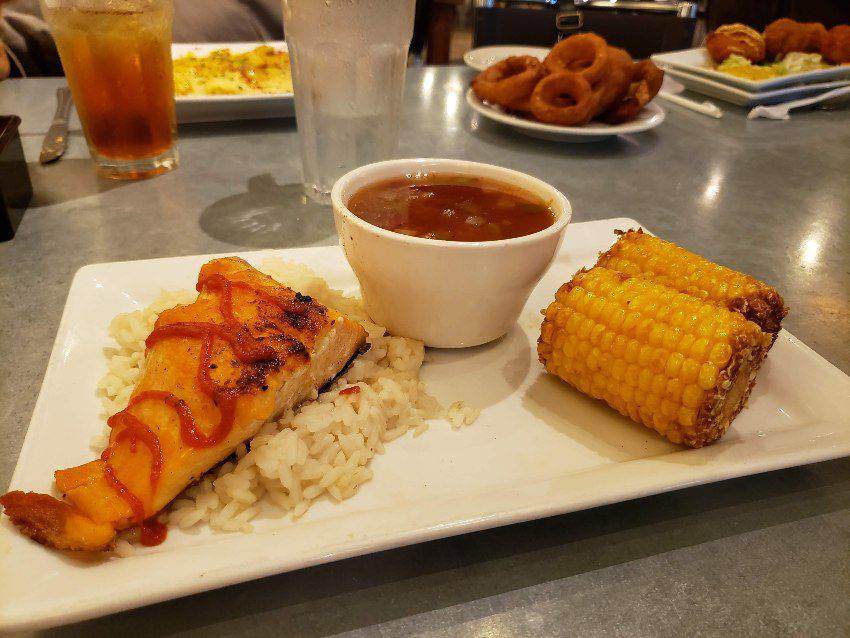 They make a mean burger, but their seafood is on point, too. Try the sweet chili garlic salmon, cooked to perfection and not too spicy. Entrees generally come with two sides included, and good luck deciding. Onion rings or cheese grits? Hush puppies or fried corn? The list goes on!
This bistro is fun while you wait, too. At each table, you'll find a stack of Trivial Pursuit cards. See if you can stump your table while the kitchen whips up your meal!
Lovin' Oven Pizzeria
Just down the street from the French Market and Tavern, you'll find Lovin' Oven Pizzeria. If you like pizza, you need to stop in. The restaurant's kitchen is visible to the seating, which provides a great show as you watch the chefs hand toss the pizza crusts. And while they specialize in pizza, they offer other dishes, as well.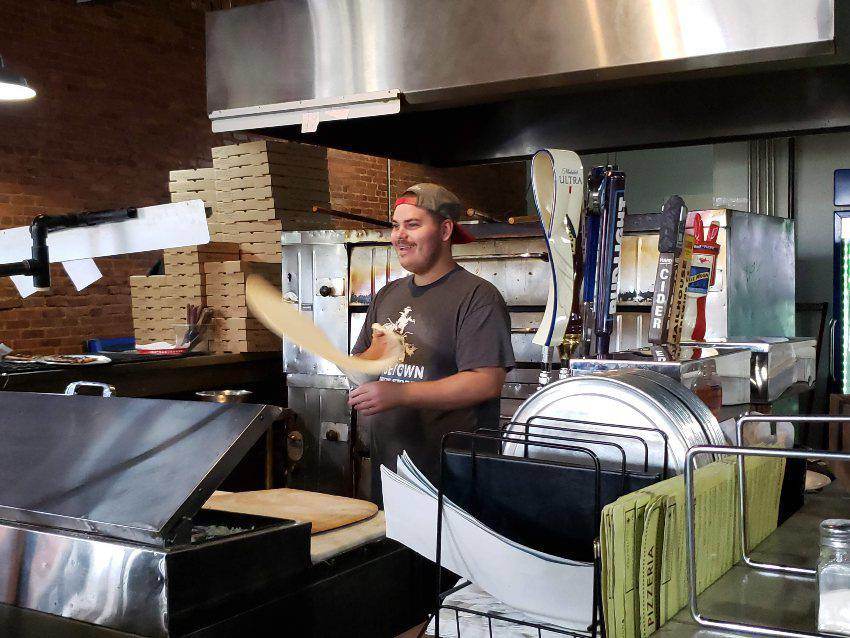 Try a sub or a salad, or enjoy a pizza bowl. They put the sauce and toppings in a bowl and cover them with mozzarella before baking to create a delicious crustless treat.If you think you'll order a calzone because pizza is just too big, think again. Their calzones are monstrous – in the best possible way.
You can order a single slice of pizza, as well. It's New York style and size, so plenty to eat. Each pizza gets made to order with dough and sauce they make in house daily.
Note: If you ever find yourself in Kansas City, Kansas, this place serves the BEST Pizza Kansas City Restaurant.
Cravings Home Cooking
New to me was the concept of southern cafeteria home cooking restaurant. You go through a line and choose your meat and sides, and you have the option to add dessert and drinks.
Picture your favorite southern classics, and at least some will be there. The menu changes daily, with some classics available every day like the country fried steak, fried chicken, and fried shrimp.
With ten meat options and almost double as many vegetables and salads to choose as you sides, you can't go wrong. The line moves fast, and as popular as the restaurant is, you often see more fresh cooked food brought out to refill your options.
The staff are friendly and happy to explain any of the items to you. That includes letting you know that their cornbread is the savory kind versus the sweet you might assume.
Whether you are in town for Atlanta race weekend, seeking day trips from Atlanta, or just because, there are so many things to do in Henry County, Georgia. There truly is something for everyone. The next time you visit this area, how long will you need to stay?
Thank you to Visit Henry County for providing complimentary activities and amenities during our recent visit. For more information about the area, be sure to visit their website.
Guest Author: Michelle Price is a foodie living in Chicago with her two children. Though technically a SAHM, staying at home doesn't seem to be in the job description! You'll find her in the kitchen, playing with some new technology or gadget, or doing her best to satisfy her wanderlust. Find her at HonestandTruly.com.