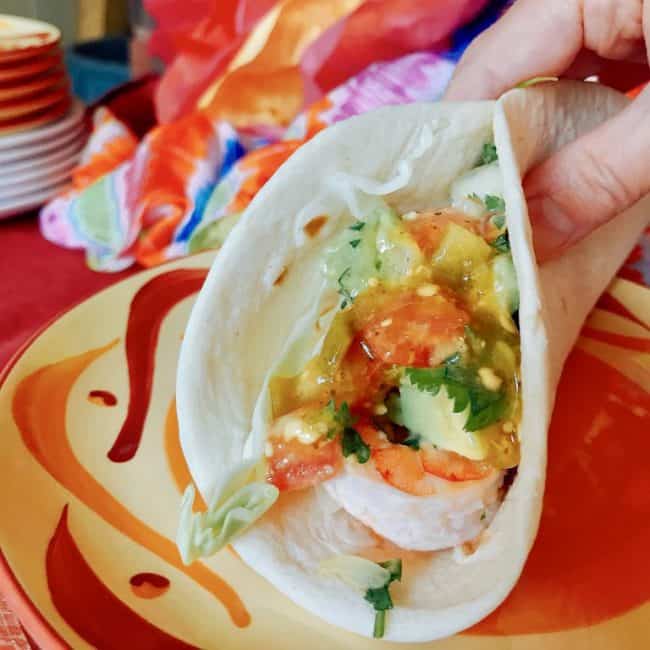 CHI-CHI'S® Brand has sponsored this post. While I was compensated to share my recipe for Shrimp Tacos and party hosting tips with you, all opinions are my own.
Instead of heading to your local Mexican restaurant this year, host a fun Cinco de Mayo or Mexican Themed party at home. I have a few tips to help you throw a great party and have shared my super easy recipe for Shrimp Tacos. Together these will help you throw the ultimate fiesta!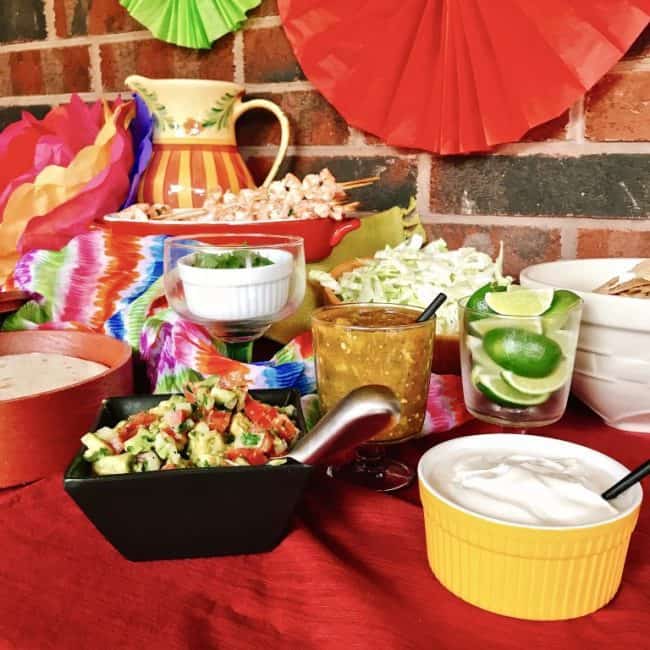 Set up a Healthy Taco Bar
Tacos are a great party food. Setting up a taco bar allows guests to create their own tacos with a variety of toppings. Set out accompaniments like shredded cheese, sour cream, guacamole, lime wedges, CHI-CHI'S salsa, etc. For those guests that would rather snack or make nachos, you can add CHI-CHI'S Authentic Corn Tortilla Chips to the Taco Bar.
Instead of traditional chicken or beef, serve up healthier fare with this recipe for skewered Shrimp Tacos (see below for recipe). These are super simple and can be grilled outdoors or broiled in the oven in just minutes.
Self Serve Beverages
A self-serve drink station with 2-3 beverage options allows guests to help themselves. Plus it takes the stress off the host/ess to be a bartender or server. Good drink options include water, lemonade, agua fresca, or horchata (rice milk with cinnamon). If you want to serve cocktails, a margarita or sangria would be a good choice.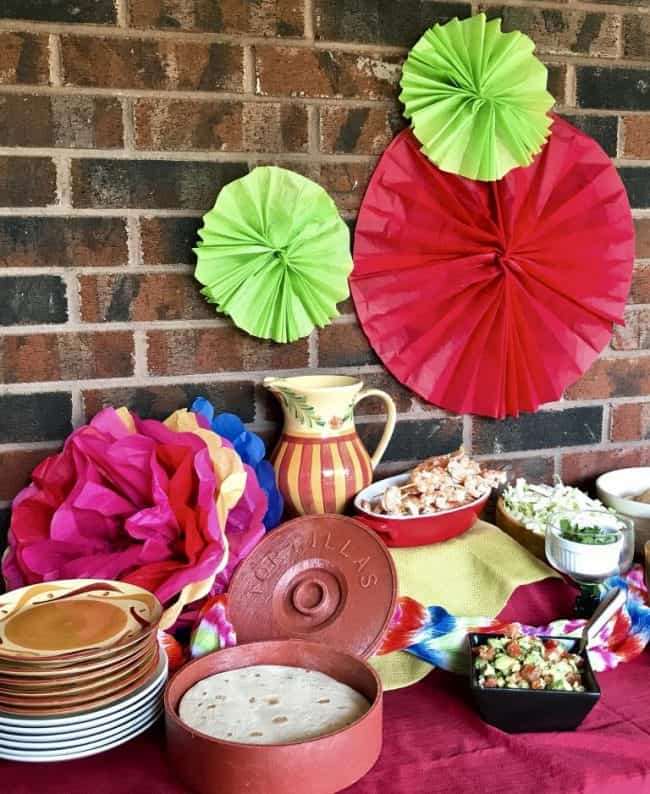 Create a Party Atmosphere
Cinco de Mayo is all about celebration. As a host/ess you want to be able to provide a fun atmosphere without a ton of work. It is a party after all and you want to enjoy it too! Use your favorite streaming music app to create a playlist for the party. Add a few colorful decorations to the table and you are ready to go. I googled tissue paper centerpieces and decorations to find these.
If you don't have enough seating, you can borrow chairs from friends or neighbors. But a great free option is to provide blankets, colorful Mexican ones if you have them. Guests can lay them out on the lawn and eat picnic style.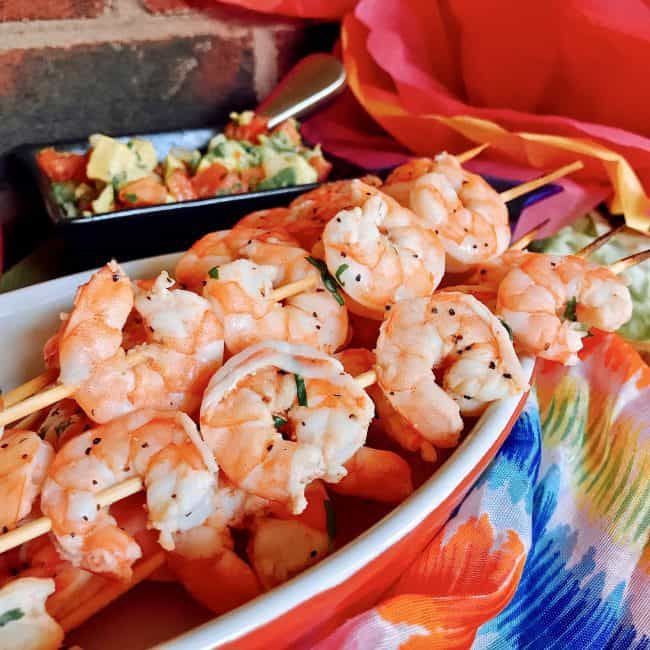 Skewered Shrimp Tacos Recipe
Now that you have a few tips to host the ultimate Cinco de Mayo party, let's get to the food. I'm grilling skewered shrimp to create Shrimp Tacos with an avocado and tomato salad. When grilling, I find it easier to skewer the shrimp to prevent them from falling through the grill grate. It's a little more work on the front end, but the kids love to help with this part.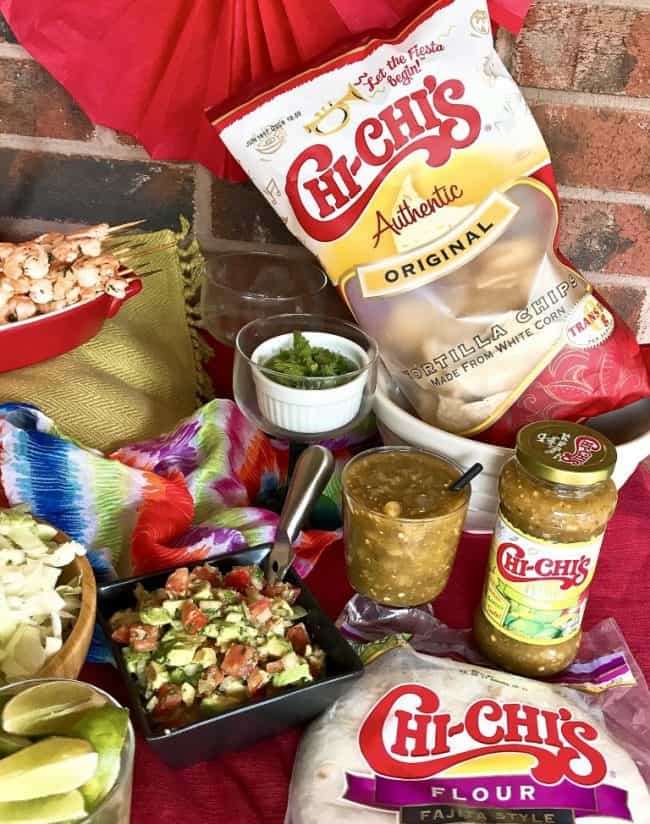 When serving fish and shrimp tacos, I like to offer Salsa Verde. With the tomatoes in the avocado salad, it's a nice combination. Plus a traditional tomato salsa would be a little over doing it. CHI-CHI'S Brand is passionate about creating fun and festive gatherings through their delicious Mexican foods, including crowd-pleasing salsas, tortillas, and chips. CHI-CHI'S Salsa Verde is made with tomatillos, jalapeños, and flavorful seasonings. It has a fresh, straight from the garden taste and goes great with seafood. If you would rather use a tomato salsa, CHI-CHI'S Thick & Chunky salsas are made from quality ingredients, including real tomatoes, vegetables, and flavorful seasonings.
I am also using flour tortillas instead of corn. CHI-CHI'S Fajita Style tortillas are perfect for a taco bar. They are just the right size for both kids and adults.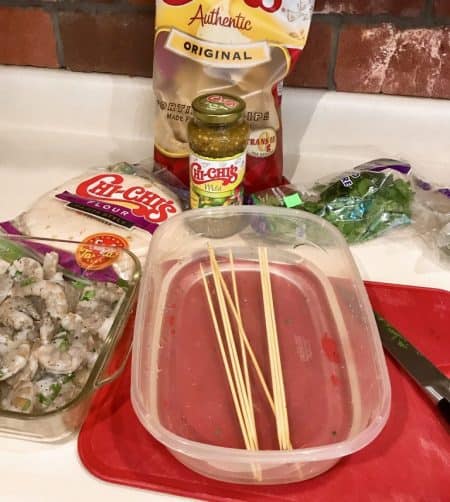 Note: When using wooden skewers, soak in water for at least 30 minutes to prevent burning.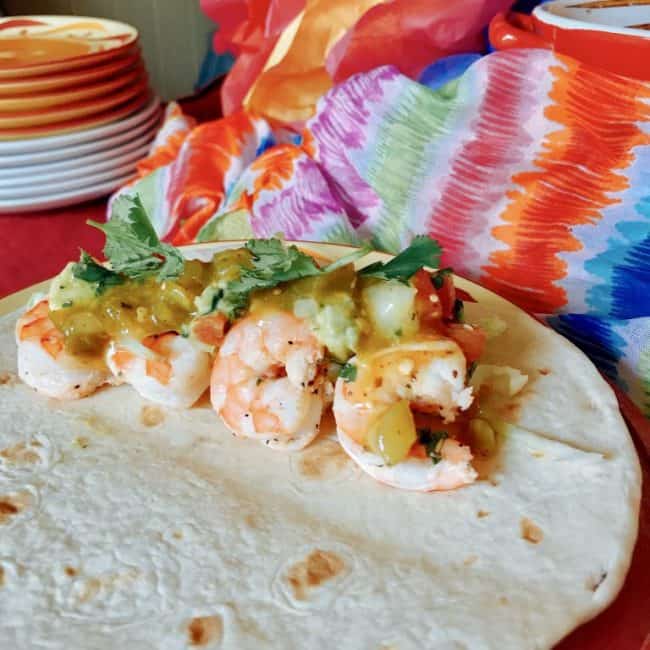 Yield: 12
Skewered Shrimp Tacos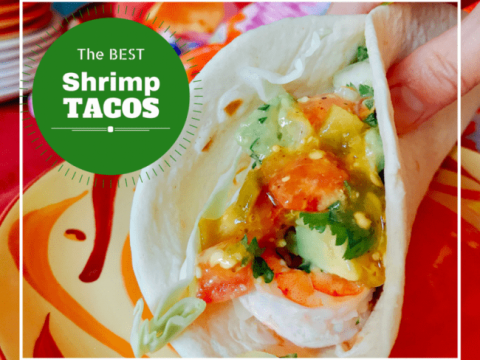 Ingredients
Shrimp Skewers
24 wood or metal skewers
4 pounds large shrimp, deveined and peeled
Juice from 2 limes
Juice from 1 lemon
1/2 teaspoon garlic salt
1/4 teaspoon black pepper
1 Tablespoon fresh cilantro, chopped
12 CHI-CHI's Fajita Style Flour Tortillas
Avocado Salad
3 Avocados, pit removed and cubed
4 Roma Tomatoes, diced into large pieces
1/2 onion, chopped
1 Handful of Cilantro, chopped
2 Limes, Juiced
1/2 teaspoon ground cumin
1/2 teaspoon salt
1/2 teaspoon garlic powder or 1 clove chopped
Accompaniments
CHI-CHI's Salsa Verde
Sour Cream
Shredded Cheese
Shredded Cabbage or Lettuce
Chopped Cilantro
Lime Wedges
Sliced Jalapeños
Instructions
Shrimp
Combine juice from lemon and limes with garlic salt and black pepper.
Place peeled shrimp in a medium bowl and pour juice over them to marinate for 15-20 minutes (longer is better).
When ready, place shrimp skewers on grill or under the broiler in the oven for 2-3 minutes. Turn skewers and cook for 1-2 more minutes or until pink.
Avocado Salad
In a medium bowl, add avocados, tomatoes, onion, cilantro, limes juice, cumin, salt, and garlic. Stir just until combined.
Shrimp Tacos
Remove shrimp from skewer and place on a warm flour tortilla.
Top with avocado salad, salsa verde, and any other toppings you like.
Serve and Enjoy!
Nutrition Information:
Amount Per Serving:
Calories:

701
Total Fat:

26g
Carbohydrates:

109g
Protein:

18g
These Shrimp Tacos are simple and really delicious! Use these party hostessing tips with this recipe for your next get together and have a great time with friends and family. Find CHI-CHI'S salsas, chips, and tortillas in a store near you.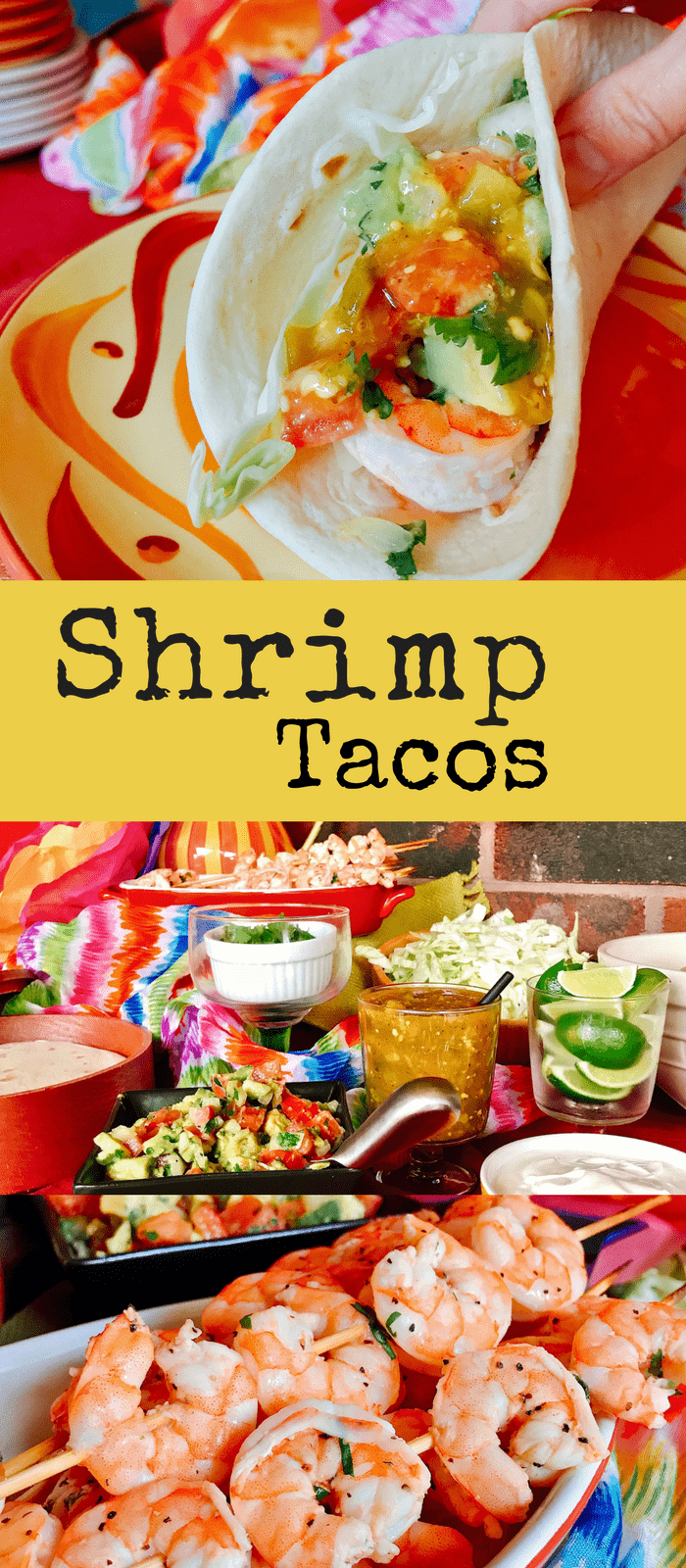 SaveSave
SaveSave