Shrimp Stuffed Poblano Peppers are my healthy update to a traditional chile relleno, a battered and deep fried cheese stuffed poblano pepper. Don't get me wrong, there is nothing wrong with a chile rellenos. I rather like them. What about you? However, sometimes you just want something that isn't quite so heavy or deep fried. This version has a rich cheese sauce that is really tasty. I've traded the fryer for oven roasted peppers which have a natural sweetness to them. Then, I've added shrimp and red pepper for a dish that is "melt in your mouth" delicious.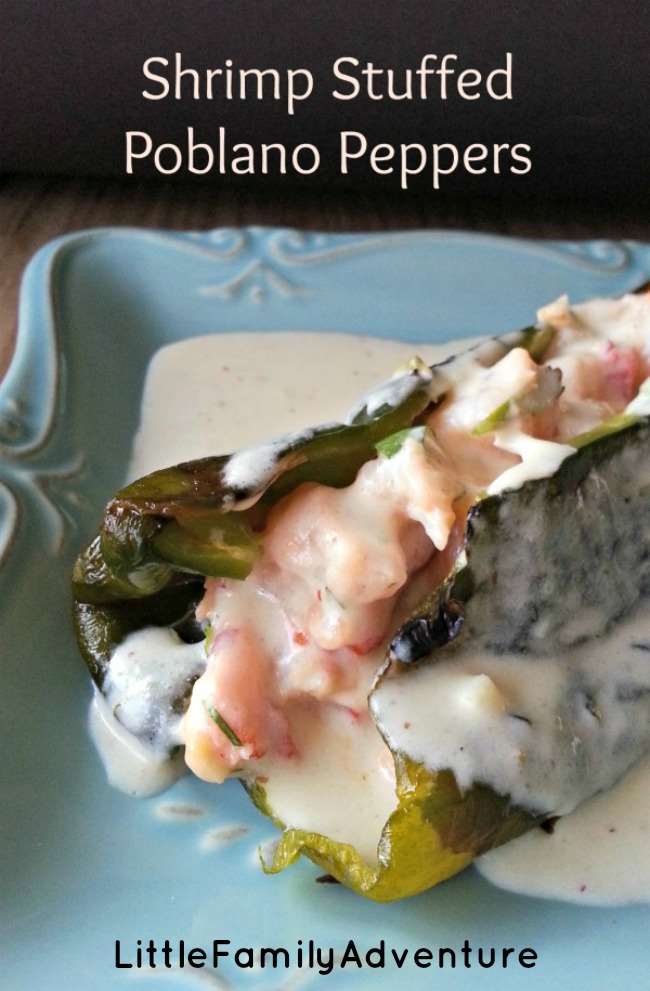 These stuffed poblano peppers are a quick and easy meal than can be ready in less than 25 minutes. It can easily be made ahead and stored separately until ready to use. Just reheat the components and assemble just before serving. To complete your meal, you can add Mexican style rice, cumin skillet potatoes, or cilantro lime rice along with a small salad.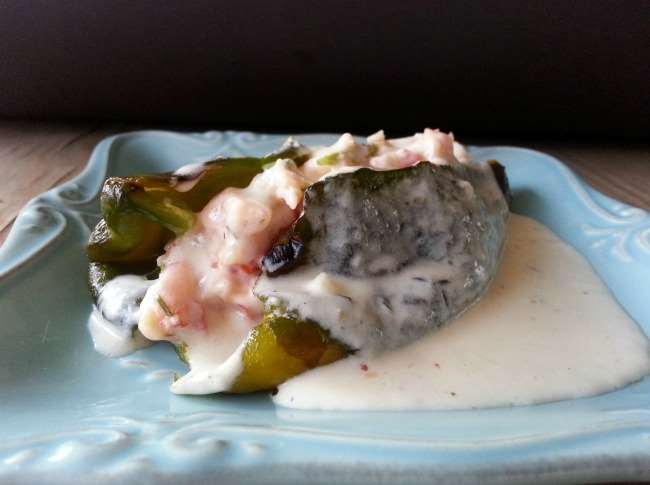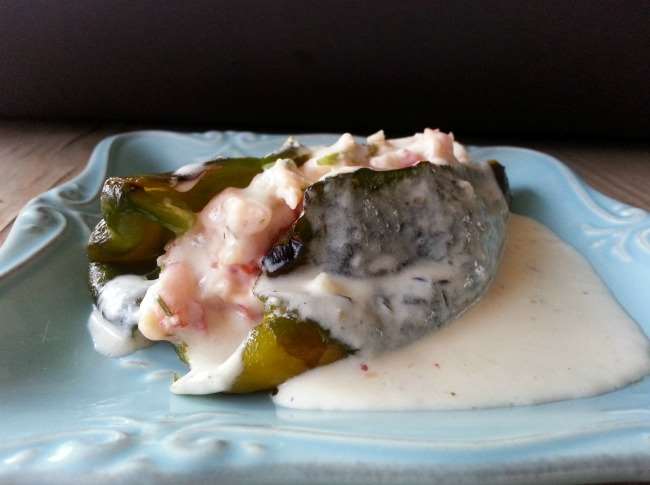 Yield: 4-6 servings
Shrimp Stuffed Poblano Peppers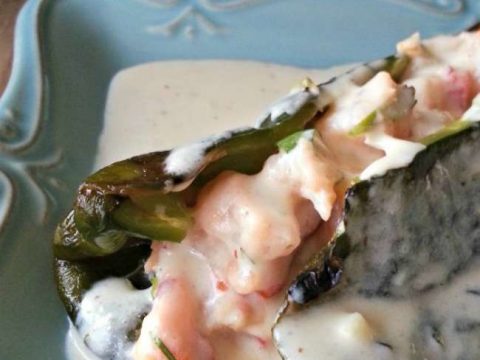 Ingredients
6 poblano chiles, stems and seeds removed
1 red bell pepper, stems and seeds removed
2 tablespoons olive oil
1/2 pound medium to large shrimp, peeled, deveined, chopped
½ teaspoon salt
3 cloves garlic, chopped
1 ½ tablespoon white whole wheat flour
1/8 teaspoon black pepper
½ cup sour cream
½ cup whole milk
¼ cup heavy cream
3/4 cup quesadilla or Monterey jack cheese, shredded
2 tablespoons fresh cilantro, chopped
1/2 lime, juiced
Instructions
Pepper Roasting
Preheat the oven's broiler.
Place the poblanos and red bell pepper on a cooking sheet. Place under the broiler.
Turn the peppers after 3-4 minutes, once they start to blister and turn black. Be sure to keep an eye on the peppers as this happens quickly. Peppers are finished when all sides are blackened and blistered.
Remove peppers from oven and place in a brown paper bag. Fold top of bag over so that the steam does not escape. Allow peppers to cool enough for you to handle.
Remove peppers from bag and remove blackened skin. Cut each poblano pepper open along one side (horizontally). Chop the red bell pepper. Set aside.
Shrimp Filling
In a large skillet, heat olive oil over medium high heat. Add shrimp and cook 3-4 minutes or until done (pink & opaque). Remove from pan and set aside.
Over medium high heat, add garlic to the skillet and sauté 30 seconds. Add flour, salt, and pepper to the pan. Cook for 1 minute, stirring constantly.
Lower heat to medium. Whisk in the sour cream. Then whisk in ¼ cup milk and heavy cream. Cook for 2 minutes, stirring constantly with whisk or wooden spoon.
Remove cream sauce from the heat. Add cheese and stir until it melts.
Place 1/2 of the cheese mixture in a bowl. Add remaining ¼ cup milk to this mixture and stir to incorporate.
Add cooked shrimp, chopped red bell pepper, cilantro, and lime juice to remaining ½ of the cheese mixture (without the added milk).
Stuffed Peppers
Place 1-2 poblano peppers on each plate.
Stuff each poblano pepper with shrimp mixture, dividing mixture evenly between them.
Pour cheese sauce over each pepper and serve.
Cinco de Mayo
Cinco de Mayo is right around the corner. May 5th is the day that celebrates El Día de la Batalla de Puebla or The Day of the Battle of Puebla. It's a grand celebration in Mexico and in the United States honoring the Mexican culture.
Do you celebrate Cinco de Mayo? If you do, how do you celebrate?