I will be honest with you. Normally, when it comes to an omelette, I DO NOT have the patience to carefully cook it and create a perfect omelet. In the past, my omelettes looked more like scrambled eggs with "add-ins" than an omelette. But it's not a problem because I fully admit it and own it. There is a little trick I learned that makes creating the perfect omelet easy peasy. It's as simple as cooking my omellet in a bag!
Simple Omelette in a Bag
This article contains affiliate links. Purchase through our affiliate links and we receive a small commission without any extra expense to you!
How to Make an Omelette in a Bag
Cooking an omelette in a bag takes the frustration out of cooking one. You simply throw eggs and any "add-ins" (ham, bacon, onion, spinach, peppers, etc.) into the bag, seal, and boil. That's it! After 8-10 minutes, you toss the omelet out of the bag onto a plate and VOILA!! perfect omelet every time! I like to serve it was fresh pico de gallo or top with a favorite salsa. The picture above shows a salsa verde (green chile sauce).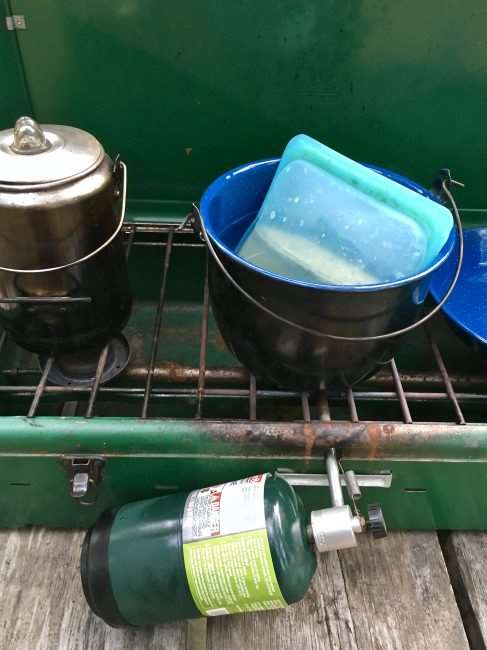 Boil in a Bag Omelette
This recipe is great to cook at home on the stove top, but it's also ideal for a camping breakfast. It can be cooked on a camp stove or directly over the fire in a large pot. All you'll need is something to boil water in. You can prep all the ingredients beforehand at home or on site. Then while camping, let everyone assemble their own omelette in a bag. It's so easy, even the kids can help assemble and then hand off to the adult(s) for cooking.
Don't Use Plastic Bags!!
Growing up, we used to call this a Ziploc bag omellete. For the longest time, I boiled this omelette in a plastic freezer bag. You may have seen other omelet recipes in cookbooks or online calling for the same. Manufacturers of plastic storage/freezer bags, like Ziploc, do NOT recommend using their bags to boil food.
I used to think plastic bags weren't recommended because they had only had a tendency to melt when exposed to boiling water. It wasn't until I attended a lecture at ShiftCon, a green blogging conference, that I stopped to consider other reasons for not using plastics for cooking. The speaker, Dr. Laura Vandenberg, Ph.D., discussed her work on endocrine disruptors. I was shocked to learn how chemicals leach into our foods and personal care products.
Plastic bags are made from polyethylene plastic. This material doesn't melt in hot water, but the materials break down and leach into food at high temperature (like boiling water). When plastics are heated, the rate of chemical leaching is much higher. There is an article at LiveStrong.com titled "What Are The Dangers of Boiling Food in Plastic Bags?". It's a short article and worth the read if you are concerned about the safety of food storage/wrap products. You can also google this is you want more information.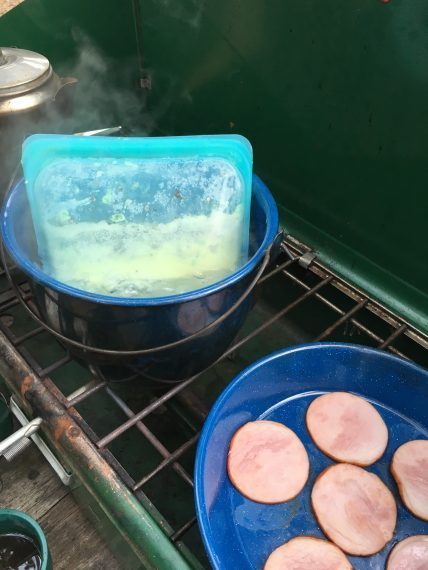 Boil in a Bag Omellete
Instead of cooking or boiling with plastic bags, use a food-safe silicone product. This summer, I was introduced to Stasher Bags via Leah Segedie from Mamavation. She shared an image of their food grade silicone bags and talked about how great they were. It had been ages since I made a boil in a bag omelette while camping, so I reached out the Stasher Bags myself and talked with them about their product. I bought several of their bags and use them for everything from food storage, school lunches, to cooking these omelets.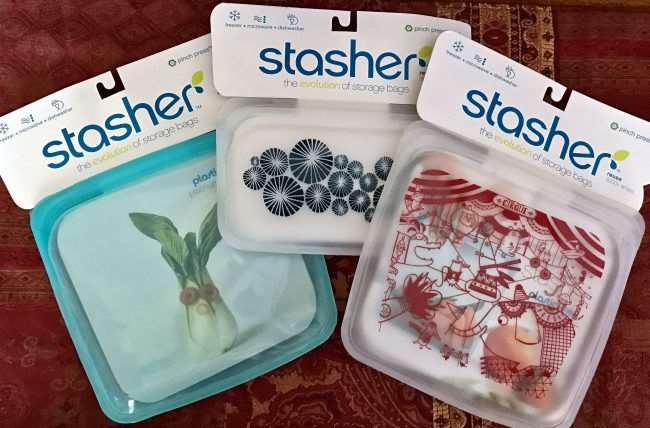 Stasher bags are 100% pure platinum silicone. They comply with FDA and European food-grade standards. They aren't made with any chemicals, fillers, petroleum, byproducts, etc. that could leach out into my food.
They are a product I feel confident in using. Now I can cook my omelettes in a bag again and enjoy them at the campsite or at home.
Favorite Boil in Bag Omelet Combos
Onions, mushrooms, and bell peppers
Tomatoes, sliced jalapenos, cooked chorizo sausage
Cheddar cheese and chopped ham
Spinach, Feta Cheese, and Sun Dried Tomatoes
Black olives, artichoke hearts, and tomatoes
Super Simple Omelette in a Bag
Yield: 1
The Perfect Omelet in a Ba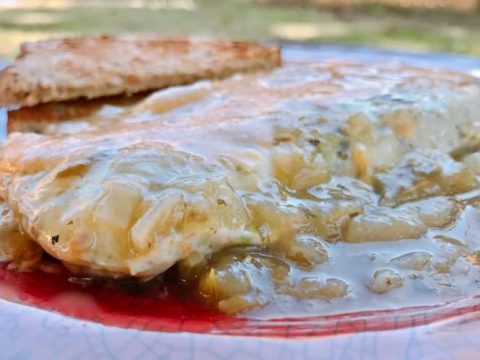 Ingredients
3 Eggs
3 Tablespoons of "Add-ins" ( I used chopped bell pepper, onion, & mushrooms)
Salt and pepper
Silicone Storage Bag
Optional: Shredded cheese and salsa
Instructions
Fill a medium sized pot 1/2 way with water and bring to a rolling boil.
Crack eggs into silicone bag.
Add "add-in" ingredients to the bag.
Remove as much air as possible from bag and seal.
Mix up the ingredients inside the bag.
Place silicone bag, seam side up, into boiling water.
Cook omelette inside the bag for 4-5 minutes.
Flip the bag over and cook for an additional 4-5 minutes.
Remove from water.
Open bag and remove omelette onto a plate.
Top with shredded cheese or salsa if desired.
Nutrition Information:
Serving Size:
1
Amount Per Serving:
Calories:

51
Sodium:

164mg
Carbohydrates:

1g
Sugar:

1g
Protein:

11g
Favorite Things Shown in this post : (No one paid us to write this. I just love this stuff)
If you are looking for other camping or quick & easy breakfast recipes, check out these: