This is a sponsored post in partnership with Rudi's Organic Bakery. I was compensated for sharing this recipe with you, but all opinions shared are all my own.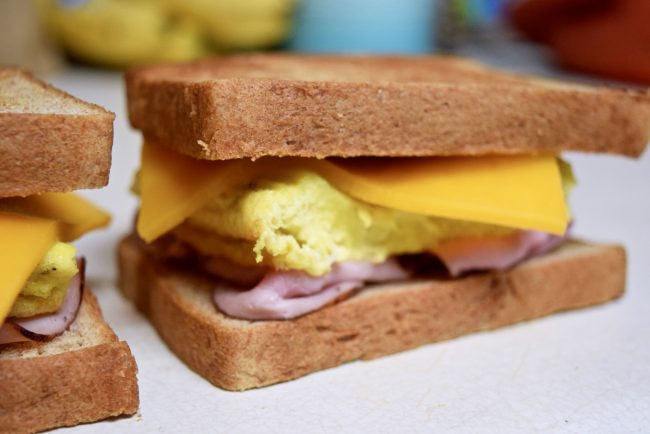 Back to school time is here and you know what that means. It's also back to hectic weekday mornings of rushing around to get everyone ready and out the door. Before the family rushes out the door, you want to give everyone the fuel they need to power through their day and keep them going.
I'm here to show you how to create easy, make ahead breakfast sandwiches that are perfect for back to school, camping, or anytime you want a quick and delicious breakfast.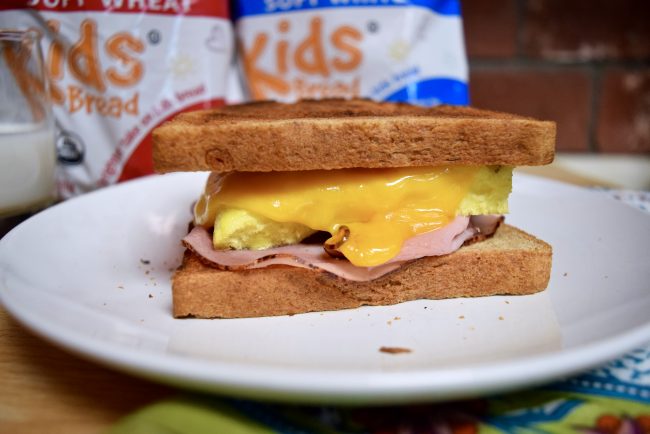 Easy, Make Ahead Freezer Breakfast Sandwiches
Instead of rushing and just throwing something together for breakfast or pouring a bowl of cereal, you can create these easy, make ahead freezer breakfast sandwiches. You can make a large batch one night or on the weekend, then pop them in the freezer. They store great and can be pulled out anytime you need a quick and delicious breakfast.
These sandwiches are great for camping trips and road trips too. You can freeze them before your trip, pack them in a cooler, and eat them wherever you are. Most hotel rooms now have small microwaves in each room. If you are camping, you can eat up the sandwich in a pie iron, skillet, or wrapped in foil and cooked directly over the fire.
Breakfast Ready in Just 2 Minutes
When you are ready for breakfast, remove the sandwich from the freezer and pop it in the microwave for just 90 seconds to 2 minutes. There's no thawing needed. Just pull them out and heat them up! You'll be enjoying a hot and delicious breakfast sandwich in no time. You may even have enough time to sit down and enjoy it before heading out the door.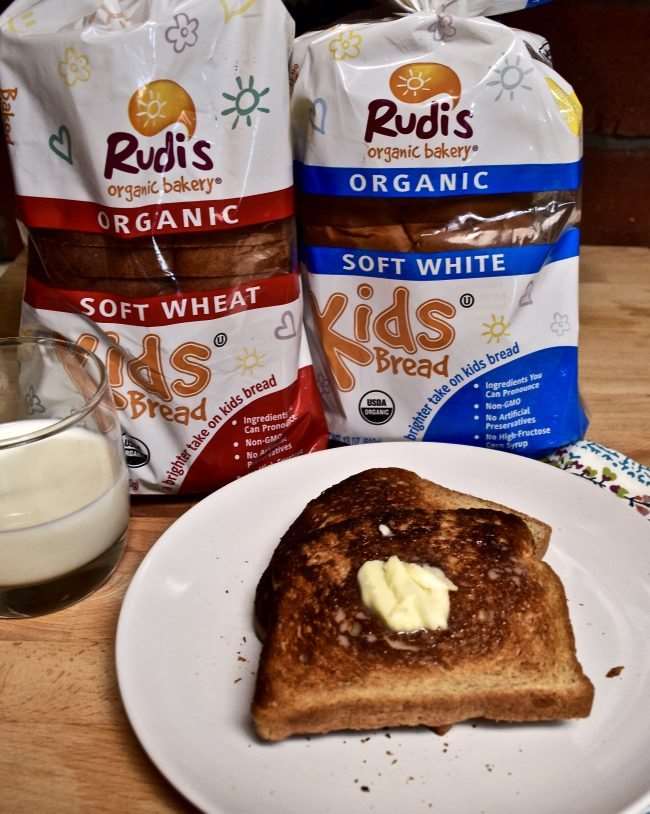 Healthy Breakfast Starts with the Right Ingredients
With three growing kids at home, I want to be sure that I am feeding them healthy foods everyday. I do that by selecting foods with real, simple ingredients. You know the things our grandparents simply called "food."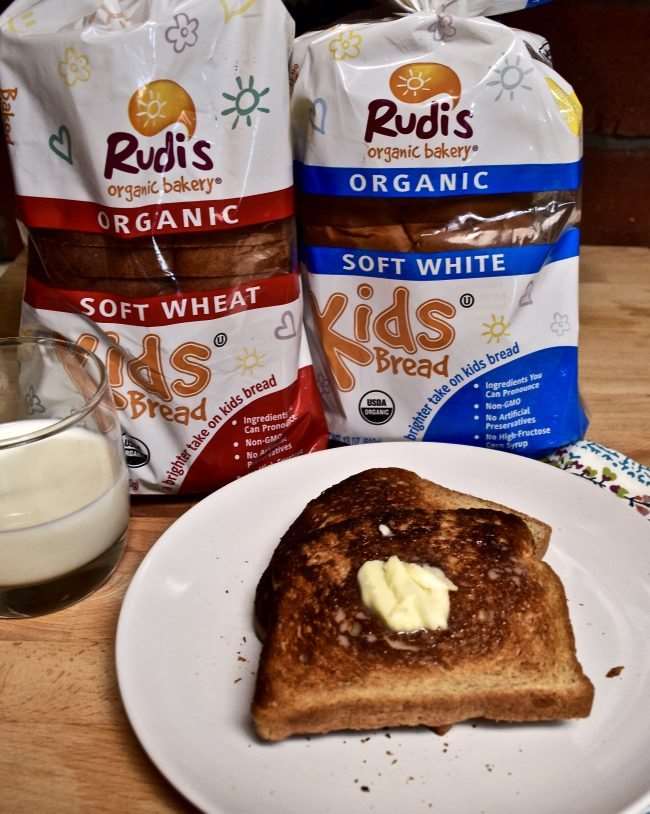 Rudi's Organic Bakery Kid Bread is one of the foods I can feel good about giving my family. Rudi's Organic Bakery has been baking with organic ingredients for over 40 years. They use simple ingredients I recognize and can pronounce. That is really important to me. Plus the kids love the way it tastes!
Rudi's Kids Bread comes in small, thin slices making it perfect for the kids and for these freezer breakfast sandwiches. The kids like that bread is soft and fluffy. I like that this bread has simple ingredients. It tastes like the sandwich bread I grew up with but without all the junk ingredients.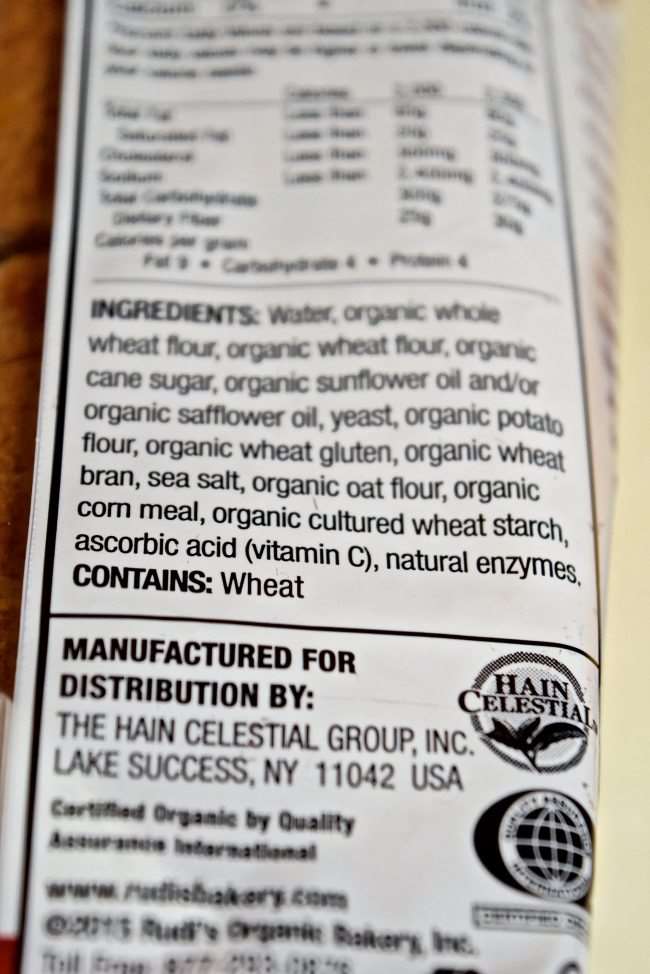 Rudi's Kids Bread is the only nationally available kids' bread that is certified USDA Organic and non-GMO verified. You can it in Original White and Whole White nationwide at Whole Foods Market. Find out more about Rudi's Organic Bakery® Kids Soft White and Soft Wheat Breads on their website.
If you are looking for more breakfast recipes –

Customized Freezer Breakfast Sandwiches
I am sharing a simple recipe, but you can easily customize these sandwiches. Add diced veggies and seasonings to the eggs before baking for a custom sandwich. We like to add diced bell peppers, onions, kale, and mushrooms to the sandwiches we take camping. It's completely optional, but get creative and find your favorite combination.
I've added instructions for reheated these sandwiches using a microwave, toaster oven/panini press, or over a campfire.
Easy, Make Ahead Freezer Breakfast Sandwiches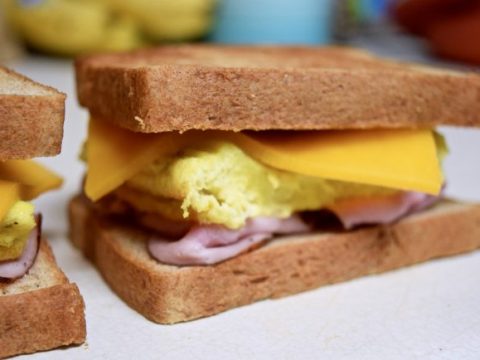 Ingredients
Rudi's Organic Bakery® Kids Soft White or Soft Wheat Breads, 16 slices
1/2 pound deli ham (look for one without additives or nitrites)
1 dozen eggs
3 Tablespoons Butter, melted
Cheddar cheese, 8 slices
Salt and pepper
Instructions
Baked Eggs
Preheat oven to 350 degrees F.
In a large mixing bowl, whisk together eggs. Add salt and pepper to taste.
Pour melted butter into a 9x13 glass baking dish.
Pour whisked eggs into baking dish.
Bake until the center is set, about 13-15 minutes.
Remove from oven and allow to cool.
Cut into 8 square portions.
Assemble Sandwich
For each sandwich, place 2-3 slices of deli ham on a slice of bread.
Top with a baked egg square and slice of cheese
Top with 2nd slice of bread.
Wrap each sandwich well in plastic wrap or aluminum foil.
Place in a freezer bag and store in the freezer.
To reheat in a microwave
Remove sandwich from freezer and remove wrapper.
Place on a microwave plate and microwave on high until hot in center, for 90 seconds to 2 minutes.
To reheat with a toaster oven or panini press
Remove sandwich from freezer and remove wrapper.
Heat oven or press to 350 degrees.
Place in oven or press and heat until hot in center.
To reheat while camping
Place aluminum wrapped sandwich near the campfire and allow the fire to heat the sandwich until hot.
Note: Be sure to wrap sandwich in aluminum foil and not plastic wrap before storing in the freezer. Sandwich can be reheated using a BBQ grill or steel grate over the fire or a rock around the campfire.
Nutrition Information:
Amount Per Serving:
Calories:

81
Total Fat:

9g
Protein:

1g
Create these freezer breakfast sandwiches and have them ready the next time you need a healthy breakfast when you are in a hurry. You and your children will love the way to helps start your day in a healthy way.
What's your favorite quick breakfast when you are in a hurry?