Whenever you go camping, you want to ensure that you have a healthy breakfast. You want the energy to power through your day and let you get out and explore the great outdoors. Whether you are looking for make ahead breakfast camping recipes or something to create on site, we have a great collection just for you!!

Breakfast Camping Recipes
I've put together a great list of breakfast camping recipes for you. There is everything from cold recipes like cereal and yogurt to scratch made pancakes in a iron skillet and Campside Quiche in a Dutch Oven. There is something for everyone in this round-up of breakfast recipes. Use these recipes as part of your total camping meal plan. If you need help making a plan, check out our tips on How to Create a Camping Meal Plan.
No Cook Camping Meal Ideas
Strawberry Yogurt Parfaits
Mix 1 cup of whole milk yogurt with 1/4 cup of your favorite fruit or berries. Add a sprinkle of granola, shredded coconut, or shopped nuts to mix your parfait. Assemble these parfaits in jars or cups at your campsite.
From Life Currents – This recipe includes a delicious homemade granola you can make at home before you leave for your trip. The granola also makes a GREAT trail snack.
Other Chilled Breakfast Ideas:
Bowl of cold cereal with milk
Fresh fruit or fruit salad
Bowl of instant oatmeal made with hot water heated over the fire or camp stove
Make Ahead Breakfast Camping Recipes
Made with chorizo sausage, potato, and egg, these breakfast burritos from Little Family Adventure are made at home and reheated on site. You can have a hot breakfast before you've had your morning cup of joe.
From Erica's Recipes – Make these ahead of time and store until ready to eat. Wrap in foil and reheat over the fire.
It's the best of both worlds; doughnuts and muffins. When you can't run to the doughnut shop, you can enjoy these tasty morsels.
From Juggling Real Food and Real Life, you can't go wrong with this combination of chocolate and peanut butter.
These real food bars are perfect for breakfast or as an afternoon snack.
This is our version of cake for breakfast. Skip the icing and package these tasty treats away for a campside breakfast. You can store the frosting in a plastic container and spread just before eating if you like.
Camp Stove Recipes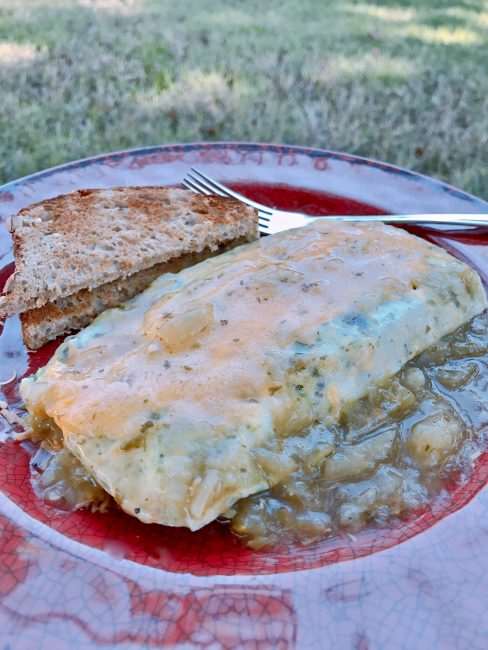 Dutch Oven Recipes
Campfire Quiche from Quarter Life Crisis Cuisine
Cast Iron Skillet Meals
Egg in a Hole from Little Family Adventure
This recipe is easily made in a cast iron skillet or a pan on top a cook stove.
Scrambled eggs go nicely with these.
Other Breakfast Camping Food Ideas:
Eggs and Sausage links or bacon (Tip: Cook your bacon or sausage half way at home. Then refrigerate it. Finish cooking it just before eating to cut down on cook time.)
French Toast
Hash (potatoes and leftover meat) and eggs
Omelette in a Bag (Tip: Store eggs in a plastic bottle or bag without the eggs to cut down on mess at the campsite)
Make Toast and spread with Nutella and sliced bananas or strawberries
Be sure to check out our other camping recipes and resources:

Camping Food- 26 Recipes for Your Next Camp Out

The Down and Dirty Guide to Camping with Kids – Review

How to Make an Inexpensive Road Trip: Go Camping
SaveSave
SaveSave