A pie iron is a great tool for campfire cooking. You can cook just about anything you can fit inside it. From breakfast omelettes to Grilled Cheese and Strawberry Shortcake, cooking with one is an easy way to cook up a tasty meal while camping.
What exactly is a Pie Iron? It is an outdoor sandwich maker. It is a shallow metal bowl that comes in two parts, a top and bottom. Both sides fit together and have long handles to allow you to hold over a campfire. They can come in square, rectangular, and round shapes. You can find specially molds ones for hot dogs/sausages too. They also go by different names:
Pudgy iron
Sandwich toaster
Jaffle iron
Toastie iron
Here are pictures of two that I have.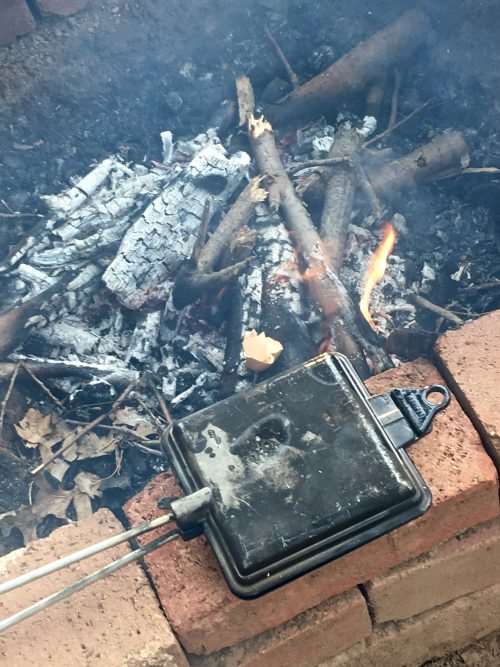 The picture above is an inexpensive aluminum version. This was the first one that I bought. It is adequate, but it was replaced with the one below.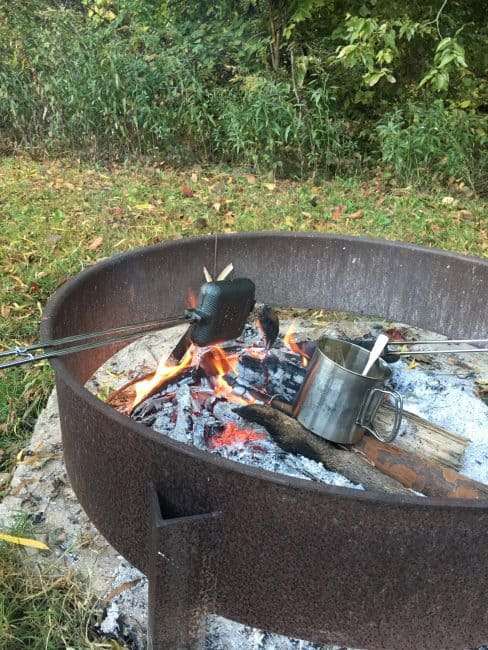 This is my newer cast iron version. I bought this one because I was tired of burning my food with the aluminum one. I highly recommend that you spend the few extra dollars and get a cast iron version. It's a little heavier than the aluminum, but that works to it's benefit. The heavier cast iron distributes heat better. Food cooks more evenly and is less likely to burn.
Disclosure: This blog contains affiliate links. They help pay for the coffee that keeps us turning out adventures week after week. I'll only recommend and share products that I use and love myself. Thanks!
Rome Industries 1705 Pie Iron Sandwich Cooker

Rome's 1605 Double Pie Iron with Steel and Wood Handles

Rome's 1805 Round Pie Iron with Steel and Wood Handles

Rome's 1998 Pie Iron Storage Bag, 30-Inch x 10-Inch

Rome Industries 2009 Rome's Pudgie Revolution Spiral Bound Cookbook, 6 by 8-Inch, Color

Rome's 1905 Dog 'n Brat Cooker with Steel and Wood Handles

Rome's 1405 Waffle Iron with Steel and Wood Handles

Rome's 1305 Panini Press Cooker, Cast Iron with Steel and Wood Handles

Rome Industries Pie Iron Kickstand, 15

Caring for your Pie Iron – Most new irons need to be seasoned before use. Simply cover them with cooking oil and hold over the fire until they just begin to smoke (a few minutes). Wipe clean and repeat a couple times to get a good seasoning on it. Once you are finished, you are ready to use it. (Note: You shouldn't have to season your pie iron after this first time.)
Clean your iron after each use and coat with a bit of oil before storing.
Want a complete weekend camping meal plan with recipes & printable shopping list? Click HERE & make your next camping trip deliciously fun and easy…..
How do I Cook with a Pie Iron? Place your ingredients inside the pie iron and cook over medium coals or low campfire flame. Rotate pie iron every few minutes to prevent burning.
What Can I Cook in a Pie Iron?
Just about anything! If you can fit it in, you can cook it.
Buttered Toast
Omelettes
Burritos
Fruit pies inside biscuit dough
Pizza with pizza dough, marinara sauce, cheese, and toppings of your choice
Bratwurst and Kraut
Grilled Cheese
Hot Paninis
Check out these recipes: