Whether at home or while camping, there are times you just don't want to cook! I don't blame you. Actually, I've been there myself (numerous times). So to help, let me share with you these easy camping food ideas – no cooking on-site required.
Camping is a great way to spend time with your family and friends. It doesn't matter if you're camping in the woods, by the beach, or on a mountain- it's always fun. Of course, one of the best parts of camping is all that delicious food you can eat!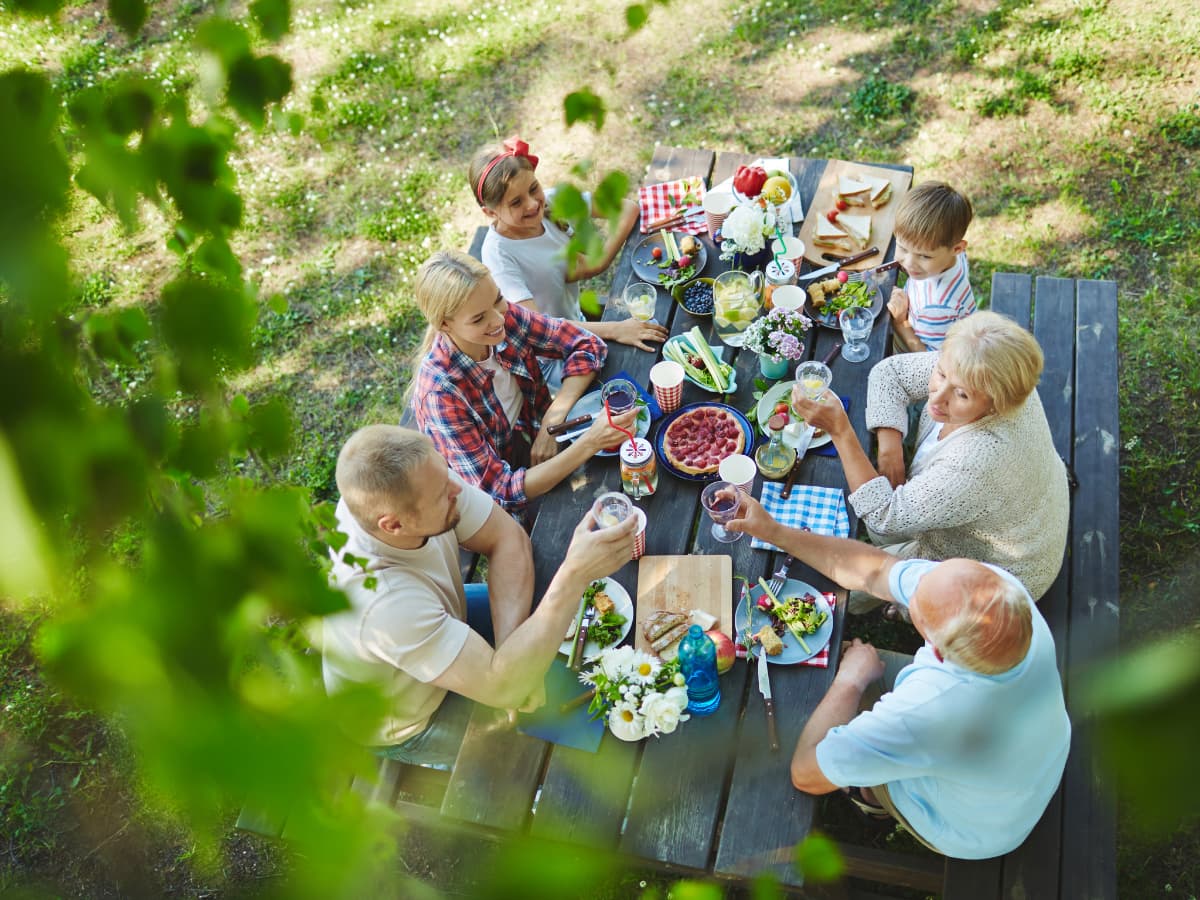 Camp cooking can be challenging for some without their creature comforts from their home kitchen. Others want easy meal options so they aren't spending all their time cooking camp meals. That's why we've put together this list for easy camping food ideas that don't require any cooking on-site. It's a bit like picnic food really just add a tent and ice cooler instead of a picnic basket. I find that vision imagine all kinds of picnic AND camp food ideas.
No Cook Camping Meals
When it comes to what food to take camping, no cooking ideas should be considered. Why? First, you don't have to spend all your time cooking on site. Secondly, they make great back up meals for when you can't start your fire (rain, burn ban, or whatever reason) and cook a meal the way you intended.
Want more camp trip planning tips and tricks? I offer 50 easy ideas here.
These are easy to prepare meal ideas for breakfast, lunch, dinner, and dessert. These will give you more time to focus on what really matters: having fun!
No-Cook Camping Breakfast Ideas
Breakfast Ideas: Breakfast is the most important meal of the day but it can be challenging if you're camping in an environment with no amenities or where there's not much space available. These no cook meals are high in protein and ideal for car camping or backpacking. Most require no refrigeration too! So if you want to get an early start and go hiking with the kids, throw food in your pack for a backpacking breakfast on the trail. What do I recommend?
Related: Get My tips on how to keep food cold while camping – these are great for keeping perishable foods safe even in the summer heat.
No Cook Camping Lunch Ideas
Lunch Ideas: Many days we aren't near our campsite at lunchtime. We are often out exploring the trails, on the water, or just out seeing the sites. Instead of packing cooking equipment, an easy-packed lunch is usually our go-to. Here are some of our favorite no cook camping meals for lunch.
What's the Best Food For Camping – No Cooking Required?
The best foods are those that are easy to prepare that you and your fellow campers will actually eat. When I go camping, I like to bring foods that are delicious and fill me up. After a day outside, all that fresh air makes one hungry. On my camping meal, you'll often like easy no cook camping foods like baked goods for breakfast, sandwiches and wraps for lunch, etc. For dinner, I love a snacking board with summer sausage, soft cheese, fruit, nuts, and crackers to enjoy around a campfire.
No Cooking Dinner Ideas
Dinner Ideas: Many of the easy camping meals you'd serve for lunch are good for dinner too. Here I am going to add a few more no onsite cooking ideas, but also a few that require boiling water or reheating to serve. I like options and hope you are finding plenty of them here.
When it comes to boiling water on the trail or at the campsite quickly, I highly recommend these three set-ups. These are what we use most often ourselves.
No-Cook Camping Dessert Ideas
Dessert Ideas: In the summer, sometimes it's hot enough that we don't want to cook anything. That doesn't mean we still can't eat dessert! There should always be dessert to satisfy your sweet tooth! Here are a few of our favorite camping desserts without any cooking on-site needed.
With 58 easy recipes for breakfast, lunch, dinner, and dessert- you're guaranteed to find a dish that is perfect for your next camping trip. These delicious ideas will save you time cooking so you can enjoy every minute of being outdoors.
Now that you have no excuses for not having a delicious meal while camping, don't forget to share your favorite recipe with us in the comments. We're looking forward to hearing about some of your most delectable camping dishes! Happy (camp) cooking and eating!