Are you considering going car camping for the first time? I'm partnering with Academy Sports + Outdoors to bring you helpful camping tips and tricks to help you gather your camping essentials, plan a camping menu, and get everything set up for the first of many great camping adventures.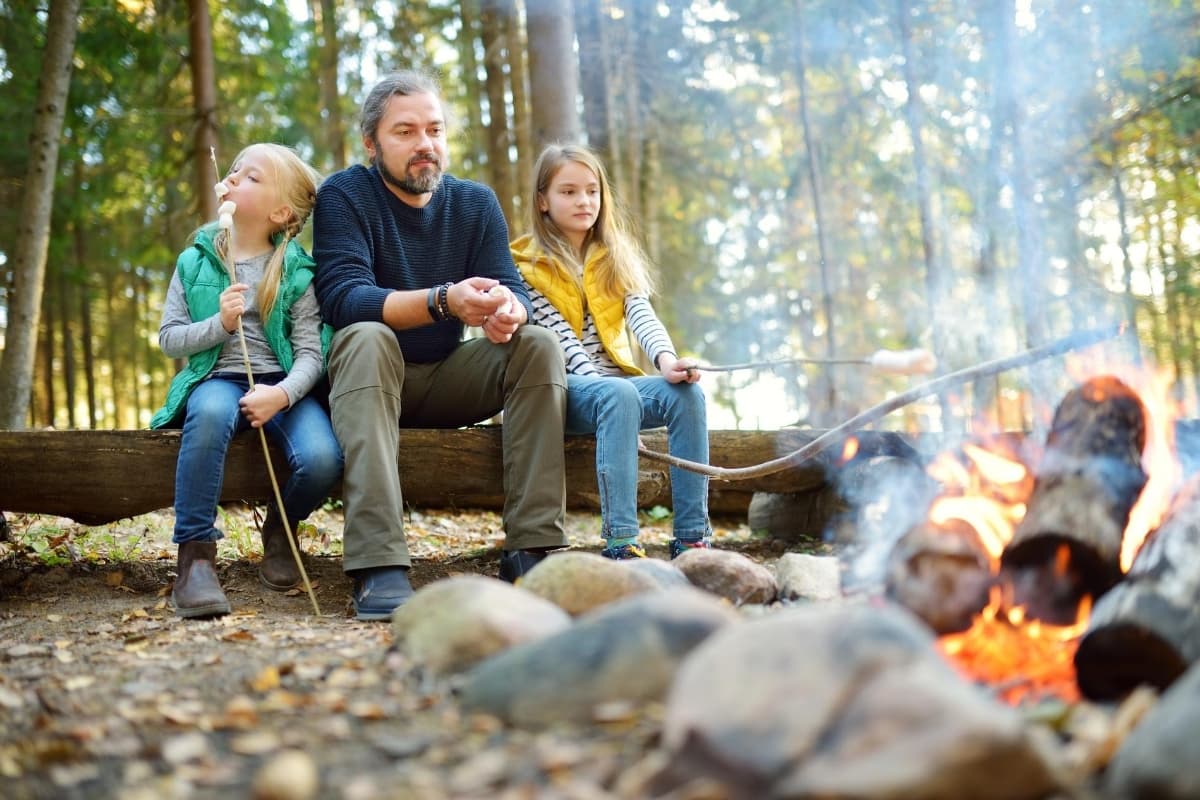 It's camping season! It's time to get outdoors, enjoy nature, and enjoy campfire cooking.
Beginner's Guide to Camping
Camping is a fun way to get outdoors with family and friends. There's a number of ways you can go camping, but here we are going to talk specifically about car camping. For families or anyone who is new to this, car camping is the easiest way to do it as you rent a campsite, drive your car and park very near your site, unload, set up, and enjoy the great outdoors.

Camping Tips & Tricks
Here are a few tips before taking your first car camping trip:
Give it a trial run and go backyard camping or stay at a campground closer to home. This will give you the chance to try it all out, learn how to set up the tent, and you aren't too far away if you decide to opt-out.
Watch the weather forecast. If the weather looks questionable, postpone the trip.
Pack clothes for cold and rain. Even during the summers, temperature drops in the evening after a hot day can feel chilly requiring a light jacket. Better to be safe than sorry.
Pack extra snacks because being active outdoors makes everyone hungry.
If staying in a campground, always follow park rules and be a good camper. Quiet hours mean exactly what they say and remember that voices carry in open spaces.
Get the kids involved in planning, packing, and setting up camp. A sense of ownership and pride in their work will encourage them to try new things.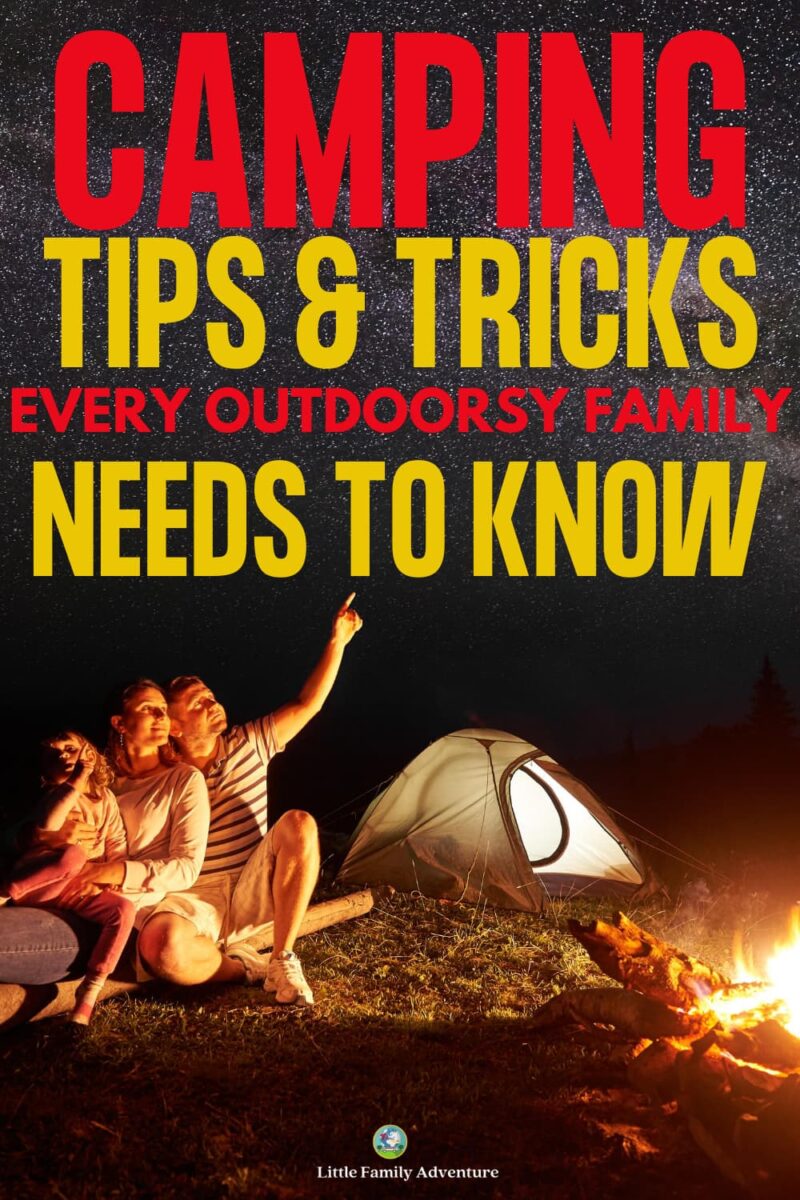 Where Should We Go Camping?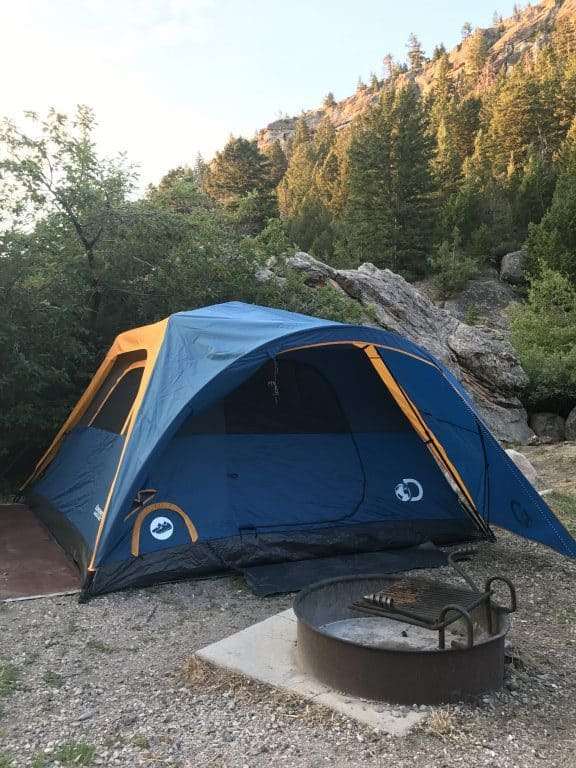 There are countless opportunities to go camping at national and state parks, private RV campgrounds, as well as primitive and dispersed (no facilities) camping areas on BLM (Bureau of Land Management) land. Some campgrounds are available on a first come, first served basis, while others accept reservations. You can make reservations for most public land campgrounds on Recreation.gov. Private parks will have their own websites.
As a first time camper, I suggest staying at a developed campground offering dedicated campsites, community bathhouses, flush toilets, picnic tables, potable water access, and a fire ring.
Once you find where you'll go camping, a little planning and prep is in order. This is the best way to ensure that your first camping trip goes off without a hitch. This will ensure you have what you need, meals are ready, and everyone is ready to go.
What Camping Essentials Do I Need?
If you're getting geared up to go camping for the first time, here is a basic list of camp essentials you will want to bring. If you want the ultimate list, see our full list of car camping must-haves.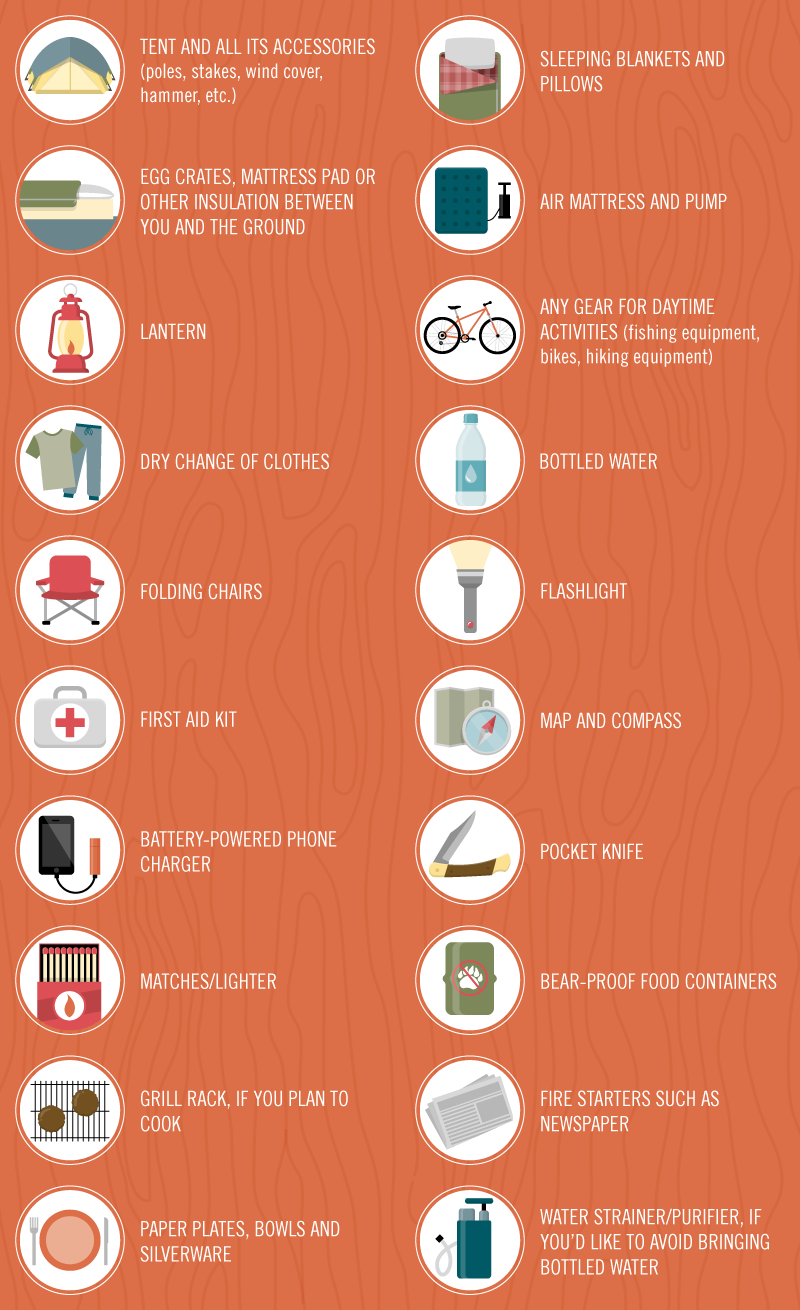 The tent and ground cover – You need a place for everyone to sleep, usually a tent. When buying a new tent, opt for one slightly larger than the number of people camping. A family of 4, is better off buying a 6 or 8 person tent to be comfortable and have room for your gear. Read more on choosing the best camping tent for your family.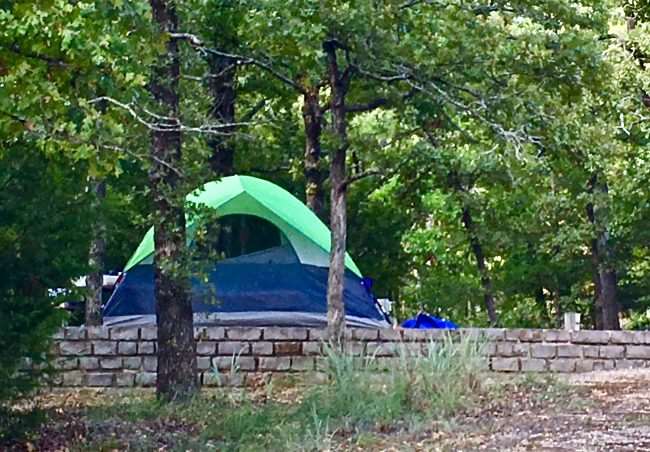 Tip: When you set up the tent, you'll want to lay a tarp the same size as the tent floor underneath the tent. If the tarp sticks out, tuck the edges underneath. This will protect the tent floor from rocks and help keep out water/condensation.
Something to sleep on -You want something to sleep on like a sleeping bag with an insulated pad, air mattress, cot, etc. There are a whole host of options here depending on what you have and what you want to buy. Possible options include an air mattress with sheets and blankets, sleeping bags with an insulated mat underneath, camping cots (we have these in both kids and adult sizes). At a minimum have a layer between you and the ground to prevent feeling cold from loss of body heat.

Cooking equipment – You can channel an early pioneer and cook over the open campfire with a campfire grate or Dutch oven. Yet, you can't go wrong with a classic two-burner camp stove. They are reasonably priced and require small propane bottles for fuel.

We bought this Camp Chef single burner stove a few years ago at Academy. Although I love my two burner camp stove, this single burner is convenient for overnight camping trips.
Eating Utensils – You need to bring all your own plates, cups, cutlery, and kitchen utensils for food prep and cooking. You'll also need to pack supplies to wash dishes; biodegradable soap, sponge or scrubber, and two small wash tubs or basins (one for clean water and one for dirty).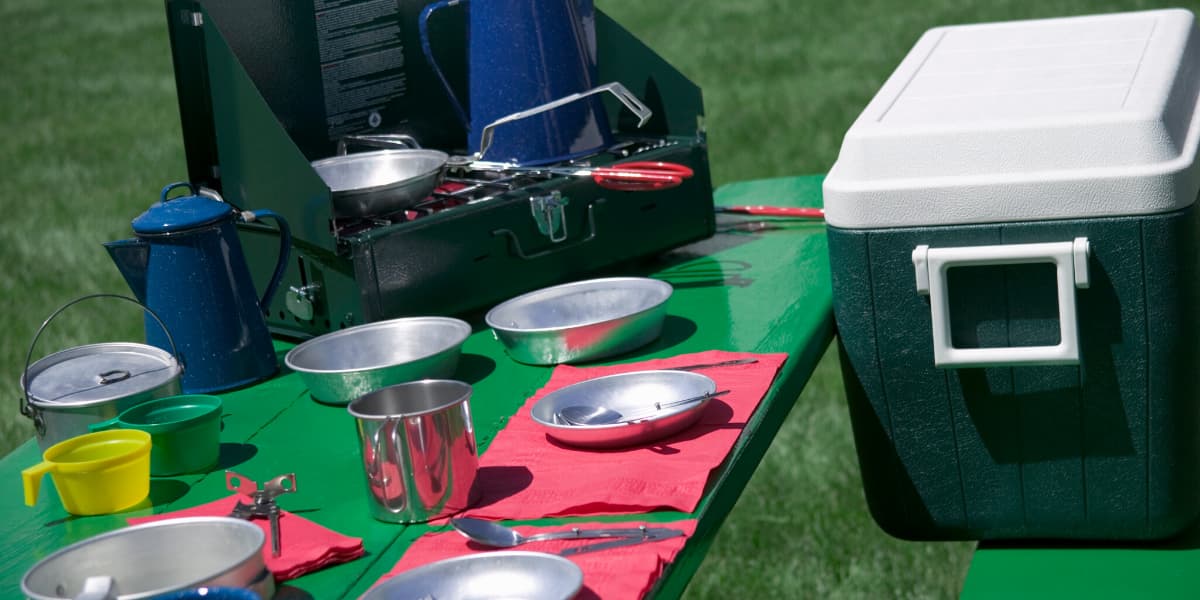 Tip: Store all your kitchen gear in a large plastic bin that locks to keep out small animals at the campsite and can be stored easily when home. If you are in bear country, always store food in a bear box or in your car.
Ice Cooler – You need a way to keep perishable food cold during your trip. Any size ice cooler that provides enough space for your food and keeps ice cold is good. Put anything that freezes well towards the bottom of the cooler. Top with other items and end with fragile items such as eggs or bread. If you are bringing chocolate for S'mores, store it in the ice cooler. Summer temperatures will melt the chocolate into a mess if you don't.
Tip: If you are concerned that kids will be in/out of the main food cooler getting snacks, get a second smaller cooler just for them. We have this 9 quart Igloo cooler that we got at Academy for under $10. We keep snacks for the kids inside like applesauce pouches, juice boxes, fruit slices, etc. It's a convenient size and ensures that the main cooler stays cold.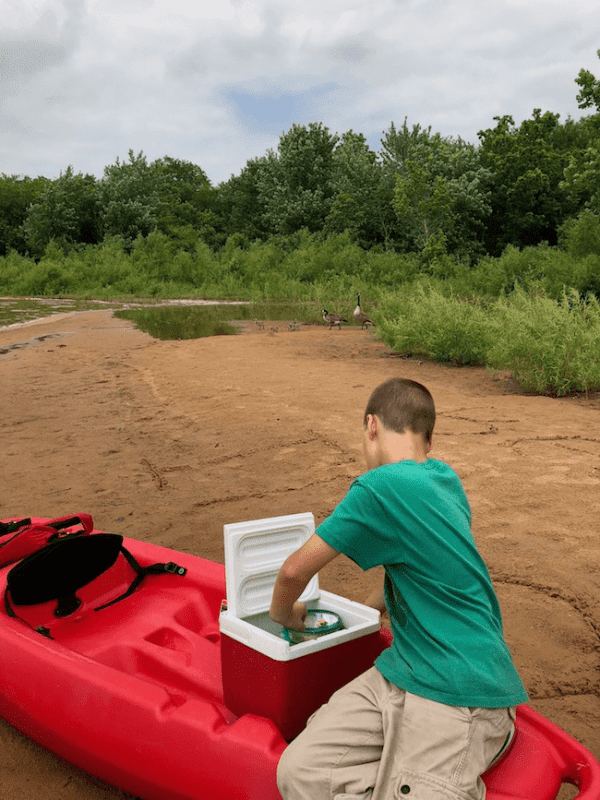 Tip: Freeze gallons of water and any meats you'll be cooking during the trip. It will provide additional cooling without having to add extra ice. It will also slower melt during the trip, providing additional drinking water and ready to cook meat.
Lighting – Campsites are not lit by artificial lights (street lamps). So you need to provide your own lighting. Flashlights and lanterns work, but headlamps provided directional, hands-free lighting. String lights are nice to drape around the tent entrance for illumination and glow lights or glow tape are great for putting on tent guidelines to prevent people from tripping over them at night.
Camp Chairs: These are not always essential as some campgrounds have picnic tables at each campsite. But a comfortable camp chair is ideal for sitting around the fire. Select a chair that is comfortable to sit in that doesn't put pressure on the back of your legs. A mesh chair is best as it dries quickly if there is high humidity or dew in the air.
Tip: Never leave your camp chairs sitting out over night. Always fold up and put away your camp chairs at the end of the night. Morning dew can soak a chair leaving you with only a wet, soggy place to eat your breakfast.

Safety items – First Aid Kit is a must for any outdoor recreation. At a minimum bring extra bandages, first aid ointment, bug bite relief cream, insect repellent, sunscreen, and sunburn relief. It is also good to bring personal sized toiletries of hand soap, shampoo, and hand sanitizer, plus bath towels and toilet paper just in case.
Fun items – Bring a few games to provide fun & recreation. Get our free camping charades and pictionary printables for fireside shenanigans.
Test Your Gear Before the Trip
Once you've gathered all your gear together, you'll want to test EVERYTHING! The kids will love helping with this part and it's good to get them involved.
Ensure that the tent is intact and has all the pieces (a pre-trip backyard camping night may be in order).
Is the cookware clean and in good order?
Do stoves have enough fuel?
Did you check if lanterns and headlamps all have batteries or are charged?
Is your First Aid Kit WELL stocked?
If you are looking for outdoor gear deals, check out these everyday low prices at Academy Sports + Outdoors:
How to Build a Campfire
Take a look at this YouTube video that shows how to construct 5 different types of campfire and talks about the pros/cons of each.
What to Wear Camping
Wear what you are comfortable with that can get dirty. Layers are highly recommended in every type of weather so you can remove or add as the temperature changes. Bring a warm coat and rain gear just in case. It's also best to have it just in case. Also, bring shower shoes or slip ons for showering in the community bathhouse and late-night trips to the bathroom.

Camp Meal Planning
The Golden Rule is "Simple is Better." At a minimum you should create a menu and grocery list for what you'll need to bring with you and what you'll cook during the trip. Menu ideas include store bought or homemade pressed sandwiches for dinner out on the drive to camp, oatmeal or cereal for breakfasts, premade camping meals like stew for dinner, or hamburgers with side dishes. Don't forget the marshmallows and chocolate for s'mores.
Cook with the Camp Cookware you Have
When cooking outdoors, opt for simple prep and cook meals that use that same 1-2 types of cookware. You'll need to pack everything you need; ingredients, cookware, campstove, charcoal, plates, silverware, etc. So planning to take cookware you already have or can borrow can help lighten the load. Here are a few examples:
Cooking on a camp stove and cast iron skillet or stainless pot/pan – Anything pan-fried, sautéed, or boiled etc. Boil in bag omelettes, sloppy joes, blackened catfish, sausages, fried eggs, stir fry, etc.
Cooking with a Dutch Oven – Bake, braise, and stew in a Dutch Oven. Easy Dutch oven recipes include our Taco Soup, chili, and peach cobbler.
Campfire with cooking grate or BBQ grill Cooking – Grilling and foil packets are two popular ways to cook over open flames. You can grill sirloin steaks and burgers, make a flatbread pizza, or package everything up for one of these foil packet recipes. My favorite is a sausage, sweet potato, and brussel sprouts packet.
Tip: If you want to buy a camping coffee maker, check out this camp coffee article that compares seven ways you can make coffee outdoors.

Click above for a pdf printable version of the weekend camping meal plan.
Check the Weather
As the saying goes, "If you don't like the weather wait five minutes and it can change." Weather can be erratic all year long, so it's important to be mindful of the weather forecast before and during your trip.
During dry conditions, high fire danger is a concern. Burn bans may be in effect for the area you want to visit prohibiting an open campfire. If bad weather or a burn ban is likely, be sure to take the necessary precautions for a safe camping trip.
Note: I learned this one the hard way. One trip years ago, I didn't check the weather. There was a burn ban in effect for our area for the entire week we were there. The camp menu I planned and bought groceries for used the campfire; grilled chicken, baked potatoes, foil packet meals, etc. Open fires were prohibited and we didn't have enough propane bottles with us. The camp store came to the rescue at a hefty premium. Now I check and recheck the weather before every trip.

Tips for Setting Up Camp
These next few tips are universal no matter where you go camping:
Setting up the campsite shortly after you arrive – This task is best done at the beginning of the campout and not after it gets dark. Whenever possible, let the kids help out and assist with set up.
Set up tent in an area with partial shade – This helps protect the tent against the midday sun. If there are no trees around to help provide that shade, a tarp hung over the tent will also help. Shielding the tent from the sun will help keep the interior of your tent cooler and more comfortable at night.
Set up your tent a short distance away from your cooking/campfire area – Ten feet away is the distance we strive for. It provides a reasonable space away from the campfire smoke or any ash/embers that blow out of the campfire.
Prepare your tent foundation – Pick up any rocks or twigs where the tent will be laid over. This provides a smoother surface to lie on and reduces the chance the tent floor will snag or tear. Lay a tarp down over that cleared area to protect the bottom of the tent from other debris and provide a water barrier.
Let the kids help set up camp – Everyone can help set up camp. Give the kids the task of setting up the sleeping area by laying out all the bags. This is a great chore to let the kids help out and be in charge of.
Prevent headaches – If your tent is on a slope or incline, place the sleeping bags so that your head is facing uphill. Otherwise you'll wake up with a killer headache.
Create a family sized sleeping bag if needed – You can create a larger "family sized" sleeping bag by zipping two rectangular bags together.
Too warm for a sleeping bag – If the night time temperatures are too warm to sleep inside your bag, you can open it up and use it as a base. Then add a flat sheet or light blanket on top.
Lock away everywhere when not in camp – Local wildlife are accomplished snatch and grab artists. So don't leave food or garbage out unattended, day or night. Store everything in a large plastic bin and lock it in your vehicle when you are away and at night. If camping in bear country, check the local rules on bear lockers.

This beginner's guide to camping will get you started on an amazing family camping trip. If you are looking for new gear, Academy Sports + Outdoors is a place to get it and clothing, all at great prices. Shop their weekly ad for the latest in savings on clothing and outdoor gear.
For more helping tips get outdoors as a family, also check out: