This post is sponsored by Kingsford but the content and opinions expressed here are my own.
Fire Up The Barbecue to Create this Charcoal Grilled Sirloin Steak with the Best Steak Marinade with Fresh Herbs and Garlic.
In partnership with Kingsford Original Charcoal, I am bringing you new recipe for your next outdoor cookout. I know you are going to enjoy this Grilled Sirloin Steak and the best steak marinade that ensures they come out perfect every time! All opinions are my own, but you already knew that!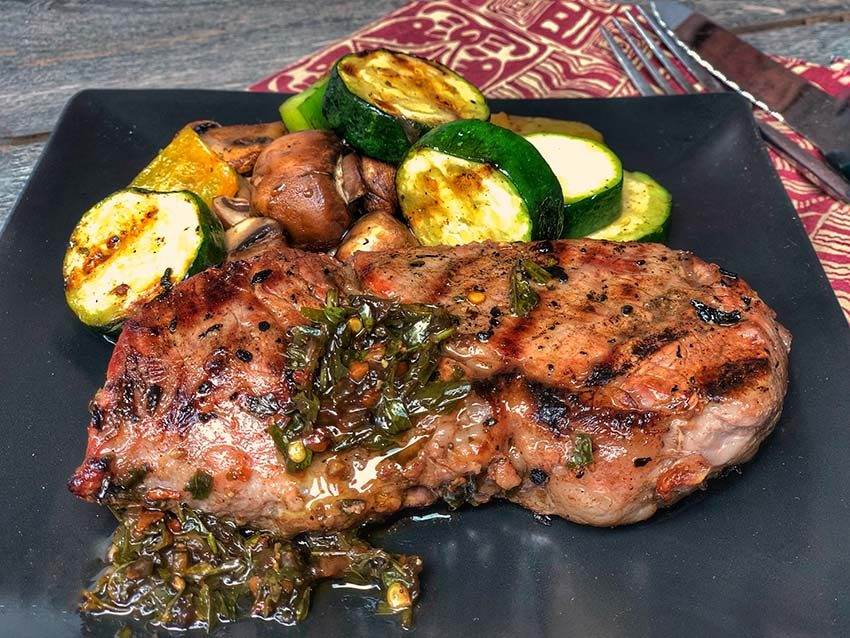 Could there ever be a bad time to fire up the grill? Nope, I can't think of one! Grilling and cooking outdoors is interactive and brings everyone into the kitchen for great food and fun. For your next backyard cookout, I have a delish grilled sirloin steak recipe for you using the best steak marinade. It's similar to a chimichurri sauce and is always a HUGE hit at our family barbecues. You are going to love it!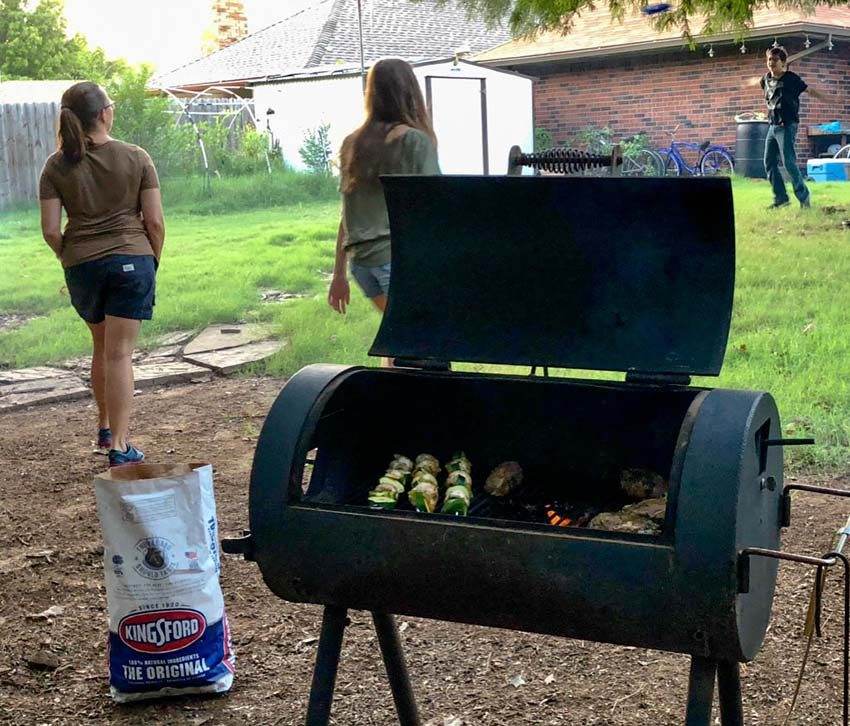 Growing up I remember when my extended family got together, we always had a barbecue. It could be a birthday, a holiday, or just because the sun was shining. I honestly can't remember a single party where by uncle wasn't the master of the grill and cooking up carne asada or burgers.
If you want more grilled recipes, click on these: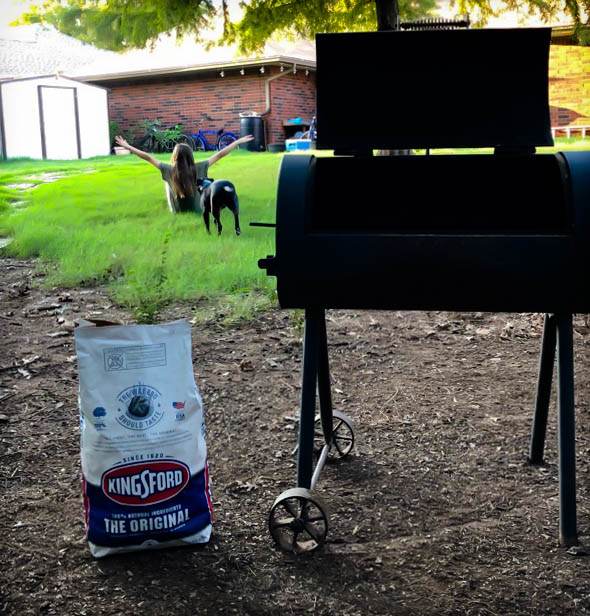 Today our family continues that tradition. Friends and family know that a party at our house will ALWAYS be a BBQ. Someone is manning the big charcoal grill, kids are playing in the backyard, and everyone is laughing and having a great time.

Charcoal versus Propane
Everyone has their opinion on which grilling fuel is best. Each has its advantages. Yet for me, I really enjoy the flavor food gets from cooking over charcoal. Kingsford Original Charcoal always gives me the smoky wood-fired flavor I want and it's very versatile. I can sear vegetables quickly over high heat, take it low and slow with pork ribs, cook these petite sirloins or even a bavette steak (also known as a flank steak) over medium heat. It isn't a party without that grilled flavor.

Want great BBQ Side Dishes? What about?
Easy Steak Marinade Recipe
This simple and quick steak marinade is my version of a Latin American inspired Chimichurri sauce. It has fresh parsley, thyme, garlic, onion, red chile flakes, lemon juice, and vinegar. It really is the best steak marinade for grilling because it can be used for beef, pork, chicken, AND vegetables. Plus the incorporated oil serves to prevent food from sticking to the grill surface. Did I mention it's also a keto friendly recipe too? It is, it is!

Note: You never want to spray oil onto a hot grill directly. It's a fire hazard! Always add oil to whatever you are cooking before placing it on the grill.
For this chimichurri steak marinade, I like to use Balsamic vinegar instead of the more traditional sherry vinegar or white wine vinegar. I like the flavor profile of Balsamic better and when it's caramelized… oh boy is it good! I actually like it better than recipes using Worcestershire Sauce. Plus the vinegar and lemon juice in this homemade steak marinade help break down the connective tissue in a cut of steak like a strip steak or flank steak. The end result is a steak that is tender, moist, and packed with flavor.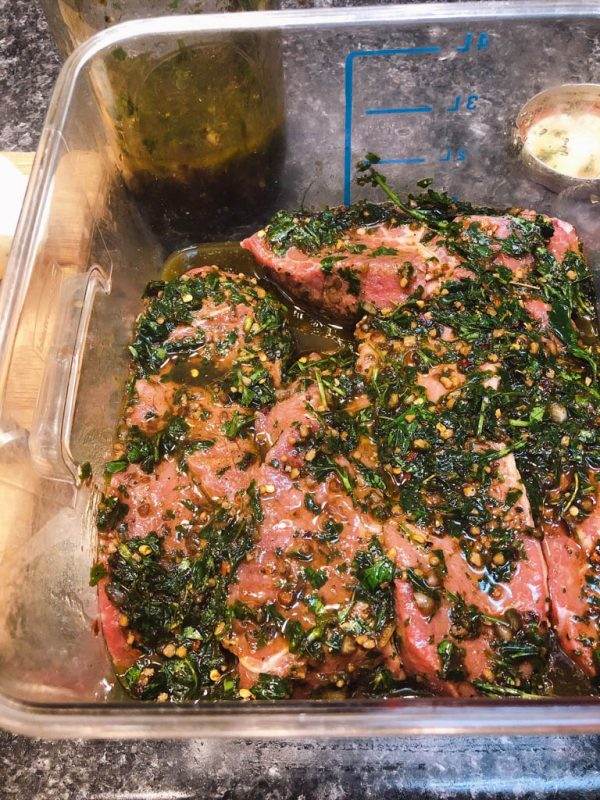 To make this herb and Balsamic vinegar marinade/sauce, just combine everything in a bowl and use as you would like. If you want to make quick work of all the chopping, you can place the herbs, garlic, and onion in a food processor and pulse until chopped. Then add remaining ingredients and pulse until well combined. This method is easier but the end result is more of a blended sauce than what a traditional chimichurri looks like. Taste is the same in my opinion.
How Do You Marinate Steaks?
A good rule of thumb is a minimum of two hours. Overnight or 24 hours is best for a fuller flavor. But if you are short on time, I would start with two hours. Place the meat into a dish that has a lid and pout the seasoning liquid over it. If it doesn't completely cover the meat, turn it occasionally. Add the lid and store in the refrigerator. Note: you should never leave meat out at room temperature for a long period of time.
Super Quick version: If you don't want to wait even that long, you can also place the steak(s) and marinade into a vacuum sealed bag and it cuts time by more than half. Basically it forced air out and pushes the seasoning into the meat more quickly.

Sirloin versus Petite Sirloin
There are many different types of steak that cook up great on the grill. Two of my favorites are the sirloin and petite sirloin. The difference between the two is that the petite sirloin is closer to the rump muscles. That makes it not as tender as the traditional sirloin. Yet when you marinate the steaks, that eliminates the issue. So you'll get a great steak that is CHEAPER that a regular sirloin with better flavor, in my opinion. I've talked long enough about it though. Get my recipe below and fire up the grill for your next get together.
Grilled Petite Sirloin Steak
Yield: 5
Grilled Petite Sirloin Steak with Chimichurri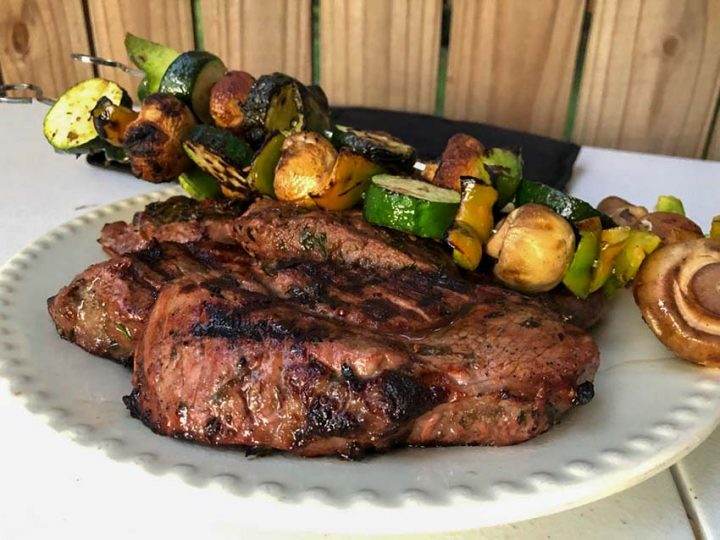 This is a delish grilled sirloin steak recipe using the best steak marinade. It's a chimichurri sauce made with Balsamic vinegar. Use it as a marinade and serving sauce. It's always a HUGE hit at our family barbecues.
Total Time
2 hours
25 minutes
Ingredients
4-6 petite sirloin steaks
Chimichurri Marinade/Sauce
5 minced garlic cloves
1 bunch flat leaf parsley, finely chopped
2 Tablespoons fresh thyme, finely chopped
2 lemons, juiced
3/4 cup olive oil
1/2 cup Balsamic vinegar
2 teaspoons salt
1 teaspoon black pepper
3 Tablespoons onion, finely chopped
1/4 teaspoon red chile flake, optional
Instructions
Combine all the ingredients for the Chimichurri sauce in bowl. (See note in the article under Easy Steak Marinade about using a food processor to save time)
Place steaks in a shallow dish and pour 1-2 cups of Chimichurri over steaks.
Allow steaks to marinate a minimum of 2 hours through overnight.
Heat a charcoal grill and adjust racks to 4 inches above the coals. Grill 10 minutes on one side and 5 minutes on the other for medium rare.
Baste with Chimmichurri several times during grilling for a great flavor.
Remove from grill and allow to rest for a few minutes before slicing.
Slice on the diagonal and serve with additional Chimichurri sauce on the side.


Notes
To make chichurri in a hurry, place all ingredients in a food processor. Pulse until well combined.
Recommended Products
As an Amazon Associate and member of other affiliate programs, I earn from qualifying purchases.
Nutrition Information:
Yield:
5
Serving Size:
1
Amount Per Serving:
Calories:

577
Total Fat:

47g
Saturated Fat:

10g
Trans Fat:

0g
Unsaturated Fat:

34g
Cholesterol:

94mg
Sodium:

912mg
Carbohydrates:

10g
Fiber:

1g
Sugar:

5g
Protein:

28g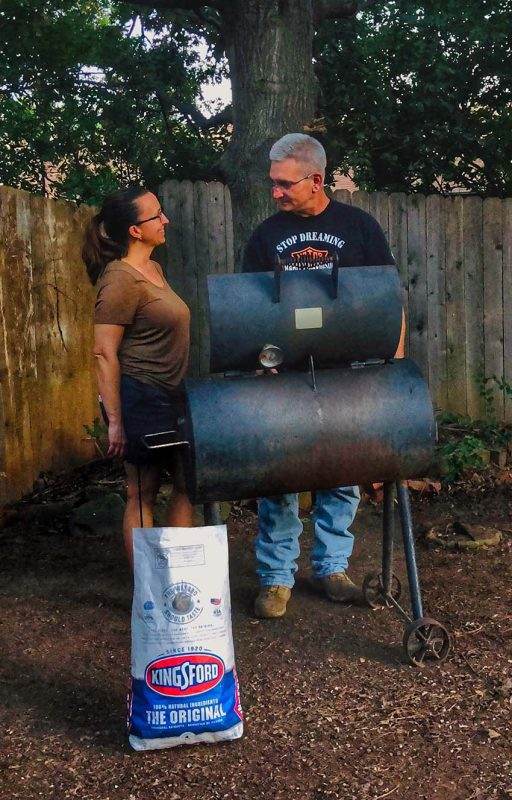 This Chimichurri steak marinade is also great for turkey and chicken. With Thanksgiving coming up, consider swapping out your normal menu and grill out instead. You can also add the Chimichurri to roasted potatoes and grilled vegetables for a great twist on traditional side dishes. Nothing beats the wood-fired flavor that you get from Kingsford® Original. It's made with 100% natural ingredients including North American wood. Imagine your guests delight at a charcoal grilled feast to celebrate the holiday!


So tell me – What will you be charcoal grilling to help you make the most of this season? Will it be favorite sides, salads, bread, or the main dish? Tell me in the comments below.