Master your grill with an easy recipe like this one for grilled shrimp kabobs. These skewers cook up quickly on the backyard barbecue or over a campfire (with a cooking grate) during your next family camping trip. A simple grilled shrimp marinade with garlic and olive oil really packs on the flavor. They will turn out delicious EVERY time!
These grilled shrimp kabobs are a great way to get the kids involved in the kitchen and working alongside you. Food cooked on a stick is a fun way to cook and kids love to help you get them ready for the grill. Younger children can help peel shrimp and thread items onto each of the skewers. Older children can help you cut up the vegetables and pineapple. A family that cooks together is a happy (well fed) family!
Pin this for later….
For more recipes like this, follow us on Pinterest.
* This article contains affiliate links. Purchase through our affiliate links and we receive a small commission without any extra expense to you!
Grilled Shrimp Marinade
This grilled shrimp marinade is really simple with just 5 ingredients; minced garlic, olive oil, salt, pepper, and pineapple juice. Marinating the cut vegetables, pineapple, and shrimp helps to lock in all the flavor and prevents the food from sticking on the grill. Instead of oiling the grill, I add a little extra oil to the marinade. Makes things a lot easier!
How Long to Grill Shrimp
The ideal temperature for grilling shrimp is medium heat (350-450 degrees). If your grill doesn't have a temperature gauge, the easiest method to determine heat is by using the Hand Test Method. Place your hand 5 inches above the coals/heat source and count down the seconds until it gets too hot to have your hand there. It will feel hot and NOT hurt.
So for medium heat, you will hold your had over the heat for 5-7 seconds.
Now that you how what temperature, let me share how long to grill shrimp. Over medium-low direct heat, shrimp will be done in 5-7 minutes. During cooking you'll turn a few times to cook evenly. You'll know they are done when the shrimp turns pink outside and is white and opaque inside.
Metal or Wood Skewers?
With kabobs or skewers, you can use metal skewers or wooden ones. If you are using wood, you will need to presoak them in water for at least an hour. Soaking them will help prevent them from burning when you add them to the grill.
Cooking Alternative – Shrimp Kabobs in the Oven
Preheat oven to 450 degrees F. Cook the shrimp kabobs on a baking sheet for 5-7 minutes, turning once.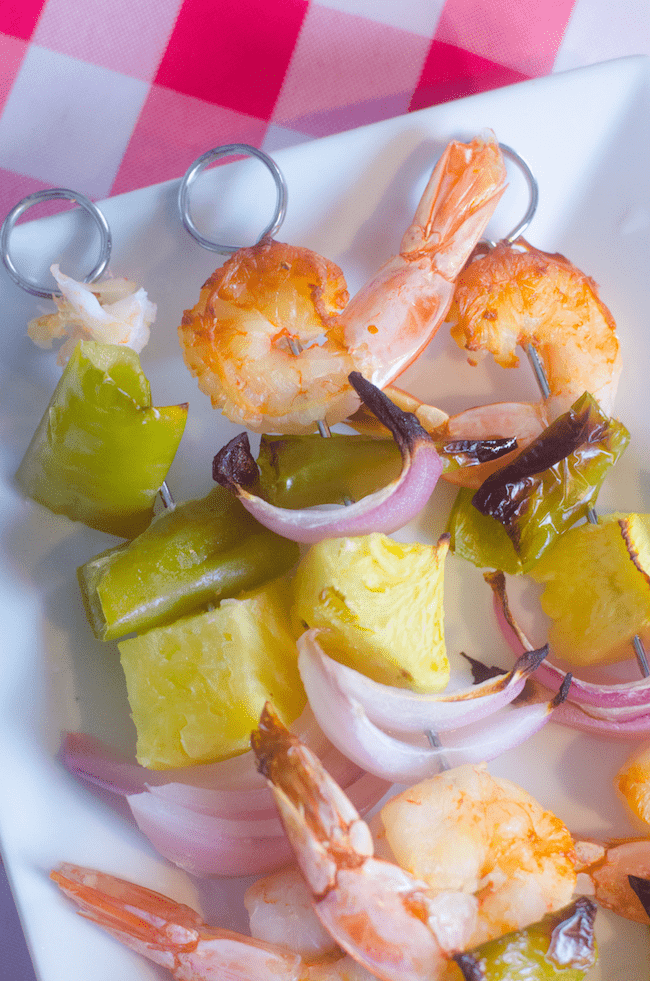 Yield: 4 servings
Garlicy Grilled Shrimp Kabobs
Ingredients
3 cups fresh pineapple chunks; reserving any juice
1 red onion; quartered
3 Anaheim peppers
32 large shrimp; peeled & deveined
2 tablespoons minced garlic
4 tablespoons olive oil
1/2 teaspoon salt
1/2 teaspoon pepper
Instructions
Cut up a whole pineapple into chunks, removing the skin and the core. Reserve any juice from cutting up the pineapple.
Quarter the red onion.
Slice and remove seeds from the Anaheim peppers.
Combine garlic, reserved pineapple juice, olive oil, salt, and pepper in a container.
Add shrimp, pineapple, and vegetables to the container. Stir to combine and allow to marinate for at least 30 minutes.
Thread shrimp, pineapple, onion, and pepper onto the skewers. Continue until the skewers are full and you have no remaining ingredients.
Place skewers on the grill and top with any remaining garlic marinade. Grill for 5-7 minutes turning often till vegetables are cooked and shrimp is pink and starts to brown on the edges.
Remove from grill. Serve!
Nutrition Information:
Yield:
4
Serving Size:
2 kabobs
Amount Per Serving:
Calories:

357
Total Fat:

15g
Saturated Fat:

2g
Trans Fat:

0g
Unsaturated Fat:

12g
Cholesterol:

93mg
Sodium:

723mg
Carbohydrates:

47g
Fiber:

3g
Sugar:

38g
Protein:

12g
If you like this grilled shrimp Kabobs recipe, you may also like these:
Spicy Pork Chops and Grilled Peaches
Yogurt Marinated Chicken and Vegetable Skewers
SaveSave
SaveSave
SaveSave
SaveSave