We are partnering with ALDI to bring you a delicious Yogurt Marinated Chicken and Vegetable Skewer recipe. Compensation has been provided. All opinions are completely ours.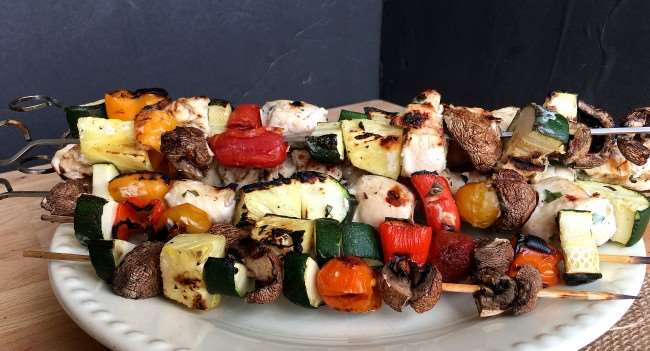 Getting our kids to eat healthy isn't always easy. As a parent, we all want to model good eating habits and teach our children to love eating a healthy diet. Although, at times, it can seem like an uphill battle, we have a secret that will help you win the mealtime battle and a recipe for that is sure to become your NEW family favorite.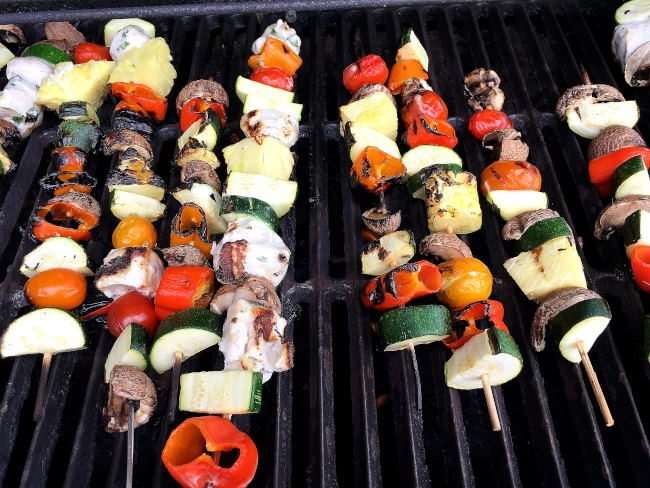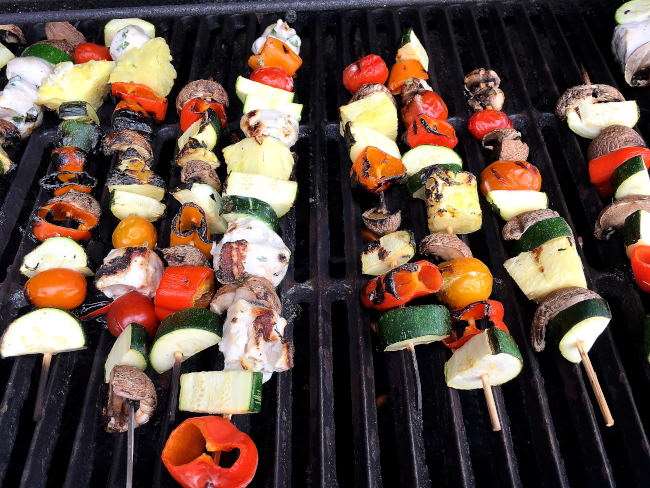 There are a few reasons why I say your family is going to LOVE this Yogurt Marinated Chicken and Vegetable Skewer recipe:
The kids can help with making this recipe
This recipe is perfect for the grill or barbecue
The chicken ALWAYS comes out juicy and delicious
Perfect for leftovers or second day recipes like rice bowls, frittatas, Paninis, etc.
Pin This For Later……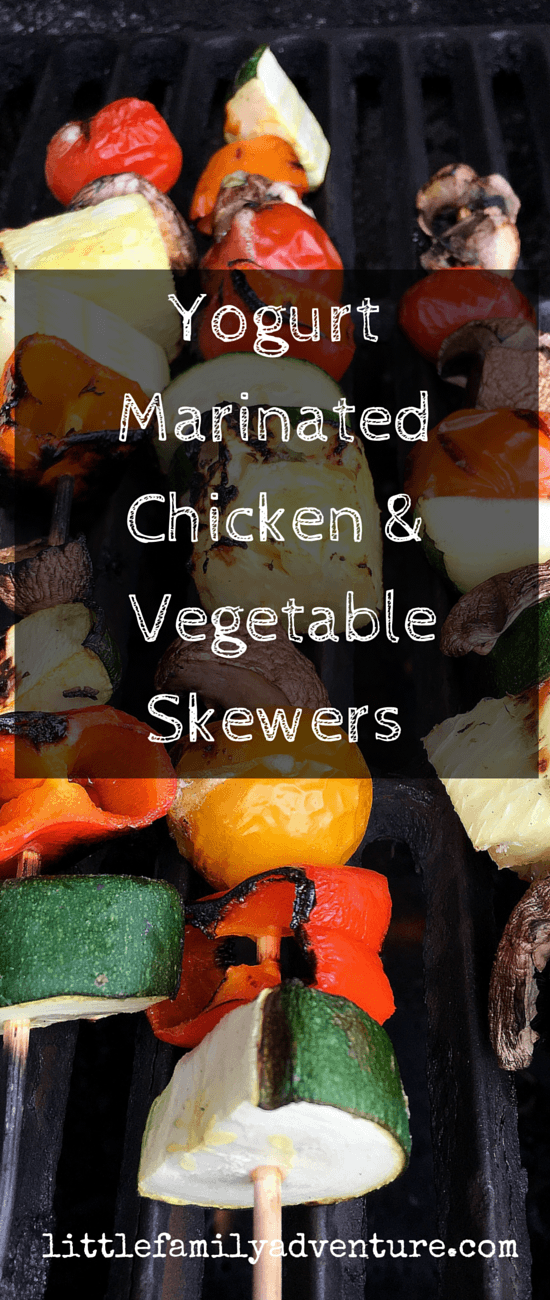 Before I share my recipe for Yogurt Marinated Chicken and Vegetable Skewer, let me share a secret with on how I get my kids excited to eat their veggies…..
Are you ready for the secret? Here it is………
Get the kids involved in cooking
That's it! That one simple thing will help your kids eat their veggies. It will also teach them about healthy eating and give them a few necessary life skills that will benefit them for years to come.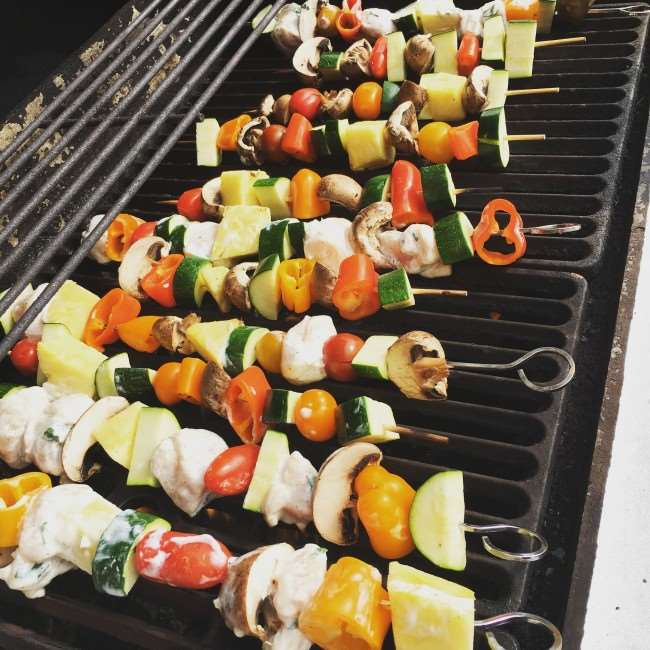 Now that you know the secret, let me share with you how we get our kids involved in cooking and give you the recipe for these delicious grilled skewers.

Want Healthy Eaters? Get Kids Involved in Their Food
So I shared the secret to getting kids to eat healthy on the previous page. I'm sure you're wondering "How we do that exactly?" Right?
Let's take a look at how you can make it happen in your house.
First, go grocery shopping together.
We, almost always, take the kids to the grocery store. The kids see the food choices we make and learn to do it themselves. We read labels, pick out foods together, talk about making healthy food choices, etc.
ALDI is our go-to grocery store because they make healthy eating easier while helping me stay on budget. We love shopping at ALDI's because we can find the high quality ingredients we need to make delicious, real food meals. Plus I know that ALDI will help save me time and money too! All of their products are clearly labeled taking it easy to avoid the ingredients we don't want. Plus all of ALDI's private brand products are free of certified synthetic colors, MSG, and partially hydrogenated oils.
ALDI offers what they call a "Healthier Checklane". Instead of offering a slurry of junk food and candy in the checkout lanes, ALDI is limiting checkout temptations by offering healthier options like trail mix, nuts, and fruit bars. So when my kids just have to have something in the checkout lane, I can feel good about saying yes.
Give Kids Ownership of their food choices
Let the kids select some of the foods for the family meals. Let them choose what type of vegetables will be in the salad or what fruit they'll enjoy as a snack. Giving them small decision making ability allows them to take ownership and feel like they are have a choice in how or what they eat. That sense of ownership, usually, results in them eating the fruits and vegetables they choose. More often than not, even picky eaters will try a new food if they choose it for themselves.

Get Kids Involved in the Kitchen
Just like at the grocery store, having kids help out at home goes a long way to helping them make healthy food choices.
When you allow children to cook with you, kids:
See how fun food/cooking can be
Will be more likely to try the foods they are using
Learning life skills (cooking, cooperation, following directions, etc.)
Reinforcing reading/math skills
Spend quality time as a family
The recipe for Yogurt Marinated Chicken and Vegetables Skewers, which we'll share in just a minute, is a great one for families to create together.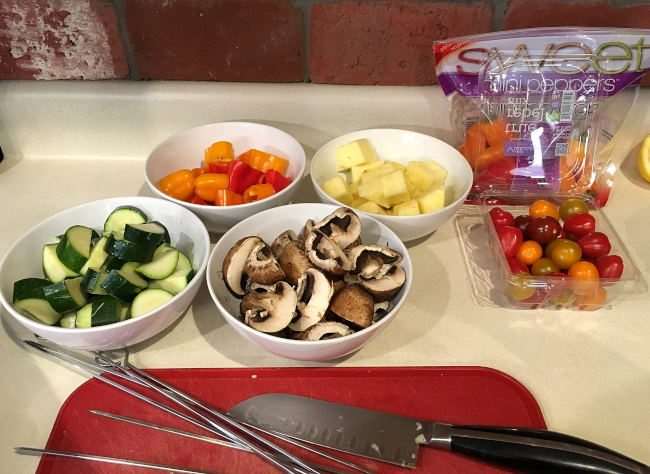 Children of all ages can help out by:
Cutting vegetables into small 1/2" to 1" pieces
Preparing the marinade
Creating/assembling their own skewers with a variety of vegetables and marinated chicken
Helping set the table
Helping with clean up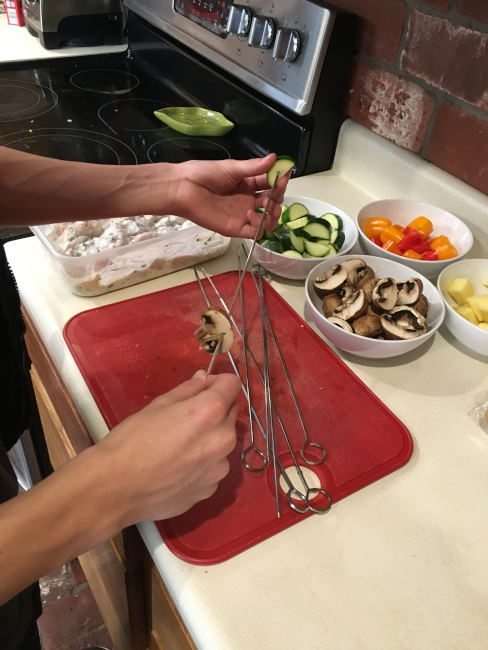 Getting the family involved in the kitchen, provides a rich experience that teaches healthy habits and creates lasting memories together.
Yogurt Marinated Chicken and Vegetable Skewers
I mentioned earlier that ALDI is our go-to place to buy groceries. The kids and I picked up everything we needed for recipe making 10 servings (2 meals).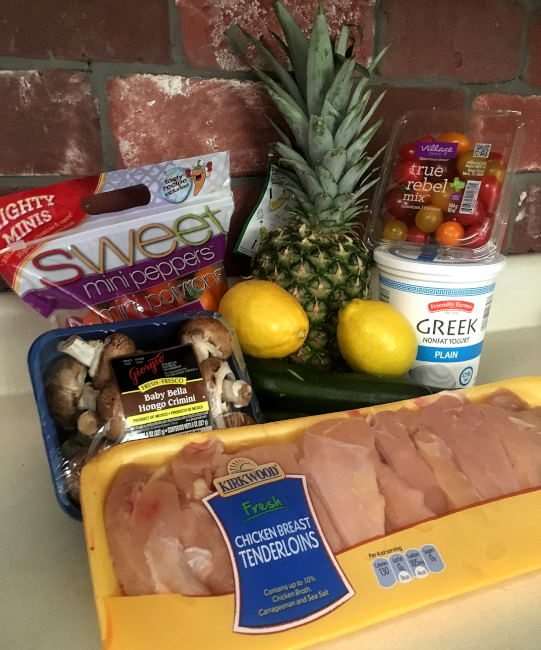 The kids selected the vegetables for the skewers.
Zucchini
Sweet Mini peppers
Cremini mushrooms
Cherry tomatoes
Your children make choose different veggies and that's the beauty of this recipe. You can customize it for your family, what's on sale, or what's in season. There is no wrong way to make these skewers.

Get perfect, juicy grilled chicken EVERY TIME
The secret to juicy grilled chicken every time is the marinade. Our simple yogurt marinade ensures that the chicken is moist, even if you accidentally overcook it. It's SOOOOO forgiving.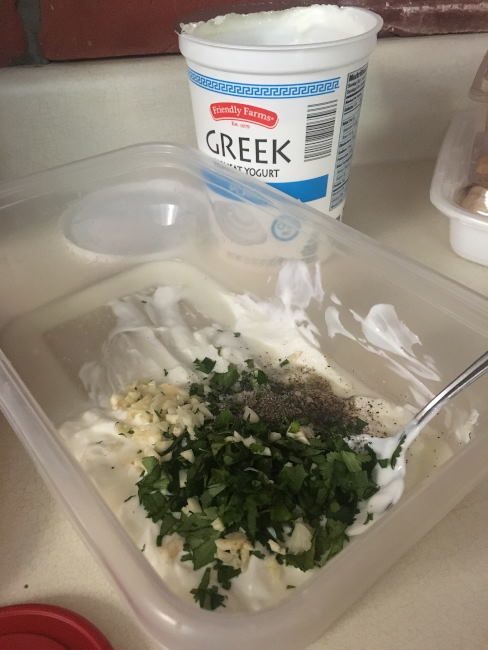 It locks in the flavors and moisture giving you perfect chicken EVERY TIME. Try it for yourself and you'll see what I mean.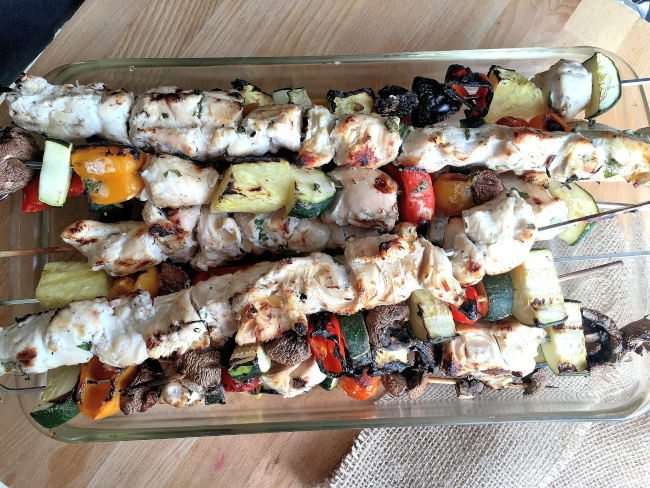 Yield: 10
Yogurt Marinated Chicken and Vegetable Skewers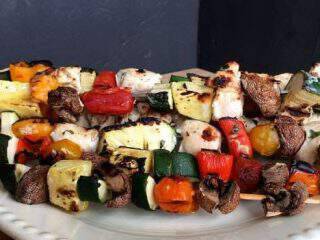 Ingredients
1 pound Kirkwood chicken tenderloins, cut into 1/2" to 1" pieces
Variety of vegetables; Cherry tomatoes, peppers, zucchini, Cremini mushrooms, etc., cut into 1/2" to 1" chunks
Pineapple, cut into 1" chunks
Lemon juice from 1/2 a lemon for vegetables
Salt and Pepper to Taste
Herbed Yogurt Marinade
1/2 cup Friendly Farms Plain Greek Yogurt
Lemon juice from 1/2 a lemon
1 1/2 Tablespoons fresh cilantro, chopped
1 garlic clove, minced
Salt and pepper to taste
Instructions
Marinated Chicken
In a bowl, combine marinade ingredients; yogurt through salt/pepper.
Add the cubed chicken tenderloins and stir until well combined.
Cover and refrigerate for at least 1 hour.
Assembling chicken and vegetable skewers
Remove chicken from refrigerator and uncover.
Place cut up vegetables and pineapple into small bowls making them easy to access.
To zucchini, add juice of 1/2 lemon and salt and pepper to taste.
Make a metal or wooden skewer and thread a variety of chicken and vegetables onto it. Set onto a serving platter and continue with remaining skewers.
Grease barbecue grill grates with a little oil or coconut oil to prevent sticking.
Preheat barbecue grill to high (425 F)
Place finished skewers onto the hot grill and cook for about 10 minutes, or until chicken is cooked throughout, turning to cook evenly on all sides.

Cook Once for 2 Meals
This is one of those recipes where I'll make double the recipe and use the leftovers for a second meal. A few things we'll make may be:
Rice bowls with roasted vegetables and chicken
Burritos (adding black beans)
Flatbread or panini sandwich with lettuce and tomato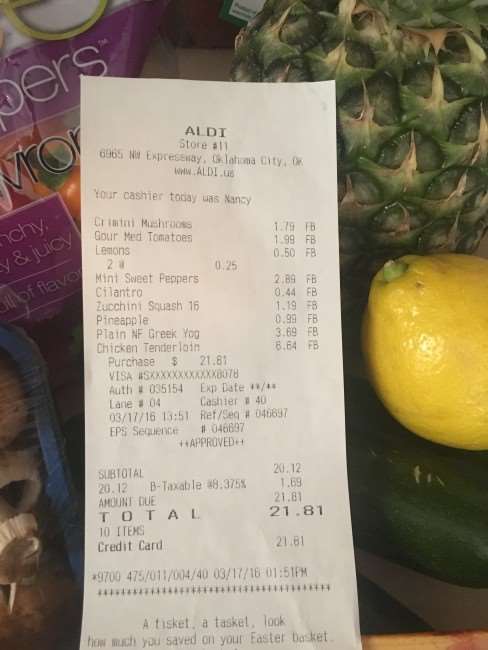 In total for 2 meals, you've spend $21.81 at ALDI. That works out to $2.18 per meal per person. That's budget friendly, healthy food that my family will love! Look for an ALDI in your area and see how much you can save on healthy food for your family too.
Be sure to head over to ALDI's Website, Facebook, Instagram, Twitter, and Pinterest pages for more recipes, special buys, or to find a store near you.