There is nothing quite like cooking outdoors. Whether you are cooking on a backyard grill or over a campfire, food has that unique flavor that has you coming back for more. I have gathered together some of our favorite camping recipes with easy food camping. These are our favorite 15 Food on a Stick Recipes. Cooking equipment is simple – a wooden stick or metal skewer.
Camping Food on a Stick
Sure you can roast marshmallows over a campfire, it's an easy food for camping desserts. But you can use your roasting sticks or skewers for so much more. Let me show you 15 camping recipes that feature breakfast, lunch, and dinner meals for your next family camping trip.
Camping Breakfast on a Stick
Campfire Cinnamon Roll-Ups – Almost Supermom
Campfire Bacon – Zestuous
Grilled Fruit Skewers with Easy Yogurt Dip – Yummy Healthy Easy
Campfire Damper on a Stick – Lean and Meadow
Bacon and Eggs in an Orange – Instructables
Pin This for Later…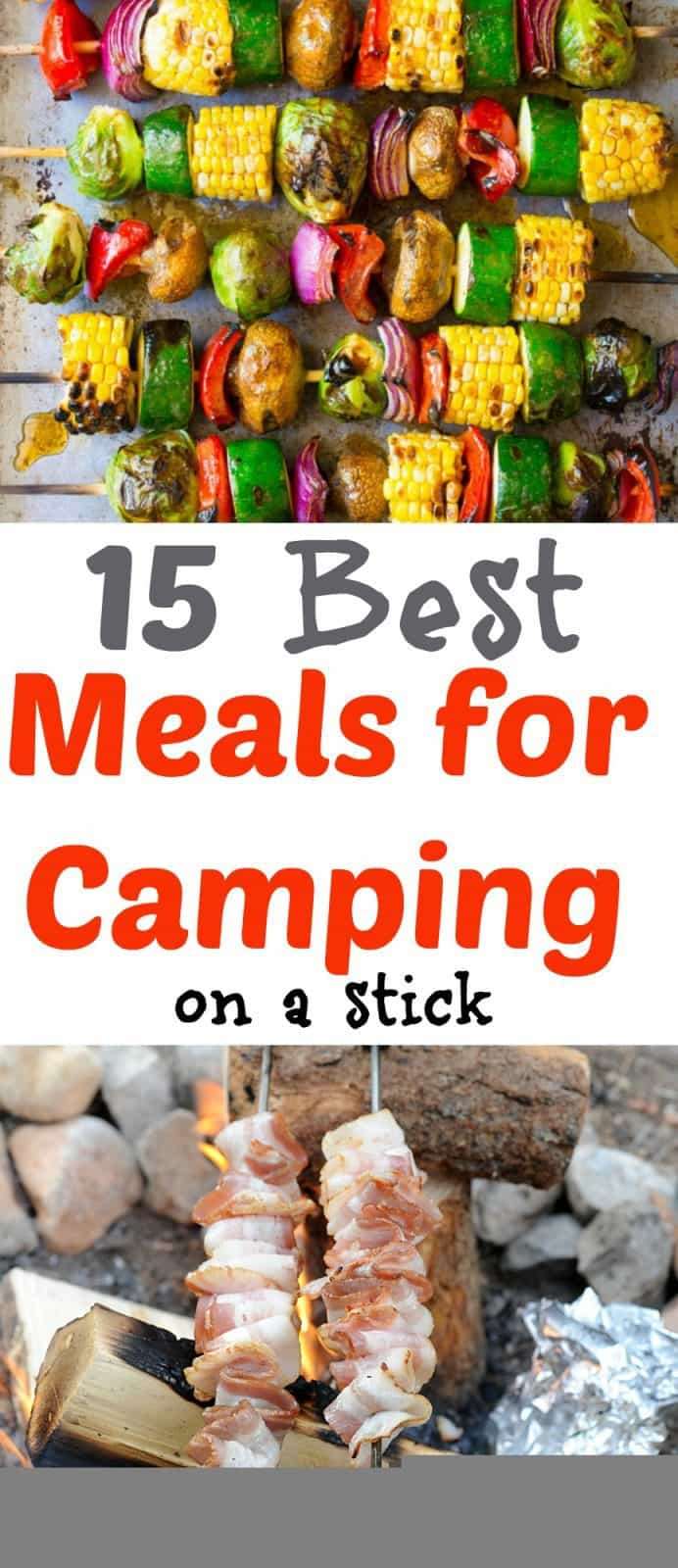 Sandwiches & Salads On a Stick
Salad on a Stick – Caramel Potatoes
Antipasto Skewers – Dinner at the Zoo
Caprese Salad Skewers – Belle'alimento
Classic Sandwich Skewer recipes – By Stephanie Lynn
Maple, Ham & Pineapple Kabobs – Num's the Word

Camping Dinner Skewers
Marinated Chicken and Vegetable Skewers– Little Family Adventure
Veggie & Sausage Shish Kabobs – A Pretty Life in the Suburbs
Mixed Grill with Chimichurri Parrillade – The Complete Savorist
Grilled Hawaiian Beef Kabobs – The Slow Roasted Italian
Bacon, Pineapple, Chicken Kabobs – Recipe Diaries
These are all easy food for camping. On your next family camping trip, try a few of these skewered camping recipes and have a great time together.
If you don't already have camping skewers, I would recommend these from Mallow Me. They are the ones I bought and have used on our camping trips for a few years.
Disclosure time:* This article contains affiliate links. Purchase through our affiliate links and we receive a small commission without any extra expense to you.
MalloMe 10-Piece 32-Inch Marshmallow Roasting Stick with 8-Piece Telescoping Smores Skewers, Bag and Ebook

Norpro 12

MalloMe Premium Marshmallow Roasting Sticks Set of 5 Smores Skewers & Hot Dog Fork 34 Inch Rotating Extending Patio Fire Pit Camping Cookware Campfire Cooking Kids Accessories – Bonus Bag & Ebook

If you liked these recipes, check out these other camping recipes for:
Snack & Dessert Pie Iron Recipes
SaveSave
SaveSave
SaveSave