When camping, glamping, or RVing, you want easy meals to make on site. You don't want to spend your entire time cooking, so we've assembled some of our favorite easy camping dinners for you.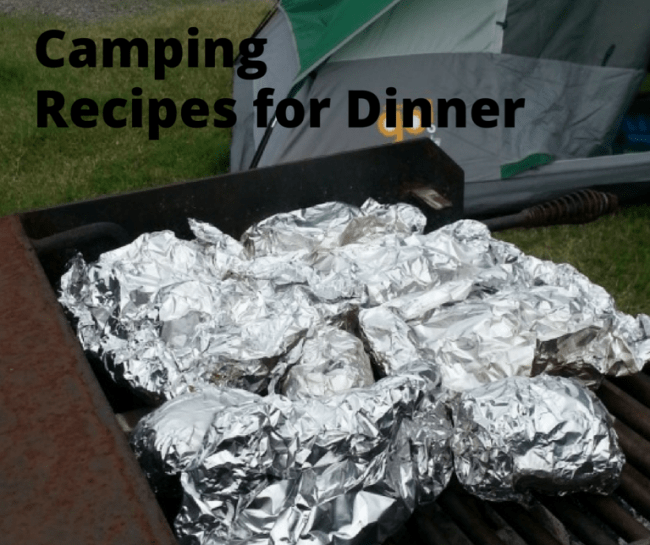 This article contains affiliate links. Purchase through our affiliate links and we receive a small commission without any extra expense to you!
Easy Camping Dinners
It's amazing how many traditional recipes can be adapted to outdoor cooking. If you can cook on a barbecue grill, you can cook on a camping trip. Many of our favorite camping recipes started off as skillet or barbecue/grill meals we made at home. Now they are our go-tos for easy camping dinners I've included recipes for hobo pockets or foil meals, skillet meals, skewers, and more. When it comes to easy meals to make while car camping, these are perfect!

When it comes to easy camping meals, hobo packets are the way to go. They are classic camp food. When I took an outdoor scout leader training, they taught us all how to make this and other foil meals. Cooking a hobo pocket takes no special cookware, just a fire. This recipe is simple and can be easily modified to your taste.

Here's another foil pocket. Seafood are easy foods to make because they cook really quickly. Wrap it in aluminium foil where everything is self contained and clean up is easy. This recipe from Life Currents is a delicious seafood meal.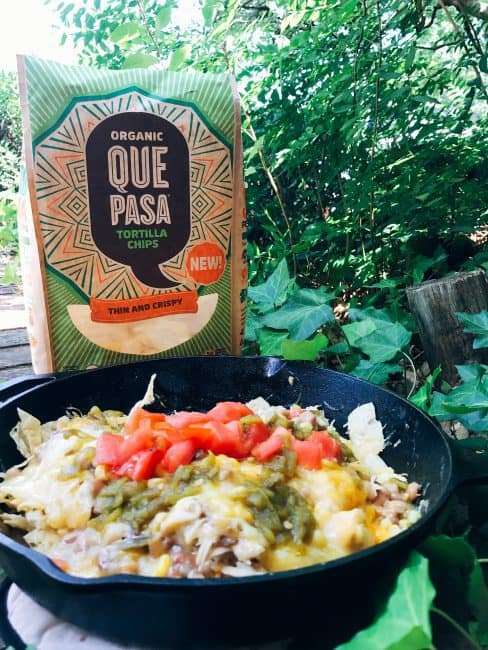 Nachos are a simple and delicious meal on a car camping trip. Precook the chicken at home or cook on site. Either way, it's heat and serve deliciousness. I like to heat these chicken nachos up in a cast iron skillet. But you can also use a sheet pan, foil pocket, etc.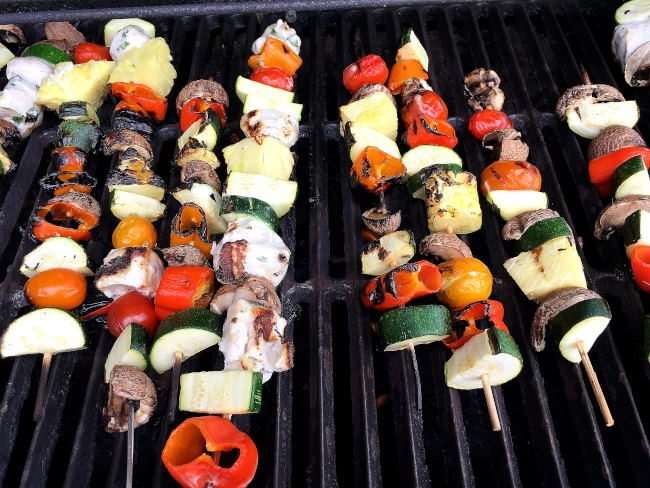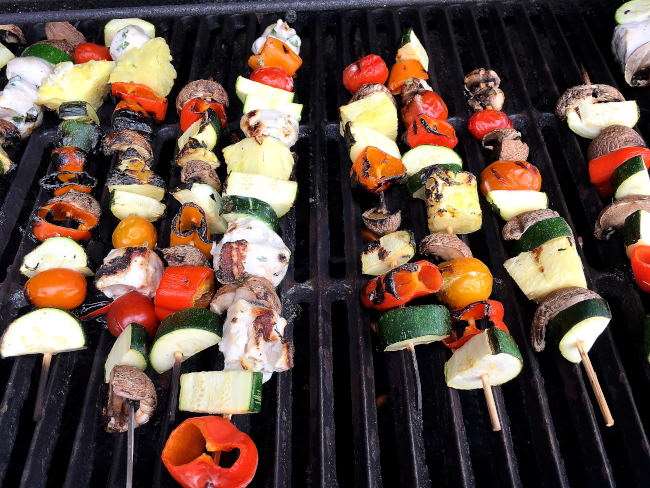 These chicken and vegetable skewers are easy to throw on a campfire grill or BBQ grill. Prep them at home and assemble at your camp site. Everyone can create their own skewers for a perfect meal.

Dish of Daily Life has a great way to create paninis on a grill. These pressed hot sandwiches make easy camping dinners. Create your own combinations of meat, cheese, or vegetable. Then wrap, press down with a brick/stone, or cast iron skillet, and cook over indirect heat on a campfire.
Click here for a healthy camping meal plan and ways to make my next camping trip deliciously fun and easy…..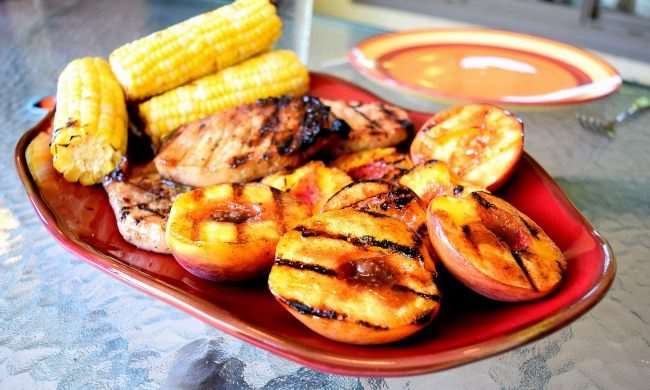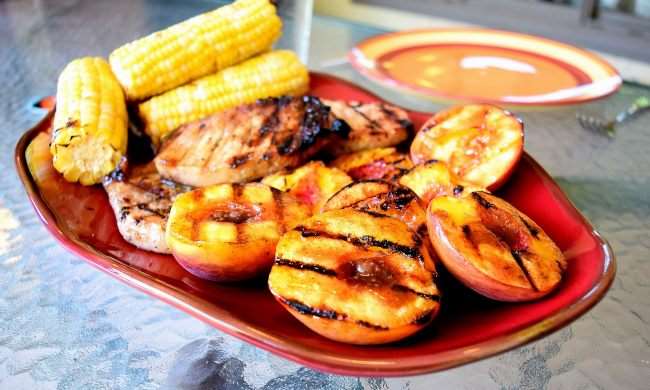 Cooked on a iron grill or barbecue, these spicy pork chops, grilled peaches, and corn on the cob are the perfect meal for camping. If you have never had grilled peaches, you are in for a treat.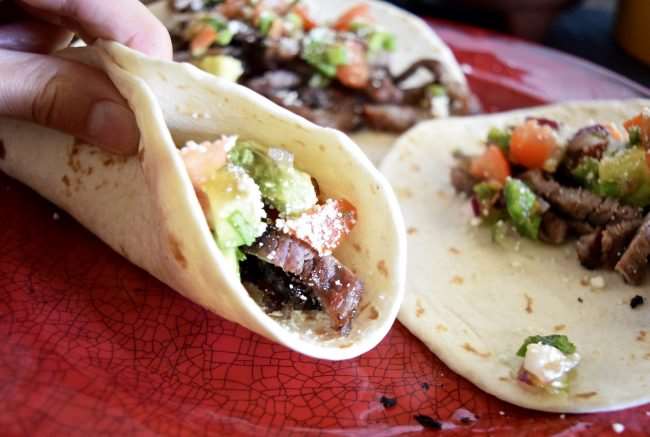 Carne Asada is marinated beef with lemon juice. Then it's cooked on a grill for a quick dinner. Create this recipe and serve in tortillas, burritos, with eggs for breakfast, and more.

Campsite nachos are a quick and easy meal. This version from Now Things are Cookin is one you will want to try.

Lodge Cast Iron Skillet, 10.25-inch



Coleman Triton Propane Stove



Lodge LPGI3 Cast Iron Reversible Grill/Griddle, 20-inch x 10.44-inch, Black



Camp Chef Lumberjack Over-the-Fire Grill with Sturdy Legs



Solo Stove Campfire & 2 Pot Set Combo: 4+ Person Wood Burning Camping Stove. Outdoor Kitchen Kit for Backpacking, Camping, Survival. Burns Twigs – NO Batteries or Liquid Fuel Gas Canister Required.



MalloMe Premium Marshmallow Roasting Sticks Set of 5 Smores Skewers & Hot Dog Fork 34 Inch Rotating Extending Patio Fire Pit Camping Cookware Campfire Cooking Kids Accessories – Bonus Bag & Ebook



Reynolds Wrap Heavy Duty Aluminum Foil, 50 Square Feet ~ 2 Pack



MSR Flex 4 System Cook Set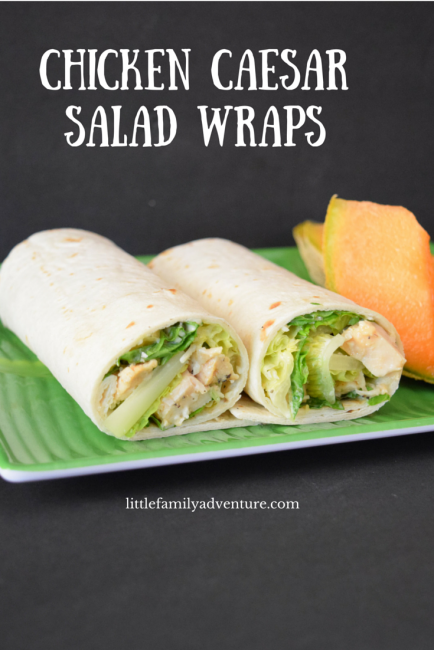 Made with precooked chicken breast, these Caesar salad wraps are easy to assemble and don't require any cooking. You won't have to start up a fire to enjoy these simple and delicious wraps.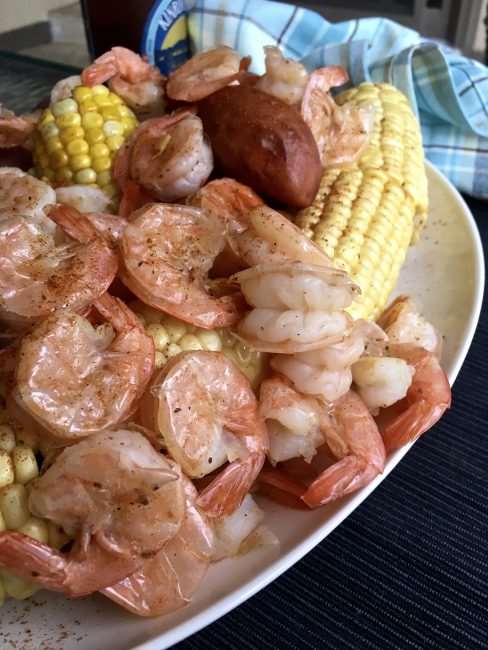 Low Country Boil is a fun dinner idea while camping. You can cook it in a pot of boiling water or create foil pockets and cook over a campfire.
We ♥ camp food recipes. We have more camping recipes that the whole family will enjoy for you below.
Here are a few products and additional resources to help you plan your upcoming camping trip. I found them really helpful and I think you will too.
Little Family Adventure Camp Store on Amazon (a Few of Our Favorite Things)
Tips for Planning a Camping Menu
The Ultimate Camping Cookbook: Recipes for Grilling, Cast Iron, Dutch Ovens and More by Rebecca Permar
Get a complete budget-friendly meal plan ($50 for 4-5 people) with recipes & printable shopping list to make your next camping trip deliciously fun and easy…..