Growing up in Southern California, carne asada was a staple at parties and backyard cookouts. I'm bringing you the best carne asada recipe. Get ready to fire up the grill.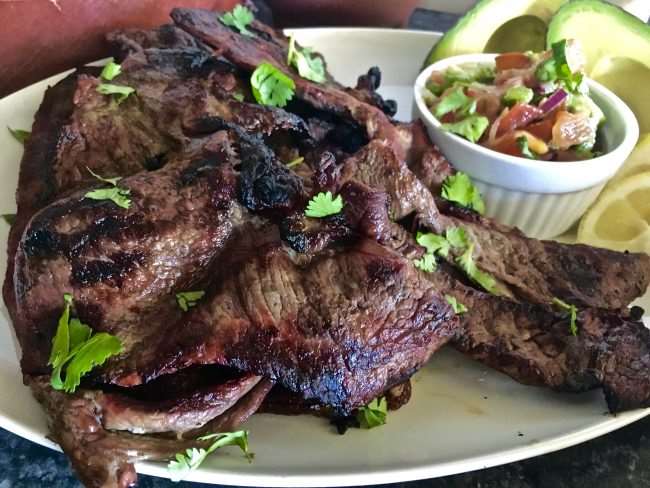 Carne asada is Spanish for "grilled meat". It is thinly sliced beef that is marinated and grilled. It's often sliced thin and served in tacos or burritos. It can also be served over french fries, but that's another article entirely. I like to serve this carne asada recipe along with guacamole, tortilla chips, and fresh pico de gallo or salsa. Make it a full meal by serving it with Spanish style rice and beans.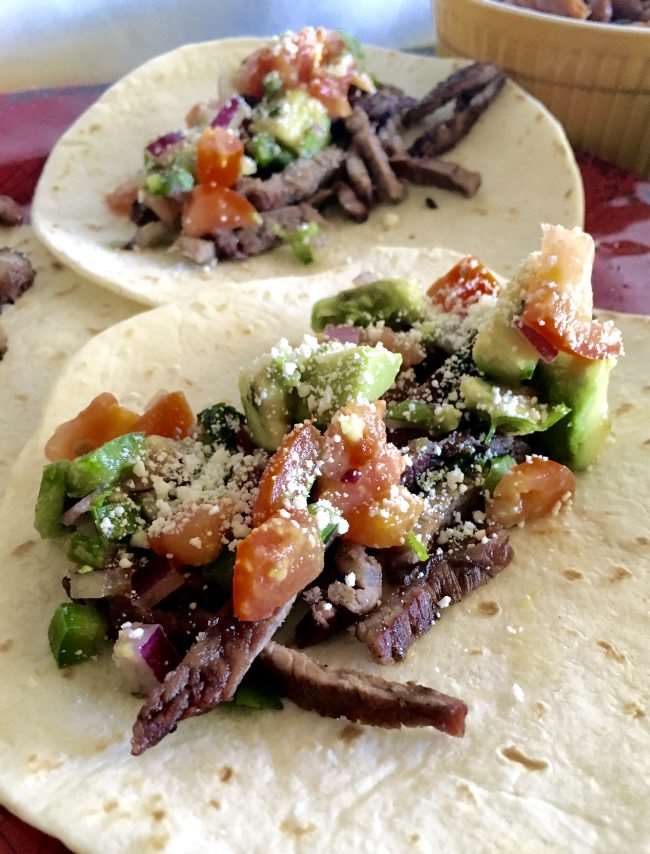 Carne Asada Recipe
Growing up in Southern California's Imperial Valley, we grilled carne asada more often than hamburgers. It was a favorite weeknight dinner, but it was also a favorite for special occasions like birthdays or holidays. As a kid, I fondly remember heading to my aunt and uncle's for a poolside bbq complete with carne asada. My uncle had the best recipe. This version is as close to his version as I have be able to get. He said the trick to great carne asada was the marinade.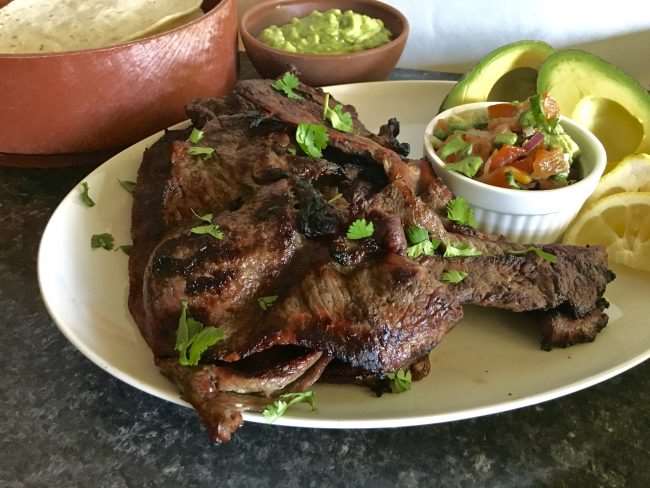 Great Carne Asada Starts with the Marinade
This carne asada recipe uses lemon and lime juice to marinade and tenderize the meat. The acids in the juice help break the meat's protein making it tender and full of flavor. Traditional recipes use skirt or flank steak.
Many grocery stores, including ALDI, offers a thinly sliced sirloin steak especially for carne asada that I really like. The steak usually comes pre sliced into 1/4" strips. The marinade really gets into the meat and let's you grill it quickly. Marinade the steak with fresh cilantro and red onion slices for great flavor. The longer you allow it to marinade, the more flavor. At a minimum, marinade the steak for 4 hours.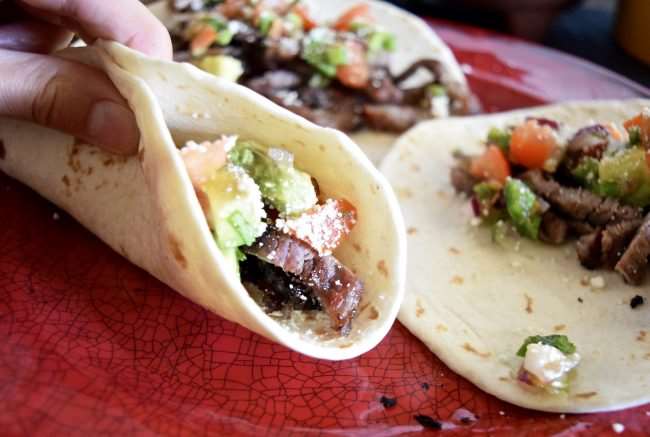 Carne Asada Tacos
Our favorite way to serve carne asada is in Street Style Tacos. Grilled carne asada is placed on a fresh flour tortilla and topped with pico de gallo or salsa, guacamole, chopped cilantro, and a little cotija cheese. Cotija cheese is a crumbly Mexican cheese that has a similar texture to Greek Feta. If you can't find it, substitute with a monterey jack or cheddar cheese. A squeeze of lime completes the taco and brings all the flavor together.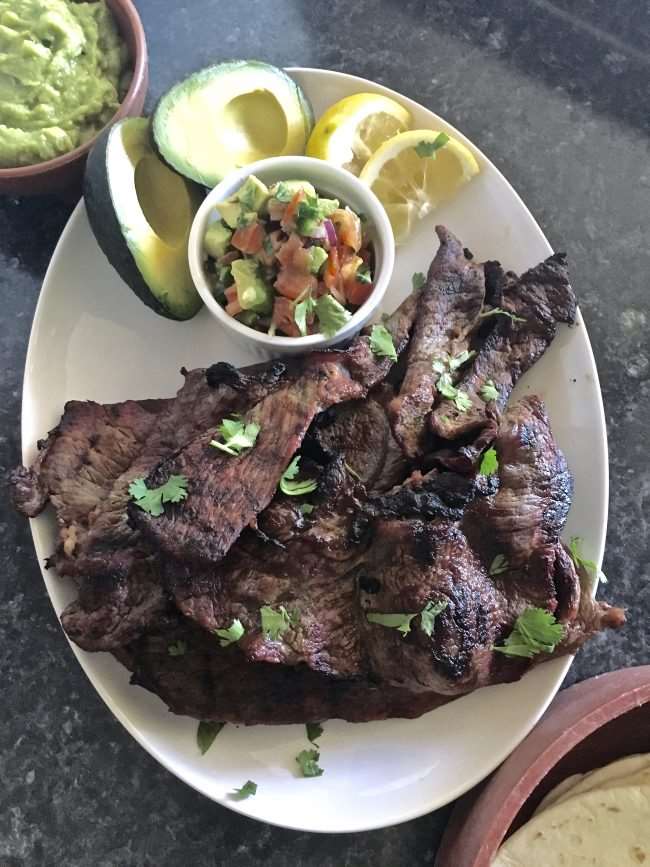 Yield: 6-8 servings
Best Carne Asada Recipe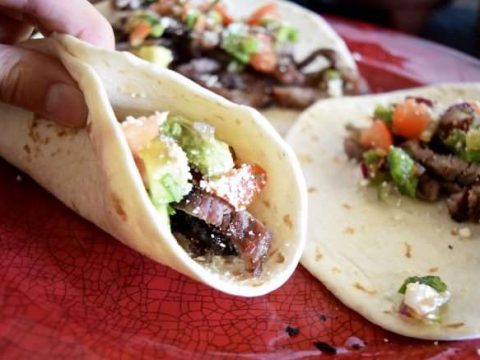 Try the Best Carne Asada Recipe Ever! Restaurant quality carne asada perfect for tacos, burritos, nachos, salads, etc. Fabulous for family dinner or for crowds!
Total Time
4 hours
8 minutes
Ingredients
2 pounds Thin sliced Sirloin Tip or skirt steak
4 lemons
2 limes
Fresh Cilantro
Red onion
Avocados, 2
Pueblo Lindo brand Cotija cheese
15 - 6" flour tortillas
Little Salad Bar Classic Guacamole
Simply Nature Ancient Grains Tortilla Dippers
Pico de Gallo or Tomato Salsa
Instructions
Marinade
Place the sliced steak into a container. Add juice from 3 lemons and 2 limes, 2 slices of red onion, and 2 Tablespoons of fresh cilantro.
Combine ingredients, cover with a lid, and refrigerate for at least 4-6 hours. Marinating overnight is preferred.
Grilling Beef
Preheat the grill to medium high heat, about 500•F.
Remove steak from the marinade and place directly onto a grill.
Grill steak for 3-4 minutes per side for medium rare.
Cut into slices and serve.
To assemble tacos:
Chop cilantro and red onions for toppings.
Remove the skin and pit from avocado. Cube into bite sized pieces.
Cut remaining melon into wedges.
Place carne asada on warmed flour tortilla. Top with sprinkle of Cotija cheese, chopped red onion, chopped cilantro, cubed avocado or guacamole, and pico de gallo or salsa.
Finish with a squeeze a lemon juice if desired.
Nutrition Information:
Serving Size:
1-2 tacos
Amount Per Serving:
Calories:

140
Carbohydrates:

38g
Sugar:

8g
Protein:

4g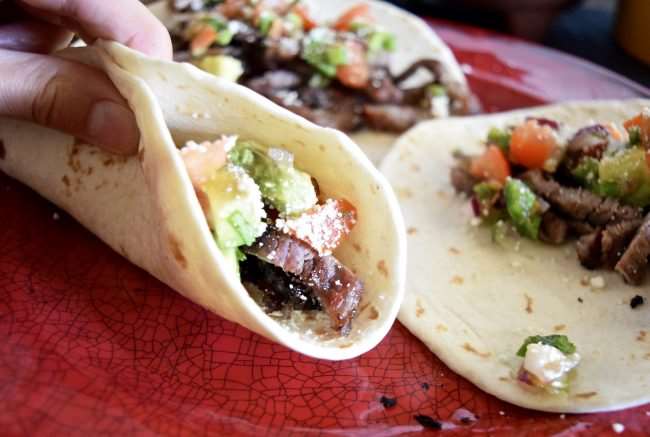 Serve up a family sized amount of carne asada for tacos, burritos, rice bowls, salads, or a loaded fries. If you want more Mexican food recipes, take a look at these: