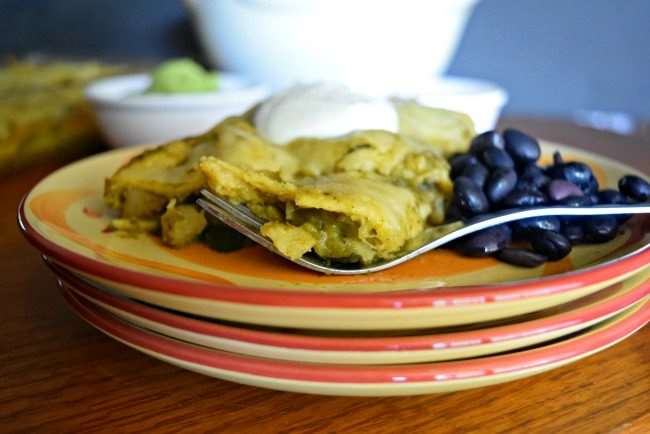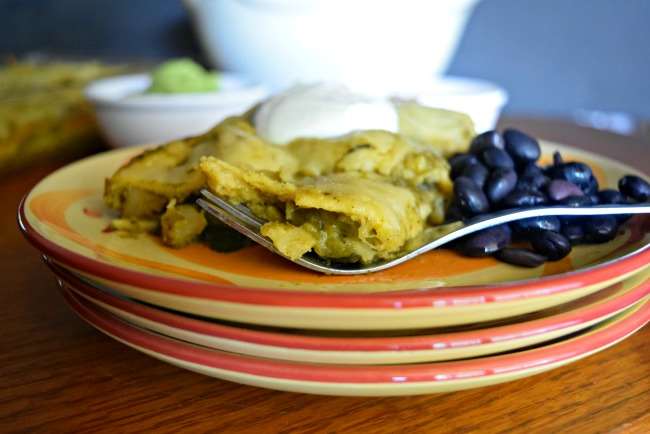 Green Chili Enchiladas
Whether you are looking for a weeknight dinner recipe or something that can feed a crowd, these Green Chile Enchiladas are perfect! I'll show you how to make enchiladas two ways: vegetarian green chil enchiladas and green chicken enchiladas.
Having grown up in California and Texas, Tex-Mex is a popular choice when it comes to party food. Whether it's tacos or enchiladas, a food spread with either plus chips and salsa, fresh guacamole, Spanish rice, and black beans is always a hit!
I love cooking for a crowd and having people over on the weekends. Yet, as much as I want to entertain I need to ensure that I don't blow my food budget for the month. This easy enchilada recipe is a real crowd pleaser and budget-friendly. In addition to telling you how to make enchiladas, I will share a few tips on saving money on party food.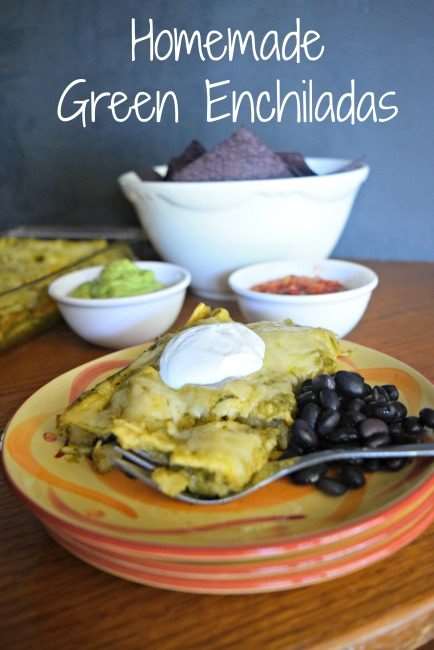 Easy Enchiladas
Enchiladas are super easy and are great when you want to feed a lot of people. This green chili enchilada recipe makes 24 enchiladas and serves about 12 people. You can easily half, double, or even triple this recipe as needed. I recommend placing no more than 24 enchiladas in one pan though. If you add more, it can change the cooking time plus a larger pan will harder to store in the fridge. These can be made ahead, covered, and refrigerated. Just before you are ready to serve, reheat in the oven (covered) at 350˚ for 15-20 minutes or until the center is warmed through.
Green Chili Chicken Enchiladas
This recipe for homemade enchiladas is vegetarian and filled with zucchini, potato, and spinach. They are a healthy option, but if you prefer green chili chicken enchiladas, you can add 2 cups of cooked, shredded chicken to the vegetable mixture. Warm that through in the pan and then add that mixture to tortillas and roll.
Tip: Cook several chicken breasts or thighs in the enchilada sauce on the stove top or in Instant Pot. It provides so much more flavor in this chicken enchiladas recipe. You can also make extra and store the later use in tacos, burrito bowls, etc.
Yield: 12
GREEN CHILE ENCHILADAS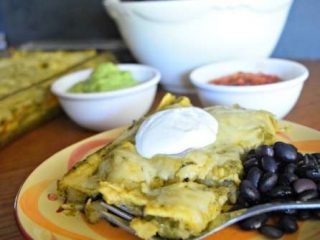 Great for a party or anytime you have a lot of people to serve. Features a homemade green enchilada sauce with roasted poblano peppers. Options for green chicken and vegetarian options.
Ingredients
VEGETABLE ENCHILADAS
2 tablespoons olive oil
24 corn tortillas
1 pound zucchini, roughly chopped, about 3 cups
1 pound potatoes, peeled and cubed, about 3 cups
1 teaspoon cumin
1 teaspoon dried oregano
1/2 teaspoon salt
1 pound fresh spinach, chopped
1 pound shredded Quesadilla cheese or Monterrey Jack cheese
2 cups shredded cooked chicken (optional)
HOMEMADE ROASTED GREEN ENCHILADA SAUCE (ABOUT 5-6 CUPS)
8 large Poblano Peppers
2 Jalapeno Peppers
2 tablespoons Olive Oil
1 large chopped onion
4 garlic cloves, minced
1/4 cup all-purpose flour
1 teaspoon cumin
1 teaspoon dried oregano
1/2 teaspoon ground black pepper
1 teaspoon salt
4 cups Vegetable Broth, divided
GARNISH (OPTIONAL)
Sour Cream
Guacamole
Tomato Salsa
Instructions
HOMEMADE GREEN ENCHILADA SAUCE

Place poblano and jalapeno peppers on a baking sheet. Set oven to broil. Place peppers under the broiler to blister the skins. Turn peppers to roast the peppers evenly. Remove from oven and allow to cool.
Once cool, remove the skins and seeds from the peppers. Place peppers and 1 cup of vegetable broth in a blender. Puree until smooth. Set aside.
In a large skillet or Dutch oven, heat olive oil on medium heat. Add the onion and garlic. Cook for 6-7 minutes, stirring occasionally, under onions are soft.
Stir in the flour and cook for 3 minutes. Stir constantly until flour is golden in color.
Add the remaining 3 cups of vegetable broth to the onions and stir well to combine. Add in pureed peppers and remaining ingredients to the pan. Bring to a boil, then reduce to a simmer. Cook for 20 minutes.
Transfer sauce to a blender then puree smooth, if desired. If the sauce is too thick add additional broth or water.

VEGETABLE ENCHILADAS

In a large skillet, heat 2 tablespoons of olive oil over medium heat. Add potatoes and cook for 8-9 minutes, stir occasionally to avoid potatoes from sticking or burning.
Add zucchini, cumin, oregano, and salt to the potatoes. Cook for 5-6 minutes, or until the zucchini is soft and potatoes are cooked through.
Add chopped spinach and 1 cup of enchilada sauce to skillet. Stir to combine and allow the spinach to wilt. Remove from heat and sprinkle 1/2 cup of shredded cheese over vegetables.
Pour a small amount of enchilada sauce at the bottom of 2 rectangular baking dishes. Spread sauce to coat the bottoms. Take each tortilla and place a small amount of vegetable mixture on it. Roll up and place in the baking sheet. Continue to stuff and roll enchiladas until all the filling and tortillas are used.
Sprinkle remaining cheese over enchiladas. Place in the oven at 350 degrees for 20 minutes.
Serve with a side of black beans and garnish with sour cream, guacamole, and/or salsa.
Like everything else, I'm on a budget with this party. For food, I spend less than $50 and I'm feeding 12 people. so that makes it just over $4 per person. How's that healthy food in a budget?
If you like these homemade enchiladas, you may also like these Tex-Mex recipes: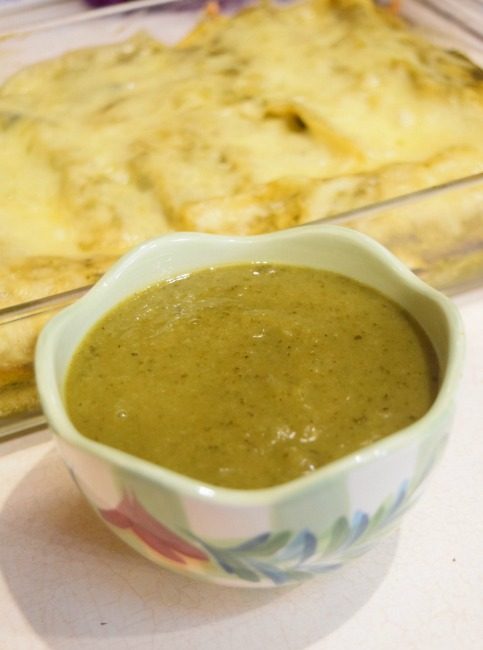 How To Make Green Enchilada Sauce
The secret on how to make green enchilada sauce is roasting the jalapeno and poblano peppers. Roasting peppers on the grill or under the oven broiler give this enchilada sauce a smokey flavor that everyone will love. Poblano is a mild heat pepper with a TON of flavor. Jalapenos give you that heat/spice you want. If you want less heat, you can remove the seeds and inner membrane (that holds the seeds to the pepper wall).
To make the green enchilada sauce, you'll roast the peppers until well blistered. Carefully remove them and place in a brown paper bag. This helps to loosen the skin and makes peeling much easier. Once cool to the touch, remove peppers from the bag, remove the outer skin, and puree. While the peppers are roasted you can cook the onions and garlic on the stove top. Once soften, add in the flour, vegetable broth, and pureed peppers. Cook for 20 minutes and then puree again. If the sauce is too thick, add additional broth or water.
Budget Side Dish
To keep on budget, I'm making black beans in the crockpot. It's a budget-friendly side dish when making them in a crock pot from dried beans. A 2-pound bag of dried black beans serves 18 people and only costs under $3.
Crock Pot Black Beans
How to make beans in the crockpot? First, you'll soak the beans overnight or do the quick method according to package directions. In the morning, rinse the beans and return to the crockpot. Cover the rinsed beans completely with water and add 1 cup of tomato salsa and 1/2 teaspoon of salt per 1 pound of dried beans. Cover and cook on low for 6-8 hours. That's it!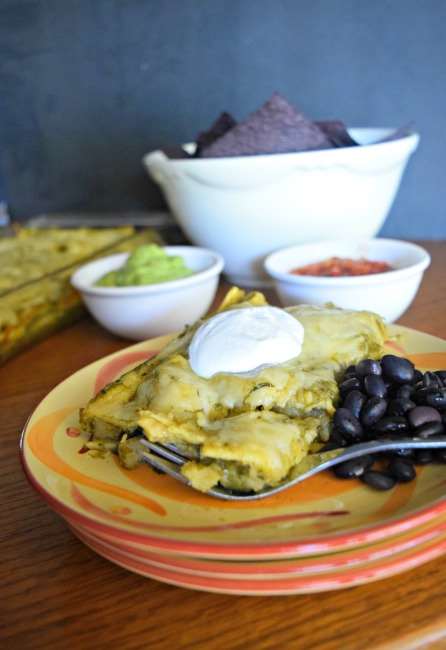 These easy homemade enchiladas, black beans, chips and salsa, and guacamole are what's on the menu for our next party. They are always a hit with guests. They are sure to popular with your group too. Enjoy!