This feature has been compensated by ALDI. All opinions are 100% mine.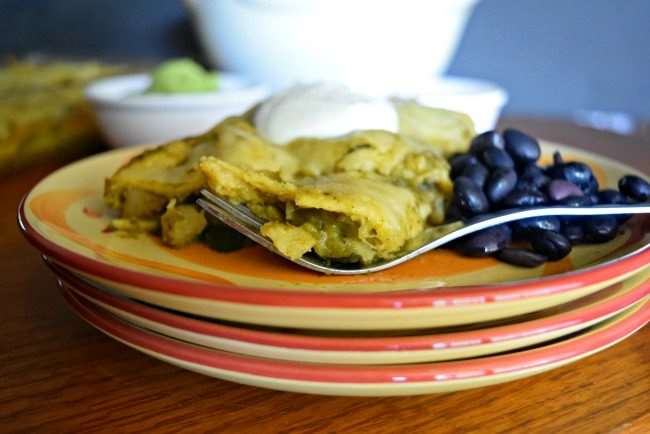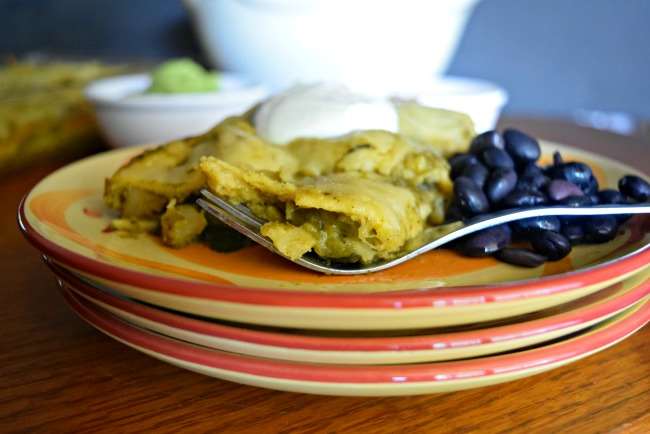 Cinco de Mayo is just around the corner. Now that the weather is warming up, I can't wait to invite my friends over for a party. It's going to be so much fun! Everyone will have a great time and the food will be amazing.   On the menu are Homemade Green Enchiladas, slow cooked black beans, guacamole, and chips with salsa. I love having people over, but I need to keep everything on a tight budget. I'll be shopping at ALDI so I can create an amazing spread for less money.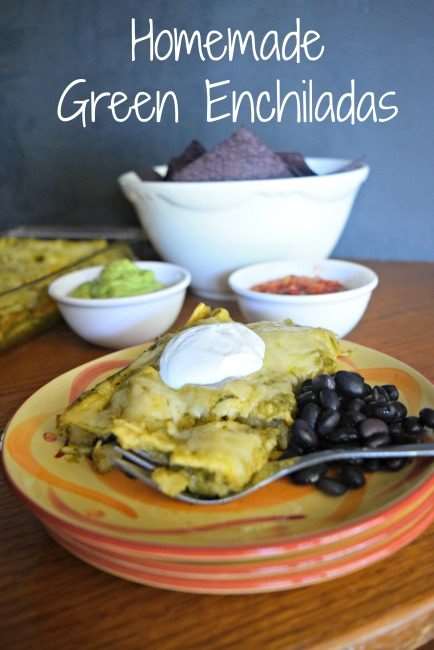 Enchiladas are super easy and are great when you want to feed a lot of people. This recipe makes 24 enchiladas and serves about 12 people. You can easily half, double, or triple this recipe. Enchiladas can be made ahead, covered, and stored in the refrigerator. Just pull them out and heat them up just before you are ready to serve. These Homemade Green Enchiladas are filled with vegetables; zucchini, potato, and spinach. They are healthy for you , but you don't have to tell anyone! Everyone will just know that they are delicious!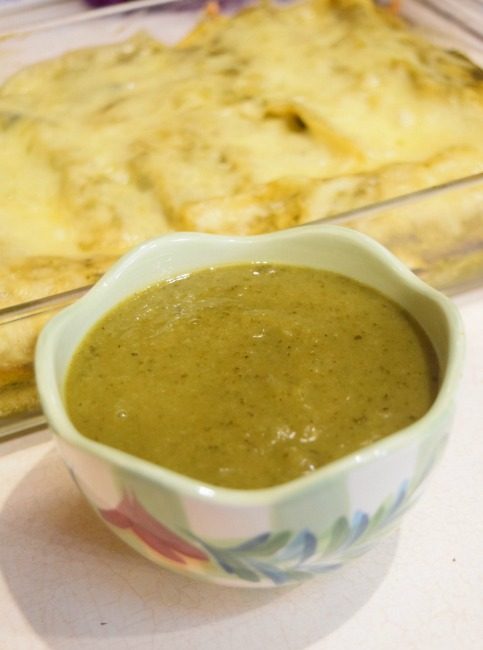 The secret is in the green enchilada sauce. We're using roasted poblano peppers. They are a mild heat pepper with a LOT of flavor. Roasted jalapenos will give you the heat you want. Roasting the peppers on the grill or in the oven give the sauce a great smokey flavor that everyone will love.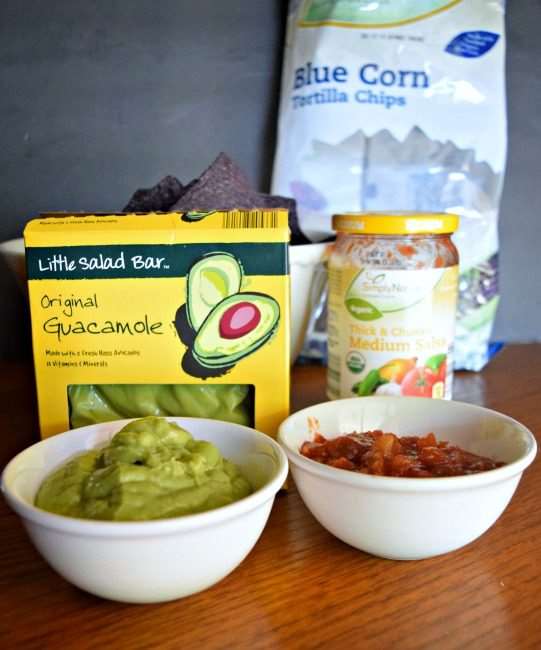 ALDI is my go to place for groceries at low prices. They have a great selection of fresh foods that my family loves. Their organic line of products, Simply Nature, are quality products. They are cheaper when compared to other brands and that saves my family money. Corn and tomatoes are two of the vegetables I buy organically every time. For the party, I bought organic Simply Nature Blue Corn Chips and Simply Nature Salsa.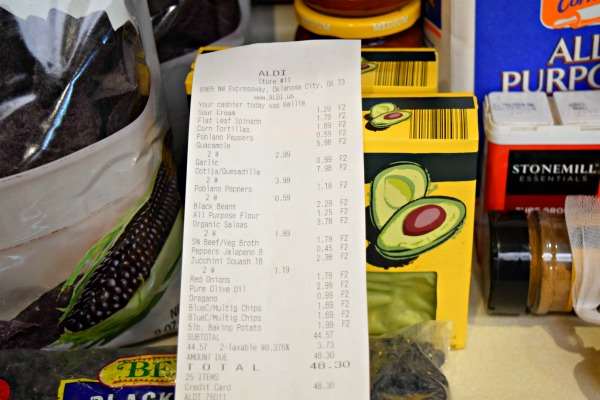 Like everything else, I'm on a budget with this party. For food, I only spent $48.30 at ALDI. I'm feeding 12 people, so that makes it $4.03 per person. How's that healthy food in a budget?

One way to keep costs down and keep to my budget is by serving inexpensive side dishes. A 2 pound bag of dried black beans serves 18 people and only costs $2.29 at ALDI. The simplest, easiest way to make black beans is in the crock pot. Soak the beans overnight in the crock pot. In the morning, rinse the beans and return to the crock pot. Cover completely with water and add 1 cup of salsa and 1/2 teaspoon of salt per 1 pound of dried beans. Cook on low for 6-8 hours. That's it!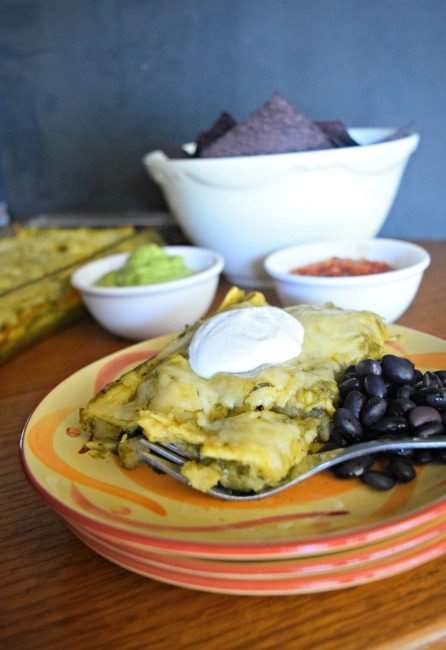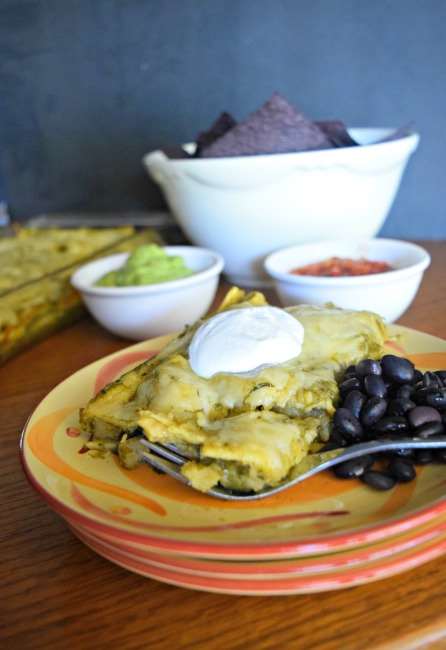 The Homemade Green enchiladas, black beans, chips and salsa, and guacamole are sure to be a hit for the party.  Here's the enchilada recipe.

Nicky @ Little Family Adventure
Yields 12
Homemade Green Enchiladas (vegetarian)
This recipe is great for a party or anytime you have a lot of people to serve. Features a homemade green enchilada sauce with roasted poblano peppers. Makes 24 enchiladas.
15 minPrep Time
40 minCook Time
55 minTotal Time
Ingredients
Vegetable Enchiladas
2 tablespoons Carlin olive oil
24 corn tortillas
1 pound zucchini, roughly chopped, about 3 cups
1 pound potatoes, peeled and cubed, about 3 cups
1 teaspoon Stonemill Essentials cumin
1 teaspoon Stonemill Essentials dried oregano
1/2 teaspoon salt
1 pound fresh spinach, chopped
1 pound shredded Pueblo Lindo Quesadilla cheese or Monterrey Jack cheese
Homemade Roasted Green Enchilada Sauce (about 5-6 cups)
8 large Poblano peppers
2 Jalapeno Peppers (optional)
2 tablespoons Carlin Olive Oil
1 large chopped onion
4 garlic cloves, minced
1/4 cup Baker's Corner all-purpose flour
1 teaspoon Stonemill Essentials cumin
1 teaspoon Stonemill Essentials dried oregano
1/2 teaspoon Stonemill Essentials ground black pepper
1 teaspoon salt
4 cups Simply Nature Organic Vegetable Broth, divided
Garnish (optional)
Friendly Farms Sour Cream
Little Salad Bar Guacamole
Simply Nature Salsa
Instructions
Homemade Green Enchilada Sauce

Place poblano and jalapeno peppers on a baking sheet. Set oven to broil. Place peppers under the broiler to blister the skins. Turn peppers to roast the peppers evenly. Remove from oven and allow to cool.
Once cool, remove the skins and seeds from the peppers. Place peppers and 1 cup of vegetable broth in a blender. Puree until smooth. Set aside.
In a large skillet or Dutch oven, heat olive oil on medium heat. Add the onion and garlic. Cook for 6-7 minutes, stirring occasionally, under onions are soft.
Stir in the flour and cook for 3 minutes. Stir constantly until flour is golden in color.
Add remaining 3 cups of vegetable broth to the onions and stir well to combine. Add in pureed peppers and remaining ingredients to the pan. Bring to a boil, then reduce to a simmer. Cook for 20 minutes.
Transfer sauce to a blender than puree smooth, if desired. If sauce is too thick add additional broth or water.

Vegetable Enchiladas

In a large skillet, heat 2 tablespoons of olive oil over medium heat. Add potatoes and cook for 8-9 minutes, stir occasionally to avoid potatoes from sticking or burning.
Add zucchini, cumin, oregano, and salt to the potatoes. Cook for 5-6 minutes, or until the zucchini is soft and potatoes are cooked through.
Add chopped spinach and 1 cup of enchilada sauce to skillet. Stir to combine and allow the spinach to wilt. Remove from heat and sprinkle 1/2 cup of shredded cheese over vegetables.
Pour a small amount of enchilada sauce at the bottom of 2 rectangular baking dishes. Spread sauce to coat the bottoms. Take each tortilla and place a small amount of vegetable mixture on it. Roll up and place in the baking sheet. Continue to stuff and roll enchiladas until all the filling and tortillas are used.
Sprinkle remaining cheese over enchiladas. Place in the oven at 350 degrees for 20 minutes.
Serve with a side of black beans and garnish with sour cream, guacamole, and/or salsa.
7.8.1.2
159
https://littlefamilyadventure.com/homemade-green-enchiladas-vegetarian/
LittleFamilyAdventure.com
With the help of
ALDI
, I created an amazing Cinco de Mayo party menu and stayed within my budget. You can too. Visit
ALDI
's Facebook page for more ideas and recipes. Find a
local ALDI store
in your area to start saving money on groceries.
What foods do you like to serve for a party?