I love shopping at ALDI because it helps me save money on groceries. I am excited to partner with ALDI to bring you this weekend camping meal plan with recipes. I have been compensated, but all opinions are my own. 
I'm so glad you are here!
You're looking for a camping meal plan for your next family camping trip, right?
Family-friendly camping meal plan
We have a GREAT, family friendly camping meal plan for you. It features:
Simple to make recipes for a 3 day weekend campout
Feeds 4-5 people
Uses only a camp fire with an iron grill or barbecue grill to cook with
Includes a few make ahead recipes to save you time
Best of all: groceries will ONLY cost you $50!
That's budget friendly camp food that your family will love.
Best thing about camping: The Food
There is just something about food that is cooking over an open flame. Plus no camp out would be complete without S'mores. They are a family favorite for us. What about you? We have a delicious spin on traditional S'mores that I know you are going to want to try. Trust me when I say it will be your NEW favorite camp dessert.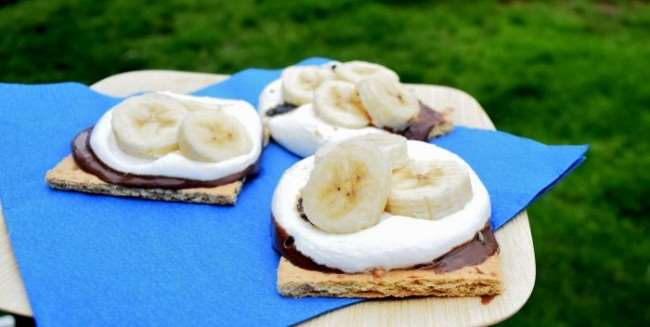 Most developed campgrounds have a fire pit and/or grill at each camp site. All the recipes included in this plan will be using a campfire with an 
iron grill
, aluminum foil, or a 
barbecue grill
. This makes it simpler because there is
no special camping stove, oven, or specialty cookware needed.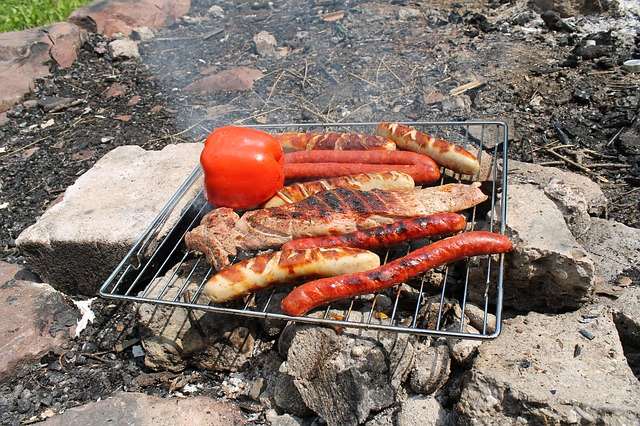 Camp Cooking Tip: If you don't have an iron grill, bring an oven rack from home, like the one shown above. You can set it over the fire and cook on it. When you get back home, wash it and replace it in the oven.

Here is the weekend camping trip menu.

 Arrival Day Camping Meal

Dinner – Grilled Bratwurst, Sweet Coleslaw, Grilled Cheesy Potatoes, Hazelnut Chocolate and Banana S'mores

 2nd Day Camping Meals

Breakfast – Camping Breakfast Burritos, fresh fruit
Lunch – Campsite Sandwiches, chips, fresh fruit
Dinner – Herbed Chicken and Vegetable Foil Pockets, Veggie Salad, Traditional S'mores

 3rd/Departure Day Meals

Breakfast – Chocolate Hazelnut French Toast
Lunch – Family Choice: Tortilla Wrap/Roll ups or Cheese Quesadillas, fresh fruit

" Get everything you need to make this camping meal plan; printable daily menu,  detailed grocery list, and recipes."

On the following pages you'll find:
Let's start with the grocery list on the next page. Everything you need for a weekend worth of meals is on there. It feeds 4-5 people and will only cost you $50 to buy everything. How great is that!!