Camping is a time-honored holiday for many families and friends, and it should be a way to relax, hike, and connect with nature. Camping in nature is a great time to remember how precious the environment is and why we need to protect it. Doing something as simple as wearing a wave ring can remind you how important it is that you do something every day to protect the land and oceans.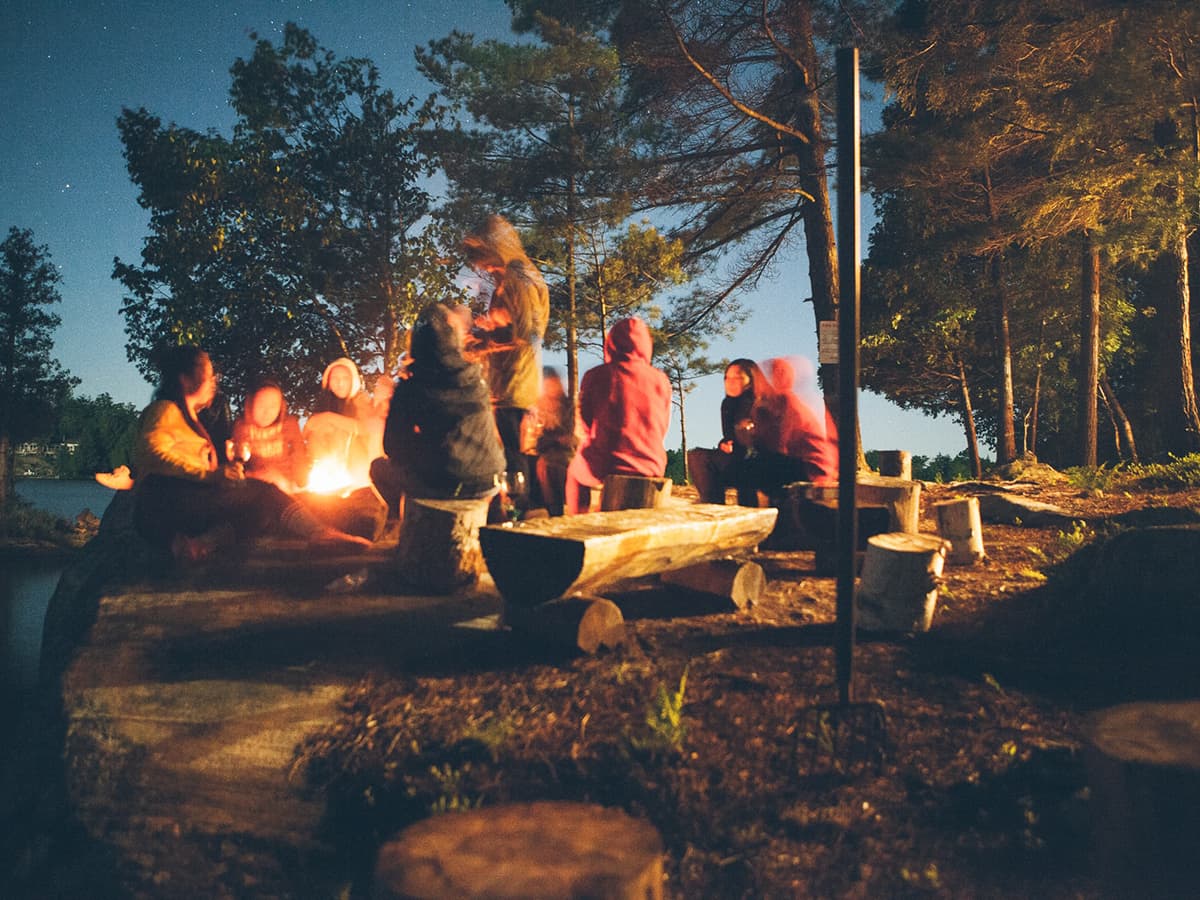 There's nothing better than sitting around a fire and enjoying a meal cooked over the bright flames after a long day of hiking. Food just tastes better, especially when you are surrounded by great company in the fresh air.
However, planning a camping menu takes time and a lot of prep. Depending on what type of camping you are going to be doing and if you have access to an ice cooler, pots and pans, etc., you should plan your meals carefully ahead of time as there won't be easy access to a grocery store once you arrive.
Camping Meal Tips for Large Groups
Before creating the menu for your camping trip, you might want to take the following considerations into account.
Ask about Food Allergies and Preferences
Before planning the meals for the trip, send a text to everyone on the camping trip asking if they have any food allergies or are vegetarian, vegan, etc. As you are the one in charge, you don't want to leave anyone out because they can't eat certain foods.
Make a Menu for Each Day
While it seems like a fancy thing to do for a camping trip, it's actually essential that you stay super organized to make sure that you have enough food each day. Plan out breakfast, lunch, dinner, and snacks for each day. Keep in mind that you can also have foods no-cook foods like cereal that last for several days. Try to pick meal ideas that aren't too complicated to make and don't require a lot of chopping, marinating, etc. as your resources will be limited.
Camp Meal Planning Tip: Pre-marinate and prep as many ingredients as you can ahead of time at home. This saves you time and effort at your campsite.
Divide and Conquer Your Shopping List
You, the camp cook, may be in charge of the meal planning, but you don't have to do all the shopping yourself. There are many different ways of dividing up who brings what. One of the easiest is to put one person in charge of breakfast, one in charge of lunch, one for dinner, one for snacks, and one for drinks. You can let each other know how much was spent and pay each other back the differences if necessary.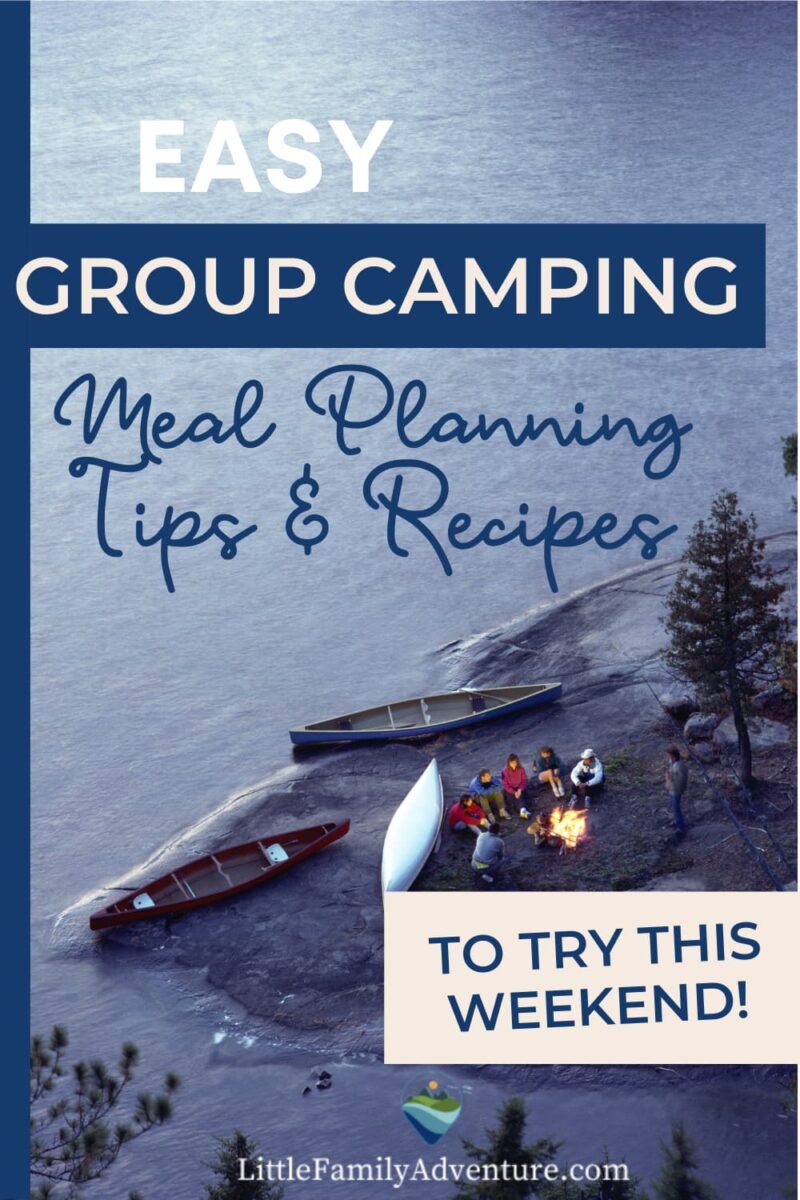 Easy Camping Meals for Large Groups
Ready for the most delicious camping trip ever? Start with this simple shopping list and build on more of your personal favorites.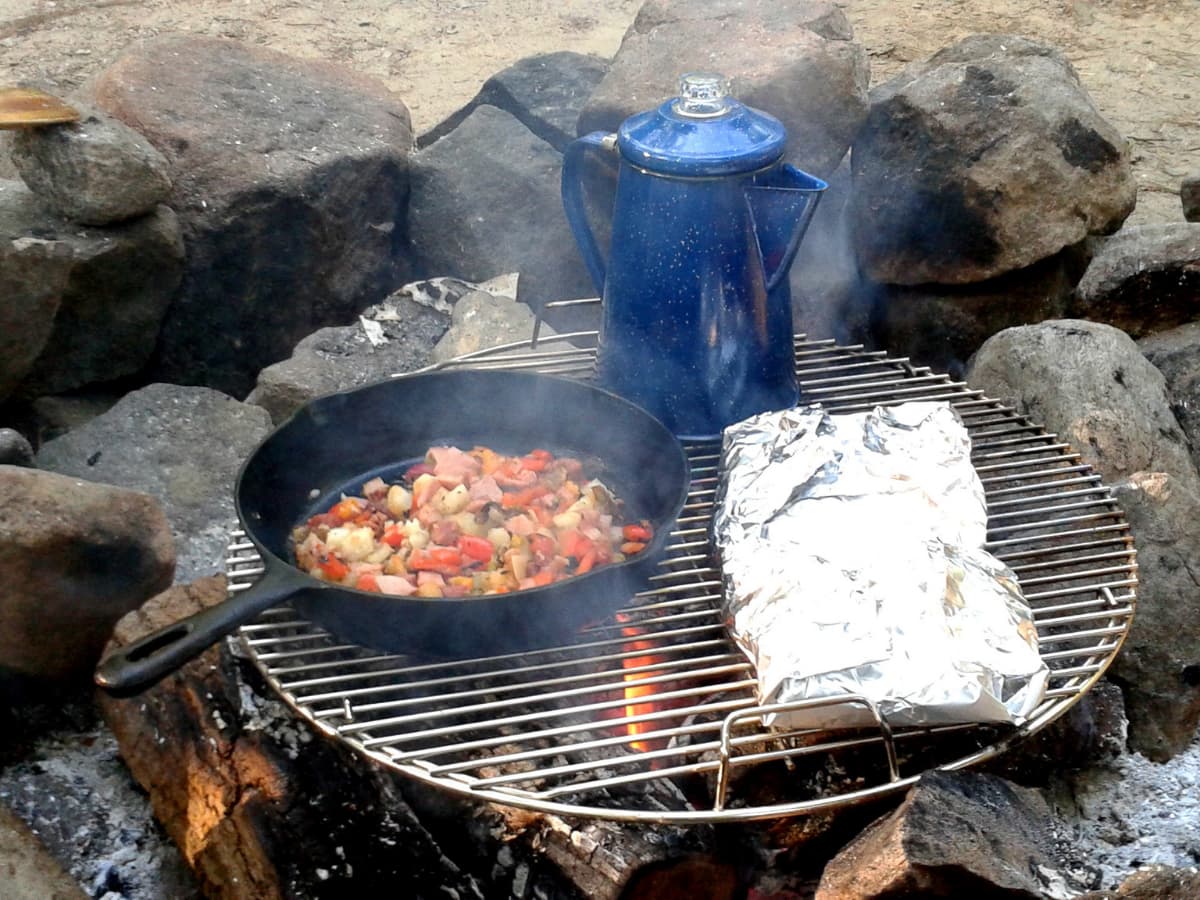 Camping Breakfast Ideas
Breakfast should be really simple when you're camping. No one wants to spend a lot of time preparing food when they've just woken up in a tent or cabin, particularly not when you have a whole day of exploring ahead of you. Here are the basics that you should definitely buy.
Eggs
Toast with Orange Marmalade
Butter
Fruit like Strawberries, Blueberries, Bananas, Grapes
Orange Juice
Coffee or Tea
Cereal
Milk
Some of my favorite meals that cater to large crowds include French Toast and pancakes cooked on a griddle, yogurt with fresh fruit and granola, scrambled eggs and sausage cooked in cast iron skillets, and cinnamon sugar toast with fresh fruit. Find more camping breakfast ideas here.
Camping Lunch Ideas
When you're camping, lunch is generally not eaten at the campsite because you're likely to be out and about wandering trails or spending time at a lake. This means that you need easy-to-pack lunch ideas, like the ones below.
Classic Turkey Club: Keep it simple with turkey clubs that you can wrap in foil and stow in your backpack for the morning.
Greek Yogurt Chicken Salad Recipe with Dill If you want more of a meal for lunch, then you can make a big bowl of this chicken salad at home and take it with you to the lake or field for a nice picnic. Just remember that you will need to bring along bowls and silverware for everyone. Here are some of our side dishes and salads for sandwiches that store really well in the ice cooler.
Homemade Lunchable: Create your own "lunchable", bento, or protein snack box with fresh veggies, cubed cheese, deli meat, hard-boiled eggs, trail mix, nuts, etc. Store in individual portions or just set out and set it up as a grazing board for everyone to grab what they like.
Want the hard work for meal planning done for you? Check out our Grab and Go Camping Meal Plan that has the recipes, shopping list, and menu for a weekend of meals.
Easy Camping Dinner Ideas
While camping dinners aren't complicated, they are delicious! Add some of the ideas below to your camp menu.
Burgers: Nothing beats a hearty burger cooked over the fire at the end of the day. Don't forget the buns, ketchup, mustard, lettuce, and tomatoes.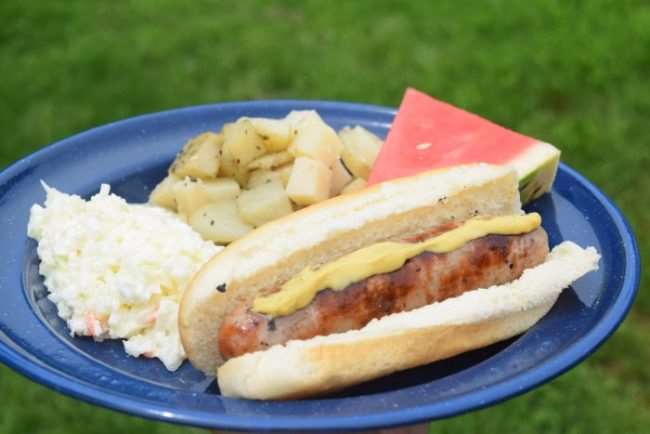 Grilled Brats or Hot Dogs: This is another classic camping food. Throw a few sausages on the grill and serve them with up with your favorite side salads or BBQ beans.
Veggie Skewers: You can create these skewers made with zucchini, red onion, and bell peppers ahead of time and then just pop them on the grill when dinner rolls around. Be careful not to put them directly above the flames.
Dutch Oven Mac & Cheese: Creamy, wholesome, and filling, traditional mac and cheese cooked in a dutch oven is sure to please hungry campers.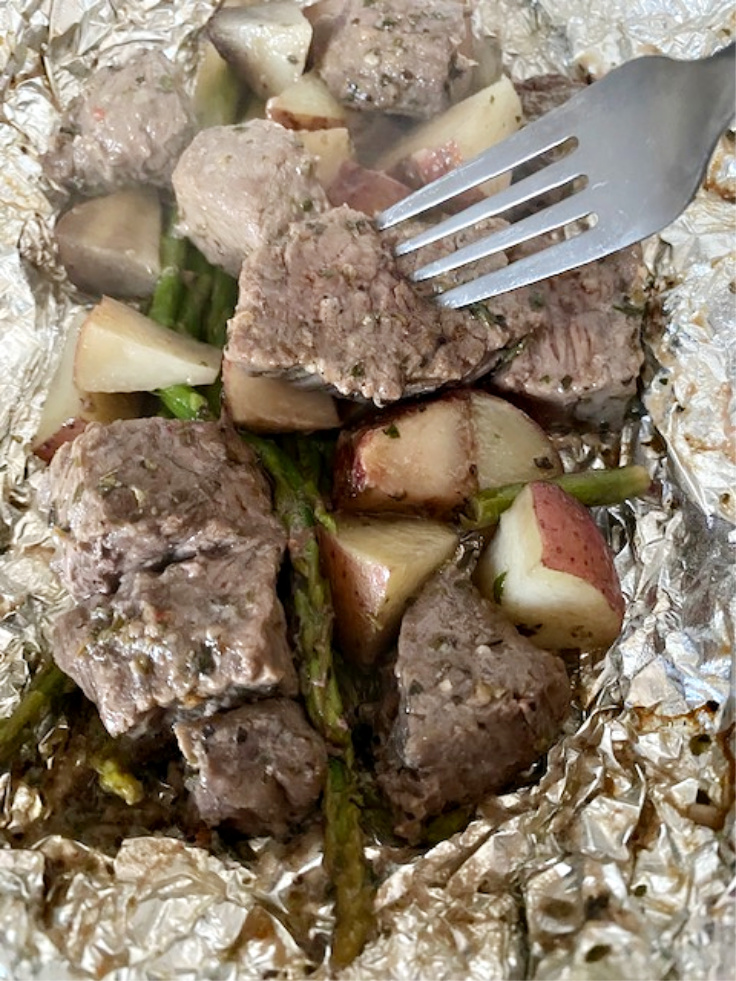 Campfire Foil Packet Dinners: The best thing about foil dinners is they can be customized by each person and cooked on a grill or over a campfire. The combinations are endless, but the classic Hobo Dinner of ground beef or steak, potatoes, and mixed vegetables is always a real crowd-pleaser.
Slow Cooker meals: If your group is staying in cabins or camping in an RV, slow cooker meals are great options. You can prepare everything ahead of time at home, "dump" in the slow cooker in the morning, head out for the day, and return to a slow-cooked meal. One of my favorites is beef and lentil chili.
Final Thoughts
Don't forget to bring cutlery, plates, plastic glasses, etc. Disposable versions are usually easiest so that you can throw them away after eating without having to wash them. However, try to find biodegradable options like wooden forks and spoons and paper plates so that you don't leave a bunch of plastic waste behind. If you are camping near the beach, you can use the opportunity with the large group to do a quick beach clean up, leaving the site better than when you found it.
Take the opportunity on your camping trip to teach your kids and loved ones about our impact on the great outdoors and why we need to protect this planet we call home.
Pin this article for later.