How about a little escape from your day-to-day routine? Sit back and close your eyes. Imagine island breezes, crashing waves on the shore, and the smell of fresh flowers around your neck. Aloha, we're traveling to the tropical paradise of Hawaii and enjoying a side of Hawaiian Macaroni Salad.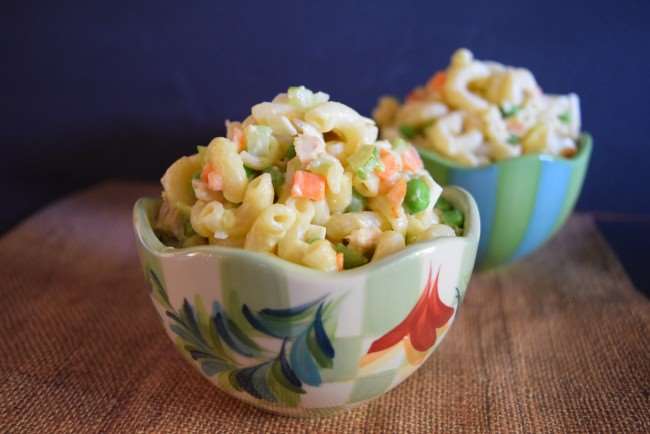 Years ago, my husband and I took an amazing Hawaiian vacation. We had friends that were stationed at Kaneohe Bay on the eastern side of Oahu. We went and spent a week traveling around Oahu. In my humble opinion, a Hawaiian vacation should be on everyone's bucket list. It's a trip not to be missed, especially for food lovers. Since we were with island residents, we skipped a few of the more touristy areas and tagged along to many of the local eateries and sites. When you live in a place, you hear about the best local dives and places to go. We had some of the best food on the island! One of our favorite things was a plate lunch with shredded pork, rice, and Hawaiian macaroni salad.
A traditional island Plate Lunch is nothing fancy. It's quick, easy, and very filling. You can find a plate lunch with a main entree (my favorites are Chicken teriyaki and Kaula Pork) , a scoop of macaroni salad, and two scoops of plain rice. Just like potato salad on the mainland, island macaroni salad recipes are as varied as the people and restaurants that prepare them. The macaroni salad we loved the best was unique and delicious. It contained one ingredient that is found all around the islands, tuna. Yes that's right, shredded cooked tuna made this mac salad out of this world.
In California, we could get a plate lunch at any Hawaiian BBQ restaurant. Unfortunately, we don't have anything like it here in Oklahoma. So, we've had to improvise and create our own version of the Plate Lunch. This is my recipe for a plate lunch style macaroni salad with tuna. Even if you're skeptical about the tuna, just try it. You'll LOVE it!! The salad gets better the longer you let it sit in the refrigerator. I will make it a day ahead, but it can be served immediately if needed. The trick to getting this salad as authentic as possible is to completely cook your pasta noodles. Al dente is NOT the desired product here. You want the noodles soft and fully cooked so they will absorb all that flavor.
This recipe makes a lot of salad. I always make more than I need. That way I'm assured that I can actually get a bowl or you before its gone. You can easily split the recipe in half. I hope you enjoy this island recipe.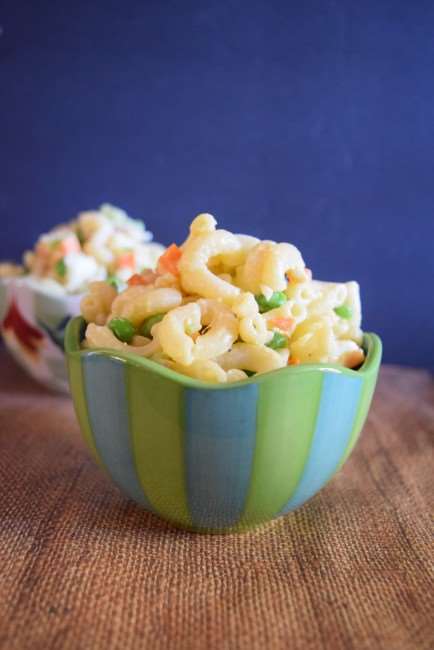 Hawaiian Plate Lunch Macaroni Salad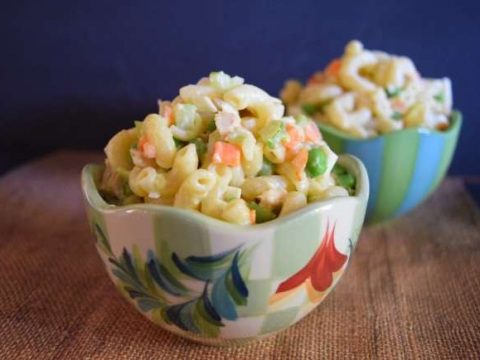 Ingredients
1 lb. pasta, preferably elbow macaroni
2 medium carrot, grated
2 celery stalk, finely diced
3 Tablespoons grated red onion
2 hard-boiled eggs, peeled and finely diced
10 ounces package frozen peas, thawed and drained
1 1/4 cup mayonnaise
1/4 cup milk
1 can tuna, drained
2 Tablespoons apple cider vinegar
salt and pepper to taste
Instructions
Cook pasta in salted water according to package instructions, about 12-15 minutes. You'll want pasta fully cooked (not al dente). Drain and set aside.
Combine cooked pasta, carrot, celery, onion, eggs, and peas in a large bowl.
Place mayonnaise, milk, tuna, and vinegar in a small bowl and stir together.
Add the dressing to the pasta. Stir together until completely combined. Season with salt and pepper.
Place mixture in the refrigerator for at least an hour (best if overnight) and adjust seasoning before serving.