Curl up with a big bowl of chili for a satisfying meal. When you want a hearty beef chili without beans, turn to this Beef and Lentil Chili. It's hearty, smokey, and OH so delicious!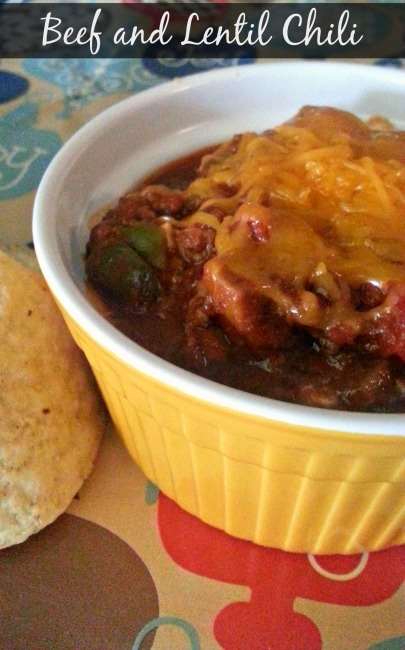 When I think of cold weather comfort food, I think of chili. There is just something about a big bowl of chili that warms you heart and soul. There are a million different ways to make and serve chili. This Beef and Lentil Chili is my go to recipe when I want to go light on the meat and still have a hearty bowl without beans. (When I want a sweet and smokey chili with beans, I turn to this Sweet Potato and Black Bean Chili. )You can easily go all vegetarian with this Beef and Lentil Chili by eliminating the beef all together and adding an additional 1/2 cup of dry lentils. The lentils give a great texture and flavor, so you'll never miss the meat.
Great Bowl of Beef Chili
Chili is one of those dishes that is good the first day you make it or "It's GREAT" (think Tony the Tiger) when refrigerated and eaten the next day. All those flavors marry and combine to create an explosion of flavor. This recipe cam be made two ways; on the stove top or in a crock pot. The first version takes about 2 hours and the second one 6-8 hours. I prefer the stove top method. I'll will often make this beef chili the night before and place it in the fridge until the next day. Then just reheat on the stove top and top with shredded cheese and sour cream. Mmmmmm!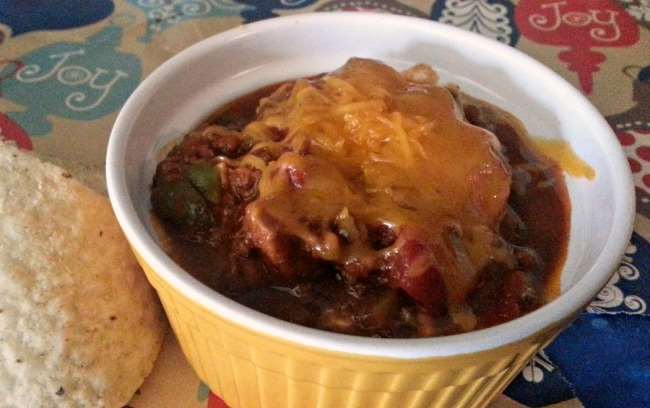 Yield: 8-10
Beef and Lentil Chili
You can create a meatless chili by substituting the ground beef for an additional 1/2 cup of lentils.
Total Time
2 hours
19 minutes
Ingredients
1 pound ground beef
1 onion, chopped
5 poblano peppers or 2 bell peppers, deseeded and chopped
8 ounces, button mushrooms, sliced
4 garlic cloves, minced
6 cups of fresh diced tomatoes or 2 28-ounce cans diced tomatoes
3 cups water
3 tablespoons chili powder
3 tablespoons cumin
1 tablespoon smoked paprika
1 teaspoon salt
2 teaspoons dried thyme, crumbled
1 1/2 cups black or Puy lentils
Sour Cream (optional)
Cheddar Cheese (optional)
Instructions
Heat a Dutch oven or large skillet over medium-high heat.
Add ground beef and cook until beef is brown, about 5 minutes. Crumble the beef as you cook.
Drain all but 2 tablespoons of grease from pan.
Add onion, peppers, and mushrooms. Sauté over medium-high until onions are tender, about 8 minutes.
Add garlic and saute an additional 1 minute or until fragrant.
Stove Top Method
Return browned beef and the next 7 ingredients (tomatoes thru thyme) to the pot. Stir to combine.
Cover and simmer until lentils are tender, stirring occasionally, about 1 1/2 hours.
Crock Pot Method
Add all ingredients into a crock pot. Set on low for 6-8 hours.
Serve in bowls topped with sour cream or cheddar cheese.
Now a bowl of chili is delicious, but there are so many other ways you can enjoy it. I ALWAYS make a huge pot so I can enjoy chili one of these other ways too.
Chili topped baked potatoes
Chili Cheese fries (baked potato wedges at 400 degrees F for 45 minutes)
Chili Macaroni and cheese
Chili Spaghetti
Cheese Enchiladas topped with chili instead of enchilada sauce
Chili Pie (Chili topped with cornbread and baked)
There are so many ways to enjoy this Lentil Beef Chili, how will you serve it?