This article with cracker topping ideas is sponsored by Crunchmaster. All opinions are my own.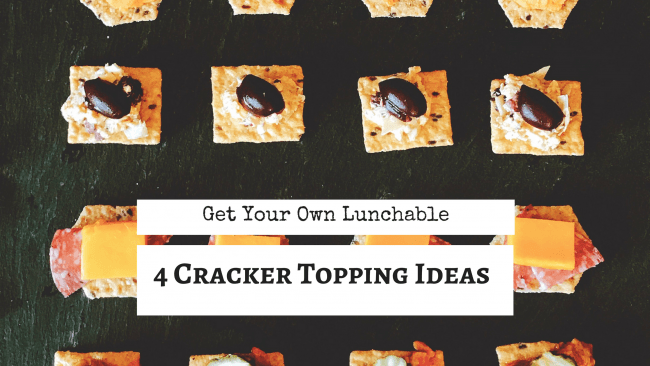 This summer we had an amazing road trip. We drove 4200 miles in 30 days and went to some bucket list destinations like Yellowstone National Park, Estes Park, Colorado, and Moab, Utah. In all, we visited 9 states and 15 different destinations.
With all that driving and exploring, we didn't have a lot of time to spend in the kitchen, especially for lunch. After the first 4 days of cold cut sandwiches, I was perfectly okay if I NEVER saw another sandwich for the rest of the summer.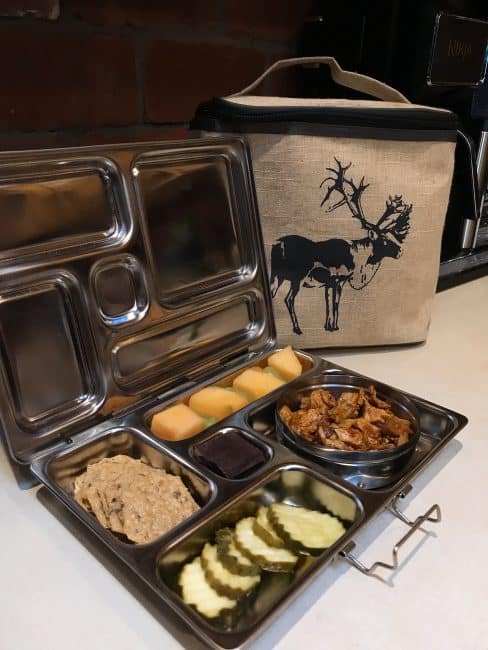 So instead of a sandwich, I ended up making my own version of a "lunchable" with crackers, different dips or toppings, fresh fruit, and vegetable slices. It was an easy way to make lunch, eat it on the go, and was something OTHER than a sandwich.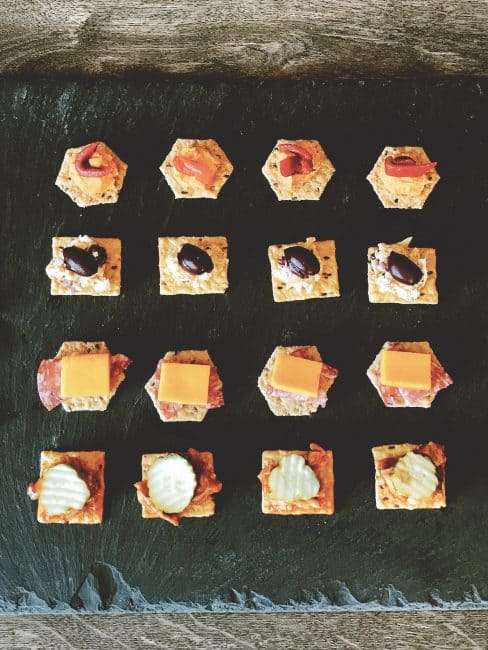 I want to share with you 4 of our favorite cracker topping ideas. These cracker toppings are great for a DIY Lunchable now that the kids are back in school, as party appetizers, or as snacks. All are really easy to make and are on the healthy side of things.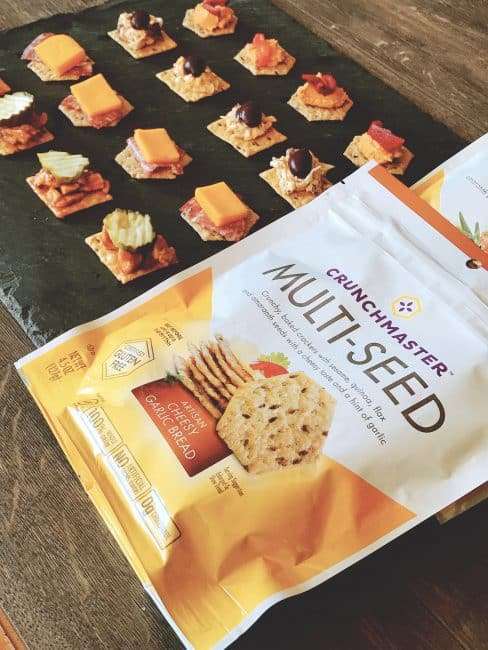 For the crackers, I'm using Crunchmaster crackers. These are our favorite crackers because they taste great and come in a variety of flavors with wholesome ingredients. The Multi-Grain varieties are made with whole grains like brown rice, stone-ground corn, oat fiber, and four tasty seeds. The Crunchmaster Multi-Seed crackers are baked with a blend of sesame, quinoa, flax, and other ingredients that are gluten free and delicious. Between the two types of crackers, there are endless flavor combinations that make these perfect for a DIY Lunchable.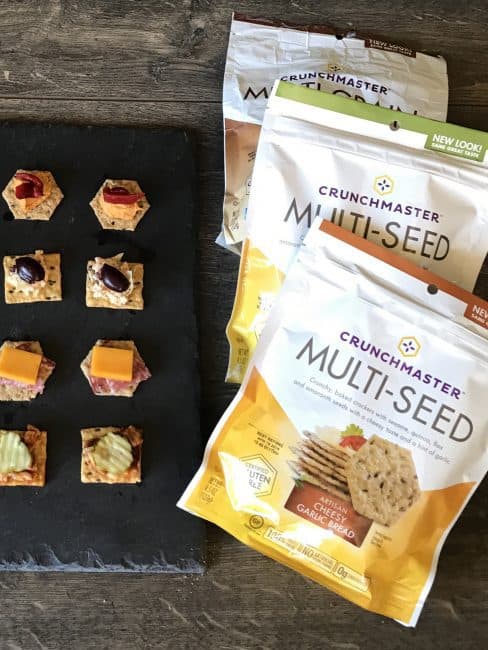 On our trip, we couldn't get enough of the Artisan Cheesy Garlic Bread, Buttermilk Ranch and Dill, White Cheddar, and Ranch flavors. They aren't your typical cracker flavors, but they were delicious to snack on by themselves, served with sliced cheese or dip, or as a base for our own "lunchable". Try these flavors yourself and see which you like best.
Here are 4 Cracker Topping Ideas for you to try to create your own DIY Lunchable.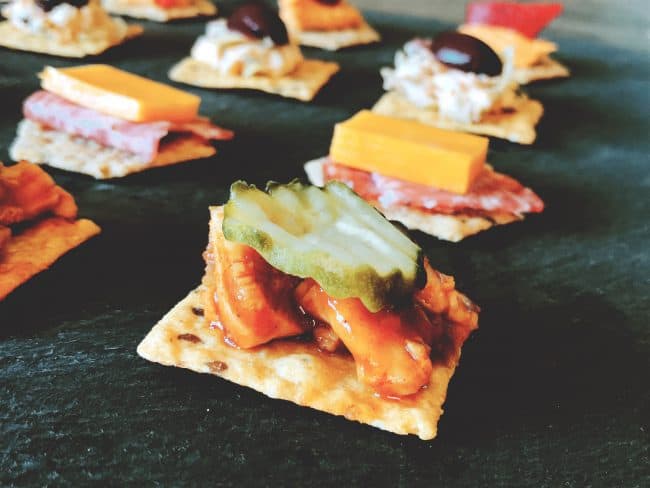 BBQ Chicken
Tuscan Cheese with Kalamata Olive
Salami and Cheese
Roasted Red Pepper Hummus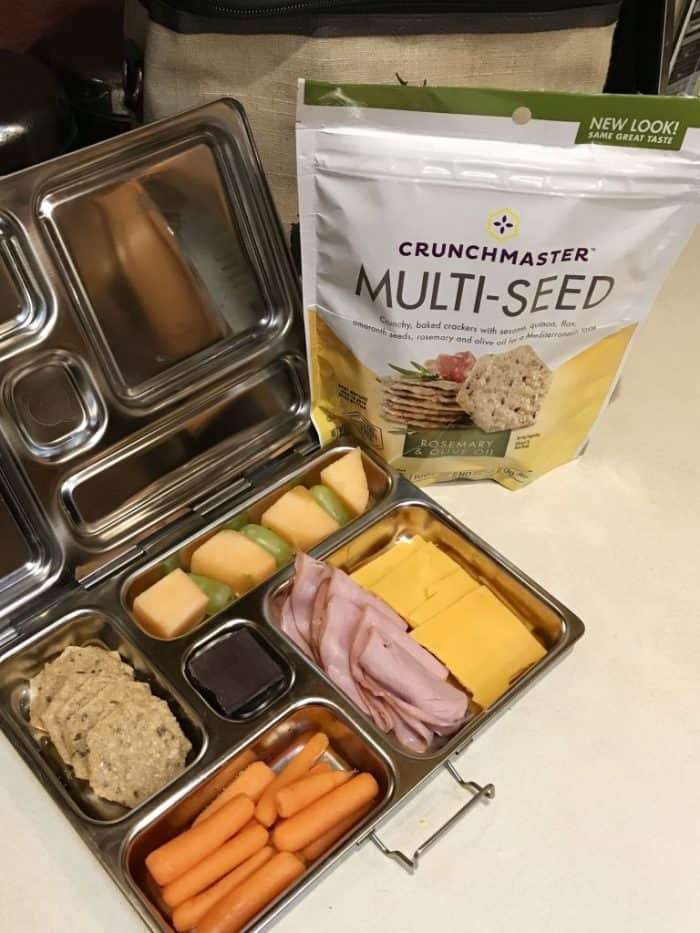 Create your favorite combination of cracker toppings for a DIY Lunchable or snack. Complete it by adding fresh fruit and vegetables for a full meal. Whether you are sending it with the kids to school, taking it to work, or for an on the road meal, a DIY lunch with any of these cracker topping ideas is a great way to eat healthy any where you go.
Find Crunchmaster crackers in a store near you and make your own lunchable today.