I'm partnering with Crunchmaster crackers this year to make a change in my life and start #NewBeginnings with our family. Today I'm bringing you a delicious Tuscan Cream Cheese Dip and a few ideas for spending more quality family time together. I've been compensated but, as always, all opinions are my own.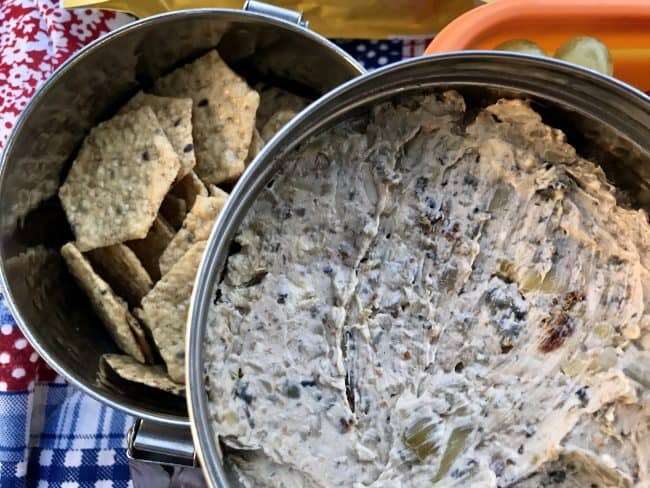 As a busy mom I'm always looking for quick and easy recipes, so I can spend less time in the kitchen and more time doing the things I want to do. Even with our family's hectic schedules, I want us to be able to sit down for a meal together and eat healthy. I never imagined that sitting down together would become SO different, especially as the kids get older. One fun solution I've found is a theme night we call "Appetizer Night" where I serve appetizer recipes like this Tuscan Cream Cheese Dip with Crunchmaster crackers and fresh vegetables. Whether we are at home, camping, at the park or near the lake, this type of meal goes anywhere we are and ensures that we can enjoy a meal together.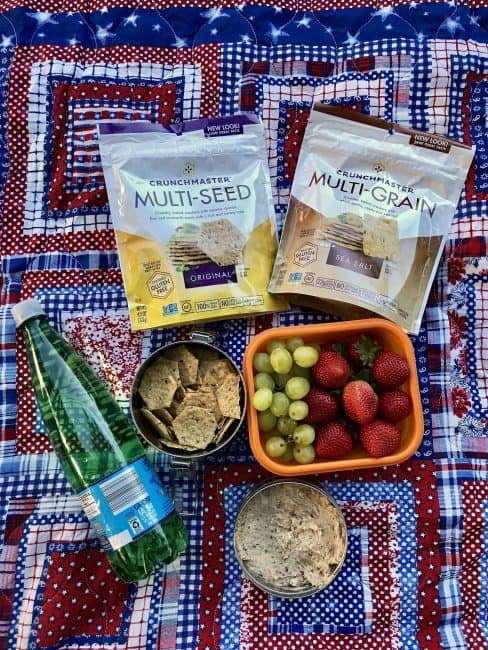 Appetizer night is a HUGE HIT with my family. I can't tell you how many times we've been at a restaurant and ordered nothing but appetizers and dessert. Appetizers are generally smaller portions and are perfect for sharing. We decided to start doing "Appetizer Night" at home or where ever we find ourselves (usually camping or the park). Each of us pick out an appetizer or food to make and share for dinner. It gets the kids involved in dinner, both in the decision making and in the kitchen prep/cooking part. Then we all sit down to eat together.
This Tuscan Cream Cheese Dip is one of my go-to recipes. I add Kalamata olives, sun-dried tomatoes, artichokes, Feta cheese and dried herbs to softened cream cheese to this to make it a more filling dip. Make it the day ahead to let all those flavors mix, but it's really hard to stay out of it for long.
Note: If you have a picky eater, you can finely chop the vegetables or combine/chop all the ingredients in a food processor. It's a great way to hide the ingredients. Your picky eater will never know what's inside.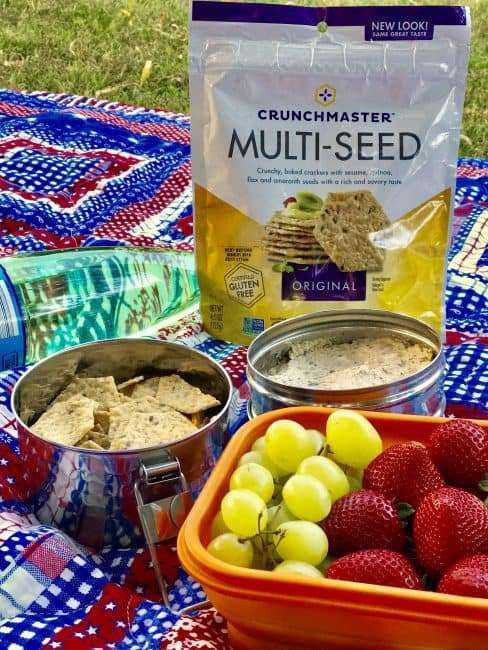 I'll serve it with original or sea salt Crunchmaster Multi-seed crackers, baby carrots, sliced cucumbers and radishes. If we are planning to be away from the house for dinner, I'll pair this Tuscan Cream Cheese Dip and crackers with a few other sliced or cubed cheeses, fresh fruit, sliced deli meat or pre-cooked sausage, etc. It's a great little picnic or meal that doesn't require a lot of time in the kitchen and can be enjoyed anywhere.
Earlier I mentioned a few ideas for spending more quality family time together. When you plan meals like this, family time just kind of naturally happens. You aren't rushing home to cook or ordering from a drive-thru to eat in the car. Everyone is looking forward to their part of the meal, so everyone sits down to eat. Then since you are already together, you take a little extra time to enjoy yourself and have fun together.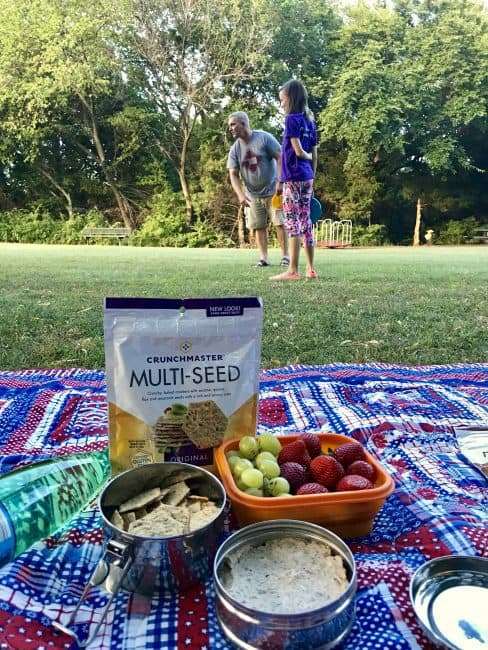 If you find yourself outdoors like we are, I find that having these three things in the car really helps ensure more quality family time outdoors:
Picnic blanket
Outdoor game (frisbee, football, soccer ball, etc)
Snacks and water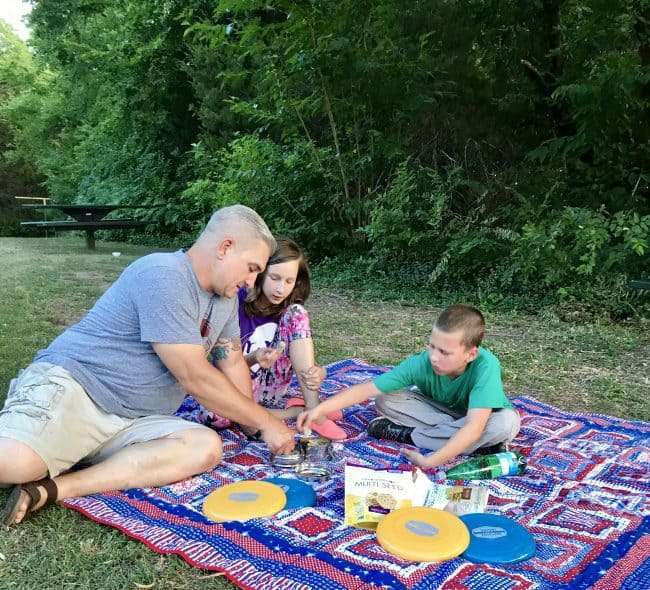 For my snacks, I like to carry dry goods like trail mix and crackers. I highly recommend Crunchmaster crackers because they are baked, not fried like potato chips, and come in a variety of flavors. My kids love the Applewood Smoked Barbecue and Buttermilk Ranch and Dill. These crackers taste better than traditional chips and are made with 100% whole grain. I can feel good about what's inside and my kids love to eat them. So it's a Win-Win in our house! These crackers are gluten-free, non-GMO, and kosher too. Plus several varieties are also free of common allergens like dairy and eggs. So if we are with friends with allergies, these are a great choice.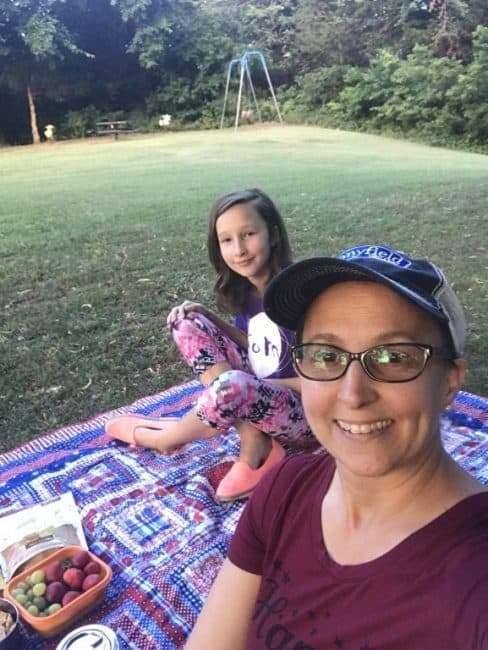 Whether you are at home, at a summer concert, having a picnic in the park, or traveling, you can create and serve this Tuscan Cream Cheese Dip with Crunchmaster crackers and spend more time with the family rather than in the kitchen.
Find Crunchmaster crackers at a grocery, natural, or club store near you at crunchmaster.com. They are available in the US and Canada.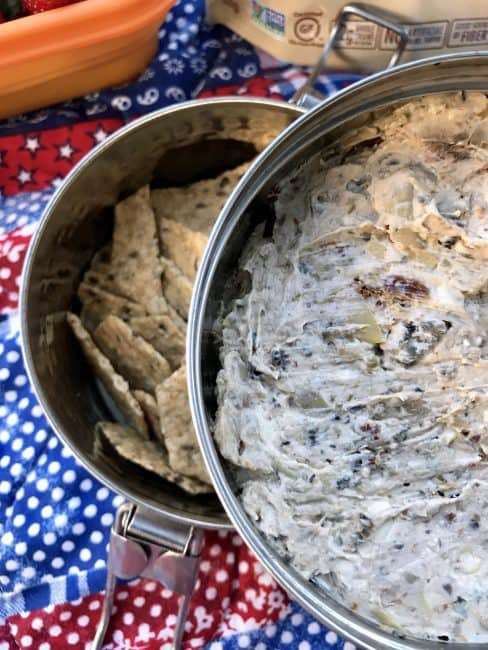 Tuscan Cream Cheese Dip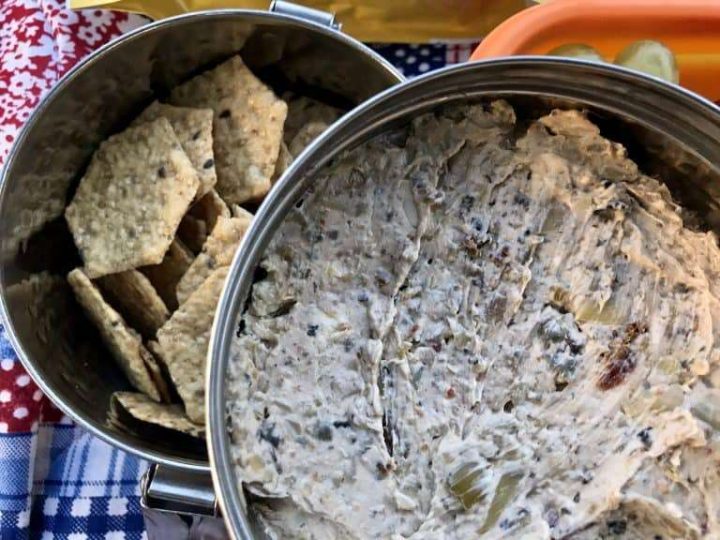 Ingredients
2 packages of cream cheese, softened
1 jar/can marinated artichoke hearts, drained and chopped
1/2 cup Kalamata olives, chopped
1/4 cup Sun dried tomatoes, chopped
1/2 cup Feta Cheese, crumbled
2 cloves of garlic, minced
1 Tablespoon dried parsley
1 teaspoon dried oregano
1/2 teaspoon sea salt
1/4 teaspoon onion salt
Instructions
Mix all ingredients together my hand or in a mixer.
Refrigerate for several hours or overnight.
Serve with crackers or fresh cut vegetables.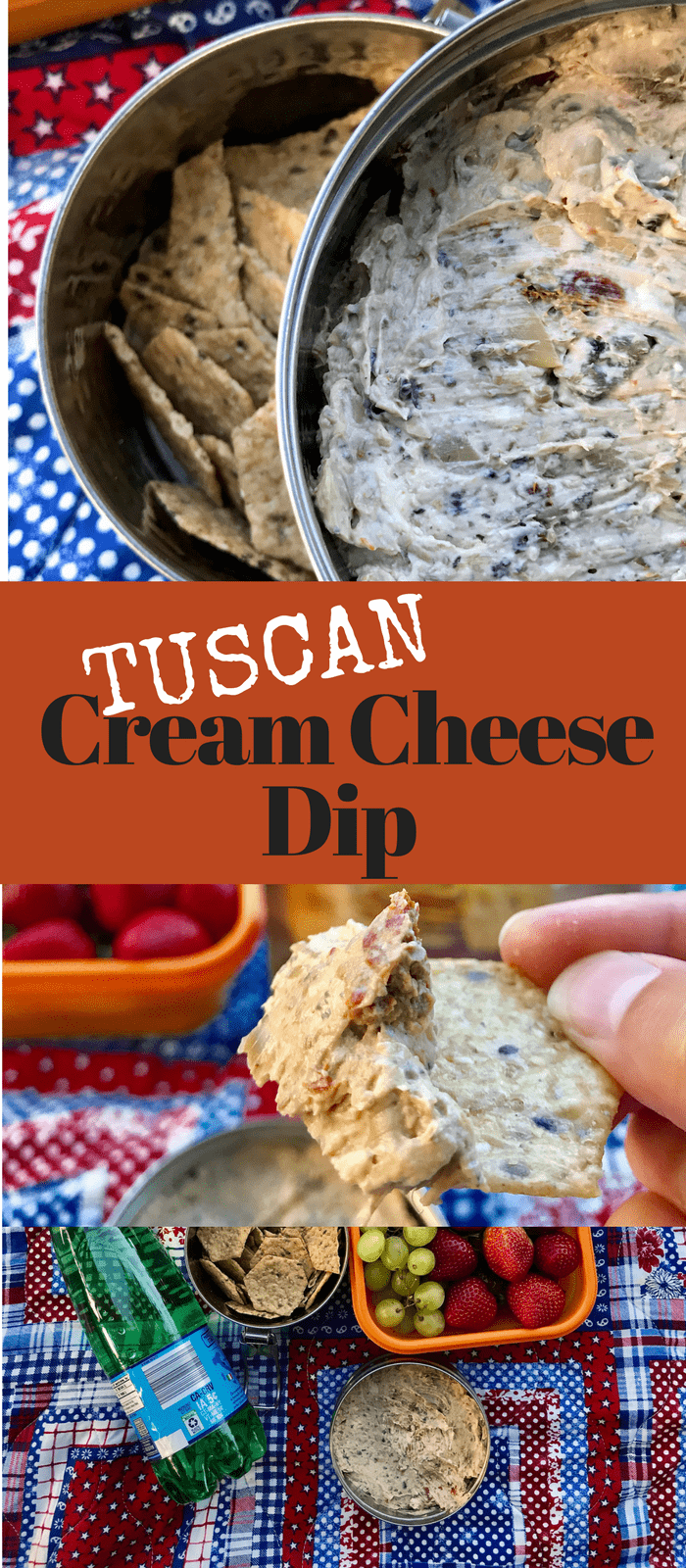 SaveSave