Don't you hate soggy camping food? We do too! There's nothing worse than a soggy sandwich thanks to melted ice in the ice chest Luckily there is a solution and it's called a Cooler Insert. This hard plastic container takes the place of frozen ice packs to keep your ice cooler cold and your perishable food safe.
An ice cooler is a camping essential for keeping food cool and at a safe temperature. Ice is often used to keep food cool, but as the ice melts, it can creak into packaging and containers making food waterlogged and soggy. I recently tried the Cooler Insert and found that it was a great product to prevent soggy food inside the ice chest. Let me know my review with you here.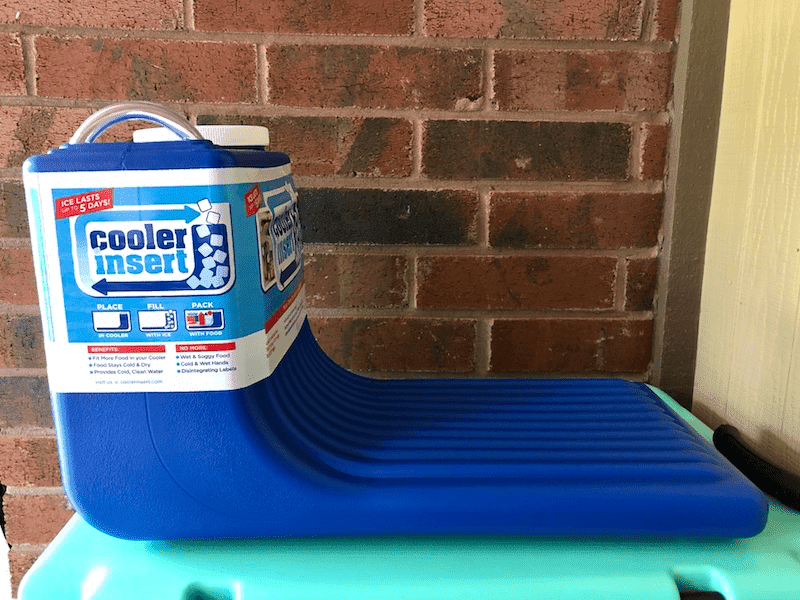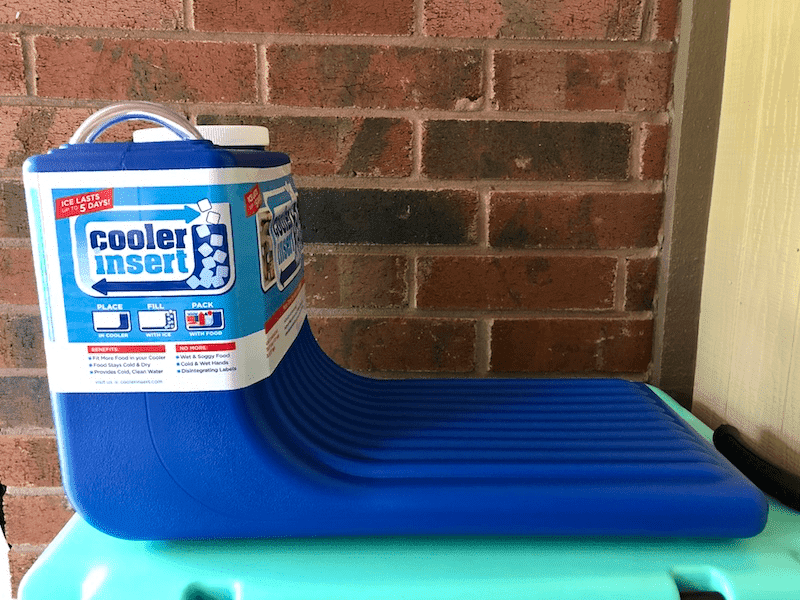 Hard Plastic Cooler Insert
The hard plastic Cooler Insert is a molded container designed to fit inside your ice chest and prevent food from coming in contact with ice. You fill the Cooler Insert with a 12-pound bag of ice and add cold water to the fill line. I found that as I added water to the fill line, it helps to shake the container to remove any air bubbles. The enclosed instructions warn that air pockets would reduce the insert's effectiveness. So I wanted to remove as much of it as possible. Shaking or giggling did the trick! Then I could add the lid, place it in the cooler, and start loading.
Note: If you have a large freezer, you can also freeze the entire container. I don't have a freezer this will fit, so I didn't try this option.

Cooler Insert Specifics:
Keeps ice cooler cold for 5 days in a standard cooler or up to 14 days in a premium cooler
Recommended for coolers up to 65 quarts.

Dimensions: 11.75" H x 10" W x 19.5" L (equivalent to a 20-pound bag of ice)
Can be frozen solid in the freezer
Made in the USA
Dishwasher Safe
Lifetime Warranty
Retail Price: $54.95
How do you pack an ice cooler?
Against the back of the Cooler Insert: beverages – water, soda, tea, etc.
Bottom: Raw meat and dairy (The insert has ridges on the surface. So I like to start with meats or rigid bottom containers at the bottom.)
Middle: starchy vegetables, fruit, deli meat, cheese (Best with things that can't be crushed easily)
Top: Leafy greens, bread, eggs, chocolate and other more fragile items.

How to Keep Ice From Melting Keep Food Cold Without Ice Packs
I tested this with our 75-quart ORCA Cooler because our 26-quart ORCA Cooler was too small for the insert. These coolers are really well insulatedand do a great job at keeping items cold on their own. I tested the insert in my 75 quart cooler first without food. I left it closed for 12 days. When I opened it up on the 12th day, the interior temperature was 35˚F and the insert still had ice floating in the melted water.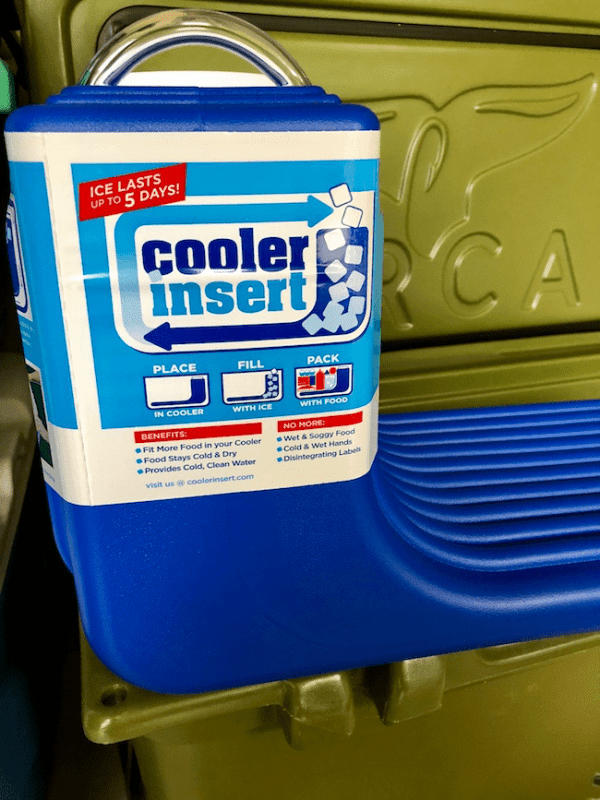 Next, I tested during a weekend camping trip. When in use, we are in/out of the cooler several times a day, so the ice did melt more rapidly as compared to the control above because the cold air escaped from the cooler. After a 3 day camping trip, the internal temperature was still below 40˚F and I didn't need to add any additional ice.
What happens to the ice as it melts?
There is no way to prevent ice from melting inside any cooler, but with the Cooler Insert, the water doesn't come in contact with your food. How? As the ice melts the water stays inside this plastic cooler insert. That water can be siphoned off with the included tube and more ice be added. I really like that I don't have to remove the insert to drain the water.
Overall impression
Overall, I really liked the Cooler Insert to keep food cold. Because food doesn't come in contact with ice and/or water, you avoid soggy food in the ice cooler which is always preferred. When not in use, the insert (once completely dry) can be stored inside the cooler.
Get yours at CoolerInsert.com