Don your grilling apron and get ready to fire up your barbecue grill. I have the "how to" on the best way to grill brats for a tasty meal this season. I've partnered with Boiron, maker of Acidil – the homeopathic heartburn relief powered by plants, to help you perfect your grilling bratwurst technique and enjoy BBQ without the (heart)burn. I'm sharing my best bratwurst grilling tips, 5 delicious side dishes, and condiment ideas that will make your mouth water. I've also got a summer prize package giveaway for you too! Keep reading and you'll find the giveaway at the end!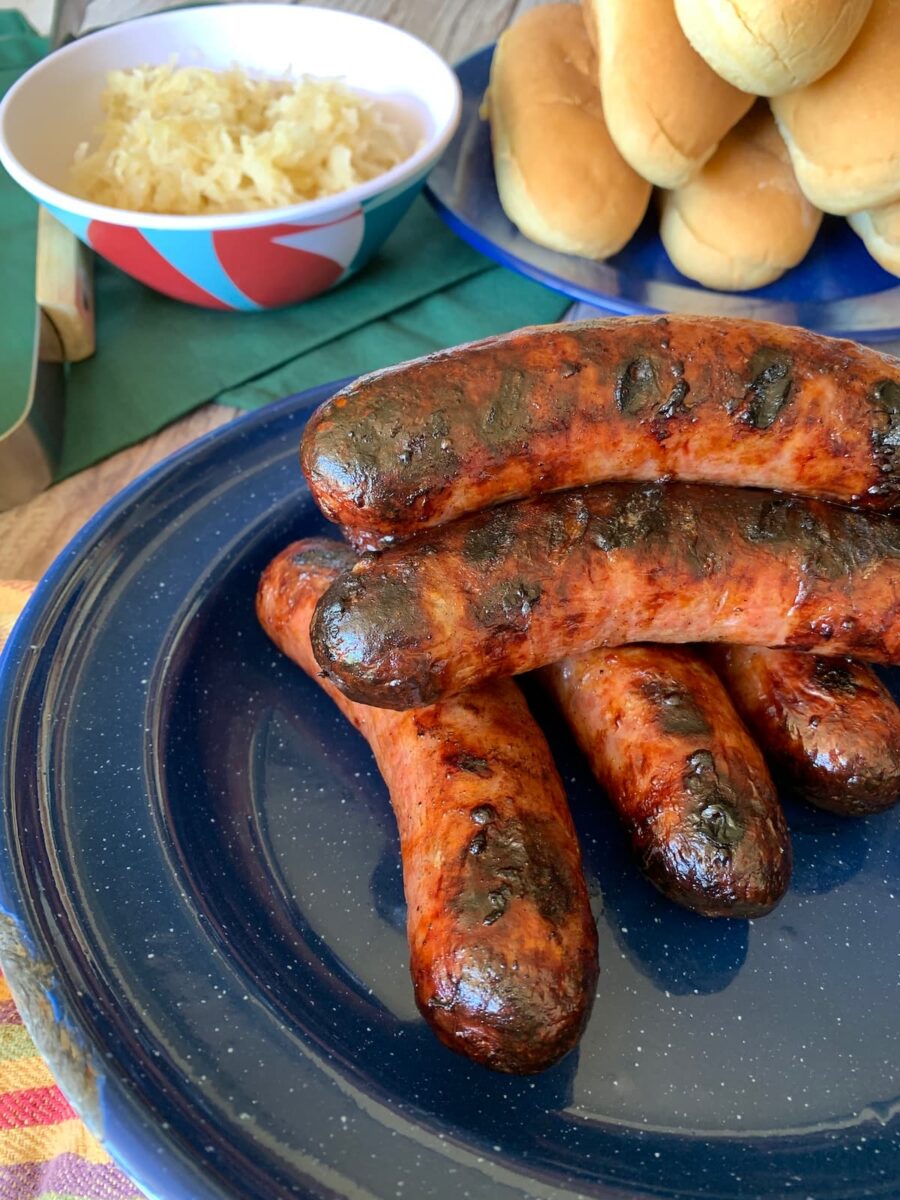 There are so many different ways to enjoy bratwurst, a German sausage usually made with a mixture of ground pork and beef. At home, I like to pop them in the air fryer or toss them on the grill. But my all-time favorite way is grilled over an open fire and served with some deli or golden brown mustard and sauerkraut on a pretzel bun. I also love to pair my grilled brat with a great side dish like my Mom's potato salad or skillet fries.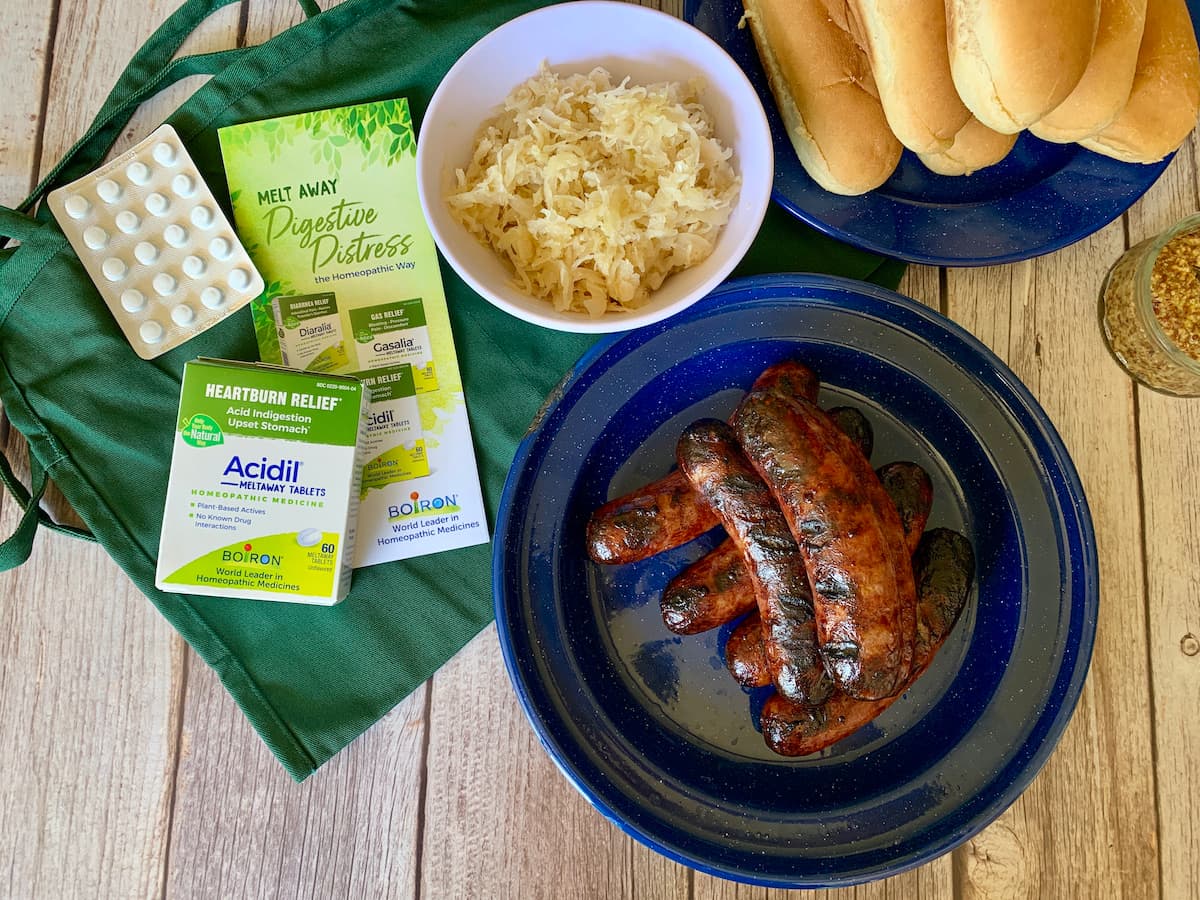 Best Way to Cook Brats on Grill
Did you know bratwurst means "frying sausage" in German? It's no wonder that the best way to grill brats is right over an open flame. This can be your backyard barbecue, open fireplace, or over a campfire. I'm not going to get into the debate over a charcoal grill versus a gas grill here. Each method has its own benefits, but you decide. Here are 9 tips to perfect your Brat Grilling technique no matter what type of grill you have.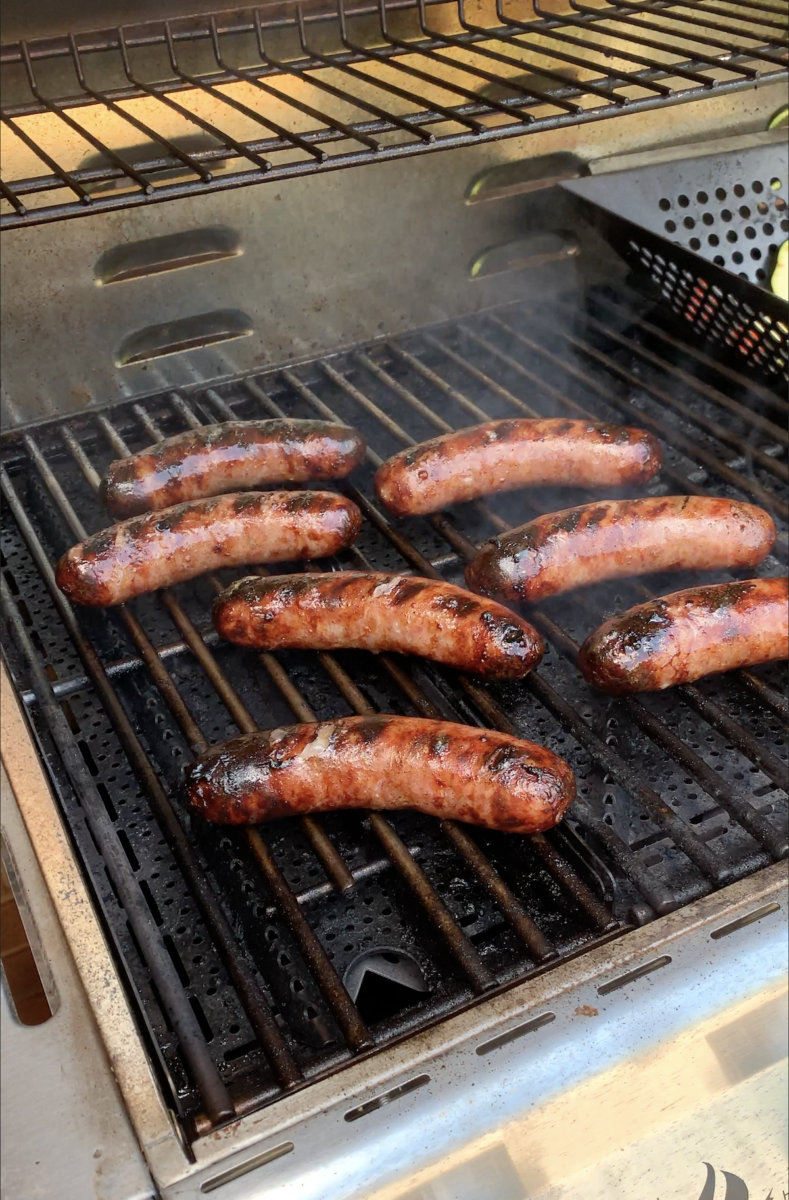 9 Tips You Need To Know When Grilling Brats
Preheat the grill to medium heat to medium-high heat (350˚F – 400˚F).
Lightly oil fresh sausage prior to placing it on the grill. I like to pour a little avocado or olive oil onto my hand and rub it on the surface of the bratwurst before cooking. You can also use a brush. Doing this prevents them from sticking to the grill and it also helps sear the meat to create a crispy outer crust. I love that snap when I bite into a grilled sausage.
Place brats on a hot grill over direct heat to get a nice sear. Make sure you don't crowd them and have some space around each sausage so that it can sizzle and cook evenly without burning.
Cook brats over medium to medium-low heat (350˚F – 300˚F) for best results.
Place your brats at an angle onto the grill grates so that they are cooking evenly on all sides. This way when someone is constantly flipping each sausage over and over, the best ones don't get overcooked.
While grilling bratwurst, turn them frequently so that they grill/cook evenly. This will give you a nice browned exterior while still keeping that juicy interior!
Don't overcook these German sausages – the internal temperature reaches 160˚F when measured with a meat thermometer.
Know when to move to lower heat – If you are satisfied with your grilled bratwurst's exterior char and slightly crispy skin, but it's not quite done, it's time to move them to a cooler side of the grill with low indirect heat. This is where they will continue cooking until all sides reach the desired temperature.
Brats are best served hot, but they can also be eaten at room temperature or cold as well!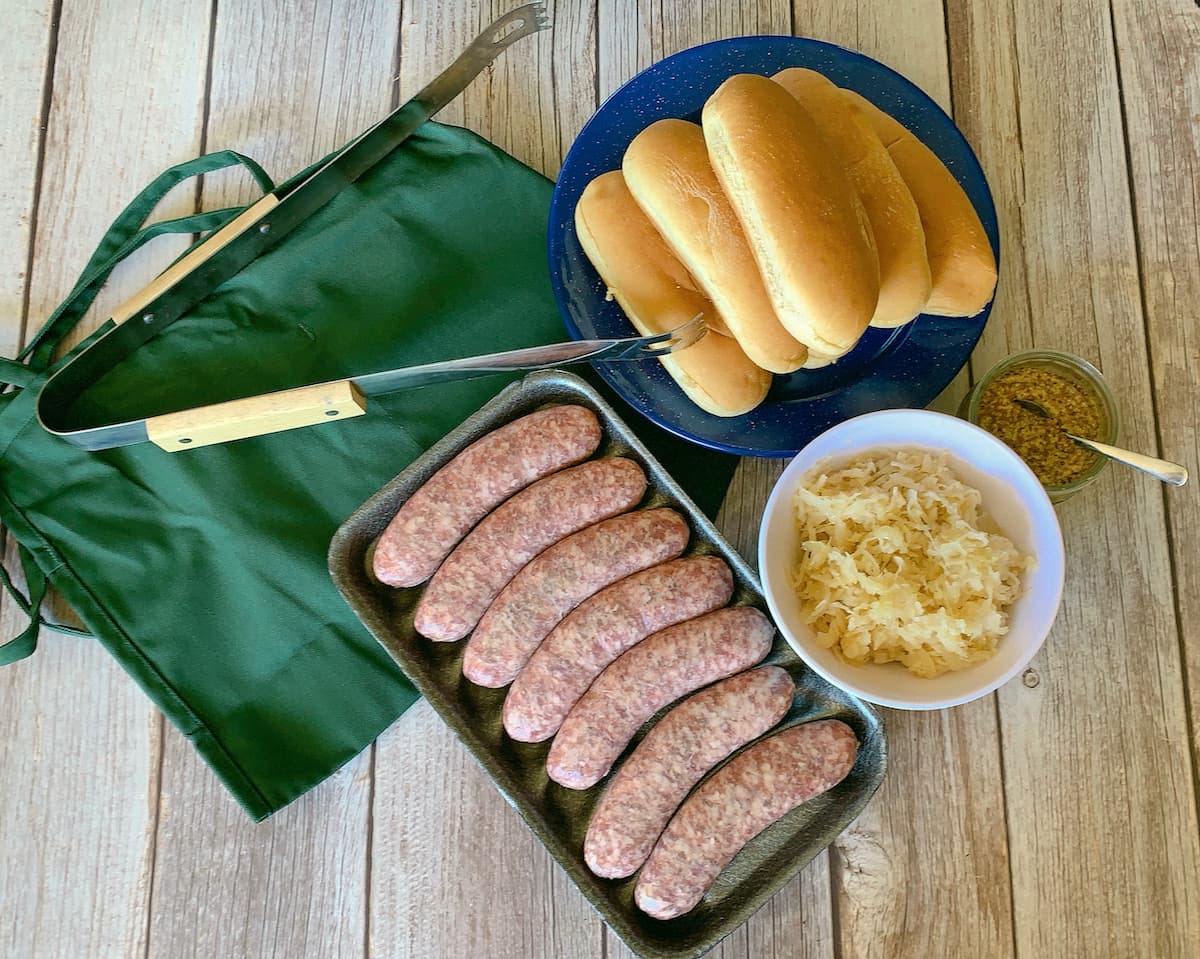 How long do you grill brats?
Brats should be cooked for about 15-20 minutes over medium-low heat (350˚F-300˚F). The brat internal temperature should be 160˚F when done. Note that thicker sausages may take a little longer to cook. The middle of the sausage may still be pink, but is considered safe to eat when they reach the safe internal temperature (160 degrees Fahrenheit).
Should you boil brats before grilling?
NO! You should not parboil or boil brats in apple cider, beer, or other liquids prior to cooking. When a brat is boiled, the meat's protein structure weakens resulting in a mushy texture, casings become rubbery, and the meat often separates from the casing. The boiling process also allows the flavors to seep out of the sausage during cooking. You want juicy brats with full flavor and a crisp outer casing, please don't boil them.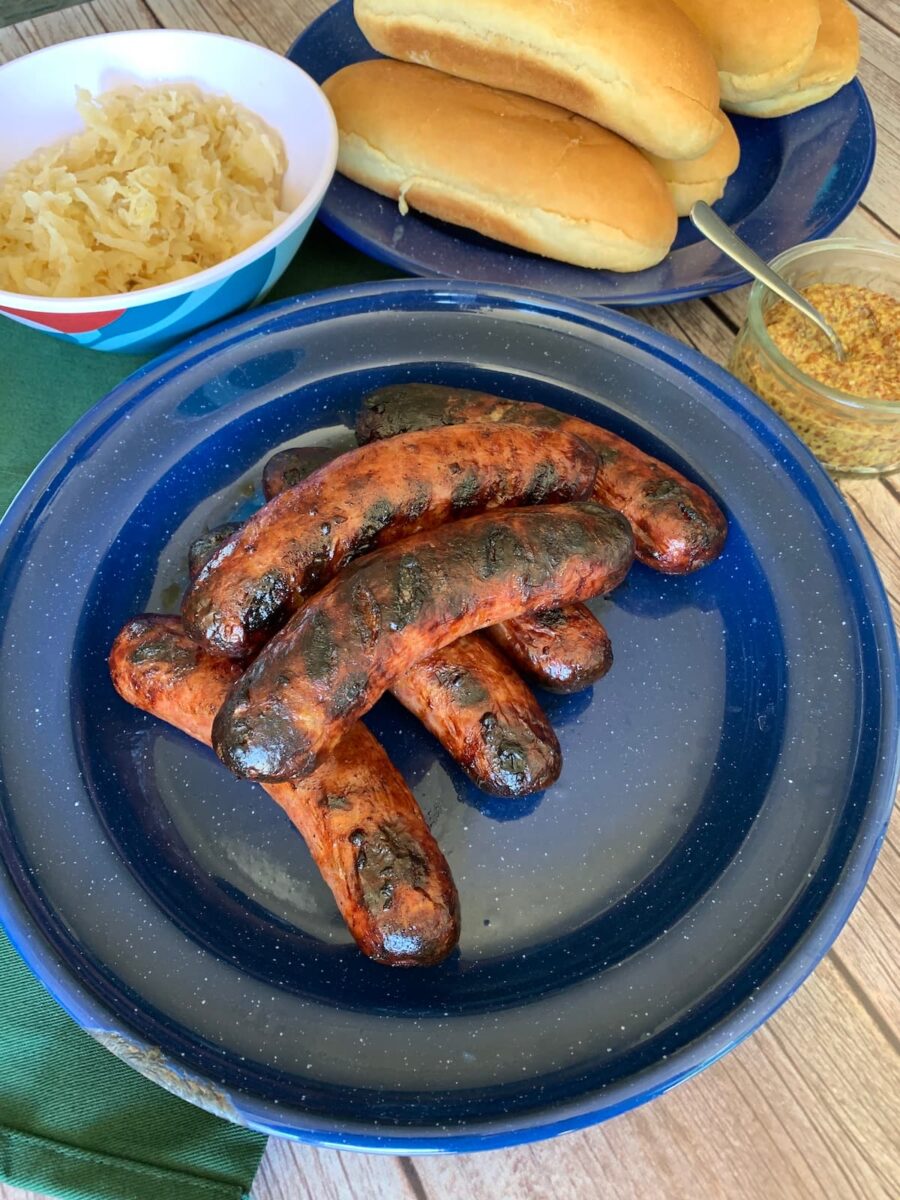 Add another level of flavor
Add a bit of extra flavor to your sausages or hot dogs by trying some of my favorite condiments that go beyond ketchup and mustard. Pair it with a soft bun of your choice (pretzel or Hawaiian buns are my favorites) and you're all set!
Mustard Relish – This is best when made fresh, but can be purchased as well.
French Fried Onions – I'll buy the can of premade French Fried onions to add a little more crunch and pop of flavor.
Bacon Wrap – Prior to cooking your bratwurst sausage, wrap a thin slice of bacon around it and tuck in the edges as best you can to prevent it from unraveling.
Beer Mustard – Mix beer with your favorite mustard for an extra kick of flavor and crispness to go along with the smoky taste from grilling.
Grilled Onions – Caramelized red onions are best when they're grilled, adding a caramel flavor to the smoky taste of your bratwurst.
Cheddar Cheese or Swiss Cheese – Top off your barbecue sausage with melted cheese for that extra indulgent bite!
Sauerkraut – Fermented cabbage, aka sauerkraut, is best when cooked. It adds a tangy flavor to your grilled bratwurst and is perfect for those looking for something different with their next barbecue.
Grilled Peppers – Fresh red peppers are best in the summertime, but you can also use jarred roasted green or red bell peppers as well!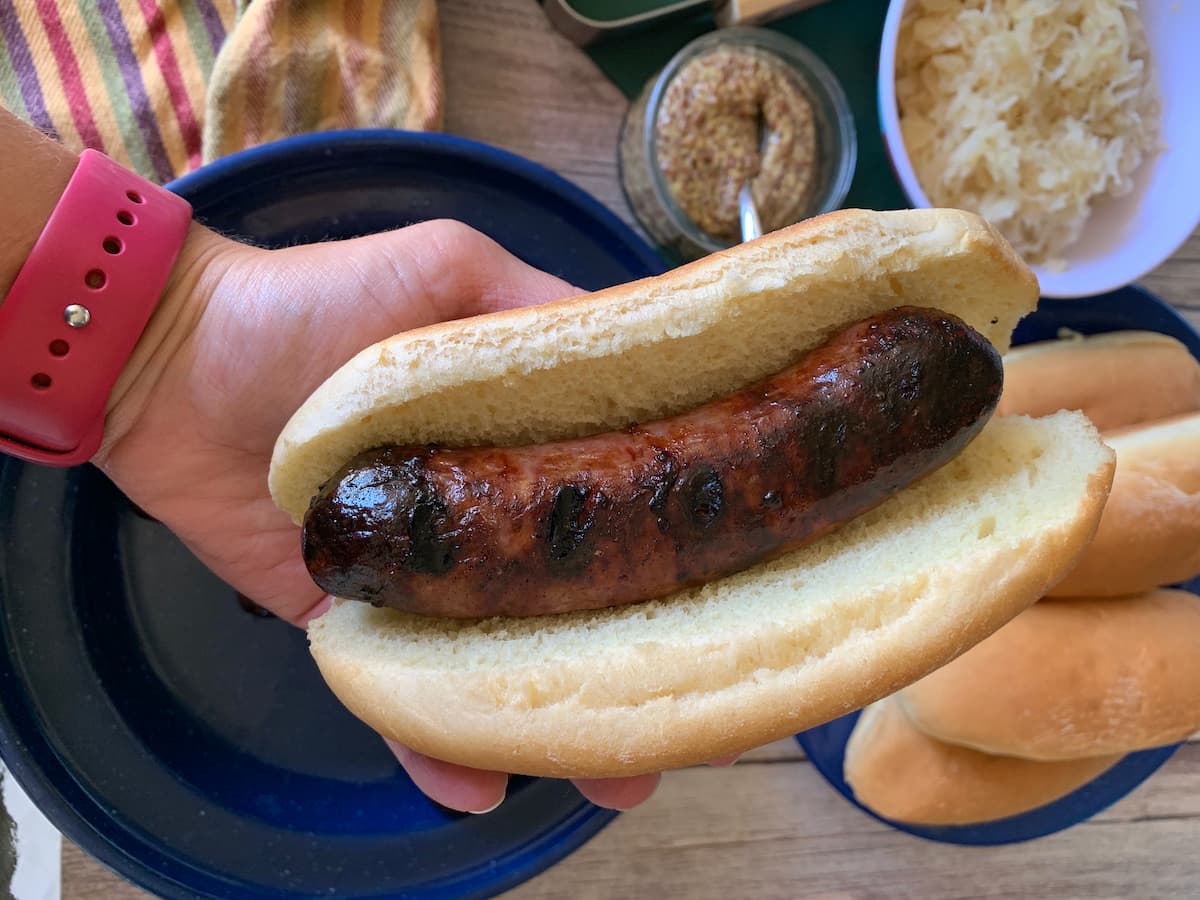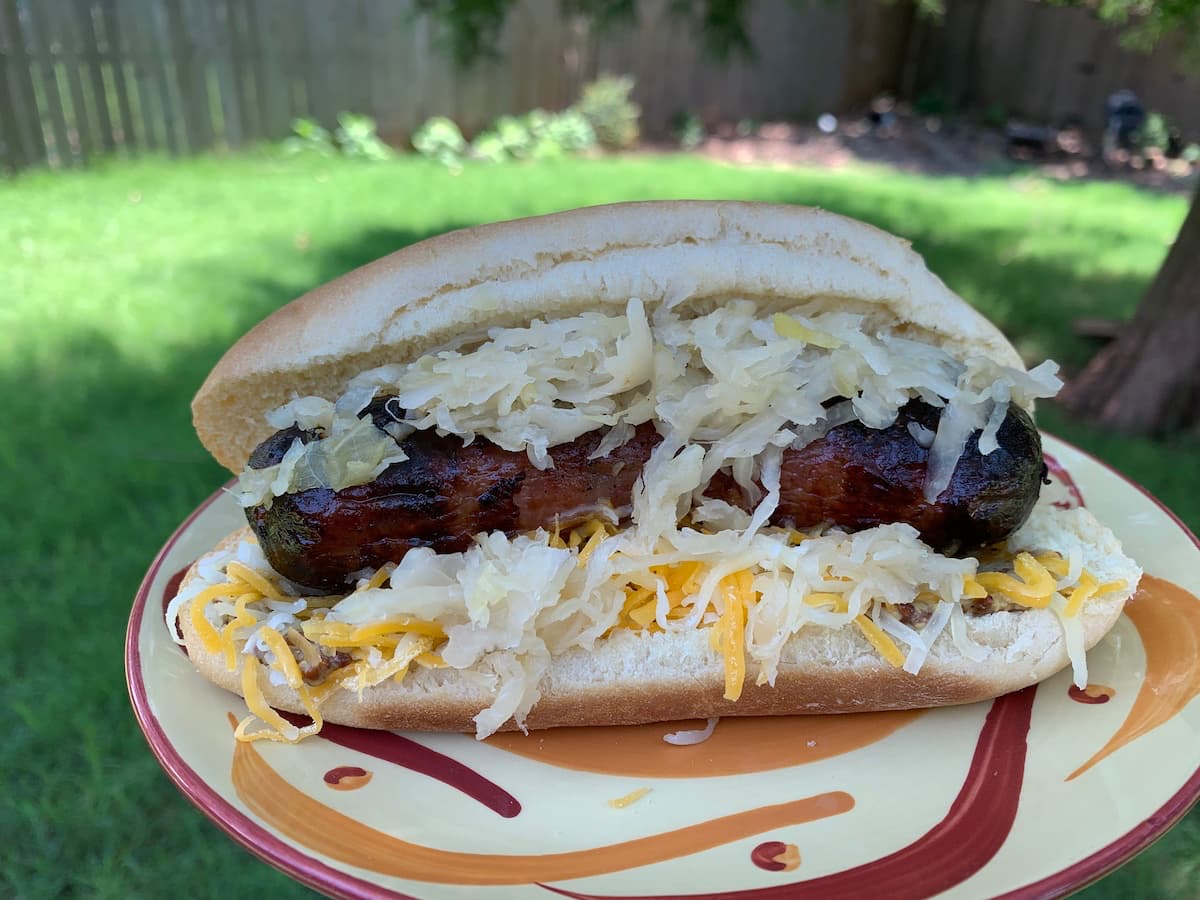 Heartburn Relief from Boiron
Many of the foods I just mentioned above (grilled brats, onions, peppers, and cheese) can all cause occasional stomach discomfort, heartburn, indigestion, and bloating. These are all unwelcome, but with a little help from Boiron and their heartburn relief tablets, Acidil, you can enjoy all your favorite foods worry-free!

Acidil Meltaway Tablets
Acidil meltaway tablets are plant-powered relief for heartburn and acid indigestion. They are easy for adults and children ages 12+ to take before or after your meal to relieve symptoms. Best of all, they dissolve easily in the mouth without water. That makes them convenient to carry on road trips, flights, or while camping.
The unflavored meltaway tablets are the #1 selling heartburn homeopathic medicine sold in natural food stores. You can find them in Walgreens, Rite Aid, Sprouts Farmers Market, Whole Foods Market, Vitamin Shoppe, Amazon, and natural products stores. Be sure to check a $2 coupon for Acidil here.
Note: This product has no known drug interactions. Be sure to read the label indications before use and if you have specific questions, contact your health care professional. Learn more about this product here.
More about Boiron
Boiron, maker of homeopathic medicines since 1932, offers high-quality medicines with no artificial colors or preservatives. Our family has been using their products for years; especially Arnicare for sore muscles, Calendula for burns and bites, and Oscillococcinum for the onset of flu-like symptoms. I have listed many of the Boiron products we use in our Outdoor First Aid Kit and more about Oscillococcinum in this article with tips to prevent common travel mistakes.
Side Dishes Perfect with Bratwurst Sausage
Now that you are ready to grill and you've got your heartburn relief in hand, let's talk sides. Here are five of our family's best side dish recipes that go great with bratwurst.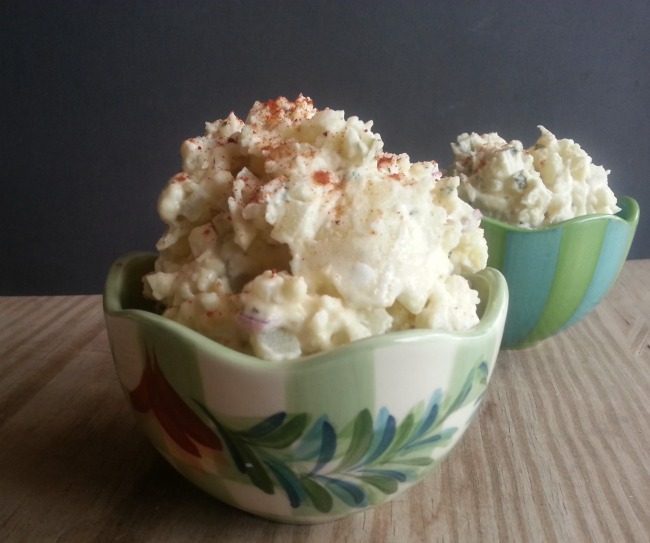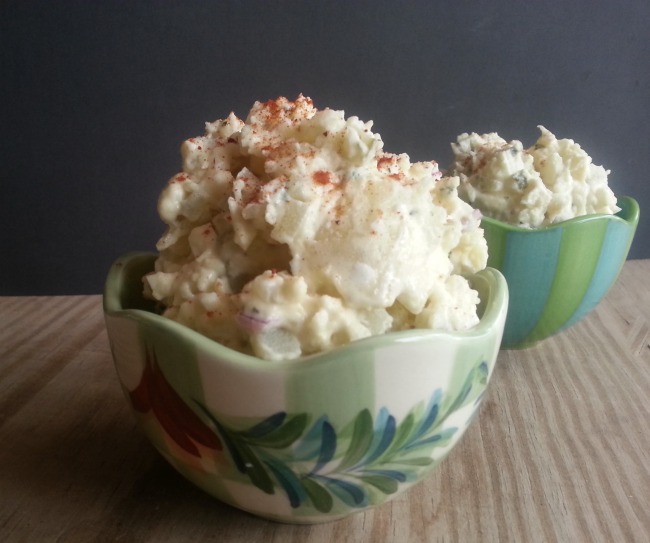 Potato Salad with Egg & Mayo – This is one side dish my family serves up most with main dishes like sandwiches, burgers, and grilled brats. It has chunky bits of potato, hard-boiled egg, mayo, chopped apple, and bread and butter pickles.
Baked Beans – These go great on the grill and are a good option because they're already cooked. All that's needed is heating it up until hot!
Roasted Brussels Sprouts – Brussels sprouts are best roasted in the oven, but these can be grilled as well. The recipe has bacon and parmesan cheese, a perfect addition to this side dish!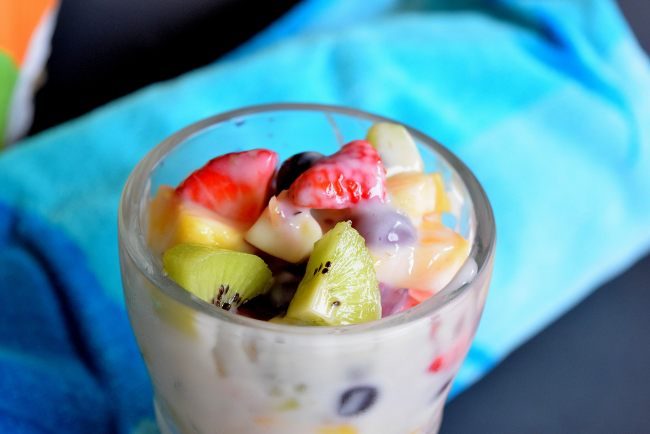 Fruit Salad – A mix of freshly cut fruit makes a refreshing and healthy side dish. My favorite combination includes strawberries, kiwis, red grapes, and oranges with a drizzle of honey.
Grilled Corn – Since you've fired up the grill, throw a few ears of fresh corn on the grates. You can either keep them warm and serve the corn off the grill or slather it with butter, sprinkle on salt and black pepper, then put a little more heat on until you have some delicious grilled corn.
Grilling brats over an open fire is a summertime staple. And if you're looking for the best way to grill them, we have nine tips here that will help you perfect your technique as well as condiments and side dishes to make your mouth water. Your guests will rave about how delicious they were! We hope these have gotten you ready for the grilling season. Be sure to have Acidil on hand for rumbly tummies due to heartburn and acid indigestion.
We love hearing from other foodies like us! So be sure to leave a comment below and tell us what your favorite condiment(s) are on bratwursts or what side dish you pair it with. Happy Grillin'!
Summer #BBQWithoutTheBurn Giveaway
To help you BBQ and cookout this summer, we have a very special giveaway for you. We have one grand prize and two runner up prizes. Enter to win in the wdget below.